It's not a coupe, and it's not a sedan, but the 2019 Audi RS 5 Sportback absolutely is mesmerizing. Audi Sport's latest blend of performance and luxury takes on the BMW 650i and the Mercedes-Benz CLS 550, not to mention putting the V8-powered Mercedes AMG C63 S sedan in its crosshairs, too. At this stage of the game it's not enough to be simply fast, or pretty. You have to be distinctive.
Engine, Transmission, and Drivetrain
In the 2019 RS 5's case, that starts with the engine. Under the sharply-creased hood there's a 2.9-liter TFSI biturbo V6, producing 444 horsepower and 443 lb-ft of torque. In today's world of huge automaker conglomerates you can sometimes end up wondering just who was responsible for your engine, but Audi is taking full credit for the V6. Porsche, if you're wondering, handles V8 duties.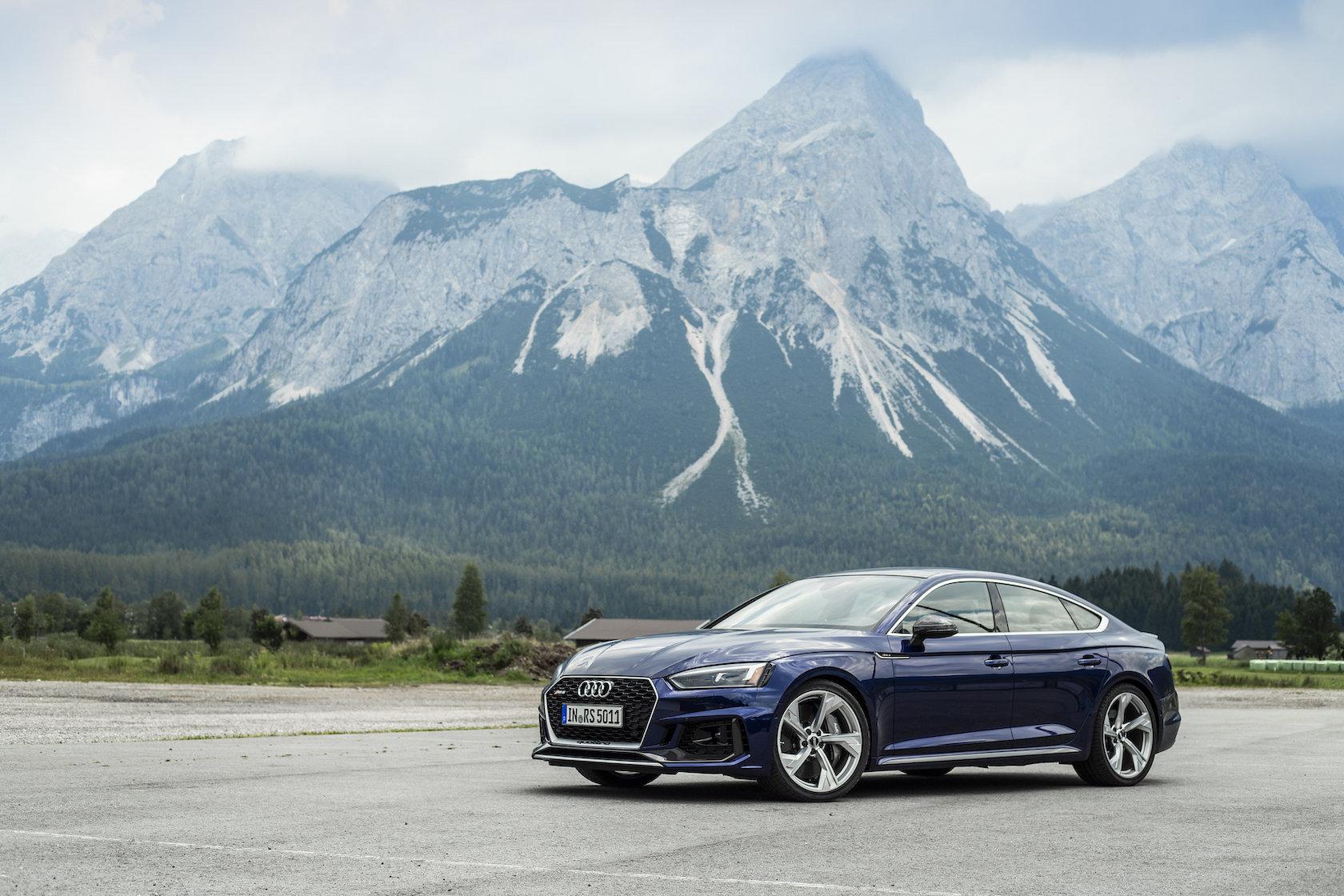 The twin-turbocharged V6 is equipped with FSI-fuel direct injection, variable camshaft timing, Audi valve lift system on the inlet camshaft, and chain-driven camshafts for better reliability. The biturbo system nestles between the V of the cylinders, for faster spooling times and much less turbo lag. Maximum torque arrives from as low as 1,900 rpm.
Having invited us to Germany to drive the new RS 5, Audi insisted it didn't want this first drive program to be just a few sprints up and down the Autobahn. All the same, it would've been rude not to test the new car's legs on the infamous derestricted highways. Cue some face-melting acceleration as the RS 5 blasted its way toward its 174 mph top speed (a number unlocked as part of the Dynamic Plus Package; usually Audi cuts things off at 155 mph).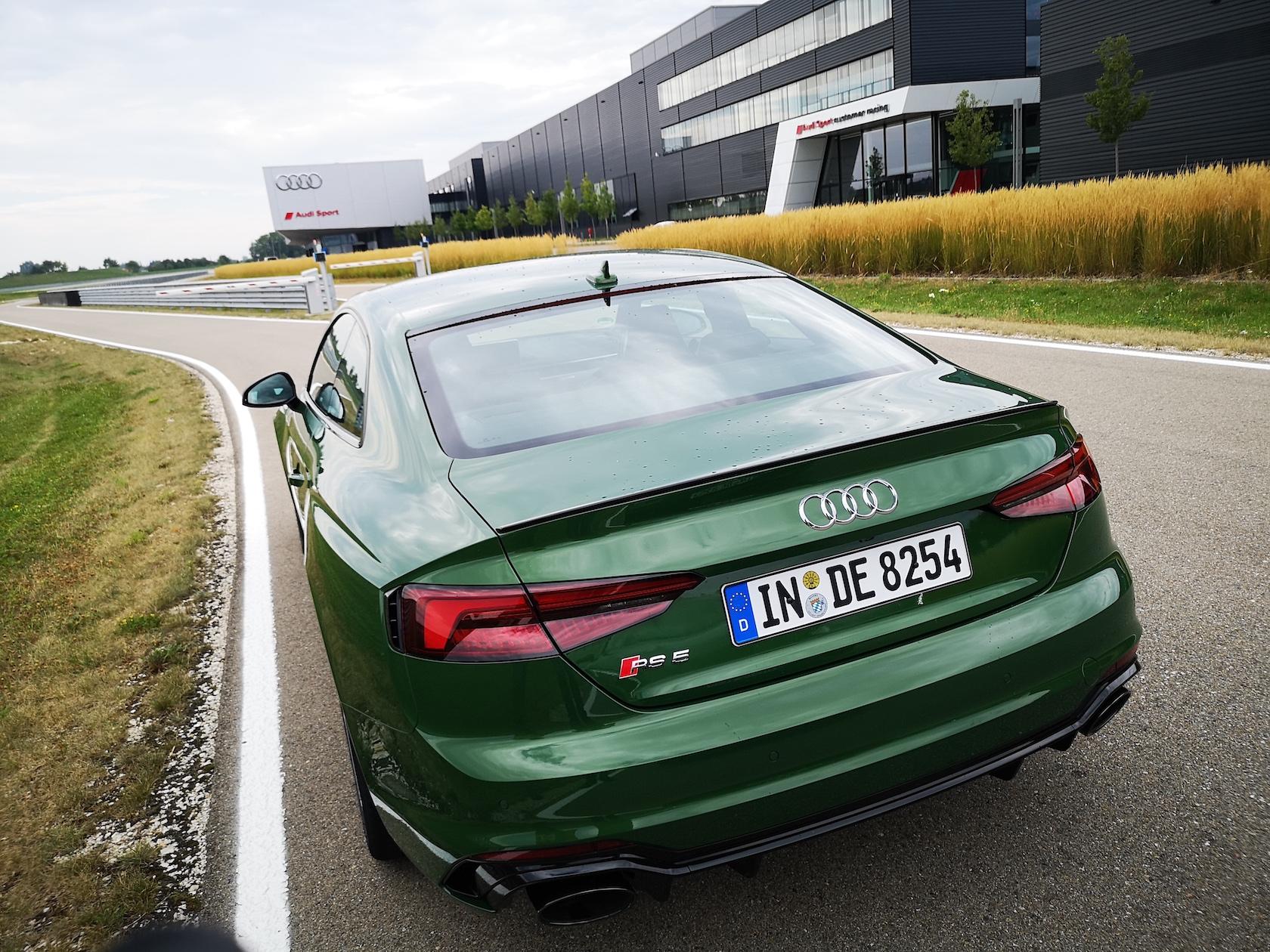 I fell 5 mph short of the limiter, upshifting on autopilot into the Audi's eighth gear – effectively its overdrive gear, for more leisurely cruising – while focusing as far into the distance as I could to spot cars potentially sidling over into the fast lane. Sure enough, I got a chance to test the brakes when the rear bumper of a much slower vehicle appeared in front of me.
In the grand scheme of things, few will get to experience the sort of speeds permitted on the Autobahn. Certainly – and despite Audi's expectation that America will be the car's most enthusiastic market – there are no public roads in the US where you could even achieve the RS 5's lower limit and still be driving legally. What it gives you, though, is a snapshot insight into how a car performs at the extremes; in this case, the RS 5 Sportback proved to be not only fast but well composed, with surprisingly little wind or road noise making it into the cabin. It reminded me of pushing the R8 V10 Plus at Daytona Speedway: a very different car, and engine, and road surface, for sure, but that same sort of reassuring solidity.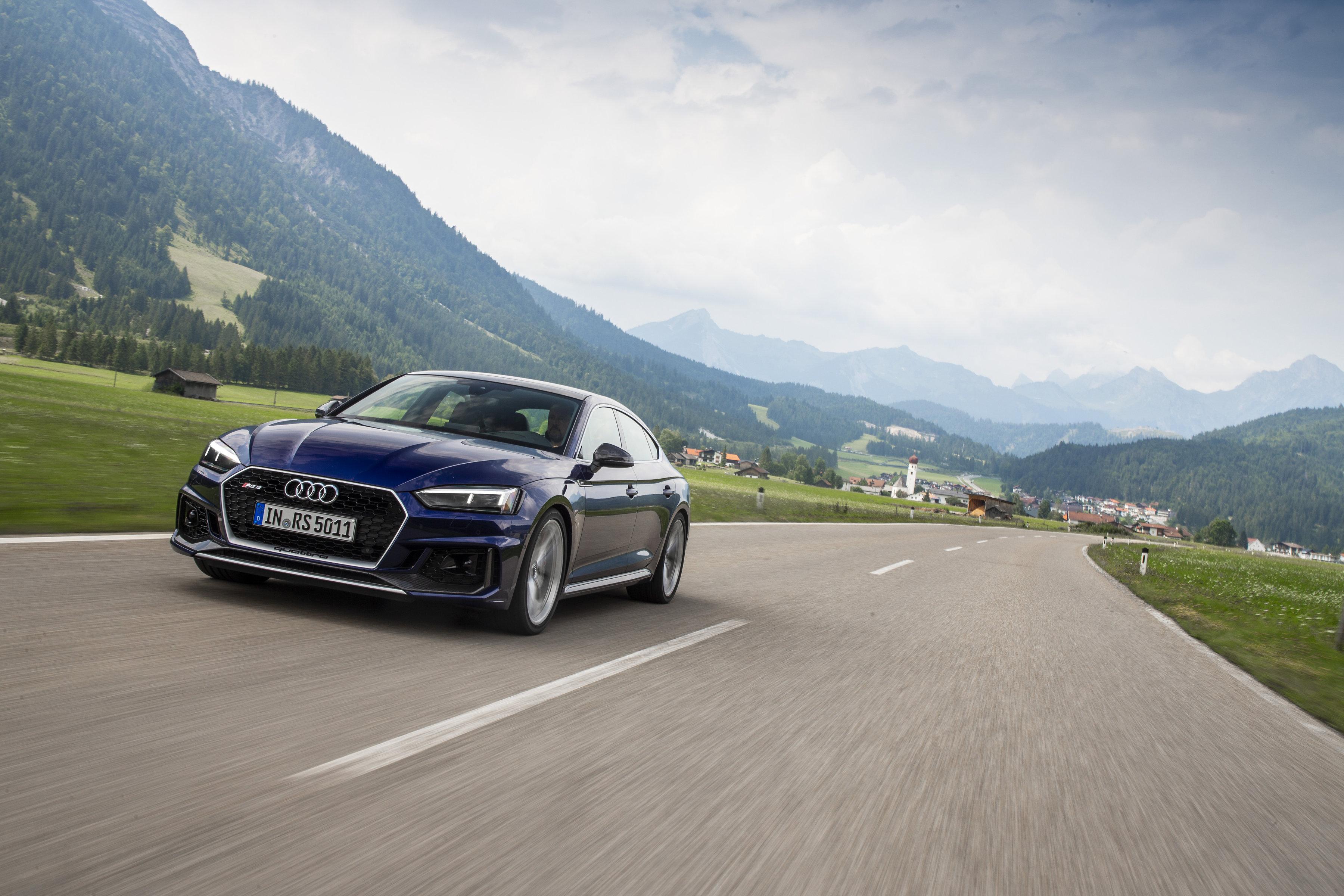 The Dynamic Plus Package also adds Dynamic Steering, with variable assistance and ratios. Set it to Comfort, for instance, and the RS 5 makes its tiller easier to turn. Similarly, in Auto mode the car will adjust how much steering input and force are required, depending on your driving style. In Dynamic mode, meanwhile, the steering ratio is fixed to make it more predictable.
Audi opted for an eight-speed ZF automatic transmission, rather than a dual-clutch version, given the demand that the RS 5 Sportback be both a performance car and a comfortable grand tourer. Quattro all-wheel drive is standard, with a 40:60 front to rear torque split by default. As much as 85 percent of torque, or as little as 30 percent, can be routed directly to the front axle. Audi's sport rear differential is included in the Dynamic Plus Package, too, funneling power left to right depending on which wheels have most traction.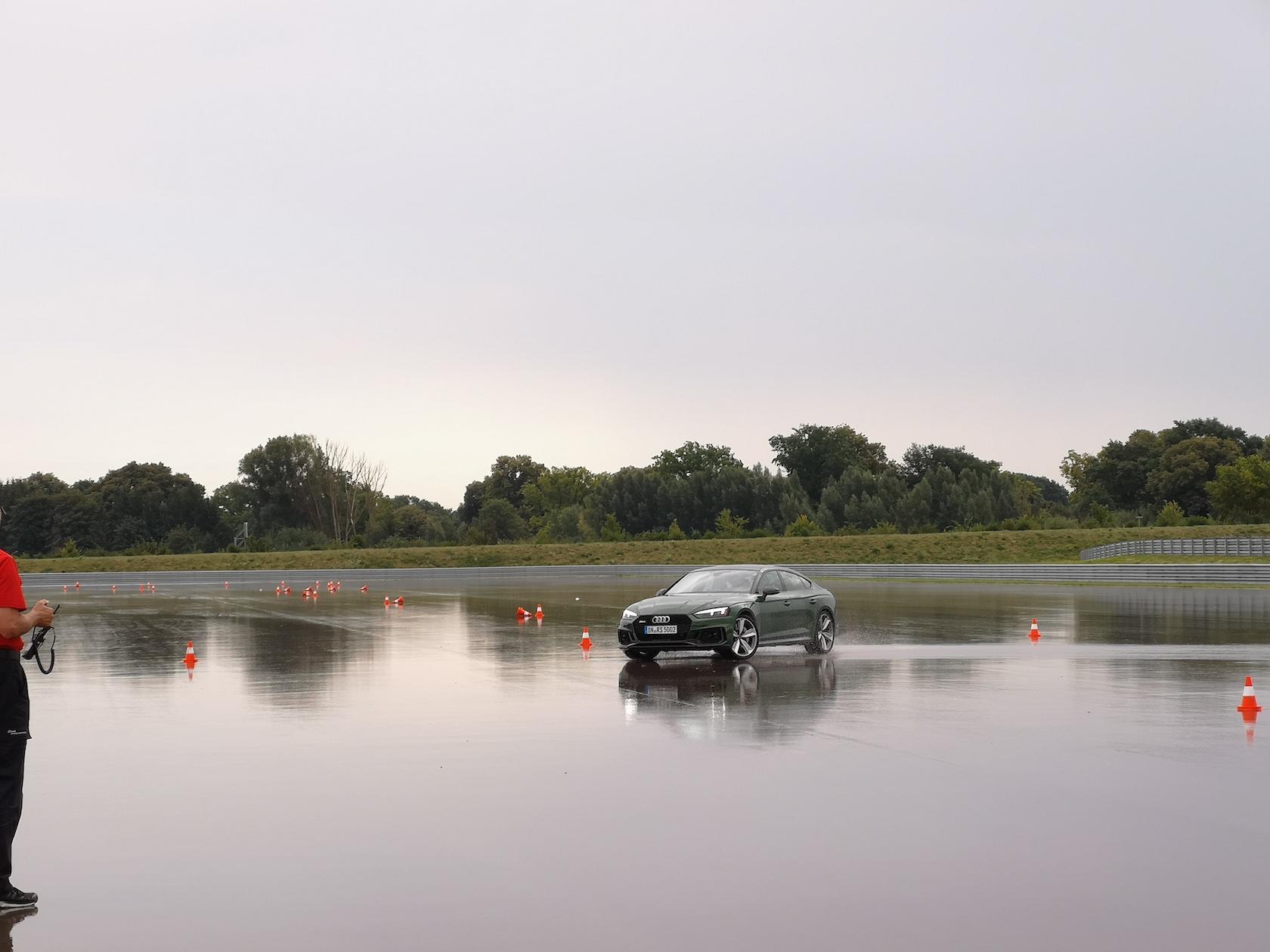 That's not something you really want to test on the Autobahn, mind, and so Audi somehow managed to convince the folks at Audi Sport to close down the experience center, giving us the entire playground to ourselves. Home for all things Audi Sport, it's where the performance group does its track testing, and where lucky buyers can choose to take delivery of their new steeds.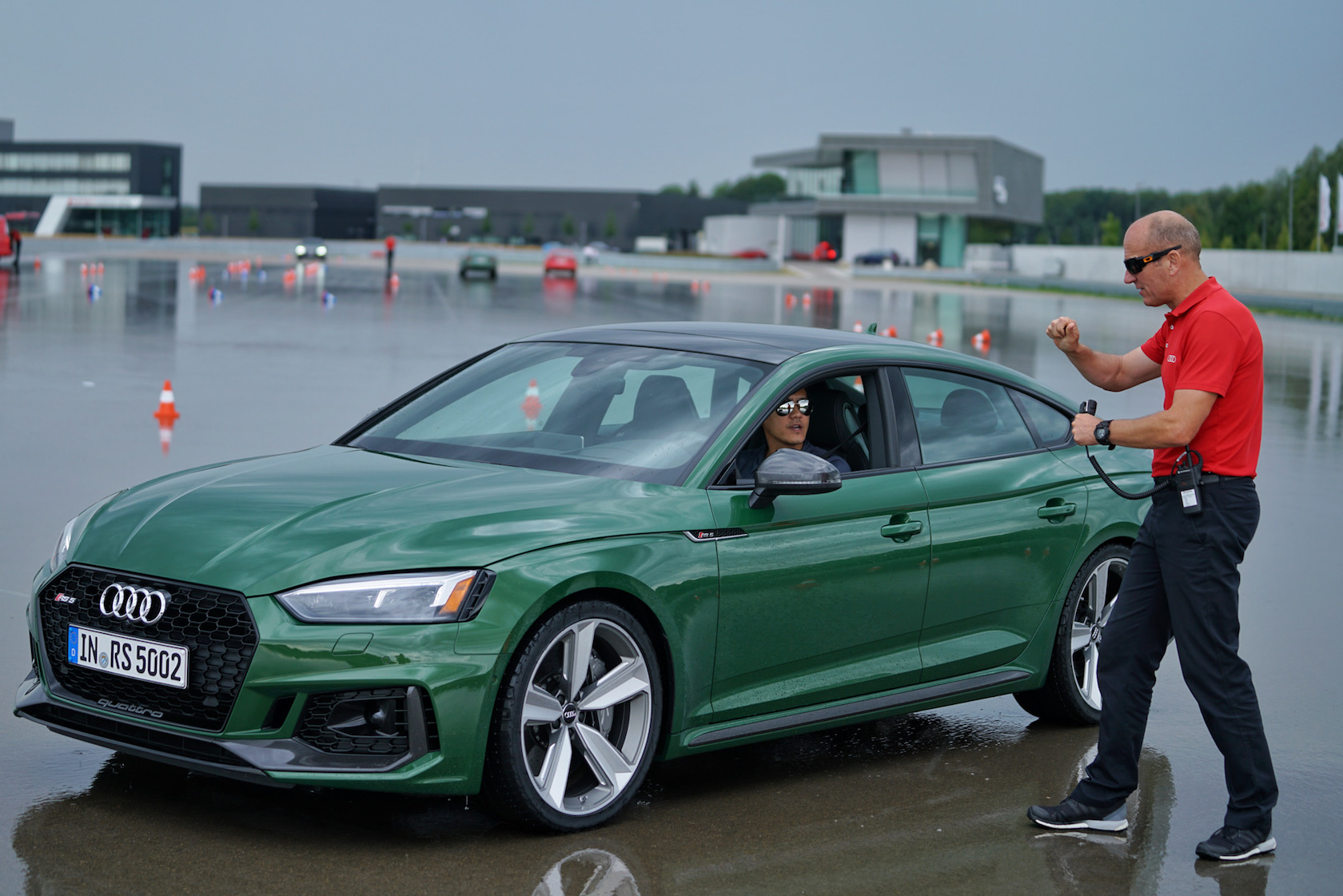 No better place, then, to run through understeer, oversteer, and slalom tests of the RS 5. With a super-slick surface it was an opportunity to see just how well Audi's Quattro system performs, with a brief foray into the RS 5 Coupe for a spin around the track.
It proved a good time to compare the two. On paper, the RS 5 Coupe gets the same horsepower and torque, but its 88 pound lower curb weight than the Sportback doesn't hurt. In short, you could make a good argument that the two door – with its 444 horsepower and 443 lb-ft of torque – is the model to have.
I'm not so sure, though. Even with its automatic transmission, the RS 5 Sportback still does 0-60 mph in 3.8 seconds. That may be 0.1 seconds slower than the Coupe, but it's still faster than the BMW 640i. Then, when you take into account the practicality of the hatchback trunk and the rear doors, there's a whole lot to be said for the RS 5 Sportback when you're considering more than just raw speed.
Exterior and Interior Design
There's no doubt about it: the 2019 Audi RS 5 Sportback is a looker. Smoother and better proportioned than the BMW 6-Series Grand Coupe or the Mercedes CLS, particularly with those handsome 20-inch forged aluminum wheels, it's also lower and wider than the RS 5 Coupe. The massive single-frame grille with standard RS honeycomb mesh dominates the front end, feeding into crisp hood lines that leave the front sharp and aggressive. Strong accent lines along the sides, and the steeply raked roof, are clearly inspired by the swooping lines of a traditional sports car. In fact, there are some heavy hints of the original Audi Quattro rally car, which is never a bad thing.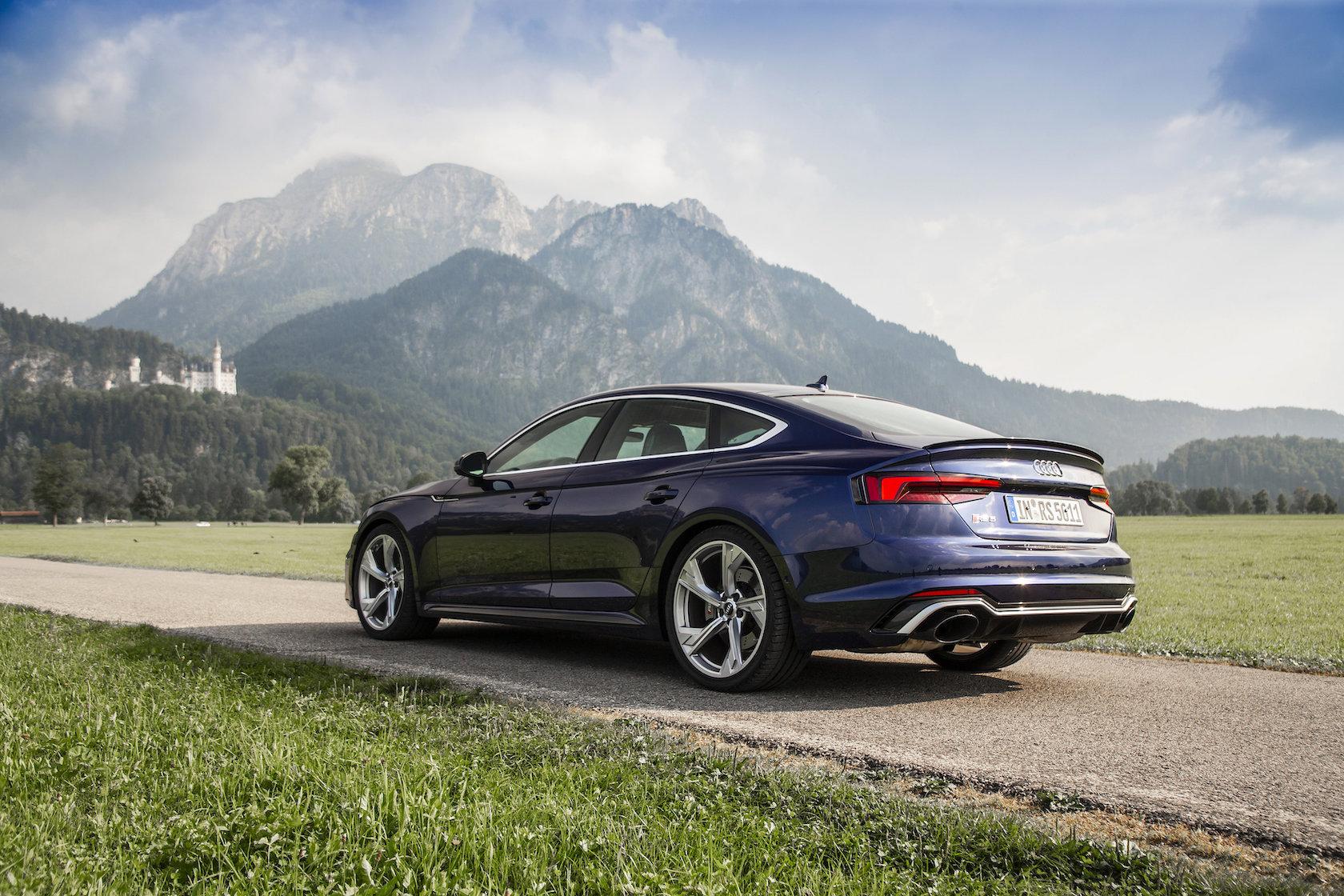 Ironically, though, Audi insists that the Sportback has no direct rival. Sure enough, dig through the segment and you'll find no other five-door hatch with the same performance credentials. Performance and a surprising degree of practicality, in fact: with four proper doors, it's a whole lot easier to make a graceful entry or exit into the impressively spacious rear quarters
Finishing up the rear, there's a new set of LED taillights that sit inward in the concave section of the rear fascia. A subtle carbon fiber lip on the edge of the rear door offsets the muscular rear diffuser, and its array of aggressive exhaust tips.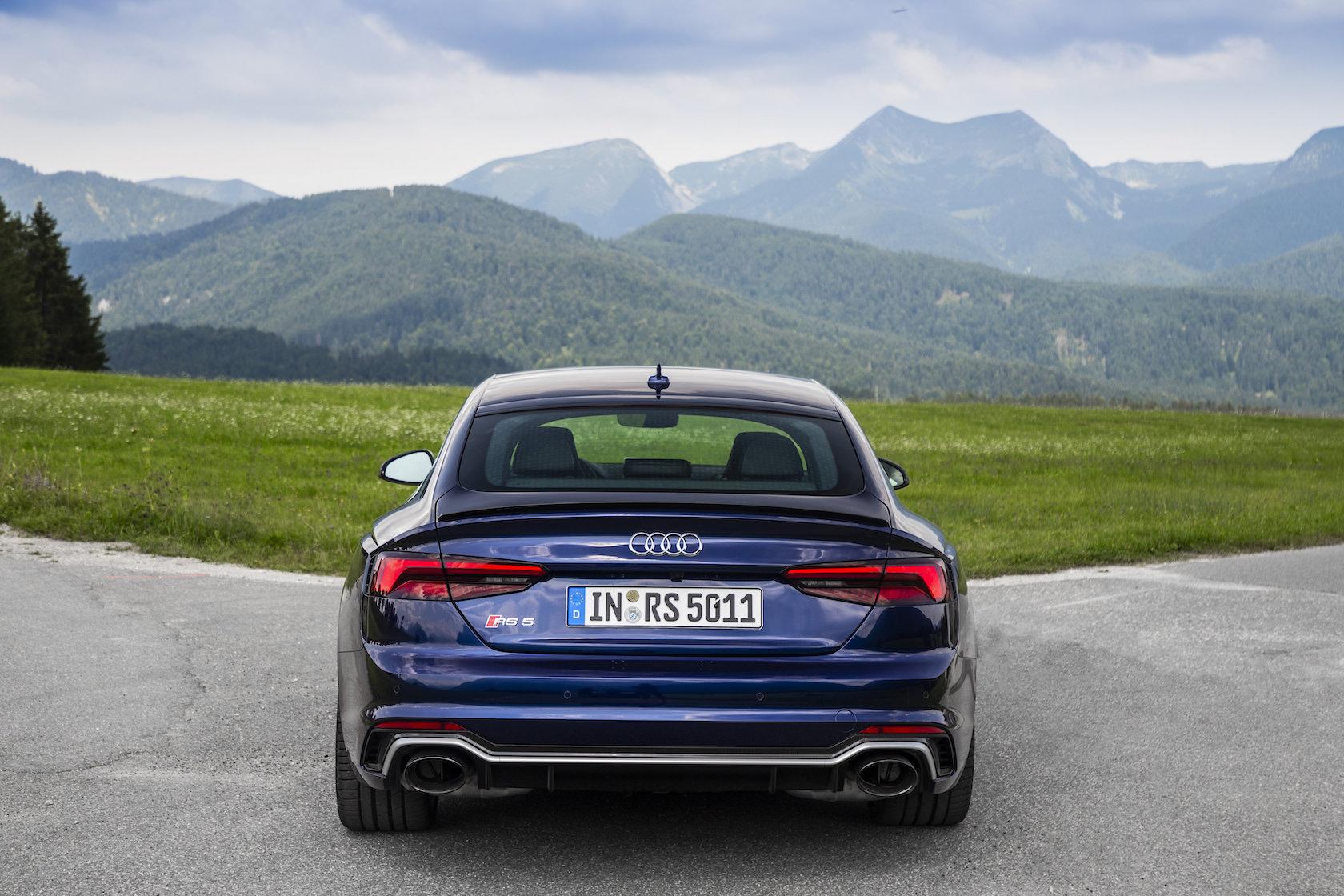 Inside, Audi's crisp and modern aesthetic is in strong evidence, with a nice mixture of luxury and sportiness. Roomy enough to accommodate five adults, it's nonetheless focused primarily on the driver. That means a chunky, flat-bottomed steering wheel, and plenty of seat bolstering. The seats themselves are wrapped in soft leather, and finished with hexagonal stitching in body-colored contrast thread. Carbon fiber and Alcantara adorn the doors and the dashboard. All in all, it's not a bad place to be in.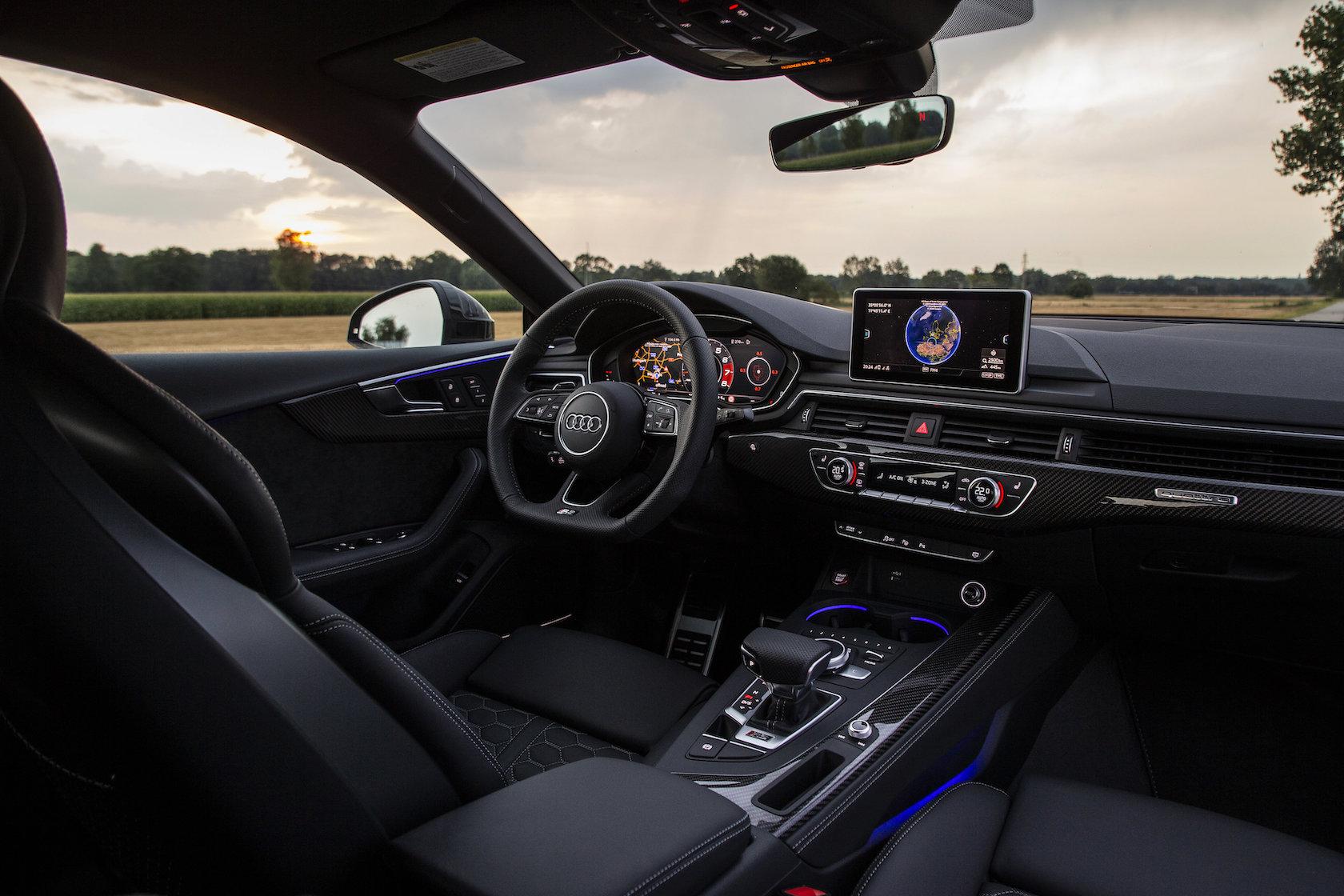 What I particularly like in the 2019 Audi RS 5 Sportback is the cargo space. Not many high-performance sports cars can offer around 22 cubic-feet trunk, but the Sportback doesn't stop there. Fold the rear seats down, and you have 35 cubic-feet of space to play with. It's enough room to fit up to five golf bags – I've no idea why you might need that many, unless you're Tiger Woods or Arnold Palmer – or four suitcases.
Like the Coupe, the RS 5 Sportback can be had with Audi's Virtual Cockpit, a fully digital 12.3-inch instrument display that can project driving information and Google Earth mapping. Switch over to Dynamic mode and the instrumentation is dominated by a larger central tachometer; there's also a lap timer, G-meter, and horsepower and torque gauge. Right in your line of sight is an RS-specific head-up display, with engine oil temperature, speed, driving directions, and shift indicator lights. For those times when you're cruising, there's adaptive cruise control, traffic sign recognition, and lane keeping assistance. Clever stuff, though I couldn't help but miss the dual touchscreen infotainment system Audi has used in the A8, Q8, and other recent cars.
Verdict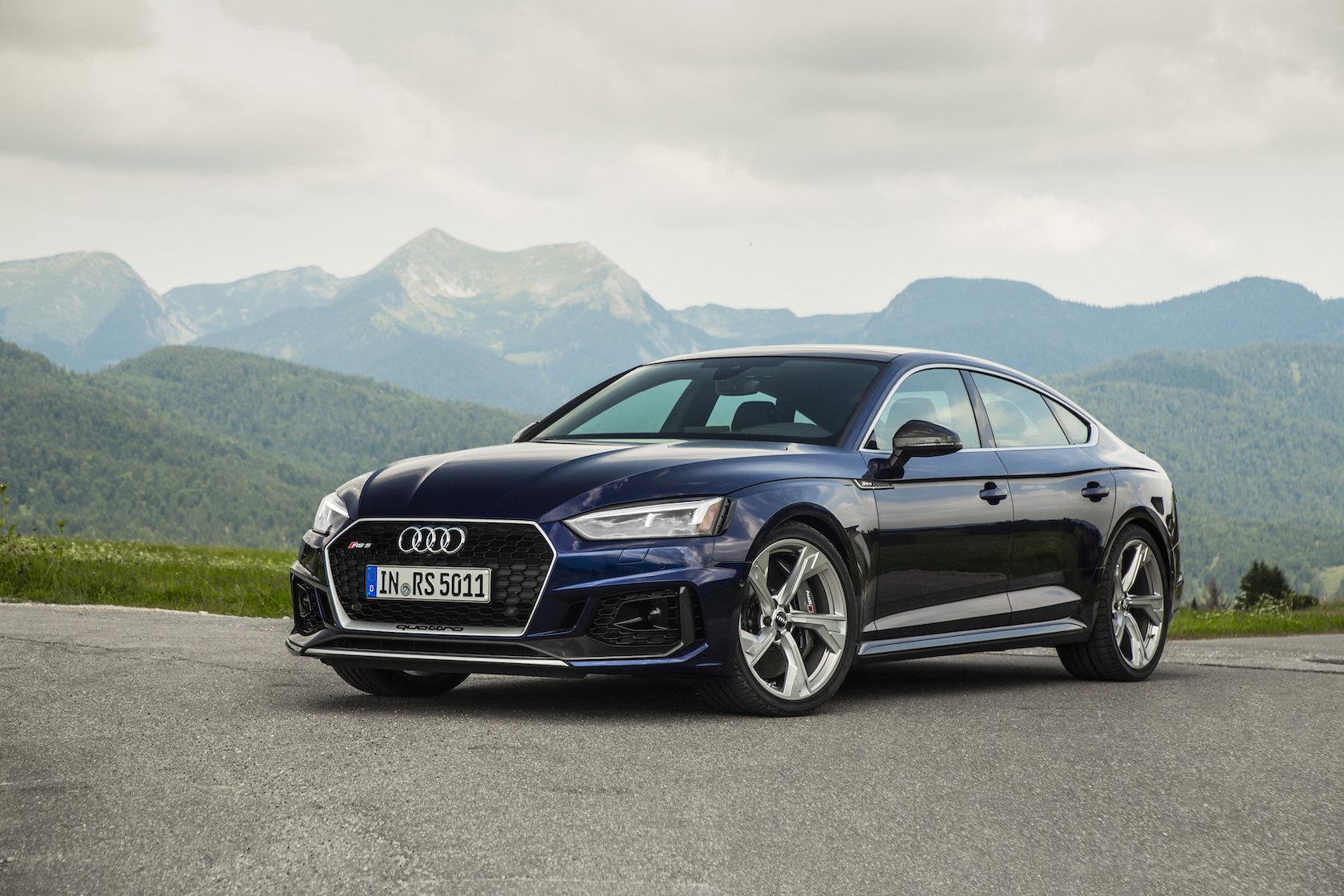 The 2019 Audi RS 5 Sportback is a ridiculous grand tourer, disguised as a practical and accommodating family car. Pricing kicks off at just north of $74k, though as tested – and indeed as Audi expects most orders – you're potentially looking at $20k more. That's no small chunk of change, but neither is the RS 5 Sportback any ordinary performance car.
Little in the segment can quite straddle the line between performance and practicality as well. At the same time, this is no watered-down almost-RS. Powerful, dynamic, and distinctive, it's two cars in one and twice as rewarding as a result.
We've updated this article to reflect the RS 5 Coupe's performance stats