The 2019 Audi Q8 cares not for your labels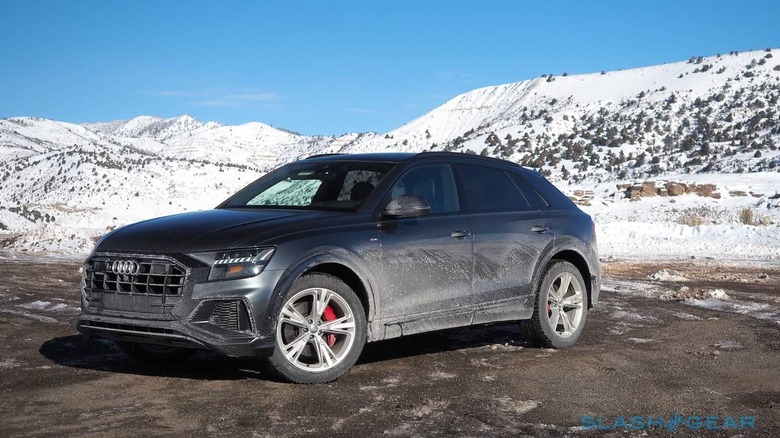 Four door coupe. SUV coupe. Luxury sports... truck? If naming a thing is the first step to understanding it, then the 2019 Audi Q8 doesn't seem especially keen on being pinned down. Settling into new territory for the German automaker, it's either a perfect example of giving consumers what they apparently want, or a fairly extreme act of niche-filling.
At times over the past few years, it has seemed like automakers have declared war on so-called "white space" in their ranges. Those gaps between models traditionally represented differentiation, but now they're viewed as opportunity instead.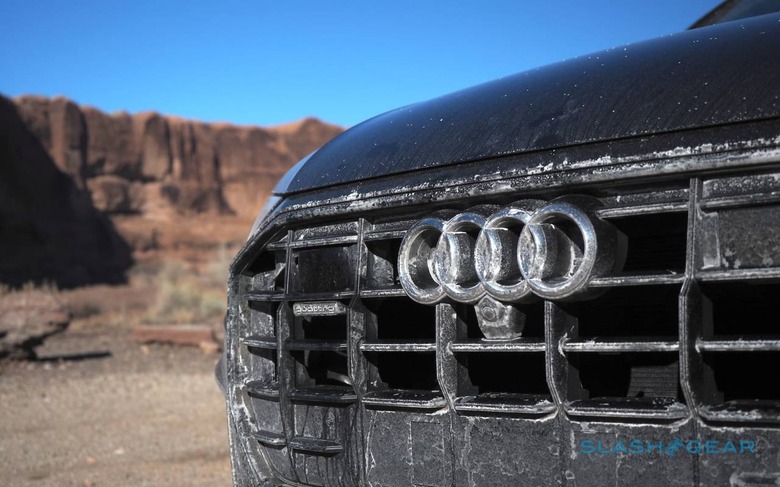 After all, there may be a driver who really does want a car that falls somewhere between your compact sedan and your midsize sedan. If providing that vehicle saves them visiting another dealership, that's surely a good thing in the long run, right?
In the grand Venn diagram of luxury motoring, then, the 2019 Q8 straddles a few different lines. It's built on the same platform as the Audi Q7, but it's shorter and has seating for five, rather than seven, inside. The cabin will be familiar to anybody lucky enough to have spent time in the latest Audi A8, but feels more spacious and rides higher since the Q8 is also an SUV.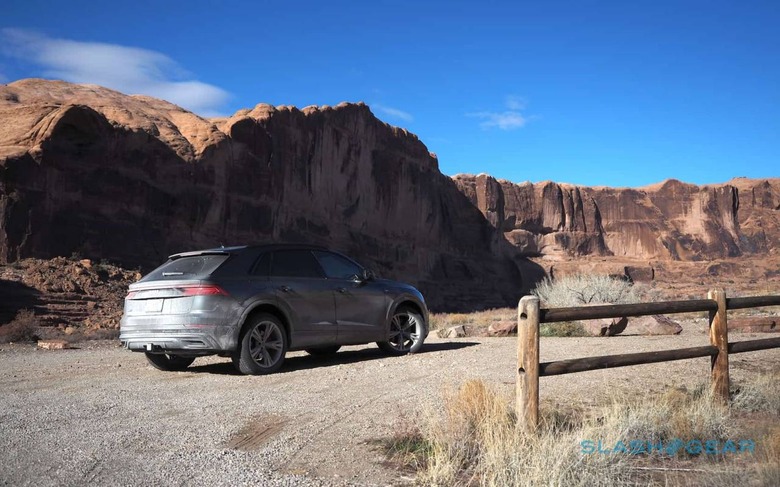 The design gets more interesting the longer you look at it. At first glance, the Q8 could be mistaken for just another lantern-jawed truck, picking up on Audi's crisp design language where the Q7 left off. There are hints of Audi e-tron in there, too, while the steeply raked rear glass is an early giveaway that functionality has been compromised in the name of styling.
Spend a little more time with it, though, and the Q8's thoughtful detailing makes itself known. Audi's so-called Singleframe grille is bolder and more three-dimensional, intermingling with the bumpers and headlamps in intriguing clashings of angles. Look at it from the front three-quarter perspective, and you can see glints of those LED headlamps through the grille mesh, twinkling like starlight.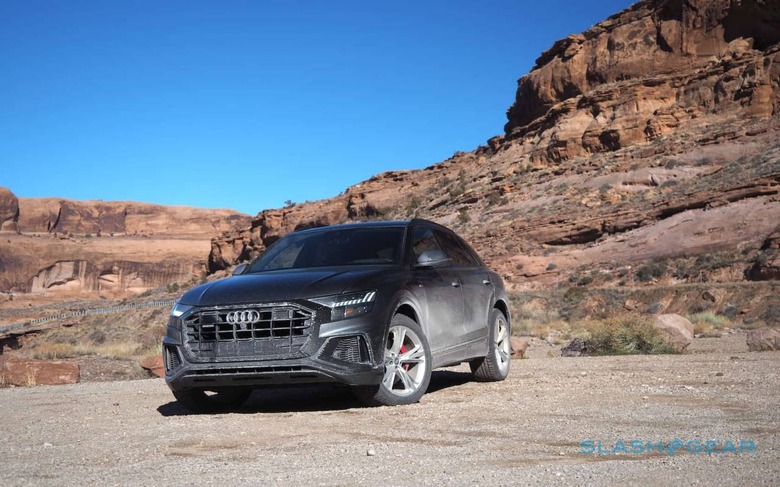 Design hasn't overtaken practicality, mind. That raked rear windshield still allows for more than 60 cubic feet of cargo space with the seats flat, or over 30 with them up; the rear seats still split in three, and have adjustable slide and recline. Since Audi envisages the Q8 being high-end transportation for four, though, rather than a family SUV like the Q7, the outboard rear seats are wider than the center. Quattro all-wheel drive is standard, and proved perfectly stable even as I threw snow, ice, and mud at it. Terrain you wouldn't want to point your A8 at is easy pickings for the Q8.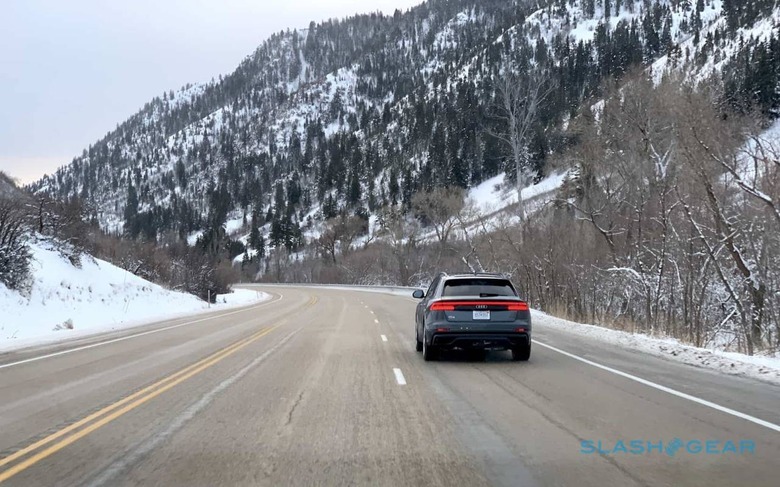 Under the heavily-sculpted hood there's just one engine in the US, regardless of trim. The 3.0T TFSI wields 335 horsepower and 369 lb-ft of torque, for 0-60 mph in 5.6 seconds. It's astonishingly quiet inside, courtesy of thick, laminated glass on both the windshield and side windows front and rear. Possibly too quiet, if you've a heavy foot on the gas. License-losing speeds are all too easy to achieve without your pace registering.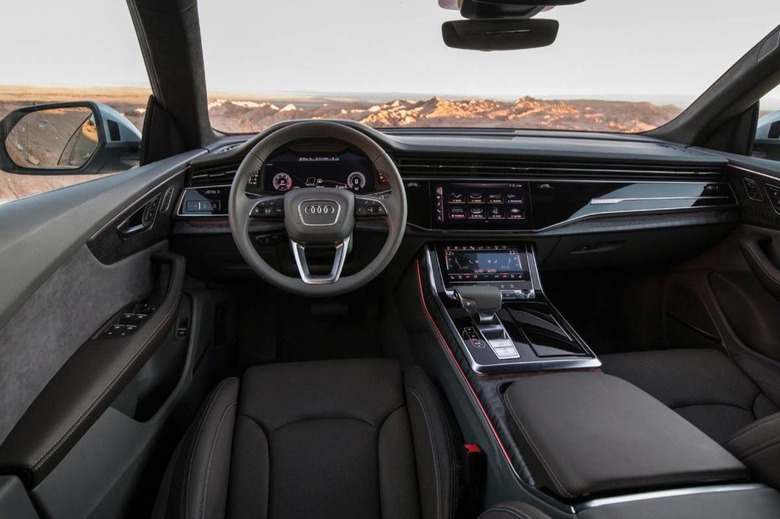 Audi does its best to make the Q8's speed clear. The Virtual Cockpit with its digital instrumentation is standard, while a head-up display is optional. You'd be forgiven for spending more time looking at the MMI touch response infotainment system, though, with its twin touchscreens and freshly-redesigned UI.
The natural voice recognition is a particular boon: the Q8 may not be quite sure what sort of car it is, but it can certainly figure out where you want to go without you spelling it out like a taxi dispatcher. That flexibility extends to controlling the car's other features: say "I'm cold," for instance, and the Q8 knows you'll want to turn up the HVAC. I'm used to car voice control systems struggling with my British accent, but Audi's did better than most.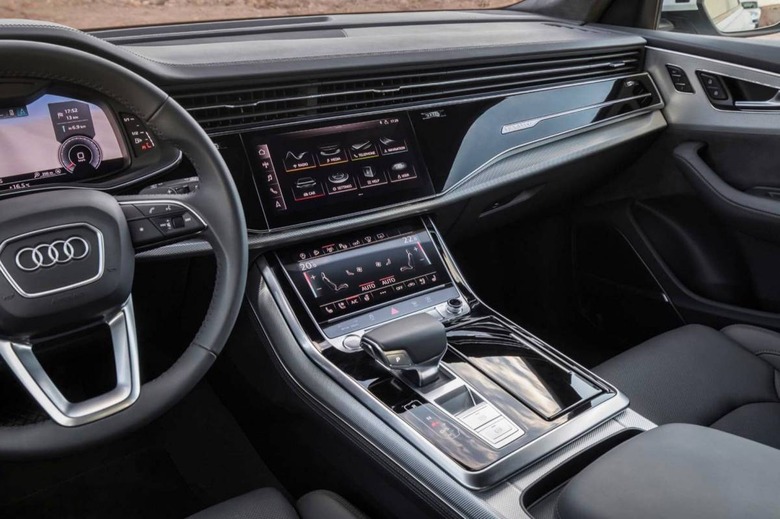 The rest of the cabin feels much like an A8 only with more light. Comfortable seats, premium-feeling materials on the dashboard, and crisp metal switchgear. If you're going to raid the family parts bin, the one usually dedicated to Audi's flagship luxury sedan isn't a bad place to start. My only complaint would be that the standard panoramic sunroof falls unexpectedly short: it ends midway across the rear seats. The upside, though, is that allowed Audi to scallop the headlining and make sure that even those six foot or more shouldn't have an issue with headroom.
It's hard not to like the Q8, I found, though there's still room for improvement. The SUV is clearly crying out for an SQ8 performance version: right now the Q8 is a capable grand tourer, but with its agile four-corner air suspension (a $2,750 option) it could easily handle more power. Alternatively, give me proper electrification: despite the 48-volt mild hybrid system, the 17 mpg city and 22 mph highway numbers aren't great.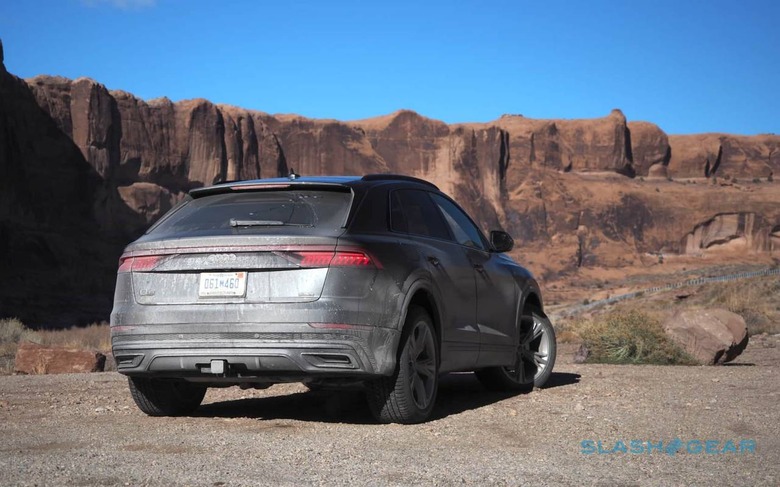 As for the tech, Android Auto and wireless Apple CarPlay are standard, as is navigation, a power tailgate, and Audi pre sense basic and front for things like low-speed collision assistance. A $4,000 Premium Plus package adds things like a Bang & Olufsen audio system, 4-zone climate control, wireless phone charging, and more active safety tech; the $2,750 Driver Assistance package bakes in adaptive cruise control with traffic jam assistance, active lane assistance, and more. Music fans might want the $5,000 Bang & Olufsen 3D Advanced audio system with its eye-catching motorized tweeters.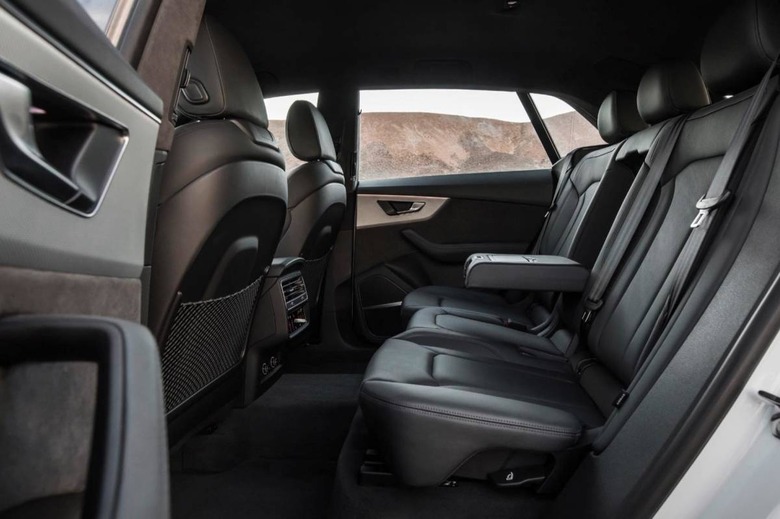 Sadly the cleverest semi-autonomous features still haven't made it to North American shores. In Europe, Audi's fanciest cars can drive themselves – without your hands on the wheel – in low-speed traffic jams, as well as pull in and out of parking spaces while you watch from afar, orchestrating the whole thing with your smartphone. Like the HD Matrix headlamps, which use 64 individually controlled segments to selectively illuminate the road without dazzling oncoming traffic, the US regulatory environment just isn't ready for the cutting-edge of Audi's gadgetry.
Those HD Matrix lights, at least, can be ordered on the Q8. Audi says that, assuming an eventual legislation change that's slowing working its way through the cogs of government, it should be able to switch them on with software later on.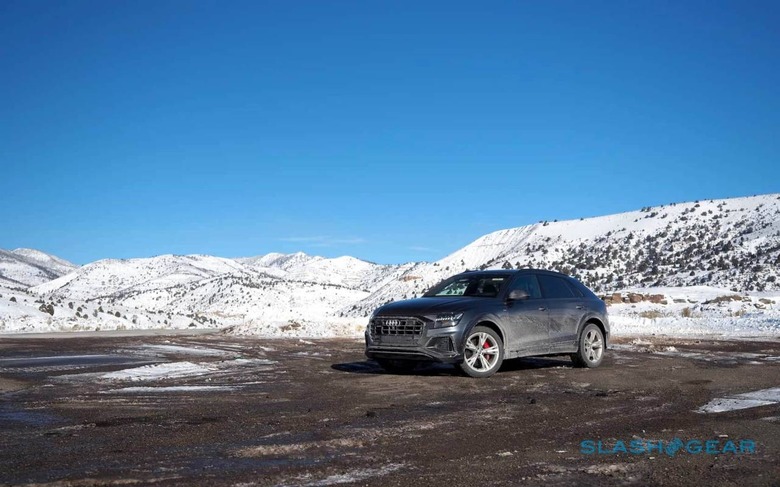 At that point, the Q8 will start to feel as high-tech as it looks. It also feels like something of a bargain, in the grand scheme of things. The $67,400 starting price (plus $995 destination) may be almost $14k more than the cheapest Q7, but you get more kit as standard and a far more luxurious vehicle overall. However it's still considerably more affordable than the $83,300+ A8.
Labels can be useful, in as much as they can help manage expectations. At the same time, though, that need to pin something down can force an identity onto a car that doesn't quite fit. The map is not the territory; the Audi Q8 is not just an SUV, or a luxury car, but some intermingling of both. Just how successful that category straddling can be depends, frankly, on just how well a car checks the boxes it's straddling. By that measure, it's hard to argue against the idea that the 2019 Q8 offers the best of both worlds.