2019 Audi Q8 official: Luxury SUV with plenty of tech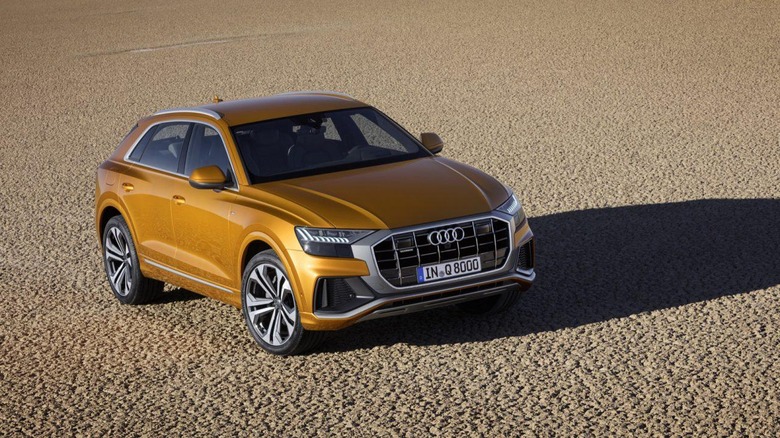 Audi promised us an SUV with the heart of a luxury coupe, and this is it, the 2019 Audi Q8. Slotting in above the Audi Q7 as the automaker's most cosseting way to travel – assuming you want that upright seating position, that is – it's another sign of Audi pushing up into territory previously occupied by VW Group stablemates Porsche and Bentley.
Still, with the SUV segment flourishing there's arguably no shortage of buyers looking for some luxe with their off-road ability. For them, the Q8 promises both genuine performance and a pleasant cabin. It's wider, shorter, and lower than the Q7, but has a 9.8 foot wheelbase to maximize interior space.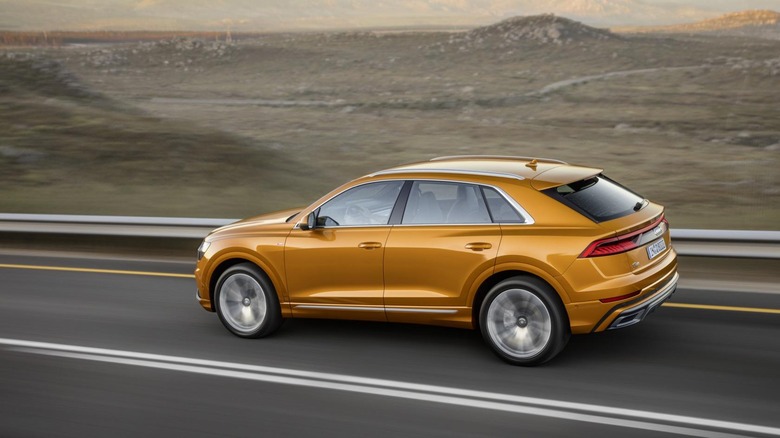 Five seats are offered in all, unlike the four-seater Q8 Concept we saw last year. Optional niceties include massage and ventilation all round, along with rear seats that can adjust longitudinally too. Fold those back seats down, however, and you get up to 62 cubic feet of cargo space.
On the outside, there's an updated version of Audi's Singleframe grille with an octagonal design. It's more pronounced than on the automaker's other models, and leads up across a contoured hood and into a roofline that slopes back to inclined D-pillars. The spoiler, wheel arch and door trim strips, and diffuser are all finished in contrasting color to the body.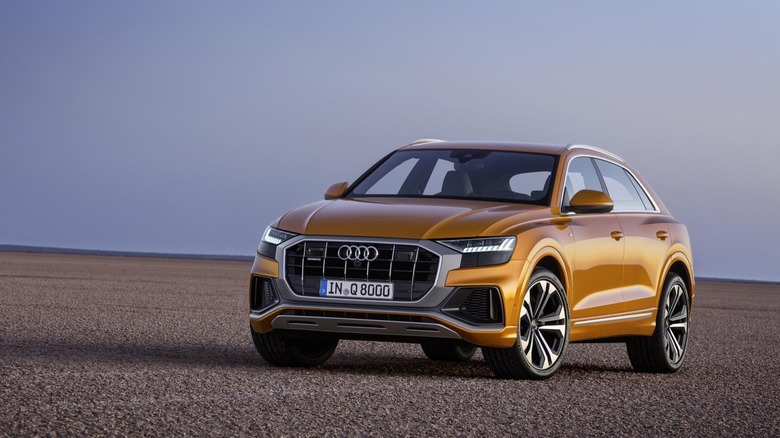 LED headlamps are standard, with HD Matrix LED an option. A light strip runs between the rear lights, with a black surface underlaying it that Audi says is meant to be reminiscent of the original Audi quattro. Up to 22-inch wheels are offered.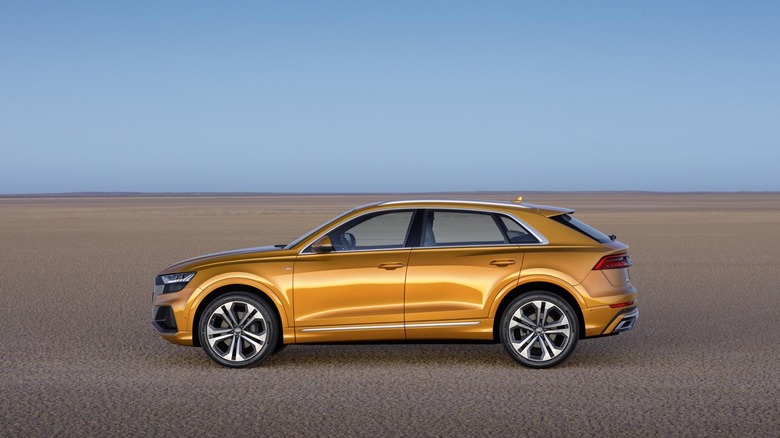 Under the hood there's a mild hybrid system, with a 48 volt primary electrical system combining a lithium-ion battery and a belt alternator starter. When braking, the Q8 can recover up to 12 kW of power that way. It also allows the Q8 to coast with the engine off, along with extending the SUV's start-stop system so that it can kick in from 13.7 mph instead of the car being at a complete stop.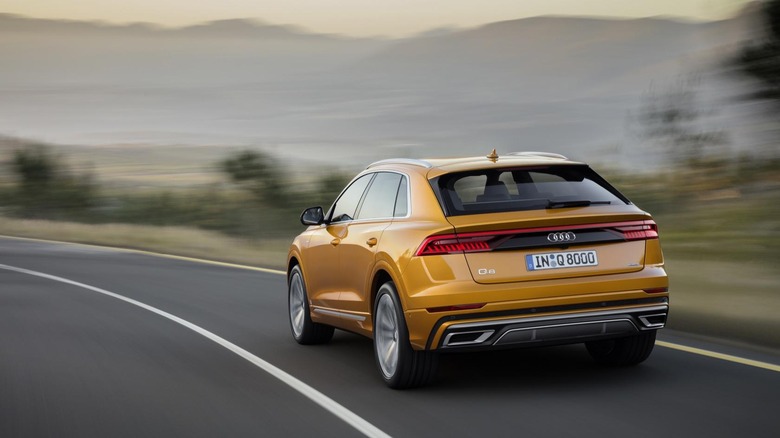 All-wheel drive is standard, with a mechanical center differential defaulting to a 40:60 front:rear split. Ground clearance is up to 10-inches, and there's standard damper control suspension. Adaptive air suspension will be optional, with 3.5-inches of adjustable ride height.
Progressive steering is standard, with rear wheel steering – that can turn the rear wheels by up to 5-degrees – an option. Audi promises a smaller turning circle at low speeds as a result, along with better stability at high speed.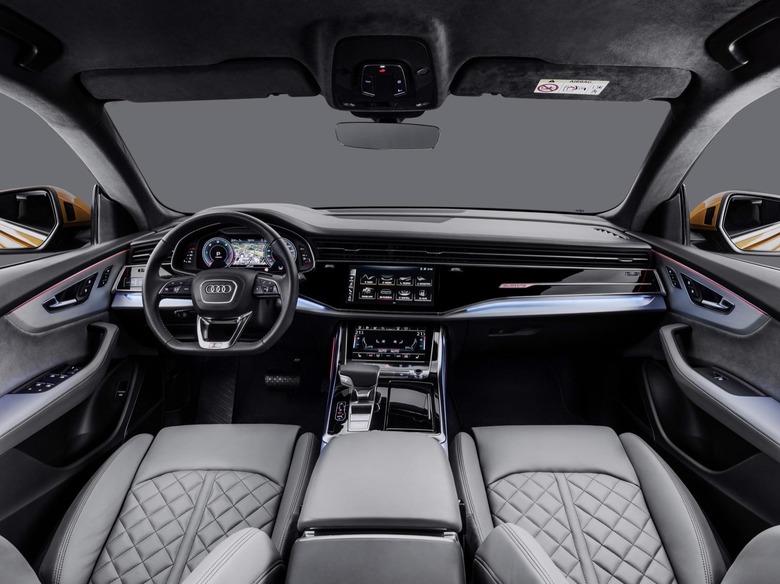 Inside, there's MMI touch response, Audi's latest infotainment system as seen in the newest A8 and A6 sedans. That gets twin touchscreens – 10.1-inches on top and 8.6-inches below – while the Q8 throws in optional light tracing. Four zone automatic climate control is optional, along with an air quality package. Natural language speed recognition is included, too, as is Audi's Virtual Cockpit display replacing analog dials. There's a head-up display as well.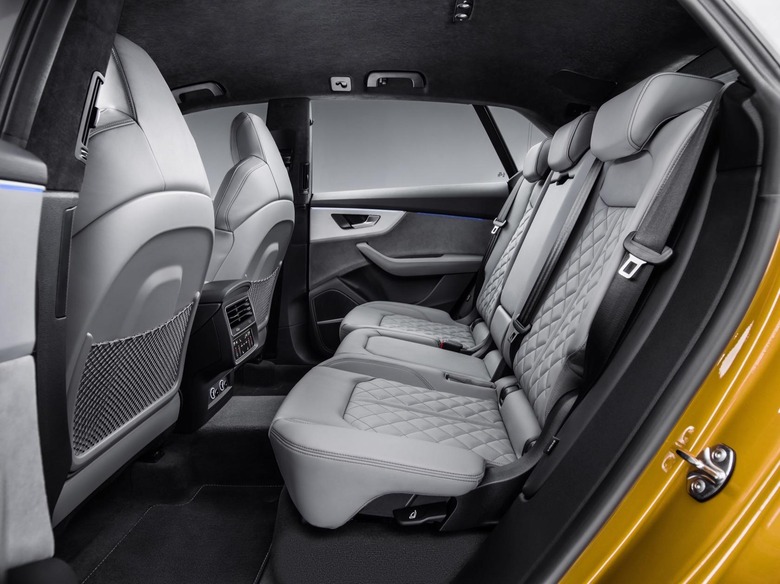 In Germany, Audi will be including MMI navigation plus as standard, which bakes in LTE Advanced and WiFi hotspot support. It also includes predictive route planning and Car-to-X services for traffic sign information and congestion reports, shared between Audi cars. An Android app can be used to unlock the car and load preferred settings for multiple drivers.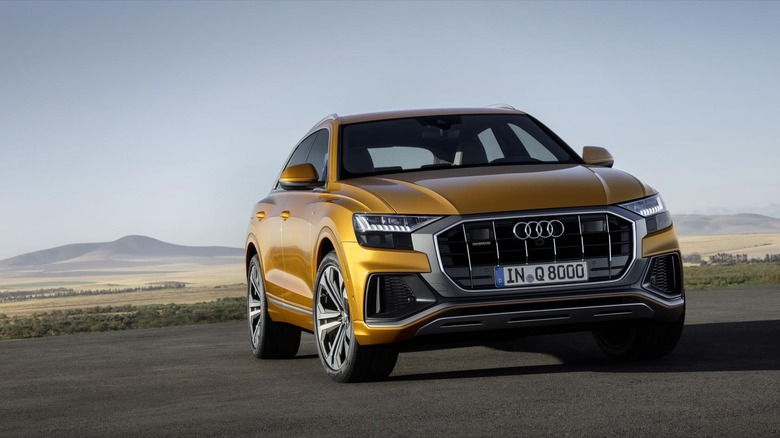 A Bang & Olufsen Advanced Sound System is optional, with 3D sound that takes into account the height of each of the seats. Adaptive cruise control is included too, plus lane change warnings and 360 degree cameras. Later in the model year you'll be able to get remote garage pilot, which allows the car to be steered in and out of parking spots from a smartphone, with the driver outside of the vehicle.
Audi says that the 2019 Q8 will go on sale in Europe in Q3 of this year. US availability will follow on in Q4 2018.