2019 Audi e-tron: 5 key things you should know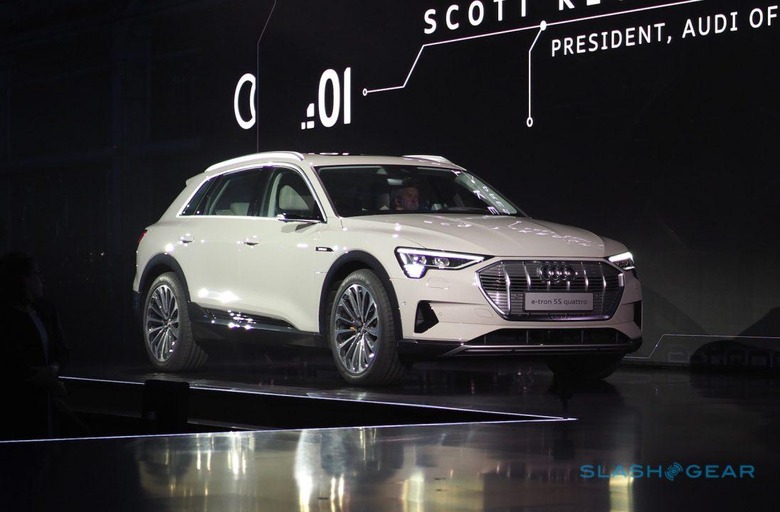 With the 2019 Audi e-tron, the all-electric SUV category enters the big leagues. Launching in the US midway through next year, the new five-seater promises the Audi style and luxury we're familiar with from the Q5 and Q7, along with the off-roading abilities, but with zero emissions along the way.
The big range question is still unanswered
Pitch an electric car and you're going to run up against one question from the get-go: how far can it drive on a full charge? That's something Audi isn't quite ready to answer, at least for the US market. "It hasn't been homologated for the US," Anthony Foulk, Product Manager at Audi AG, says, "so we're not quoting an EPA range until closer to launch."
What we do know is the battery size, and the range estimates on the European cycle. The 2019 e-tron has a 95 kWh battery, and in Europe the preliminary numbers suggest up to 400 kilometers – or around 249 miles – of driving on a full charge.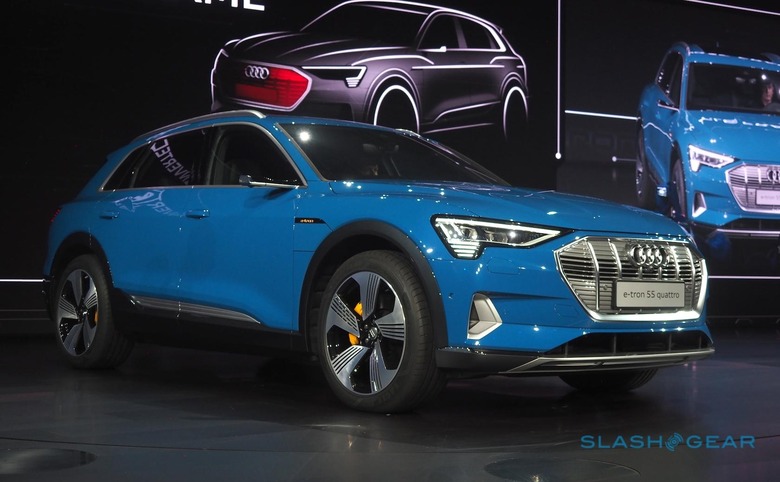 It bears remembering, however, that the European test is different – and thus difficult to directly compare – to the US test. In fact, there are two tests: up until recently, the New European Driving Cycle (NEDC) was used, but that's being replaced with the tougher Worldwide Harmonized Light Vehicles Test Procedure (WLTP). Audi's earlier NEDC estimates for the 95 kWh battery were around 310 miles; that dipped to 249 miles on the WLTP cycle.
Some of the implications are considerable. The EPA's testing, for example, tops out at 60 mph; the WLTP pushes cars to 82 mph during its fastest trials. Even if the e-tron lands with a better EPA figure, as we've already seen with EVs the practical distance you can drive on a full charge can vary dramatically from what's on paper.
Home charging should be easier
Unlike many EVs, Audi's supplied charger in the e-tron can handle 240-volt outlets as well as 120-volt domestic outlets. It means that, if you have a NEMA 14-50 / 40 amp outlet, you'll be able to charge at up to 9.6 kW. With a regular 120-volt outlet you're looking at 1.2 kW at most.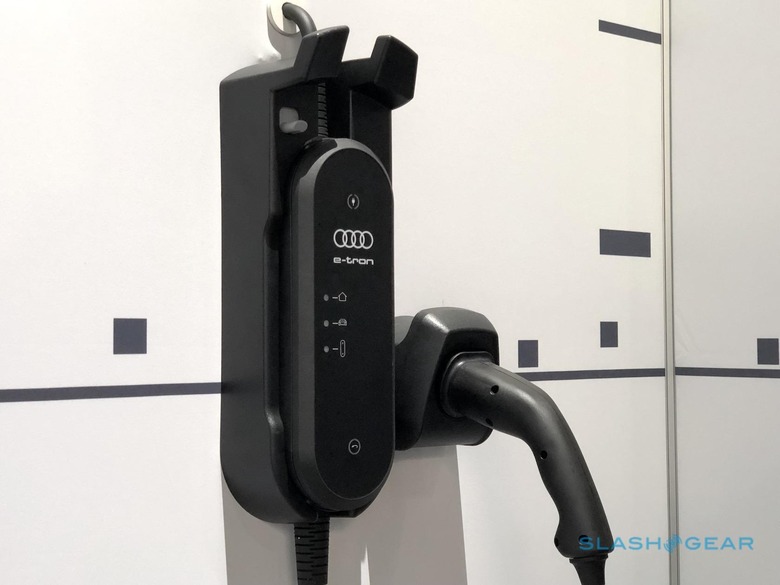 If you want a fully installed Level 2 charger, however, Audi is partnering up with Amazon for installation. It's intended to be a one-click affair, and for a single price: Amazon will arrange the electrician to come out and handle the installation. What we don't know, exactly, is how much that single price will be.
"Essentially it's going to be a fixed price, somewhere in the realm of $1,000," Filip Brabec, VP & Product Management of Audi of America, "as long as what the customer doesn't have what they're calling "a special case" where they need to replace the panel or something."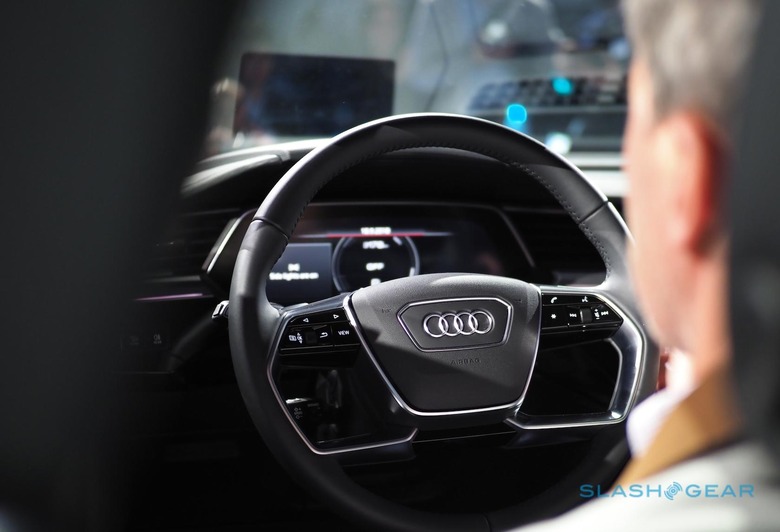 Even with that caveat, Audi's approach is a welcome one. With the exception of Tesla, automakers offering electric vehicles have so far been reluctant to get involved in the charger installation process. At best, it's left to the individual dealers to recommend a service; at worst, the car buyer is left to do their own research, shop around electricians, and figure out how they're going to maximize their time plugged-in when at home.
No Superchargers, but something potentially better
If there's one thing Tesla is known for, it's the Supercharger network. So far, we've not seen a mainstream automaker attempt to build it own EV infrastructure, but that doesn't mean the 2019 e-tron won't have places to charge. Instead, Audi is partnering with Electrify America on a network of high-speed chargers that will span the US.
By July 2019, there'll be nearly 500 fast-charging sites either complete or under development; by the end of 2019, the goal is 300 highway locations and 650 metro locations. They'll be clustered both in urban areas – 17 initially – and along the main roadways. Electrify America says the highway stops will be located on average 70 miles apart, but no more than 120 miles at most.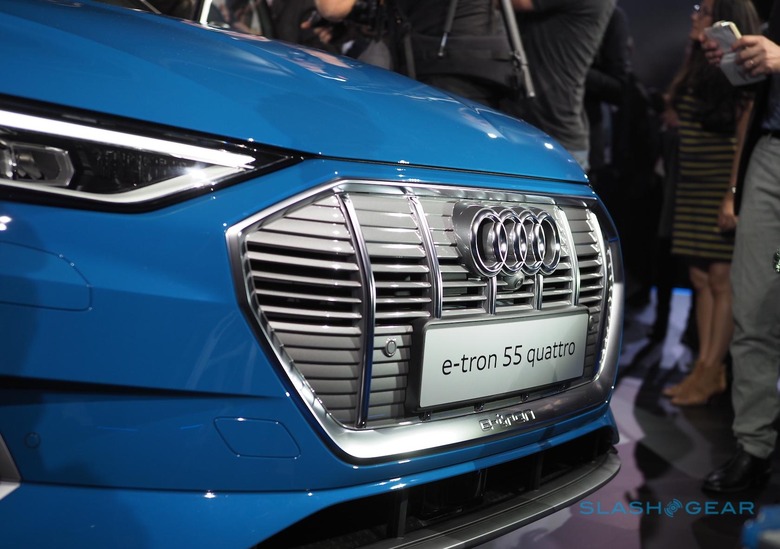 Each will support up to 350 kW; that's actually more than the 150 kW the e-tron can handle, but it paves the way for the Audi e-tron GT (and, indeed, Porsche's upcoming Taycan). The result will be an 80-percent charge of the e-tron's battery in around 30 minutes, Audi says. New e-tron buyers, meanwhile, will get 1,000 kWh of Electrify America charging credits, too. That's the equivalent of more than 2,000 miles of driving, Audi says.
It's priced to compete
The luxury electric SUV space hasn't had much competition so far, but that's all set to change over the next couple of years. Tesla's Model X has been the heavyweight so far, but Jaguar's I-PACE joined the party earlier this year, and the e-tron will arrive in Q2 2019. Sometime next year the Mercedes-Benz EQC will go on sale, while the BMW iX3 won't hit dealerships until 2020.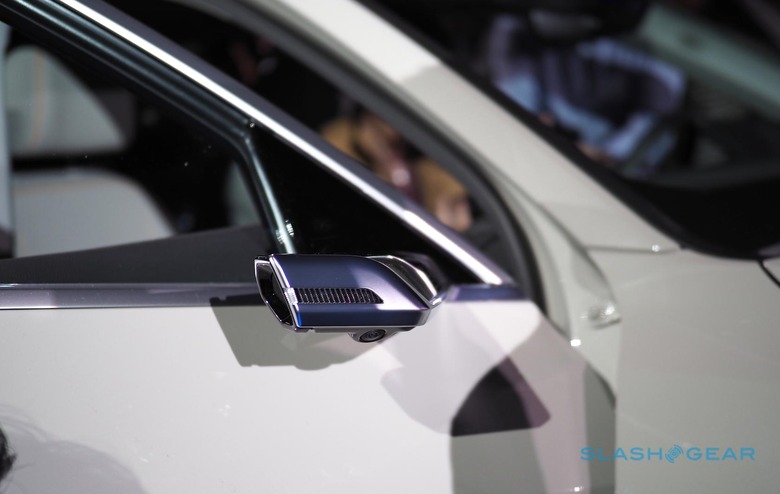 Larger, and with a third row of seats, the Model X carries a bigger sticker too, and starts out at $83,000 before incentives. The I-PACE is closer in size and spec to the Audi; it starts at $69,500, though the e-pace's higher level of standard equipment makes the $75,850 I-PACE SE a more comparable car.
Indeed the 2019 e-tron Premium Plus, at $74,800 before incentives, is aggressively equipped. 20-inch wheels, four-zone climate control, a 705W Bang & Olufsen audio system, heated/cooled front seats, a panoramic sunroof, navigation, and leather seats are all standard.
It's a legitimate off-roader
As you'd expect, Audi's quattro all-wheel drive is a key part of the e-tron offering. In fact, it's the first implementation of quattro electric, with an asynchronous electric motor on both the front and rear axels. Typically, the e-tron favors the rear for economy reasons, but it can bring both into play in a split-second for maximum traction.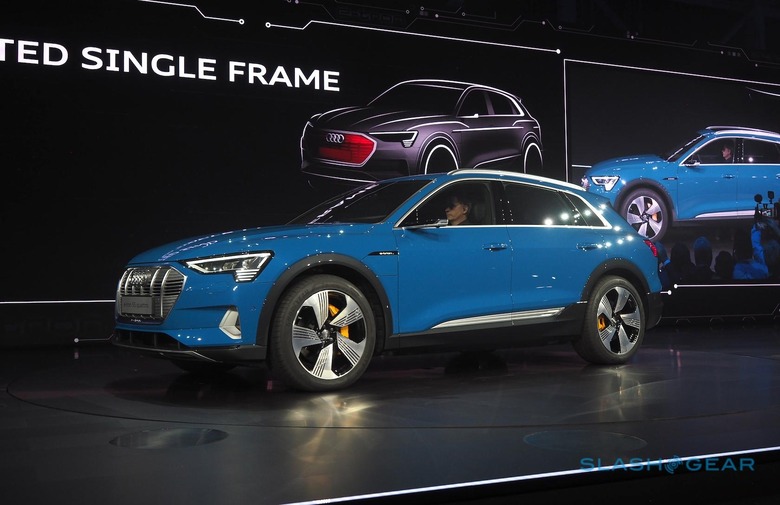 With air suspension as standard, the e-tron can adjust its height by up to 3.0-inches across the different drive modes. In "offroad" mode, for example, it lifts 1.4-inches compared to normal. A separate "Raise" option lifts it a further 0.6-inches. Combined with a lower center of gravity compared to a traditional SUV, courtesy of the battery pack being slung down within the wheelbase, and brake-based torque vectoring, it adds up to an EV that should be capable across unpaved surfaces, snow, and ice.