The 2018 Toyota Camry looks better than before. Toyota's mission to infuse some much needed sportiness into their sedan offerings is paying off, at least from a design perspective. From the other end of the spectrum, we have the 2018 Honda Accord. Honda's track record for performance has been improving lately. The Accord may looked like a stretched and widened Civic, but that's not necessarily a bad thing if you're one of those who rave about the latest Civic's design.
Midsize sedans are not as popular as before; Nowadays, the default choice for families is a five-seat or seven-seat crossover SUV. I have nothing against crossovers, but my default choice for conveyance will still be a normal sedan. Carmakers know that not all people are crazy enough to choose a larger and less fuel-efficient crossover over a traditional car, hence the revamped offerings that offer sportier looks, fuel-efficient motors, and superb practicality.
In this current SUV-crazy market, both the 2018 Toyota Camry and 2018 Honda Accord are a welcome relief from the bulbous and jacked-up styling of modern crossovers. Both vehicles are sights for sore eyes, but which is better? More importantly, which offers the best bang for the buck?
2018 Toyota Camry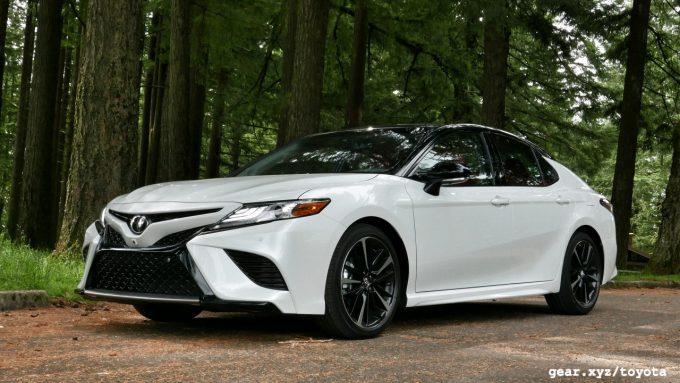 The Toyota Camry is one of the most popular and bestselling names in the US automotive market. Previous models of the Camry have emphasized luxury over driving involvement, and that's not necessarily a bad thing for an everyday car. As the Corolla (particularly the Corolla Hatchback) started wearing cuffed trousers and fancy sneakers, this design idiom eventually rubbed into the 2018 model Camry.
The new Camry looks sharp and ready to attack the road. Dare I say it borrowed some design cues from the Lexus LFA? Maybe. In my eyes, it looks like a more casual version of the current Lexus ES sedan. The 2018 Toyota Camry is sleeker from any angle. It is also lower than the previous model to further evoke the feeling of aggression and sportiness. The most impressive thing is Toyota managed to do all of this without racking up penalties in cabin and cargo space.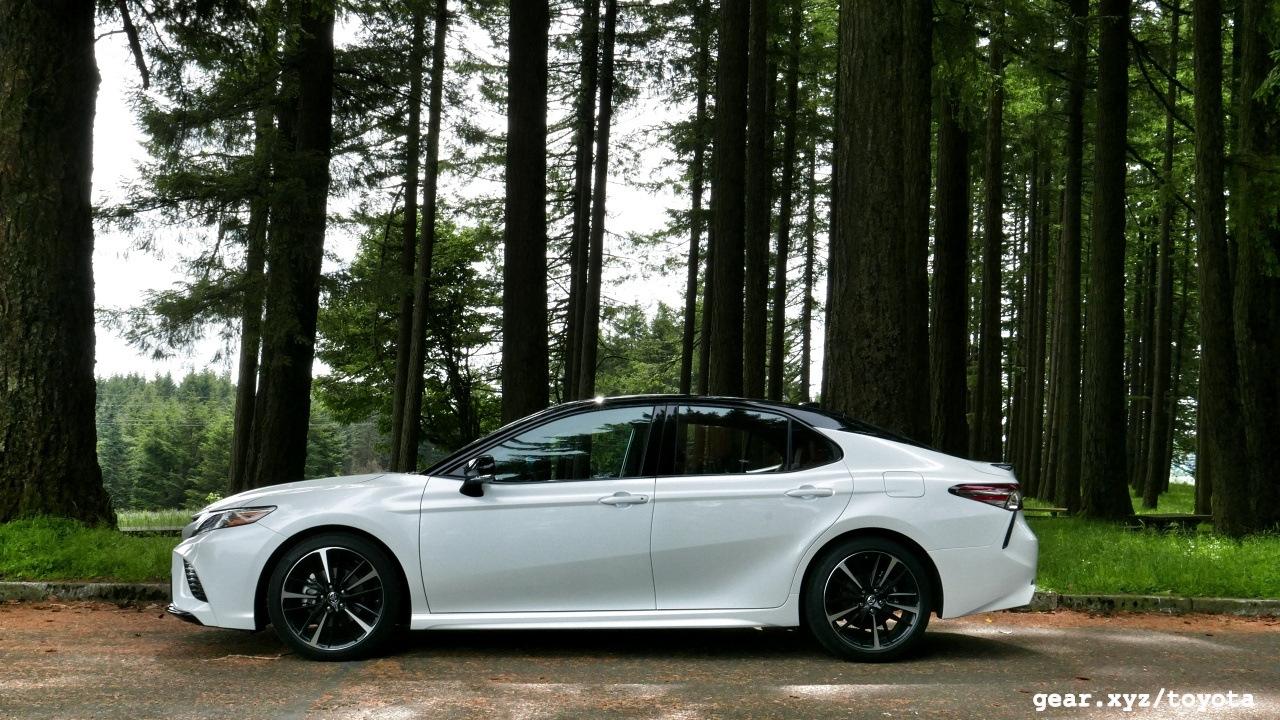 But the biggest difference is something you won't see from the outside. Look underneath and you will see a double wishbone suspension set-up in the rear of the 2018 Camry. What? A double wishbone suspension in the Camry? How long has it been? This new suspension set-up will not only improve space, but it will significantly enhance handling as well.
The base model 2018 Camry L starts at just below $25k. It comes with a rearview camera, Bluetooth, a six-speaker audio system, automatic LED headlights, and 16-inch wheels. What's good is all models of the Camry receives Toyota Safety Sense as standard. This means your sub $25k base model Camry is also equipped with automatic high beams, adaptive cruise control, lane departure assist, and frontal pre-collision system.
The LE model adds bigger wheels and a folding back seat. The SE comes with sport-tuned suspension (yummy!) and better steering for less than $26k. The base engine is the familiar 2.5-liter four banger that produces 203 horsepower and 184 pound-feet of torque.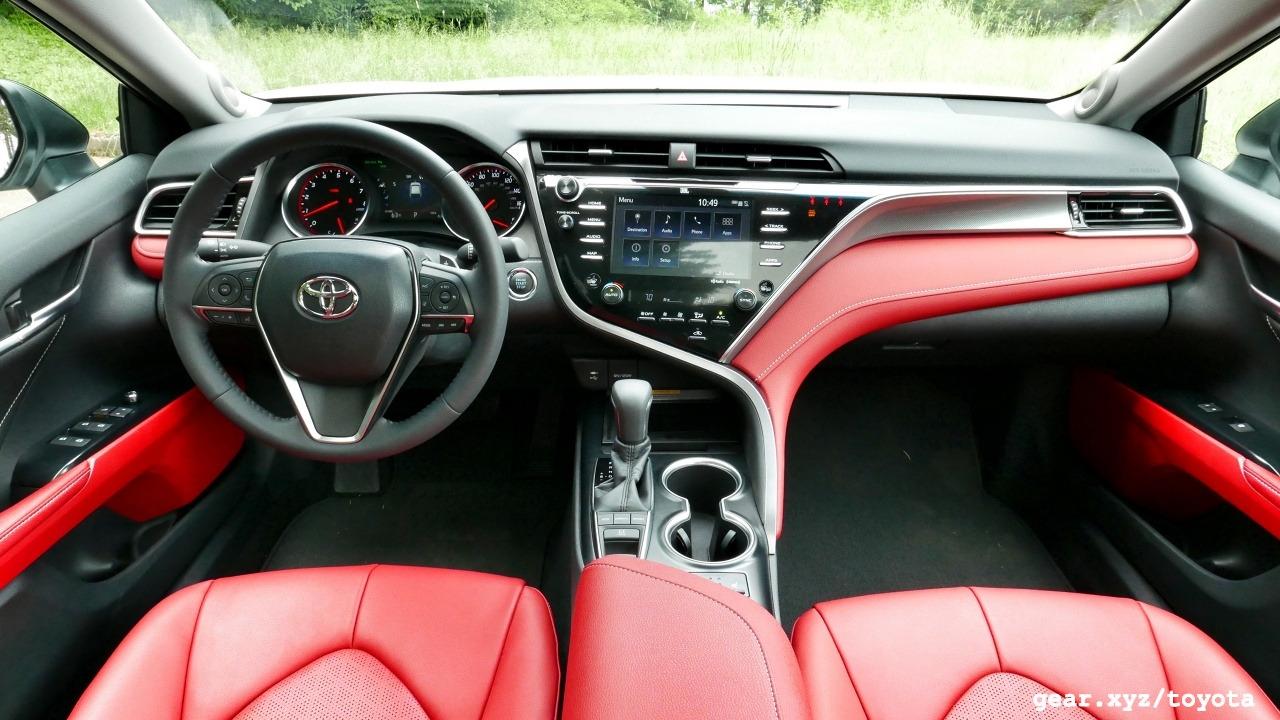 The XLE and XSE trim can be fitted with a 3.5-liter V6 with 301 horsepower and 267 pound-feet of torque. It would be better if Toyota further massaged the 2.5-liter to produce a bit more power and torque to perfectly match the sporty styling, but it can still deliver 29/41 mpg in city and highway driving. The V6 is not bad, either. It can still muster 22/32 mpg if you drive like a nun. All engines are mated to a new 8-speed automatic transmission.
The 2018 Toyota Camry is not as sporty as advertised despite the new legs in the rear. However, it responds with more urgency than the previous model. The ride is still pleasant but you can expect more jolts if fitted with optional 18-inch wheels. The cabin remains roomy and the trunk can still swallow your golf gear and the wife's shopping bags. The steering is a bit more responsive but it still feels dull upon turn in.
The verdict? The 2018 Toyota Camry is the sportiest Camry in the longest time. What's impressive is it didn't sacrifice space and riding comfort to do so. Oh, and gives terrific value for money as well.
2018 Honda Accord
I always liked the Honda Accord. I also like the 2018 model, even though I find the styling to be inorganic compared to the sexy Mazda6 and Chevrolet Malibu. You don't have to squint your eyes to determine the similarities with Civic's design, either. In fact, I think the new Accord looks sharper, sleeker, and more proportionate than the Civic. If you want to ask me which between the Camry and the Accord looks better, I'll say neither because the Mazda6 – and to some degree the Ford Fusion – looks way better. But maybe it's just me.
However, the fastback profile of the 2018 Honda Accord deserves much applause. The interior also deserves special mention. Honda managed to make the new Accord seem more upscale by utilizing sleeker designs and better materials. The top-tier Touring trim in particular comes with a plethora of soft touch plastics, plush leather seats, and real wood trim. Where the Mazda6 is more beautiful on the outside, it is trumped by the Accord on the inside. If you prefer a more luxurious feel from a humble midsize sedan, the Accord is the one to choose.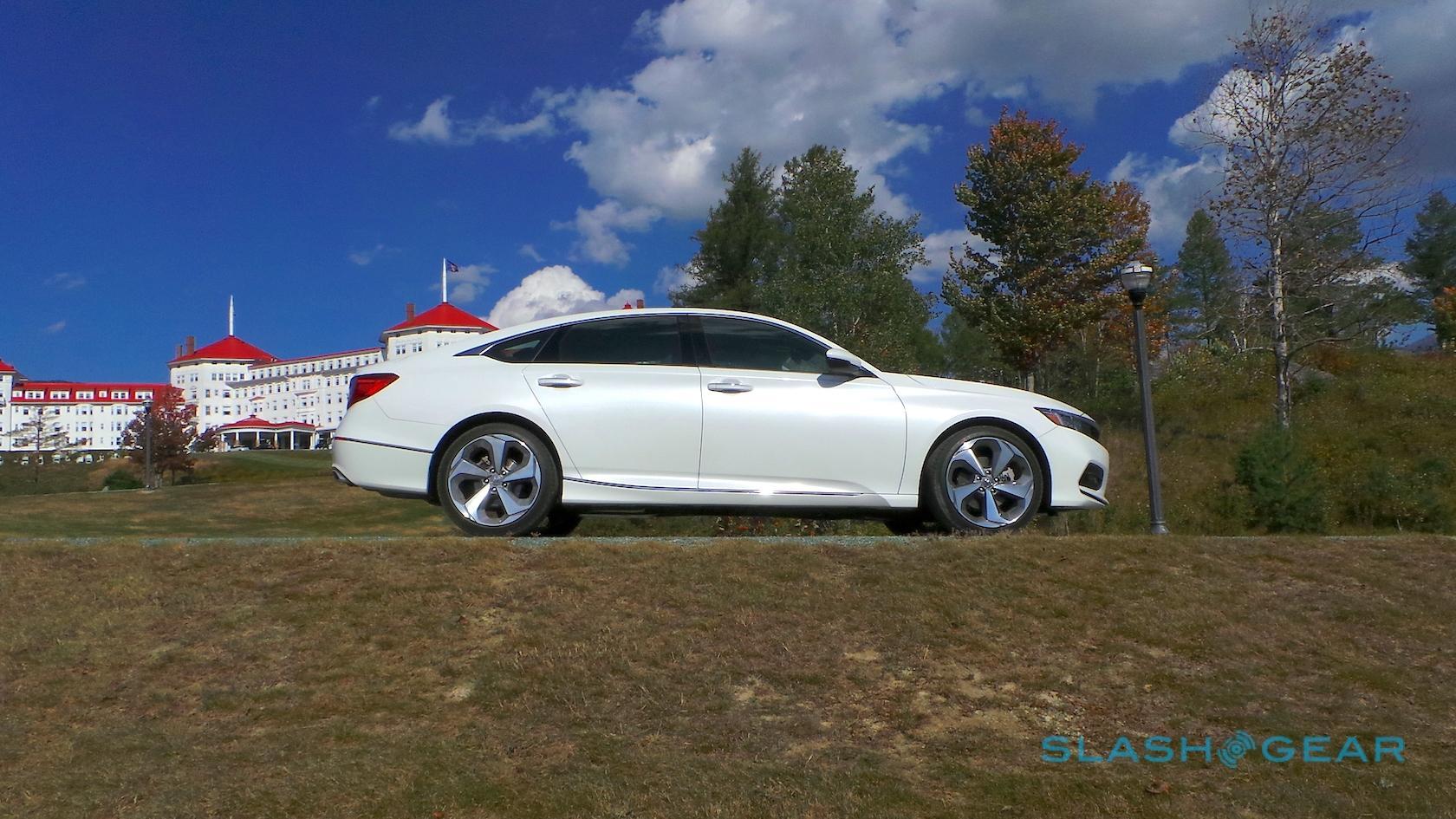 The base model Accord LX comes well-equipped at below $24k. It comes with dual-zone air conditioning, push button start, rearview camera, 7-inch LCD screen, and 17-inch alloy wheels. You also get Bluetooth, auto high beam headlights, and LED DRLs. All models of the 2018 Honda Accord comes with Honda Sense which includes adaptive cruise control, forward collision warning, lane departure warning, and automatic braking. The Sport model adds bigger 19-inch wheels, power driver's seat, and Apple CarPlay along with Android Auto for less than $26k. The EX model will give you a power moonroof, a larger 8-inch screen, and added safety features.
Standard on all trim models is a turbocharged 1.5-liter four banger with direct-injection that churns out 192 horsepower and 192 pound-feet of torque. It is down in power compared to the base engine in the Camry but it does feel more eager to accelerate while still returning 30/38 mpg. This motor is connected to a CVT transmission.
Want more power? Well of course! The 2018 Honda Accord Sport, EX-L, and Touring models can be equipped with a turbocharged 2.0-liter four cylinder motor that outputs 252-horsepower and 273 pound-feet of torque, which is significantly less than the bigger engine in the Camry. This motor is bolted to a 10-speed automatic transmission. Strangely enough, this motor returns the same 22/32 mpg as the V6 Camry.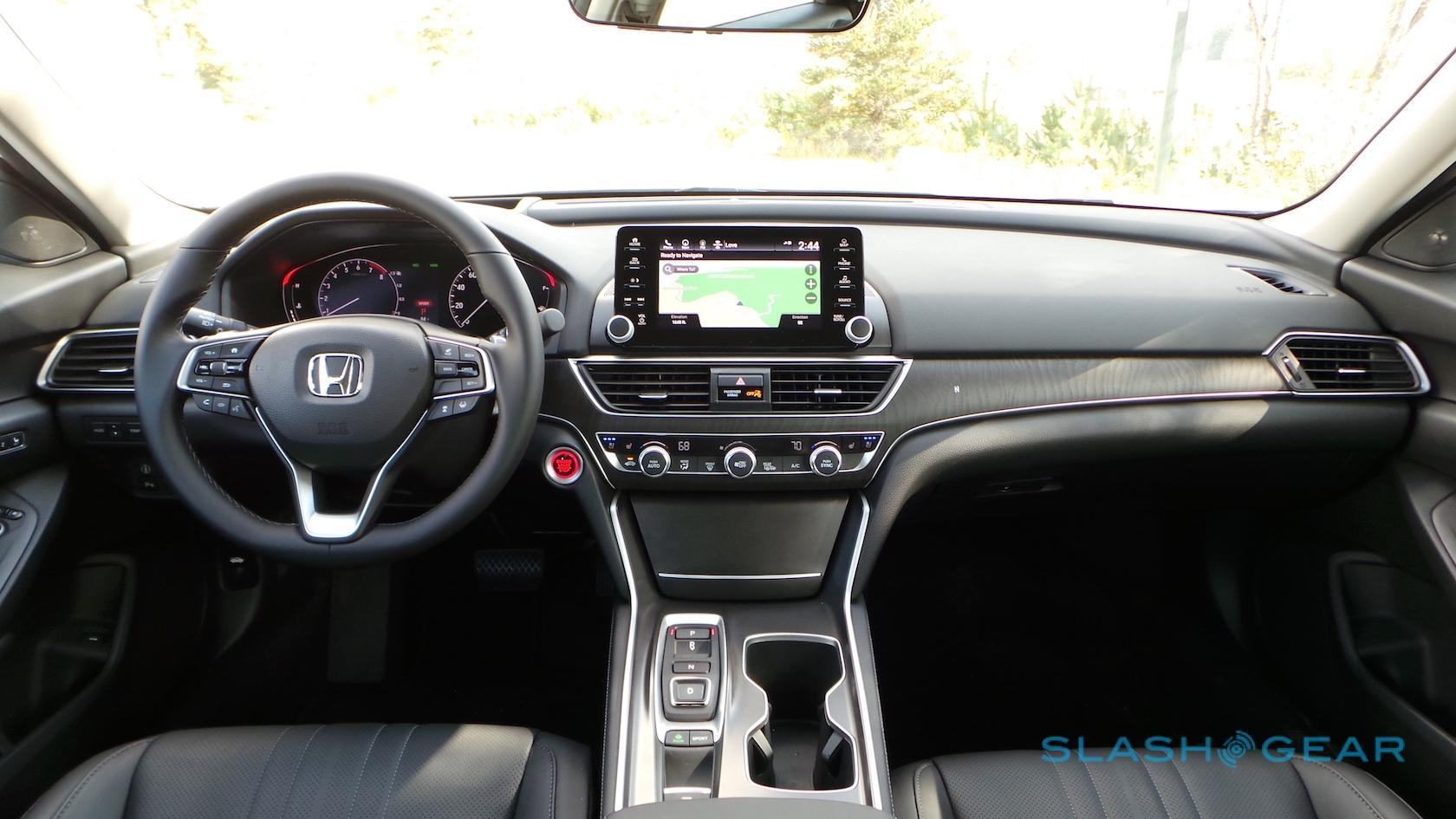 The 2018 Honda Accord feels almost flawless when driven. It can carve corners better than the previous model and the chassis gives the car a better sense of agility. However, the steering is a bit of a letdown. It is light and easy to operate in tight spaces, but that's about it. On the open road the steering feels a bit disconnected. But the ride itself is superb. It is smooth, quiet, and absorbs bumps quite well. The new Camry is a bit noisier at high speeds, but the seats in the Camry feel more comfortable than the ones fitted in the Accord.
The new Honda Accord also offers tons of interior and cargo space. It may be down in power compared to the Camry, but that's just nitpicking from an enthusiast's perspective. Neither vehicle felt like a sports car when driven hard, but that's how family sedans should feel, right?
Final Take
Both the 2018 Toyota Camry and 2018 Honda Accord deliver excellent value for money. They come with plenty of features and safety equipment without emptying your wallet. The Accord comes with more tech and upscale features, but we wish the engine offerings came with a smidgen more power and torque. Meanwhile, the Camry offers more power and the famed reliability of the Toyota badge.
We'd lean toward the 2018 Accord, not least for its inclusion of Android Auto and Apple CarPlay: being able to plug in your smartphone and have all your content on the in-dash display makes a usability and safety difference every day. Nonetheless, these are both impressive sedans, and we couldn't really fault you if Toyota's pleasing V6 and aggressive styling won you over.