2018 Roush Super Duty F-250 is one hopped up hauler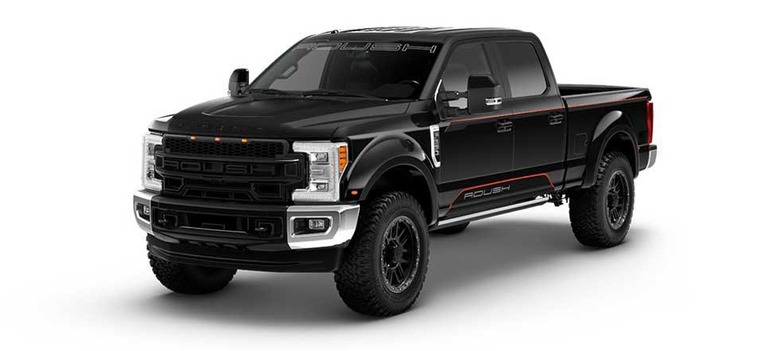 Roush has announced that it has jumped into the heavy-duty truck market with a hopped-up version of the 2018 Ford Super Duty F-250. The truck is dubbed the 2018 Roush Super Duty F-250 and it is hailed as a truck that "looks incredibly intimidating and isn't afraid to get dirty."
Unlike some of Roush's other Ford vehicles (like the Mustang) the Roush Super Duty F-250 appears to have no performance modifications done to the engine. The company says that the Roush truck will have all the safety, reliability, and towing capability that the truck had from the factory. Essentially what Roush is doing is making the truck look better.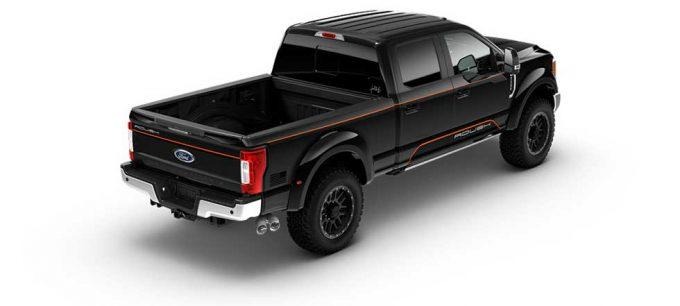 Each Roush Super Duty F-250 gets a Roush/Fox 2.0 suspension upgrade that levels the suspension at 1.5-inches and maintains payload and towing capability. That lift gives room for larger wheels with Roush 20-inch units featuring integrated bead protection offered with black and grey rings. The wheels are shod in BFGoodrich KO2 All-Terrain 35.3-inch tires.
Roush fits the truck with a special stainless DPF-Back exhaust system for diesel versions for more sound and looks. A new grille is fitted that is compatible with the adaptive cruise control. A variety of graphics options are available to choose from.
The Roush massaged truck maintains the 3-year, 36,000-mile warranty. Buyers can also add a console vault, off-road utility kit, and full body side stripe graphics. Pricing for the Roush Super Duty F-250 starts at $13,880 above the price of the base vehicle. If you tick all the boxes, the upgrades are a bit over $16,000.
SOURCE: Roush