The 2018 Range Rover Supercharged LWB is SUV royalty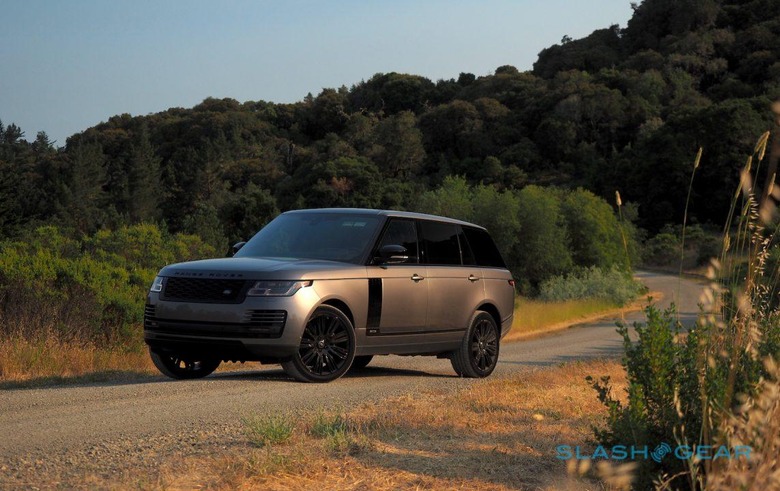 EDITORS' RATING: 8/10
The 2018 Range Rover LWB isn't bulletproof, but you certainly feel that way from behind the wheel. LWB here stands for Long Wheelbase, and means more length added to what's already the largest model in Range Rover's line-up. Despite that, it's an unexpected note of restraint in a sea of vast luxury trucks.
It's imposing, but not in that shiny, chromed way so many large SUVs are bedazzled. Tesla's Model X may be the one with the biohazard-grade air filtering, but with its side gills and smooth, hewn-granite body it's the Range Rover you'd assume was safest come chemical war. The slight purplish tint to the rear windows brings to mind Kevlar sandwiches and bodywork unconcerned with armor-piercing rounds.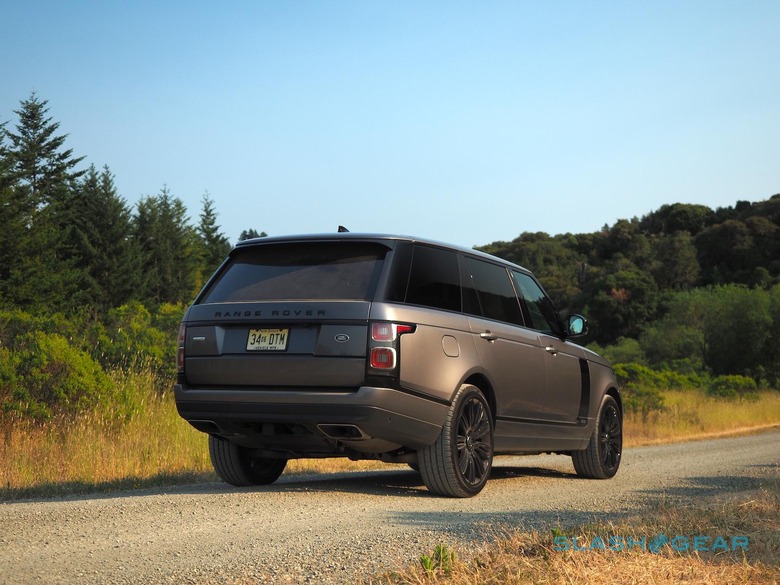 Range Rover's current design dates back to 2012, though the Long Wheelbase version followed on two years later. At 204.7 inches, it's almost eight inches longer than the standard SUV, with that stretch dedicated to elongating the cabin. Just as the length has increased, so has the price. The Range Rover LWB starts out at just shy of $109k before destination, but with extras it tickled up to more than $126k on my drive.
Just as once nobody got fired for buying IBM, though, no one in the market for a vast luxury SUV ever went especially wrong with picking a Range Rover. It may not shout as loudly as its German rivals, but there's a quiet confidence that speaks of breeding among a sea of try-hards. It is, to use a hideously class-obsessed British phrase, "Very Old Money."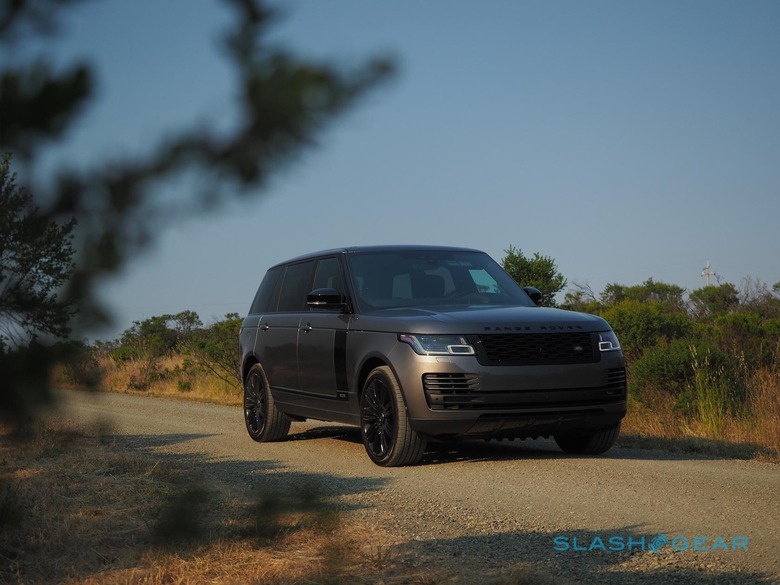 Heritage may sell, but there are places you don't want hand-me-downs. A good example: things inside are much more pleasant since the daddy Range picked up the dual touchscreen infotainment system from the upstart buck Velar. Navigation and multimedia up top; HVAC and drive modes below. The lower screen crashed twice in so many days, and the upper screen flashed brief glimpses of the camera debug menu a couple of times, but I'd still take it all over the clunky system the old car had.
I've no complaints about the lavish application of leather and real metal trim, either. Range Rover's sizable thrones are plush and supportive, even if you don't opt for the Executive Class Comfort-Plus seats with their extending calf-rests in the rear. A whole second climate unit can be installed to ensure things get suitably chilly both front and back; the already-tinted rear windows have power blinds to really make sure those on the pavement can't make eye-contact.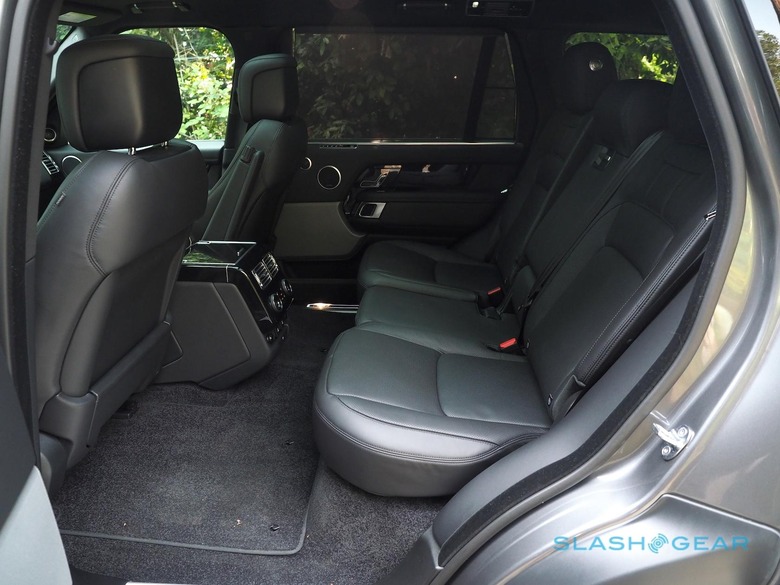 As you'd expect, rear legroom is expansive, as is headroom. Compared to the tech-filled cabins of some luxury cars, though, there's a notable restraint when it comes to the gadgetry. Given how rapidly in-car systems tend to date, I don't think that's necessarily a bad thing, though I'd not argue with some iPad holders for those wanting to mount their tablets behind the headrests. The options list is full of the usual add-on displays and massage seats, but a little purism suits the SUV's character nicely.
The real fun, though, is actually saved for the driver. In Supercharged form, the Range Rover LWB is outfitted with the automaker's 5.0-liter V8 supercharged engine, delivering a healthy 518 horsepower and 461 lb-ft of torque. With its eight-speed automatic transmission and all-wheel drive, it's good for a top speed of 130 mph and 0-60 mph in 5.1 seconds.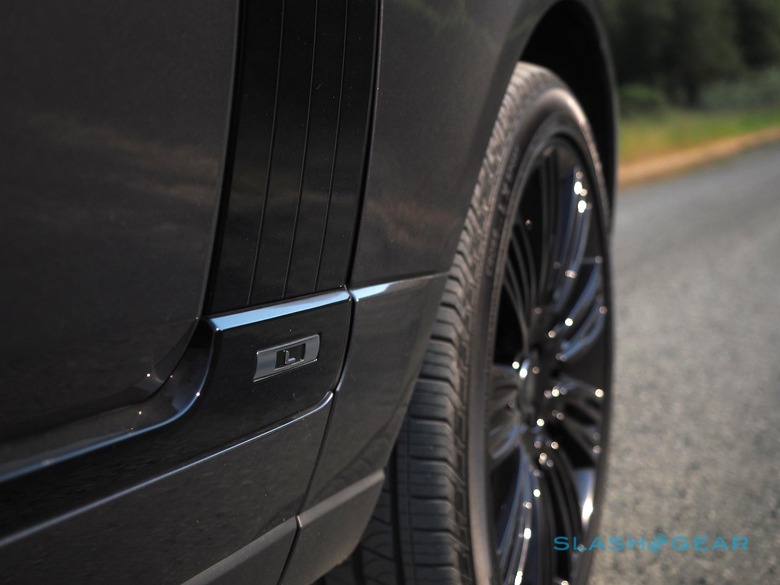 That might not sound outlandish, but when you consider the SUV's curb weight is 5,254 pounds it's basically like equipping an apartment block with a jet engine and launching it in the vague direction of the horizon. The Range Rover hurtles forward with a soundtrack somewhere between a whine and a bellow, and all the richer for its mixture. Think "bull elephant treads on the mother of all LEGOs" and you're getting somewhere close.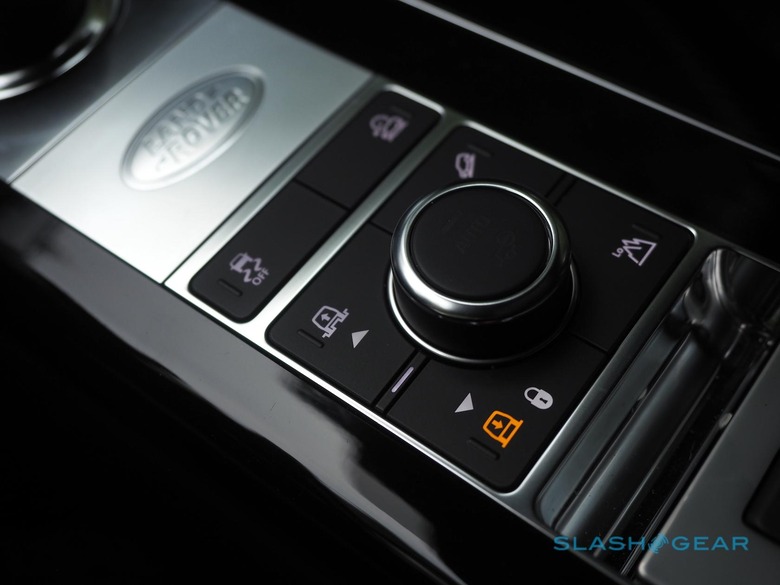 Air suspension is installed as standard, lowering itself automatically to help you clamber in or out (or just when you need to put luggage in the deep trunk with its clamshell hatch), raising itself for an imperious everyday sightline, and then dipping once more at speeds above 65 mph for maximum efficiency. It's also sumptuously comfortable. If the true definition of luxury involves the most ample cosseting of the buttocks, then it's tough to overcome the Range Rover's combination of smoothness delivered without wallow or lurch.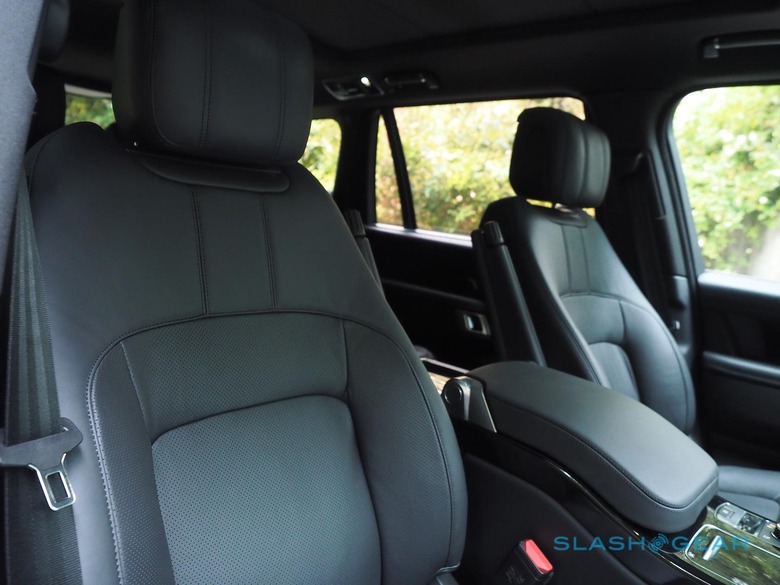 Indeed, driving it back to back with the latest Lincoln Navigator – a more in-your-face expression of comfort, certainly – the British SUV's poise was immediately evident. Even in its softest drive mode, the Range Rover dealt with corners with stiff upper lip levels of grace. Dynamic mode, meanwhile, coaxed out unexpected levels of eagerness, and probably helped contribute to the 15 mpg average economy my mixed driving achieved. This is no sports car, of course, but if you've always wanted to know what it might feel like racing away from the G8 summit, this is the truck to do it in.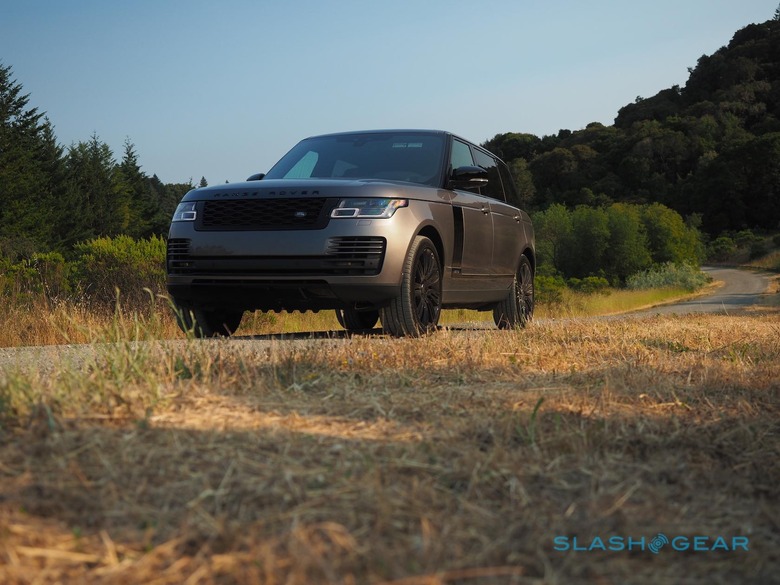 Because it's a Range Rover, though, it has to handle the mud just as well. It'll wade through depths over 35 inches, while the Terrain Response system includes settings for grass/gravel/snow, mud and ruts, sand, and rock crawling. You can choose yourself, or leave the car's Terrain Response 2 system to pick the best settings – and funnel power to the most appropriate wheels – as it sees fit. There's a two-speed transfer box and electronic center differential as standard, with a hill mode that eases the big SUV down steep inclines. I suspect few will ever use it, but it wouldn't be a Range Rover without it.
That's because, in this segment, perception is just as important as ability. No slight to the Range Rover intended: building and maintaining cachet is, frankly, more difficult than piecing together a technically "good" car. The 2018 Range Rover Supercharged LWB may not be bulletproof, but its reputation certainly is, and deservedly so.