2018 Porsche Panamera Sport Turismo First Drive: A rocket not a wagon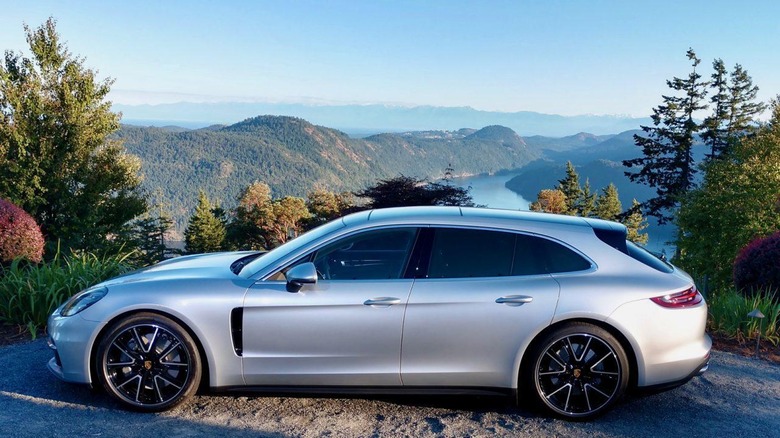 Whatever you do, please don't call the new 2018 Porsche Panamera Sport Turismo a station wagon. Even describing it as a hatchback is off-limits. I can understand why you might be tempted, since the roofline is ever so slightly stretched in order to accommodate a smaller fifth passenger. But this is not your grandfather's wagon, not least because – and I know I'm not the only one to think this way – the second-gen Panamera is absolutely gorgeous to look at. That means, even if I have to call it a "five-door sedan with a lift-back," I'm prepared to declare that the Panamera's "Sport Turismo" variant is one of the sleekest, most beautiful and luxurious ways to get around today. All for just $6,000 more than the regular car.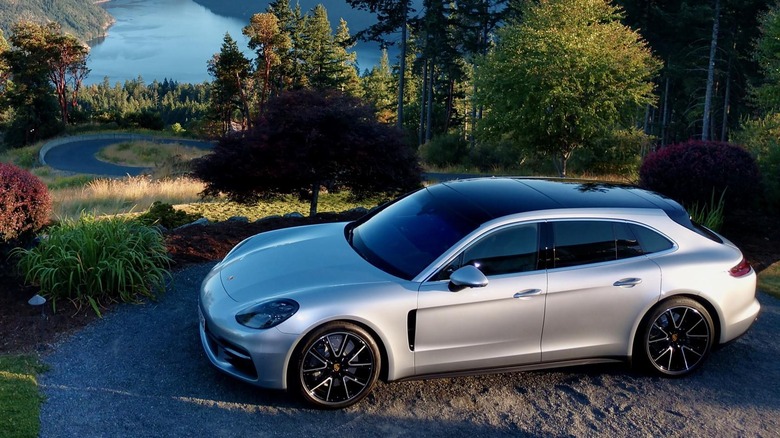 The Panamera Sport Turismo is only offered in all-wheel drive variants: the Panamera 4, E-Hybrid, 4S, and at the top the Turbo Sport Turismo. Pricing starts at $97,250, $105,050, $110,250, and finally $155,050 respectively. The entry-level car has a single-turbocharged 3.0-liter V6 with 330 HP, while the hybrid 2.9-liter V6 offers combined horsepower of 462 HP. The regular twin-turbo in the 4S falls 22 HP short of that. Sadly, the larger, more powerful 680 HP hybrid powertrain won't be coming to the Sport Turismo, so the most powerful option is the twin-turbo 4.0-liter V8, with 550 HP. They're all paired up with Porsche's near-telepathic, lightning fast eight-speed PDK transmission.
Forward of the B-pillar, the Panamera Sport Turismo is identical to the four door variant. Moving rearward, there's an adaptive, three-position active roof spoiler. Sure, it's not as eye-catching as the Transformer-like rear spoiler on the Panamera 4S Turbo, but it's still pretty damn cool. Although it may look like a single piece, there's actually a spoiler integrated into the fixed spoiler. The second automatically flares up to performance mode at above 106 mph, though since that means on US roads you'd never see it (well, not if you want to keep your license) it can be manually triggered for more downforce, up to 110 pounds.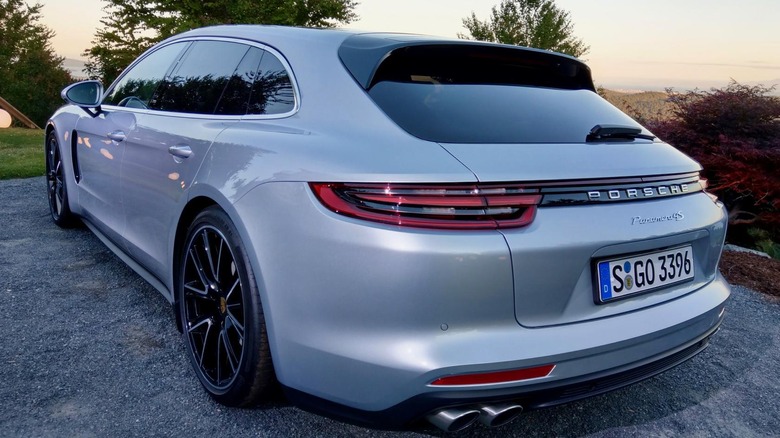 It serves a second, equally clever purpose however. If you tick the box for the optional panoramic roof, the spoiler automatically angles up at 26-degrees when the roof is opened. That had a noticeable impact on cutting wind noise in the cabin during my drive. Alternatively, in Sport or Sport Plus driving modes, the spoiler deploys into performance position at speeds of 56mph.
On the inside, unless you're the plus-one sitting in the middle rear seat, accommodations front and back are equally plush. Should you ever find yourself in the middle seat, you'll have to accept that it's really meant to be endurable, not so much comfortable. I tried it out for an extended period, discovering that the seat is narrower and raised slightly. Yes, the Panamera Sport Turismo seats five, but not all seats are created equal.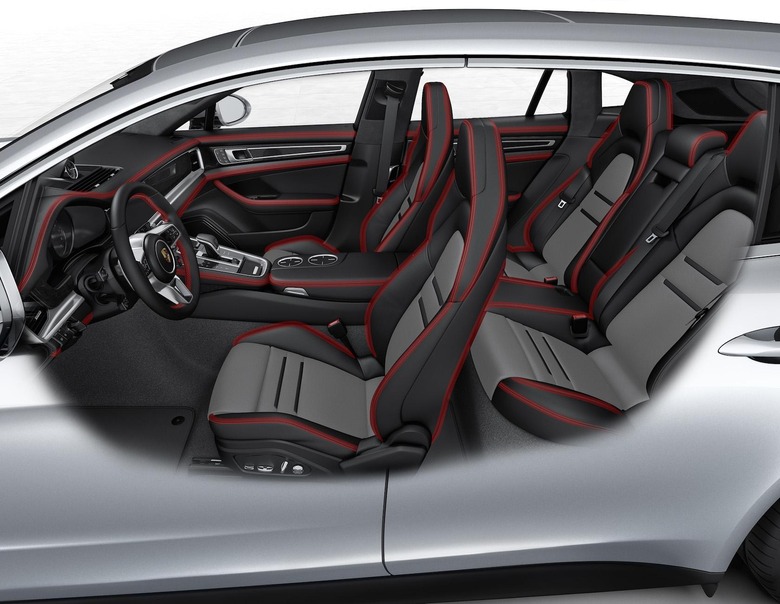 While you're in the back – especially if you're perched up on the middle seat – you'll notice that the Sport Turismo has a longer roof with less rake. The rear doors have been modified slightly to accommodate a larger glass area, too, while the D-pillar is much more upright. The car's wheelbase and rear overhang are identical to the regular Panamera, with the exception of the 0.2 inch higher roofline.
Being 6'2" tall, I was able to comfortably position myself in the driver's seat and, without moving the seat forward, there proved to be more than adequate room for my legs when I moved to the seat behind. During a more spirited driving session along the backroads of British Columbia, Canada, I also spent some time back there to see what the ride was like: it's not too shabby, in case you might be wondering.
Speaking of spirited driving, we didn't get too many opportunities, being that the speed limit in British Columbia is both low and heavily patrolled. If you find yourself on more liberating roads, my first drive of the Panamera Sedan nearly a year ago should tell you everything you need to know, because the Sport Turismo performs pretty much exactly the same in terms of ride handling and performance. Porsche's three-chamber, adaptive air suspension comes standard, except for on the Panamera 4 Sport Turismo.
I split my time between the 4.0-liter V8 twin-turbo and the 2.9-liter hybrid twin-turbo. Here's my take away: if you must have the additional horsepower – which, by the way, does propel you from 0-60 mph in only 3.6 seconds – spend the additional $50,000 on the V8, twin-turbo. Personally, I'd open my wallet for the electrified Panamera 4 E-Hybrid engine, a plug-in with a 14.0-kWh battery, which I found more than sufficient for sprinting around town, dropping the kids off at school, or even a long road trip.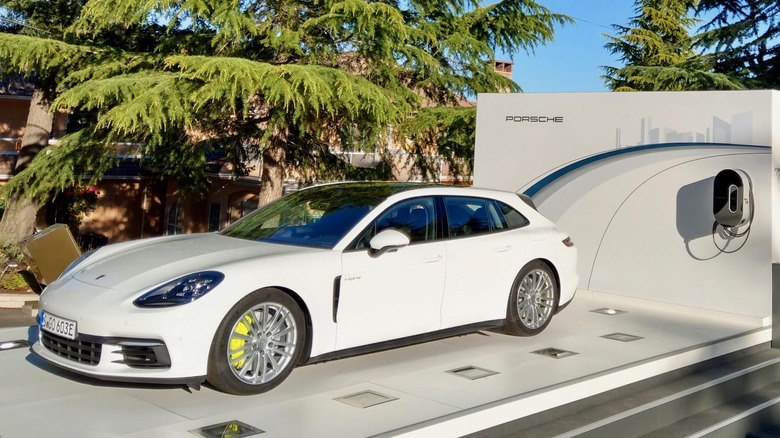 With all that money you're saving by going with the 4 E-Hybrid, you can put some of it toward the $1,2620 rear-axle steering and $2,530 Sport Chrono package. Trust me, together they'll make a major difference in your day-to-day driving. Rear wheel steering extends the car's wheelbase at higher speeds, but when maneuvering in tighter parking lot-style environments it feels more agile, as though the wheelbase is actually shorter. Sport Chrono, meanwhile, is worth every penny, particularly since it adds additional quick drive modes with an access dial on the steering wheel. It also gets you what I consider to be the best feature, the Sport Response button. Press it and you're instantly granted 20 seconds of pure performance, the best of what Porsche can deliver. It's great for making the most of an unexpected overtaking opportunity on the highway.
On the hybrid, the mode switch on the steering wheel consists of E for E-Power, H for Hybrid (Hybrid Auto, E-Hold and E-Charge), S for Sport, and S+ for Sport Plus modes. In non-hybrid models, the first mode is O for Normal, S and S+ for Sport and Sport Plus, and finally I for individual drive mode settings, which you can adjust through the car's infotainment system.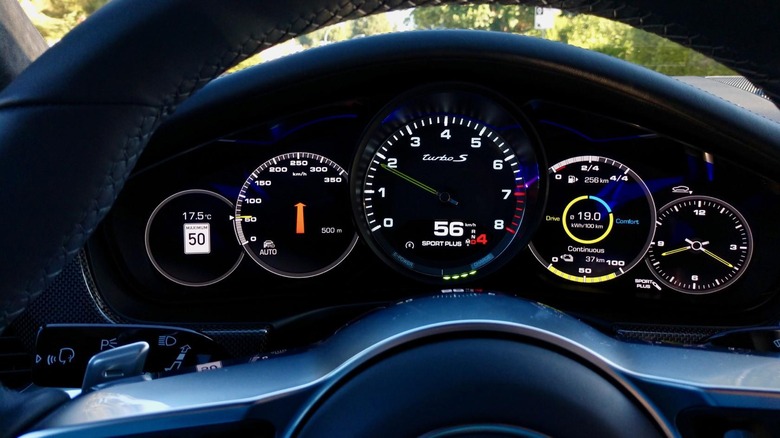 The Panamera 4 E-Hybrid has an all-electric range of 31-miles, driven by the 136 HP motor which is limited to a top speed of 87 mph. Should you go past that, the gas engine kicks in for a combined output of 462 HP. Even with a curbweight of 4,828 pounds, 0-60 is a mere 4.4 seconds, compared to the Turbo Sport Turismo's 3.6 seconds. While I missed the Turbo S E-Hybrid's twin turbo V8, good for a heady 680 HP, I suspect a little patience will serve buyers well. Porsche hasn't officially announced the Panamera Sport Turismo Turbo S E-Hybrid yet, but rest assured, it will.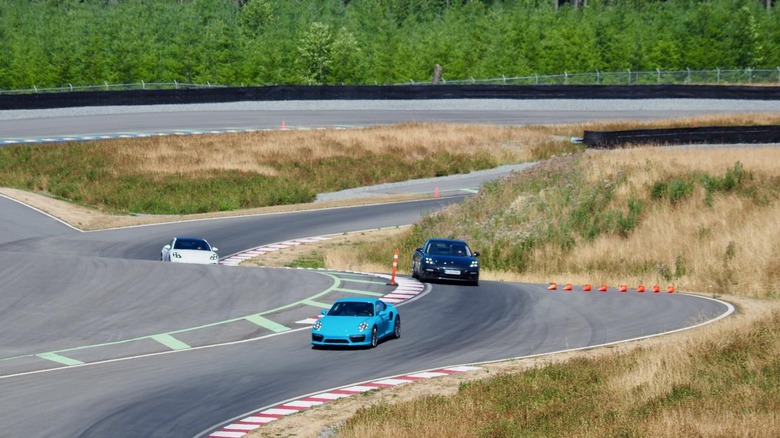 I had a taste of the near-$200,000 Panamera Turbo S E-Hybrid with its potent 100kWh electric motor at a twisty, go-cart-like track at Vancouver Island Motorsport Circuit. Even just a dozen or so minutes behind the wheel was enough to convince me that the Sport Turismo with this engine is the ultimate family rocket. A sedan this size really shouldn't be able to handle a fast-turning track, but the powertrain is hyper-nimble and, with its peak 627 lb-ft. torque hovering at just 1,400 RPM, I can completely believe its promised 0-60 time of just 3.2 seconds.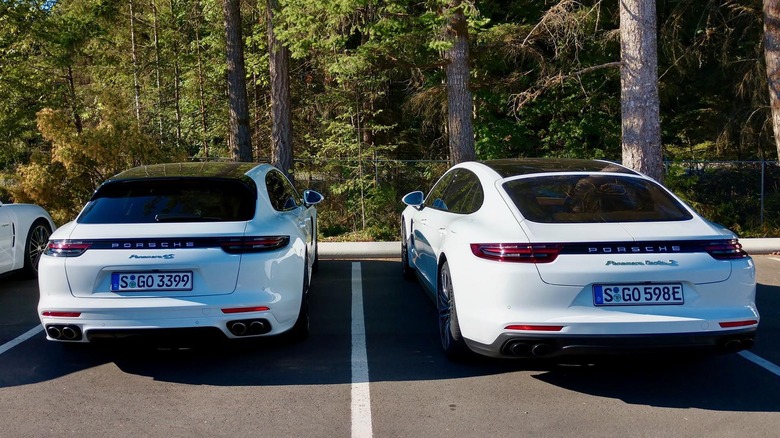 Overall, the 2018 Panamera Sport Turismo stands out from the crowd as one of the best looking 5-door wagons (yes, I said it). Porsche's five different engines and its slew of options tick the boxes from luxury cruiser through to supercar-scaring rocket. Think Porsche 911, only now you can bring the family too.