The 2018 Ford Mustang will make burnouts all too easy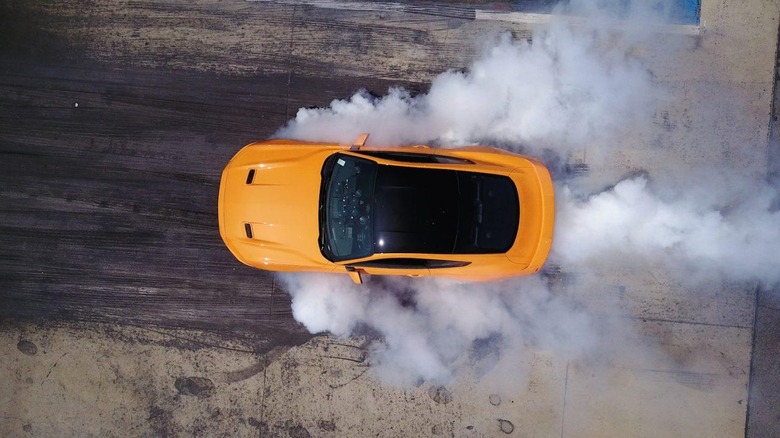 Ford is making one of the most entertaining features of its hotter pony-cars standard on all 2018 Mustangs, and it's going to get smoky. Until now, electronic line-lock has only been available on the Mustang GT with its V8 engine. As of the new model-year car, though, it's going standard across the range.
Line-lock's goal is simple: turn the rubber that was once your tires into clouds of entertaining smoke. Once selected, the Mustang holds the front brake calipers so that the car will stay in place. Drop your right foot on the accelerator, and the rear wheels spin.
Up to 15 second burnouts can be performed before the system releases the front wheels. The technology did start out with sensible origins – well, as sensible as drag racing can get – as a way for those on the track to get their tires up to temperature as soon as possible. That, after all, is key to maximizing traction.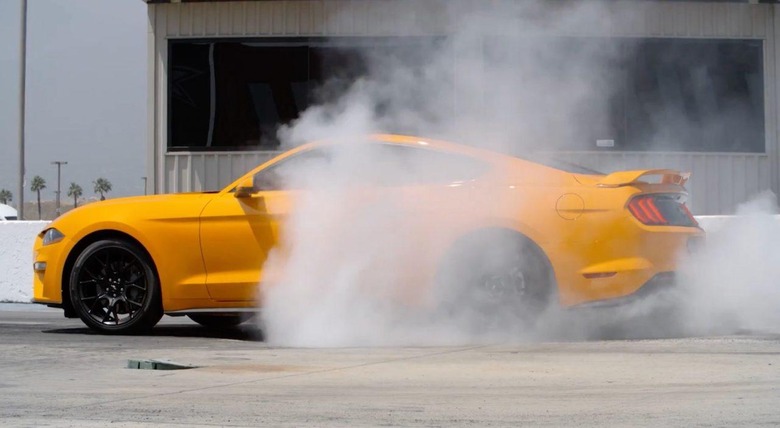 Even if the thought of literally burning through a few hundred dollars' worth of rubber isn't your idea of entertainment, if you're planning to set some lap times in your 2018 Mustang then line-lock could still be valuable. After all, having tires at the right temperature is important whether you're a pro or an amateur.
Line-lock will be available with both the 10-speed SelectShift automatic transmission, and the six-speed manual. If you have the 12-inch digital instrumentation option – also new for the model year 2018 car – you'll get a custom spinning-wheel animation, too. That even kicks out its own little cloud of virtual smoke.
The 2018 Mustang also borrows styling cues from the Shelby GT350, with a lower front end that gives the car more of an aggressive look. Safety features have been updated too, with Pre-Collision Assist with Pedestrian Detection now available. Custom drive modes can be saved for easier recall, and those cars with the digital instrumentation can have different on-screen layouts according to each mode.
NOW READ: Photos don't do the 2018 Mustang justice
Most important, though, is the introduction of MagneRide suspension. That's been one of the biggest requests from Mustang owners, and though it won't be standard on the car, it's likely to be a popular feature. Sales of the 2018 Mustang kick off later this year.