2018 Mercedes-Benz X-Class pickup revealed: Rugged luxury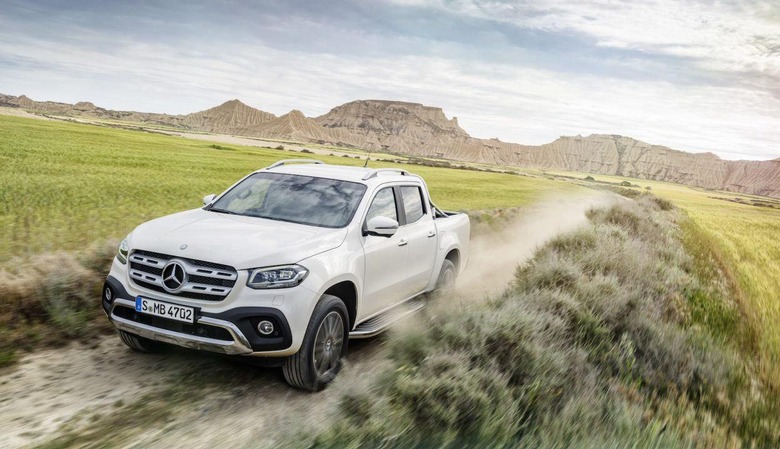 Mercedes-Benz might not be the first automaker you'd think of adding a pickup truck to its range, but nobody told the brand new Mercedes X-Class that. Unveiled today, the newest addition to the German company's line-up promises not only all the utility and flexibility you'd expect from a pickup, but with the driving dynamics and luxury drivers of vehicles bearing the three-pointed star expect. Unfortunately, there's also some bad news.
In reality, this isn't all Mercedes' handiwork. The X-Class is product of its partnership with Renault-Nissan; indeed, it'll be manufactured either at Renault or Nissan plants in Spain or Argentina, depending on country of destination. According to Mercedes, the time is ripe for a midsize pickup with aspirations beyond what the current crop of options from Ford, Chevrolet, and others can offer.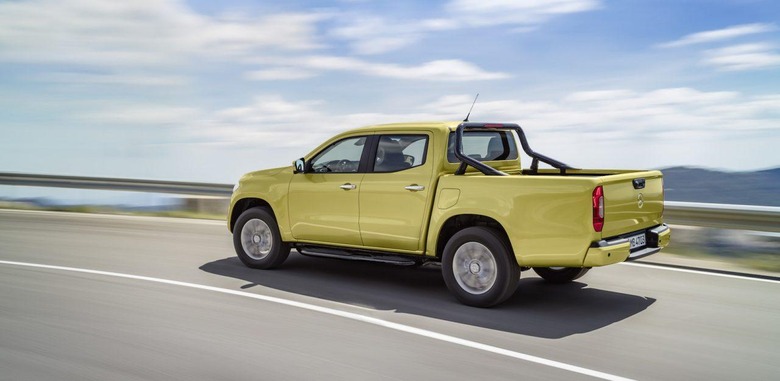 That means the sort of design and cabin that private drivers might want to use all the time, rather than just on a worksite. From the outside, there are strong Mercedes SUV elements up front, a choice of 17-, 18-, or 19-inch wheels, and flared wheel-arches. Altogether it's 210 inches long.
The roughly five foot bed has a maximum payload capacity of 3,000 pounds, while depending on engine and equipment level the X-Class can tow up to around 7,700 pounds. The standard tailgate has an integrated step, but buyers can also opt to delete the rear bumper altogether. Then, the tailgate swings down a full 180-degrees.
Mercedes will offer three variants of the pickup. The X-Class Pure will be the entry-level version, while the X-Class Progressive will have a few more luxury features and more premium trim finishes. Finally, the X-Class Power aims to be the pickup for those who want a full bed but also the sort of cosseting you'd find in an E-Class or similar, with extra equipment and styling.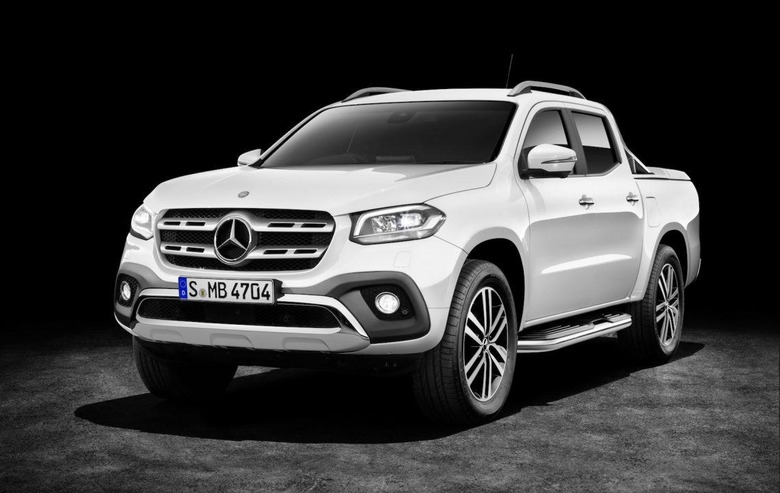 Inside, you could mistake the dashboard for what you'd find in a Mercedes sedan. It'll be offered in matte black, aluminum effect, or brown matte woodgrain, with optional faux-leather. Metal trim is either polished or brushed, and the whole thing is topped with an 8.4-inch freestanding 960 x 540 display controlled by a touchpad. A second, 5.4-inch display is sandwiched between the driver's analog dials.
The X-Class Power gets electrically-adjustable seats with two-way lumbar support as standard, while the rear seat row accommodates three. Two leather colors are offered, and four fabric or manmade-leather alternatives. A Style Package for the Progressive and Power trims can add things like side running-boards and an electrically-opening rear window.
Under the hood, there'll be two engine options initially, both based on a 2.3-liter four-cylinder diesel. The X 220d will get a single turbocharger and 163 HP, while the biturbo X250d will have at least 190 HP. Each will be offered in either rear-wheel drive or all-wheel drive 4MATIC form, and come with a six-speed manual as standard. Select X-Class configurations will be offered with a seven-speed automatic.
Come mid-2018, meanwhile, there'll be a V6 diesel option, the X 350d, with 258 HP and 406 lb-ft. of torque. It'll have 4MATIC and the 7-speed auto as standard, along with steering wheel shift paddles and five different drive modes including Sport. Either way, it'll share the same double wishbone front axle and a rear multi-link solid axle as its siblings.
Now for the bad news. The US may be a huge market for pickups, but Mercedes isn't convinced it's ready for the X-Class. Instead, the new truck will be offered in Europe first, from November this year, then South Africa and Australia at the start of 2018. Argentina and Brazil will get it from the start of 2019. No US launch is currently planned. In Germany, sticker price will start at the equivalent of $42k including VAT.
Update: New photos of the X-Class, including the interior, in the gallery below.