2018 Mercedes-AMG GT First Drive: Porsche's nightmare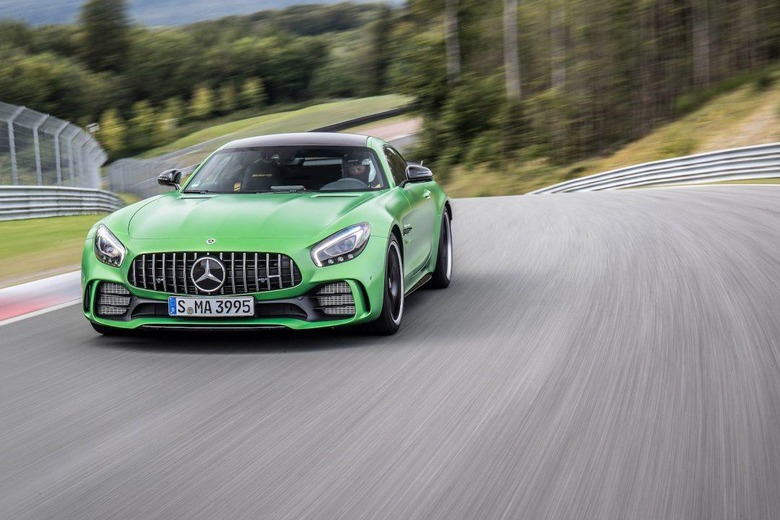 In any up-and-coming professional's life, there's a moment where a pressing decision must be made: is it time to buy a Porsche 911? Virtually a uniform for flaunting success at almost any age, the 911 has become synonymous with inconspicuous conspicuous consumption, the acceptable way to flaunt status and cash without making your employees feel too terrible on the morning walk into the office.
A recent challenger, however, is making a strong bid for those same three-piece hearts and minds – and it's doing it with more flair and gusto than one would expect from the Silver Star's upper echelons. The Mercedes-AMG GT line-up might only be a few years old, but the continual addition of new stable-mates and its ability to push the boundaries of high performance in a way formerly reserved for pricy near-exotics illustrates a change in focus for the luxury brand that should pay off in any automaker's favorite type of vehicle sale: conquest.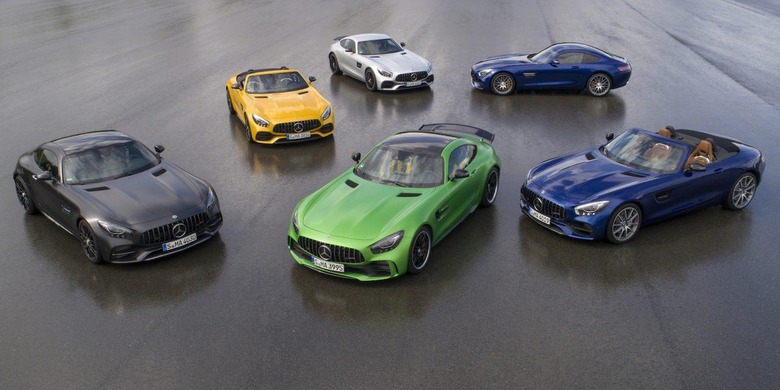 I found myself in Paderborn, Germany, to sample the entire GT range both on the rolling hills that surround the Bilster Berg race circuit and of course on the track's tarmac itself – but even before any seat time, the Mercedes-AMG GT impresses on paper. Both coupe and convertible editions of the car are based around a 4.0-liter turbocharged V8 engine, which is linked to the vehicle's rear wheels by way of a seven-speed dual-clutch transaxle. The grand tourer features not only four distinct street-legal tunes, but also serves as the brand's GT3 and GT4 race entry, which means the more you spend out of pocket the closer you get to parking genuine competition-tested equipment in your driveway.
Even at its most modest, the 'base' Mercedes-AMG GT has plenty to offer. With 469 horsepower and 465 lb-ft of torque on tap, there's enough force underneath your right foot to launch to 60-mph in just under four seconds, but perhaps more importantly AMG has tuned the turbos to deliver the kind of near-instant response one would expect out of a dual touring/sports car package. At the same time, the entry-level GT also features a more direct connection with the road beneath the wheels, thanks to the inclusion of Multimatic-sourced shocks in place of adjustable units, and a rear differential that offers mechanical locking rather than the more finely-parsed electronic system employed in every other edition of the car – both unusual inclusions at the coupe's $112,400 price point.
Step up to the adjustability of the GT S ($132,400) suspension (which adds an extra dimension to its three drive modes – Comfort, Sport, Sport+), and you'll also enjoy a 46 horsepower bump to go along with the extra 30 or so lb-ft of twist on offer from a more aggressively-tuned version of the 4.0-liter engine. Escalate things further, and you're looking at 550 ponies and 502 lb-ft of torque from the GT C ($145k), a vehicle that very happily cruised along at 170-mph on a brief unrestricted autobahn jaunt, with plenty more left in reserve for 'passing.'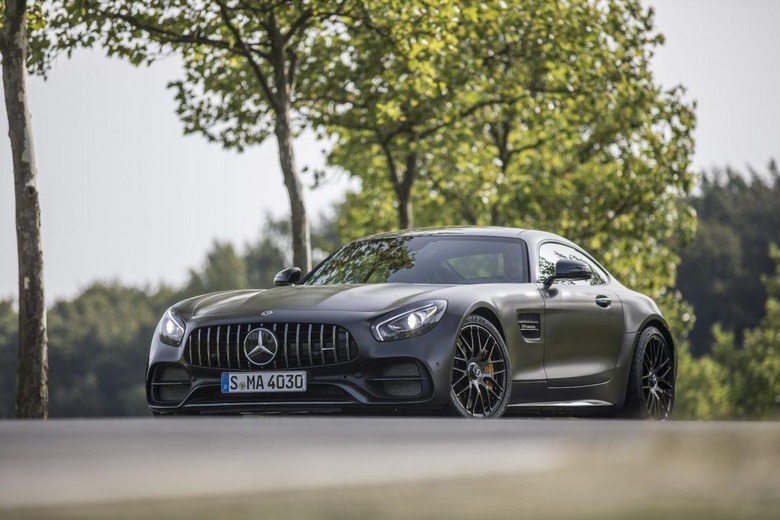 Each of these Mercedes-AMG GT iterations makes a case for parking it in your garage, although with the GT C it will be a little more difficult to make it a reality given that only 50 will be built. Still, if you're among that rarest of AMG demographics – the commuter who also occasionally takes their vehicle to the race track – perhaps it's worth skipping the anxiety of securing a place in line for the C and instead commit $158,000 to the heart-stopping GT R.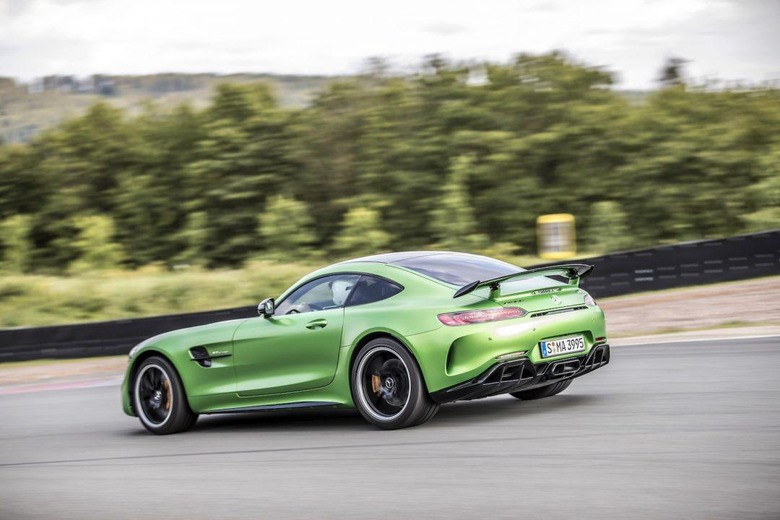 Available exclusively as a coupe, the Mercedes-AMG GT R doesn't just push past the C in terms of output (577 horsepower and 516 lb-ft of torque), but it also introduces a host of race-ready technologies cribbed from AMG's own on-track development program, including active aero, a wider body, 'Race' driving mode (as in the GT C), and a near-200-mph top speed. You also get a dial-a-grin traction control system mounted at the center of the dash, as well as snug seats to grip you from one hairpin to the next.
The best part about the Mercedes-AMG GT? As beastly as the GT R is on the track, shattering eardrums via its active exhaust and clipping the curbing as you shoot from one apex to the next, once rehabilitated for the street in GT C form you're looking at a car that can devour long stretches of both highway and two-lane driving without demanding that you sacrifice your sacroiliac. First and foremost a touring car, and yet light enough at under 3,500 lbs to be truly enjoyable when pushed near its limits, the Mercedes-AMG GT is without a doubt the most engaging drive to have emerged from Affalterbach in quite some time – and at a price that seriously undercuts more powerful, yet somehow more staid hot rod fare from the geniuses at AMG.