2018 Jeep Grand Cherokee Trackhawk First Drive: The 707hp SUV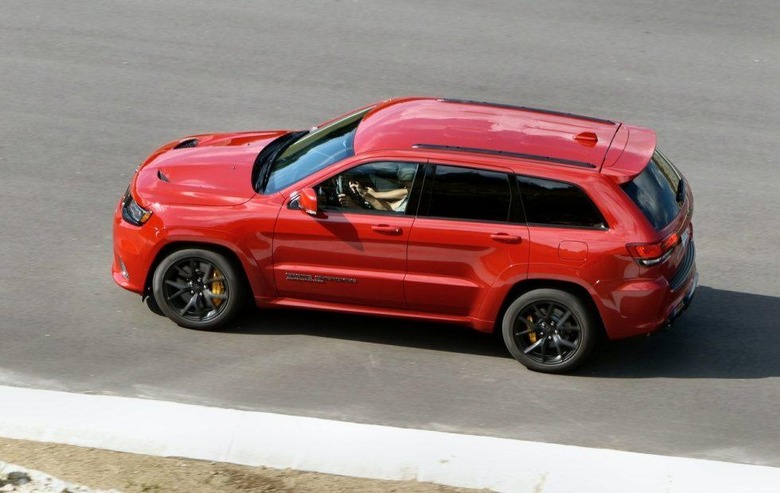 If you're offended by the concept of a 707 horsepower SUV, then you should probably just stop reading right now. In our age of instantaneous outrage, it's easy to see how from certain quarters the 2018 Jeep Grand Cherokee Trackhawk could appear as yet another missive intended to inflame the passions of those who have already decided that high-po people movers represent the height of excess in an era where emissions and efficiency are increasingly under the microscope.
For everyone else (that is to say, the small contingent of automotive buyers seeking the ultimate in straight-line speed while also towing their boat/camper/house), the Trackhawk is a revelation. Forget Marvel throwing in a superhero shawarma scene after the credits of the latest blockbuster – by stuffing the supercharged Hellcat V8 under the hood of the uber-popular Grand Cherokee, Jeep has committed the ultimate act of fan-service. This is a truck built for those who bleed Mopar-blue, and it will be almost certainly embraced with open arms by anyone who already owns an SRT product.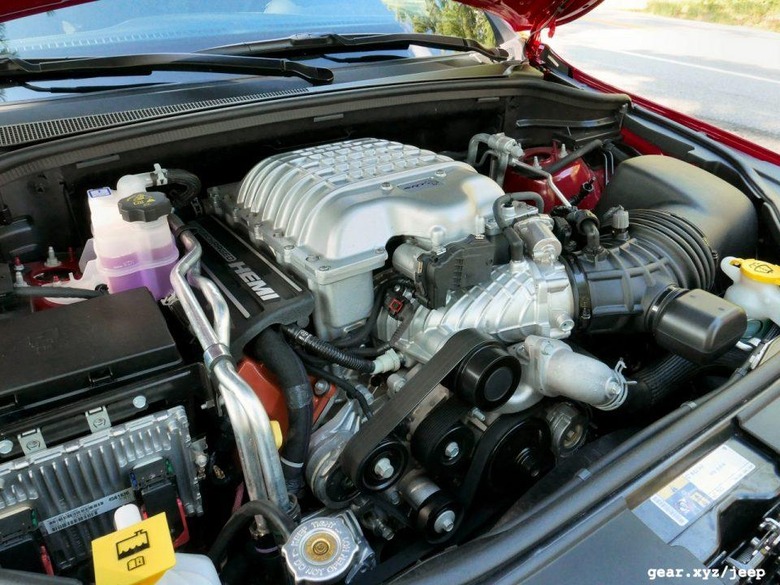 There was never really any doubt that the Trackhawk would happen, as it was only a matter of time before FCA elected to implement the next step in its master plan to keep its fleet of older platform offerings interesting via the injection of absurd amounts of horsepower. Out of all of the brands under the Fiat-Chrysler stable, Jeep has by far the greatest global reach and certainly the most bankable badge, which means that introducing a second flavor of high performance Grand Cherokee made sense to both bean counters and marketing execs alike.
It also helps that the vehicle is astoundingly capable when executing its dual-prong mission of both hauling groceries and kicking sand in the face of the Porsche Cayenne Turbo in the next lane. The 707 horsepower and 645 lb-ft of torque available from the Jeep Grand Cherokee Trailhawk's 6.2-liter supercharged V8 arrive without delay with the accelerator floored, with delivery even more violent when accessed via the launch control system's 'torque reserve' feature thanks to its ability to build boost from a standing start.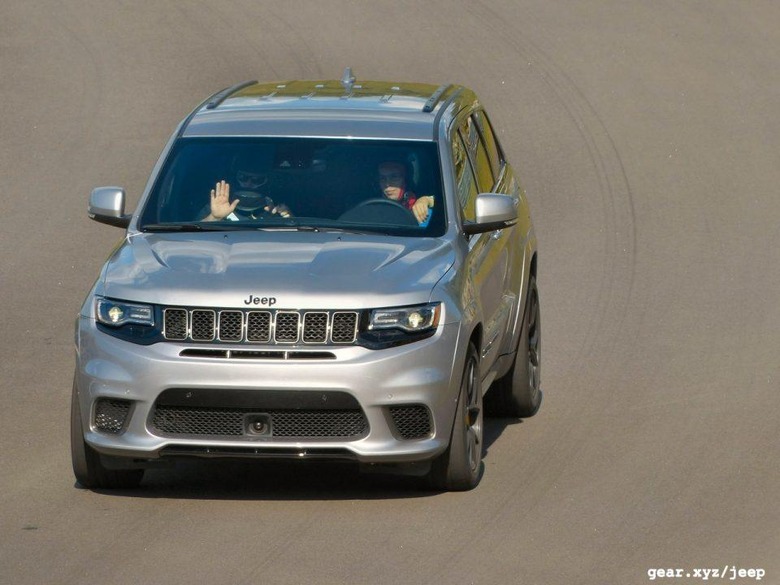 Look past the SUV's 3.5 second explosion to 60-mph, however, and you'll be equally impressed by its docility during the daily drive. The Trackhawk's personality is astoundingly similar to the Grand Cherokee SRT, the 'other' race-ready SUV in the Jeep portfolio, which is to say that you can easily insulate yourself from the vehicle's more explosive aspects. Driven normally, there's little aside from a horrendously expensive fuel bill and somewhat more ostentatious styling to remind you of the fact that you're sitting on enough power to tap in for a Saturn V rocket on an upcoming moon mission.
This is the real key to the Jeep Grand Cherokee Trackhawk's success. Although the 180-mph top speed, six-piston Brembo brakes, adjustable adaptive suspension system, and surprisingly planted cornering capability were all put to the test on the track at Club Motorsports in Tamworth, New Hampshire, it's clear that few, if any owners will flog their SUVs in a similar manner (should they be able to find a lapping club that welcomes 5,500 lbs of top-heavy steel in the first place).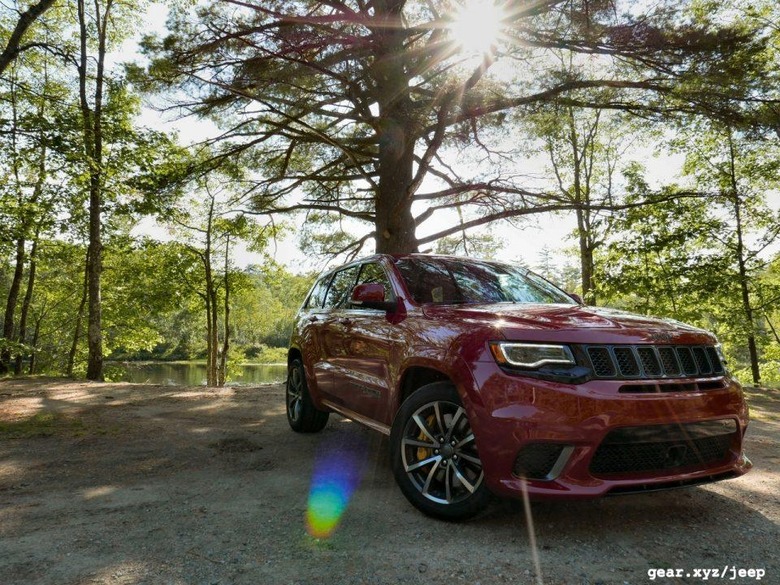 FCA's savvy lies in its acknowledgment that there's considerable equity in customers being able to claim 707 horsepower's worth of bragging rights without risking their lives in the process. After an initial miss-step with the twitchy Challenger Hellcat – a vehicle that is truly hair-raising to drive at the limit – each successive supercharged Hemi model has proven to be not just reliably sedate while commuting, but also completely controllable with the pedal down. The Charger SRT Hellcat and the widebody Challenger Hellcat both exemplified this design decision, and with the Trackhawk's standard all-wheel drive system providing not just excellent off-the-line traction but also exceptional stability, it continues the trend.
The one remaining unknown for the 2018 Jeep Grand Cherokee Trackhawk seems to be whether those who clamored for so long for a Hellcat SUV will be willing to pay for their medicine now that it's been prescribed to them. The Trackhawk's base price is a heady $85,000, but delve into the options sheet in order to build a more comfortable or decadent example of the truck and you're suddenly looking at over $100,000 to park a Jeep in your driveway.
Although that number represents a sizeable discount versus what it would cost to own a less-mighty monster wearing a BMW M or Mercedes-AMG badge, this six-figure sales price is ostensibly what scared the company away from pursuing its three-row Grand Wagoneer luxury 'ute just a few short years ago. In addition to its status as a clear profit center for the brand, and owner of the world's most powerful SUV title, could the Trackhawk be a test balloon to see just how well the muddy faithful respond to a stratospheric window sticker? If so, it's a low-risk, high-reward strategy for Jeep that also happens to pay off big-time for anyone with pockets deep enough to drive home in SRT's latest.