2018 Jaguar F-Type adds GoPro integration
Jaguar has taken the wraps off the achingly-pretty 2018 F-Type, upgraded inside and out for the new model year, and joined by a 400 Sport special edition. The car will continue to be offered as either a coupe or a convertible, and in either rear-wheel or all-wheel drive. Differentiating the MY2018 version will be new LED headlamps and updated LED taillights.
Inside, there are new seats. These are lighter and slimmer than the old versions, which Jaguar says has the welcome effect of trimming more than 8kg – or over 17 pounds – of weight. That's despite apparently being more comfortable and supportive than the F-Type's previous seats.
Both Sport and Performance versions will be offered, both using a pressure diecast magnesium alloy frame, and there's a new tan leather color option. The newest version of Jaguar's InControl Touch Pro infotainment system is fitted as standard to all 2018 F-Type cars, with a widescreen display, navigation, and smartphone connectivity. That also comes into its own with Jaguar's latest integration with GoPro.
Jaguar has worked with the action camera company on an app called ReRun. Controlled from the InControl Touch Pro display, it shoots video while simultaneously recording speed, throttle position, gear selection, braking force, and g force from the 2018 F-Type. That footage can be transferred to a smartphone for sharing and review.
Meanwhile, there's an F-Type 400 Sport Launch Edition which will only be offered as a model year 2018 car. It gets Jaguar's 3.0-liter supercharged V6, upgraded to 400 PS (or 394 HP) to do the 0-60 mph run in 4.0 seconds. Only offered in Yulong White, Indus Silver, or Santorini Black, it'll be available as either a coupe or a convertible, and in either all-wheel drive or rear-wheel drive. An 8-speed automatic transmission will be standard.
Sticking around for longer will be the R-Dynamic F-Type. That'll be offered as a package for the 340PS and 380PS versions of the supercharged V6 car, and add 19- and 20-inch alloy wheels along with Gloss Black aperture bezels to the front bumper. The front splitter, hood vents, side sills, and rear diffuser will also get the same paint-job.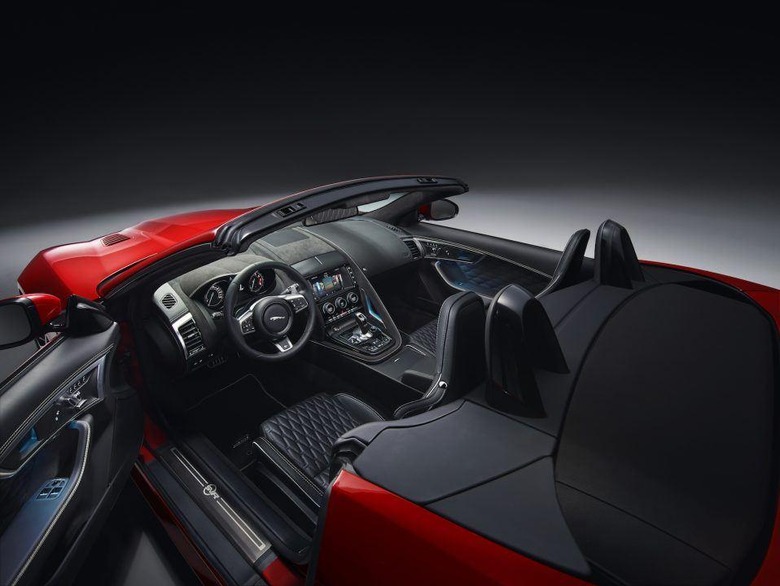 Rounding out the technology, there's auto-park. Having identified a suitable spot with the ultrasonic sensors, the F-Type can take over steering: all the driver needs to do to enter or exit the spot is handle the throttle and brakes, and switch between drive and reverse.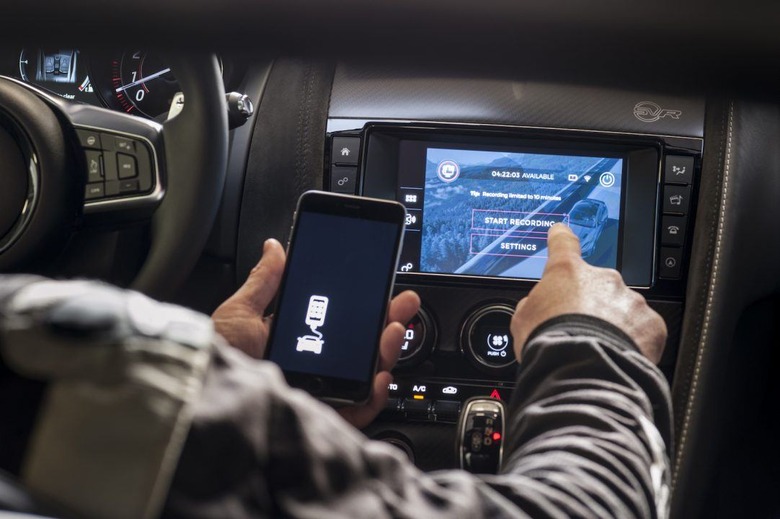 The full line-up now consists of the 3.0-liter V6 in 340PS, 380PS, and 400 Sport 400PS form, plus the 550PS 5.0-liter V8, and the 575PS 5.0-liter V8 SVR. Pricing is yet to be confirmed, though the current 2017 F-Type kicks off at $61,400. According to Jaguar, the 2018 car will show up in dealerships from Q1 2017.