2018 Hyundai Sonata Hybrid and Plug-In Hybrids revealed in Chicago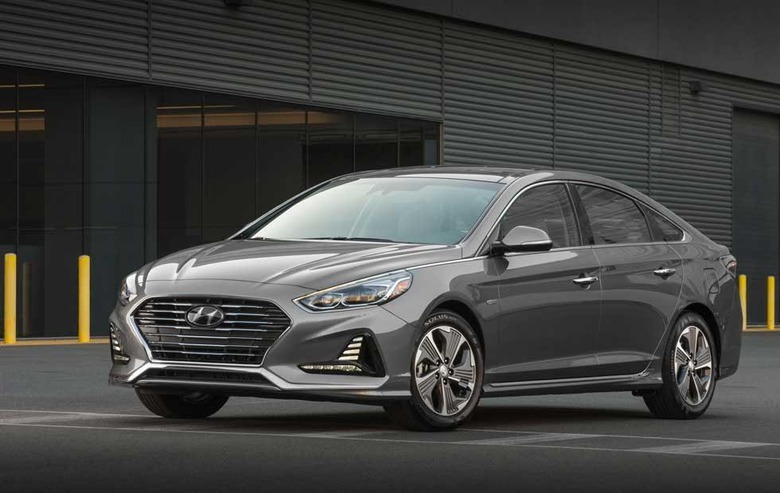 Hyundai has rolled out a couple of its green cars at the Chicago Auto Show. The two cars that were revealed at the show are the Sonata Hybrid and plug-in Hybrid models. Both cars have been extensively redesigned for the 2018 model year and have new instrument panels, steering wheels, and infotainment features.
Both cars are now available with Automatic Emergency Braking and Lane Keep Assist. Suspension and steering systems were also tweaked for better handling and improved ride. The exterior changes are extensive with a new front and rear fascia design, grill, hood, front fenders, rear deck lid, and head and tail lights.
New wheel designs include 16-inch and 17-inch eco-spoke wheels. The headlights are now LED with cornering Dynamic Bending Light function. The new steering wheels are available with heated grips. The infotainment system has HERE HD Traffic, which is a real-time service needing no subscription when the nav system is integrated. Qi wireless phone charging is integrated and there is now a rear USB port for rear seat occupants.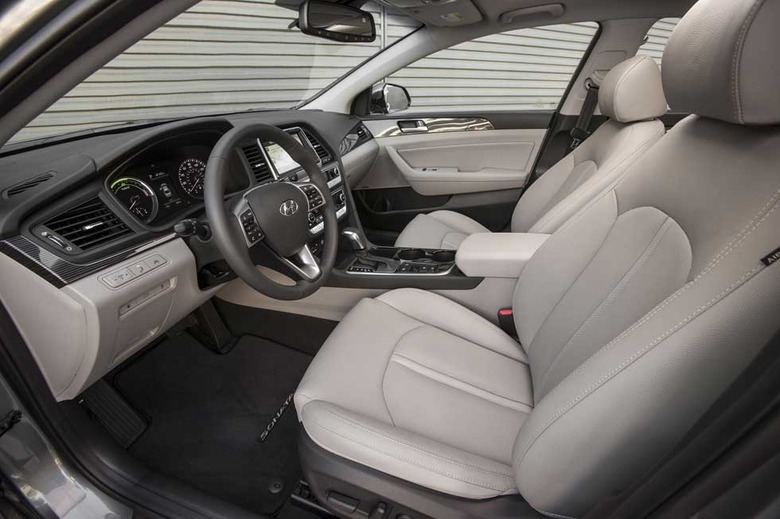 The Sonata Hybrid uses a Nu engine that makes 154hp and 140 lb-ft of torque. The electric motor adds in another 51hp and 151 lb-ft of torque. That gives a total of 193hp. The Hybrid SE has an internal estimate of 39mpg in the city and 45mpg on the highway with 42 mpg combined. Total range is estimated at over 650 miles. Official economy figures aren't offered.
The plug-in hybrid can go an EPA estimated 27 miles per charge on electricity alone. The 9.8 kWh lithium-ion battery charges in less than three hours with a level-two charger. That car uses a 6-speed automatic with a transmission mounted electrical device, which is a 50-kW electric motor rather than a torque converter. That motor is 32% more powerful than what the normal Sonata Hybrid uses. The plug-in uses the same 2.0L Nu engine offering total system power of 202hp. Pricing isn't announced and the plug-in version can be ordered in any state via local dealers.
SOURCE: Hyundai