2018 Hyundai Sonata First Drive: 5 Things You Need To Know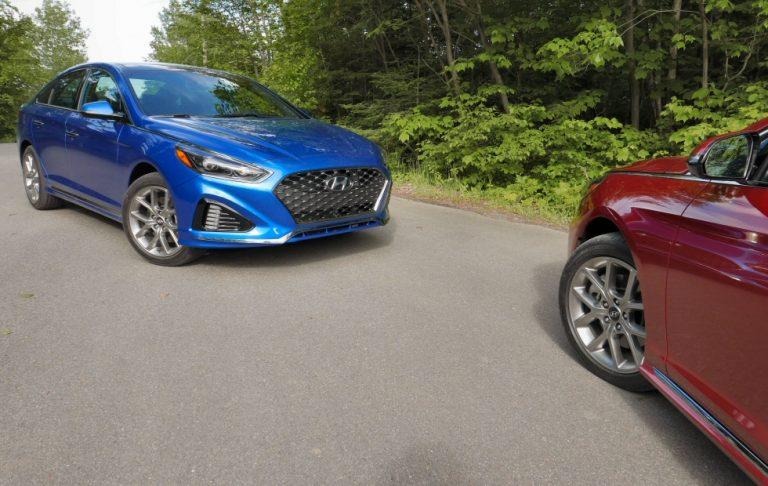 The 2018 Hyundai Sonata is here, and while the automaker's mid-size family sedan hasn't been completely redesigned there are a few aspects of its recent refresh that are definitely worth discussing. The Sonata has moved past its challenger status and now sells at or over 200,000 examples every year in the United States, although it's starting to show the same battle scars as other sedans as a result of growing consumer interest in SUVs.
The Sonata might not have the cachet of rivals like the Toyota Camry or the Honda Accord, but it's hard to argue that its not a solid a choice as either of those two models. I had the chance to spend an hour or so behind the wheel of the Sonata 2.0T a month or so prior to its U.S. debut, which confirmed that the updated car is just as worthy of a look as the vehicle it replaces.
Check out these 5 things you need to know about the 2018 Hyundai Sonata.
1. Another Year, Another Re-Style
Is there a sedan out there that's changed it's face more dramatically over the course of the past five years than the Hyundai Sonata? After walking back from its style-forward looks in 2014 by way of a blander, yet not unattractive redesign, the 2018 edition of the Sonata once again moves into edgier territory, in more ways than one. Up front the car is all creases and grille, with bold lines carving prominent triangles out of the lower air dam for the fog light housings and new headlights occupying a narrower space on either side of the more prominent chain-link grille opening. The rear of the car is also busier, although not to its detriment, and Hyundai has blown-up the Sonata's badging so that everyone around you knows what you're driving.
I found the new look to be more handsome than the car it replaces, which really wasted a lot of the design capital that Hyundai had built with the Sonata that preceded it. It's good to see the company once again making style a prominent part of the sedan's identity without carrying things too far into caricature.
2. Three Strong Engine Choices
Like a number of its mid-size sedan competitors – though not all – the 2018 Hyundai Sonata is offered exclusively with four-cylinder engine options. The base 2.4-liter mill is good for 185 horsepower, but the model I drove – the 2.0T – steps up to a 2.0-liter 245 horsepower turbocharged unit that now features an eight-speed automatic transmission (in place of the six-speed autobox found with the entry-level four). With 260 lb-ft of torque on tap there's nothing left wanting in the turbocharged Sonata even when compared directly against the all-new Toyota Camry's available 301 horsepower V6. You're not going to notice the power gap between the cars in daily driving, and even when pushing hard it's largely a wash given that these aren't performance-oriented automobiles.
The dark horse in the Sonata family is the Eco trim's 1.6-liter turbocharged four-cylinder, which carries over unchanged from the year before with its seven-speed dual-clutch automated manual transmission. Having driven this motor in past editions of the car, I can attest that it feels mightier than its specs suggest.
Price-wise, the 2.4 starts at $22,050, the Eco adds just $400 to that figure, and the turbo becomes available as a $2,400 option once you select the Sport trim (for a total of $27,600).
3. Respectable Active Safety Features Remain In The Mix
The 2018 Hyundai Sonata offers standard blind spot monitoring across all trim levels for the very first time. On top of that you can also equip the car with a lane departure warning and lane keeping assist feature, as well as automatic forward braking with pedestrian detection, automated high beam headlights, and adaptive headlights that turn with the steering wheel to better illuminate the path through a corner. While this equipment is increasingly available on a wide range of affordable automobiles, it's still worth pointing out that there was once a time when this kind of advanced equipment was limited to high-dollar luxury cars.
4. Still Spacious, And Comfortable
Hiding underneath the 2018 Hyundai Sonata's new skin are a series of minor suspension tweaks intended to improve steering response, reduce body roll, and add small amount of extra comfort to the daily commute. The end result is a car that's pleasing to drive without adding an unnecessary harshness or stiff-legged antics on rough pavement, of which there was plenty during my test drive.
Inside the Sonata the changes aren't as dramatic as what's been accomplished on the exterior, but that's ok because there wasn't much need to mess with what was already a good thing. Highlights include new vents and knobs for the heating and cooling controls, and a different shift knob, and Apple CarPlay, Android Auto, and wireless charging for Qi-equipped mobile devices is now standard across the board.
5. Not A Huge Leap Forward
Aside from the eight-speed automatic for its most powerful turbo motor and its nouveau visage, the 2018 Hyundai Sonata doesn't represent a significant leap forward for the sedan. That's by design, really, because a mid-cycle refresh like this one isn't intended to move the cheese by more than a few inches, but rather keep mice interested in visiting the trap. In that sense, it's a success: potential customers who might have stayed away from last year's model because of its blander styling may well be enticed by the new looks of the 2018 Sonata, but anyone who purchased a '17 model won't feel like they missed out on the next big thing.