2018 Hyundai Kona review: A subcompact crossover SUV with an attitude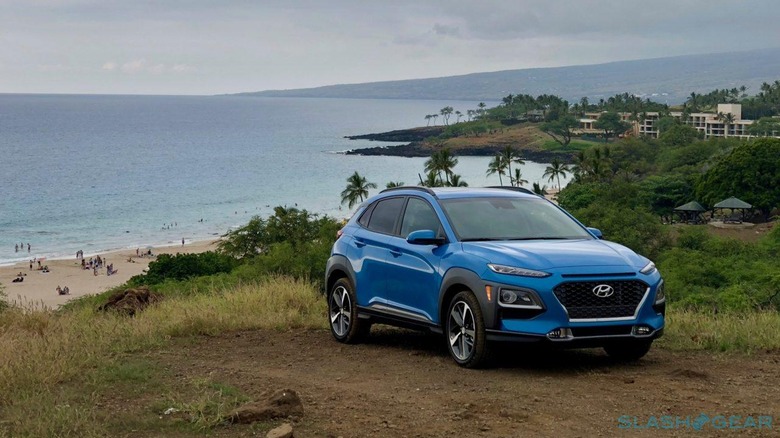 The all-new 2018 Hyundai Kona is the new kid on the block with plenty to offer first-time new car buyers on a budget. Mind you, don't let my use of the word budget and a starting price of $20,450 imply a lack of style, creature comforts, safety, or even that it's cheaply built. Those opting to fully spec out the Kona – as was the case for our test car, fittingly, on the Island of Kona, Hawaii – will be nothing short of delighted, just as long as their expectations are in check.
It's not an easy segment to compete in, especially when you're targeting value. Certainly, Hyundai has made some compromises, though they're few and far between. For the most part, I was pleasantly surprised with how much I enjoyed driving the Kona, as well as ride in the front passenger seat. While the rear has slightly less room than inside its bigger siblings, I didn't feel cramped. Hyundai's interior designers have done a great job carving out very usable space up front, in the back, and in the rear cargo area.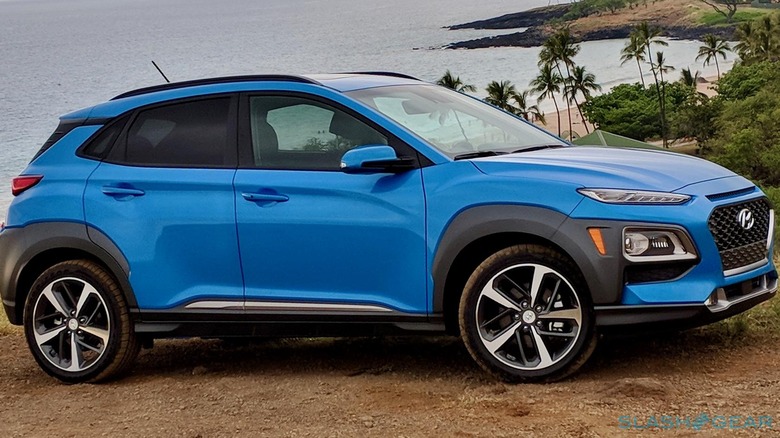 One of the best things about the Kona's design is that it doesn't appear to have been dictated by a wind tunnel, but instead its in-your-face styling helps it stand out from the pack. That's a good thing. Hyundai's design chief described the Kona as possessing the attitude of a big dog but packed into a small, stout dog. Sure enough, there's a punchy, character-driven attitude which makes for a far more memorable car.
Up front, Hyundai's designers split up the LED daytime running lights, positioning them above the headlamps. At the rear, the tail lamps sit right below the tailgate window. I like the flow of front and rear continuity.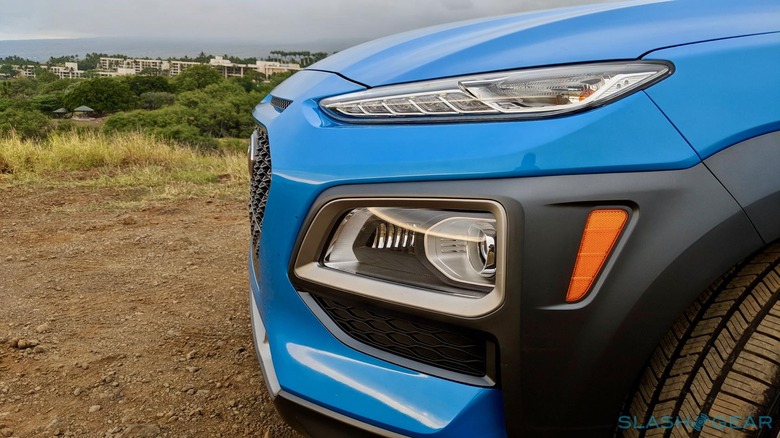 Unfortunately here comes the first compromise: there's just too much plastic. Take, for instance, the use of plastic to wrap around the headlamps. Then Hyundai adds more of it for the turn signals and the rear back-up lights. My big concern is that the Kona may well look outdated a couple of years down the road as a result, and that could potentially be a turn-off in the second-hand market. Then again, this is a sub-crossover SUV so the plasticky cladding isn't exactly unusual in the segment, and at least it gives the Kona pleasingly beefy wheel arches.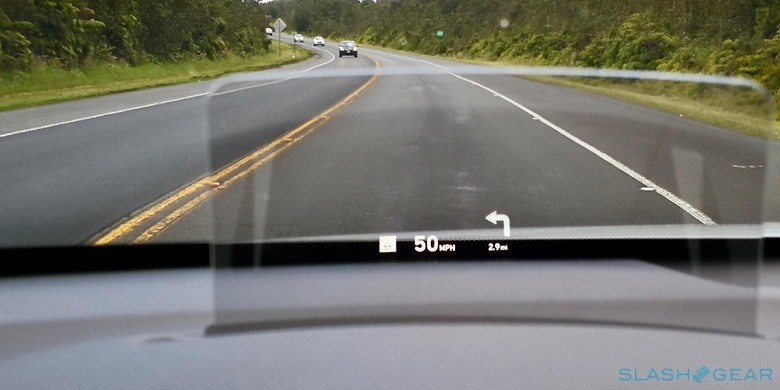 On the inside, it's business as usual: if you've been inside a recent Hyundai, it's essentially the same. Hyundai's implementation of the slide-up head-up display (HUD) is best-in-class. While it's not the integrated HUD found in more expensive luxury cars, this is one of the best I've laid my eyes on. The massive 8-inch display is eye-poppingly bright – 10,000 nits, in fact. To put things into perspective, an average phone delivers around 750 nits. Michael O'Brian, Hyundai's VP of Product, Corporate & Digital Planning explained that it's a cost solution overall, and one which could potentially save owners serious money should they need to replace the windshield. A regular windshield costs a couple of hundred dollars, whereas you're looking at as much as $1k for a windshield outfitted for an integrated HUD. It's a particularly big consideration for markets that don't offer full coverage replacement of windshields in the event of minor rock damage.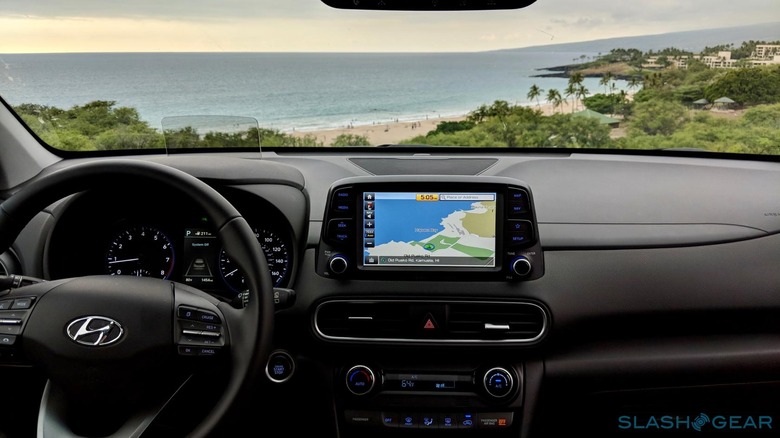 Moving around the cabin, there's more than enough space to spread out. My biggest gripe is the fixed-armrest, and even at 6'2" with my seat pushed back far enough for me to reach the pedals, my elbow tended to slide off the end of the armrest. It's not as comfortable as I'd like. Then there's the material choice, as well as color scheme. The door panels are hard, and that's not good for anyone who drives with their elbow resting on it. Oddly enough, the visibly similar material on the dash is soft and supple, which seems like an odd decision to me since it's not something you'd commonly touch.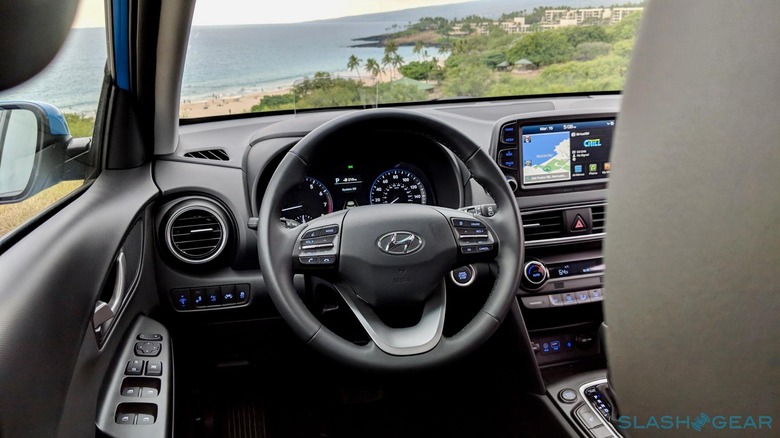 As for colors, the interior aesthetic doesn't match the exterior one bit. In fact, I'd say it was pretty ordinary, but then again for the price-conscious market, it's probably fine. Options include black and a high-contrast gray, as well as black and lime green which I don't recommend. There's a dash-mounted 7-inch touchscreen that comes standard or an 8-inch unit with optional nav-system. Additionally, Hyundai throws in Apple CarPlay and Android Auto integration for no additional cost. I recommend going with the upgraded display, which will get you three years of included Blue Link LTE-powered telematics with niceties like remote start. I like the buttons wrapped around the display, too. They may look a little cluttered but they do offer quick access to the key features.
If you're in the market for a 2018 Kona, I strongly encourage you to opt for the 1.6-liter turbo 4-cylinder. Because that powertrain is only available on the Limited and Ultimate trims, the entry price is slightly higher than the SE and SE, which get a 2.0-liter inline 4-cylinder. That may be bigger capacity, but since it's naturally-aspirated the turbo has a higher power output of 175 hp with 195 lb.-ft. of torque, whereas the 2.0-liter only has 147 hp and 132 lb.-ft. of torque. The torque on the turbo-four arrives much earlier, too, from 1,900 rpm; you'll be waiting until 4,000 rpm for peak torque from the cheaper engine.
The biggest difference between the SE/SEL and Limited/Ultimate is the powertrain. As I said, the 2.0-liter is going to feel sluggish in comparison to the turbo 1.6-liter. As for the transmission, the DCT felt much a lot smoother than the six-speed automatic. In terms of fuel economy, the turbo gets 26/29 mpg for the all-wheel-drive Kona, while the 2.0-liter has a rating of 25/30 mpg for city and highway.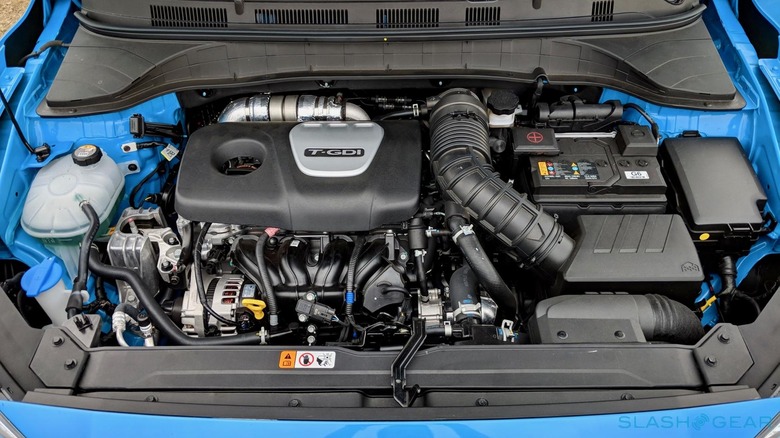 I'm thoroughly impressed with the ride quality, whether behind the steering wheel while riding in the front, or as a rear seat passenger. There's admirably little body roll and, more importantly, very little road and wind noise inside the cabin. Kona's roads proved pretty horrific in many sections of Hyundai's drive route so the car deserves serious credit there.
The 2018 Kona SEL AWD has a sticker price of $23,550 before you throw in the $1,500 Tech Package. You also do without power leather seats, and it rides on 17-inch wheels. Max things out and you're looking at the Kona Ultimate at $29,775 including destination: that includes the $1,300 all-wheel drive upgrade. I can't help but feel that you get plenty of bang for your buck, considering that you also get a set of good looking 18-inch alloy wheels on both the Limited and Ultimate trims. The Tech Package adds a sunroof, fog lamps, front collision assist, lane keep assist, an attention warning system, and the power driver's seat. Unfortunately, for households with two drivers, the option for driver seat memory isn't available. If you swap cars frequently it could get annoying having to adjust the seat every time you get in to drive.
At the end of the day, the 2018 Kona has its work cut out, entering a very competitive market. Strong, well-respected rivals include the likes of Mazda's CX-3, Honda's HR-V, and Subaru's Crosstrek. That being said, Hyundai's aggressive pricing, as well as above-average design and a good powertrain for better-than-expected driving performance, give the crossover a good shot at selling a boatload of Kona worldwide.