2018 Hyundai Elantra GT First Drive: 5 things you need to know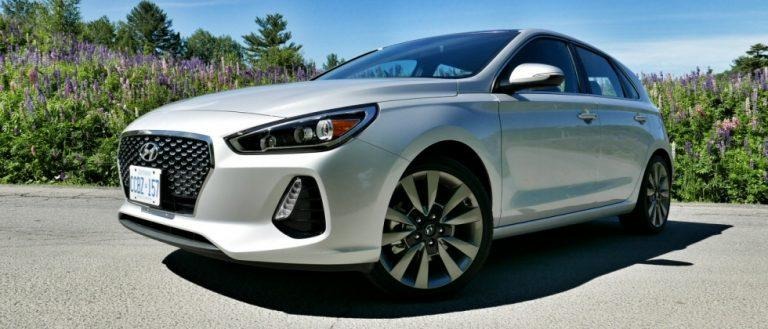 Compact hatchbacks like the 2018 Hyundai Elantra GT have never really caught on in America, but it has little to do with their merits. Easy to park, cheap on gas, and remarkably practical, the fickle gods of fashion have long turned their backs on the humble hatch, a state of affairs made all the more ironic by the exploding popularity of small SUVs, which are essentially hatchbacks on stilts.
If you're considering a sport-utility vehicle or crossover, you owe it to yourself to take a time out and test drive a more affordable, better-handling, and less-expensive hatchback like the Elantra GT. I spent a day piloting this completely redesigned Hyundai, and came away impressed by what it has to offer.
Check out these five things you need to know from my first drive of the 2018 Hyundai Elantra GT.
1. SUV-Matching Cargo Space
I'm going to make a big deal about this, because it's a good example of the most glaring disconnect between what people say they want when they buy a car, and what they actually end up parking in their driveway. Despite its modest exterior dimensions, the 2018 Hyundai Elantra Sport boasts 55 cubic feet of total cargo space with its rear seat folded forward, and an equally useful 24.9 cubes with all five passenger sports occupied.
Let those numbers marinate for a moment. With a full load of human beings in the front and rear seats, you can haul more gear in the Elantra GT than you can in the Honda HR-V, the new Nissan Rogue Sport, or even the (ostensibly) larger Audi Q5. Fold things down and the Hyundai is a dead match for the Q5's total cargo rating, and within five percent of the size of the much-lauded HR-V – not to mention five cubes bigger than the Jeep Renegade, 10 cubes better than a Mazda CX-4, and a whopping 19 cubic feet past what you could stuff into a Toyota CH-R.
Is practicality really the reason why so many families have glommed onto sport-utility vehicles? Probably not. It's more likely that we're looking at an intoxicating mix of marketing, style, and group-think – cold comfort for useful, more fun-to-drive, but largely ignored hatchback options like the Elantra GT.
2. Frugal, But Powerful
A further strike against the 2018 Hyundai Elantra GT is the lack of all-wheel drive on the order sheet. This isn't a real-world problem, since a good set of season-specific tires will deal with 99 percent of the rough weather that most all-wheel drive crossovers are tuned to handle, but again marketing mavens have played their hand well on the AWD up-sell, to the detriment of those who will deny themselves the chance to sample either of the Elantra GT's four-cylinder options.
Base versions of the car come with a 2.0-liter mill that's good for 162 horsepower and 150 lb-ft of torque, while stepping up to the Sport nets you a 201 horsepower, 1.6-liter turbocharged motor that also generates 195 lb-ft of twist. A six-speed manual transmission is available with either engine, but if you choose the auto route then there's a fork in the road: the 2.0-liter is yoked to a traditional six-speed auto while the turbo benefits from a seven-speed dual-clutch automated manual box.
That's a bit of a step down in power for the most affordable version of the hatchback, but neither engine is particularly taxed by the relatively lightweight Elantra GT (although the turbocharged Sport is much quicker when passing or pulling away from a stop). Fuel efficiency ratings aren't official yet, but I estimate you'll see close to 32-mpg in combined driving from the entry-level model.
3. Don't Get The Elantra GT Sport Confused With The Elantra Sport Sedan
I do have one bone to pick with Hyundai regarding the Elantra GT, and that's how it's chosen to treat the 'Sport' model. Despite the Elantra sedan and the Elantra GT hatchback sharing the same name, they're actually very different cars under the skin, with the five-door model riding on a platform that was originally developed for the European market.
As a result, although the Elantra Sport sedan is an absolute blast to drive – with a raucous turbo drivetrain, a willing suspension system, and a fun attitude – the Elantra GT Sport is considerably more vanilla. Its chassis, while competent enough, doesn't encourage you to push hard on a two-lane road like the Sport sedan's does, and while it features ostensibly the same turbocharged engine the GT's tuning is noticeably more staid. Even with a multi-link axle out back as compared to the torsion beam found in the base Elantra GT, the biggest handling difference I noticed between the two cars was a noisier, and bumpier ride from the Sport – and that's disappointing.
4. All That Safety Gear Trickling Down
Remember when compact cars were consolation prizes in the automotive sweepstakes? Me neither, because automakers like Hyundai have been loading them up with as much equipment as they can squeeze onto the window sticker for quite a few years now, and nowhere is that more evident than when it comes to the level of safety gear you'll find in the 2018 Elantra GT. This is a car that can be had with adaptive cruise control, lane keeping assistance, forward collision warning with pedestrian detection and automatic braking, and of course blind spot monitoring. A decade ago you wouldn't have been able to find that comprehensive a safety suite on a Mercedes-Benz S-Class, but now it's available to whoever's willing to pay a little extra for the options package that installs it.
5. The Price (Will Be) Right
Value has always been a strong part of the Hyundai package, and none of that changes for 2018 with the new Elantra GT. Pricing has yet to be released, but I was told to expect only a minimal boost over last year's $18,800 starting price for the car despite the improvements made to the design. It's also reasonable to expect the Elantra GT Sport to hover around $25 before you start adding options. Price-wise, this keeps Hyundai in the running when compared not only against similar hatchbacks like the Honda Civic and the Chevrolet Cruze, but also when contrasted against the crop of SUVs that it outclasses in terms of handling, comfort, fuel mileage, and utility.