2018 Honda Gold Wing: Now even your bike has CarPlay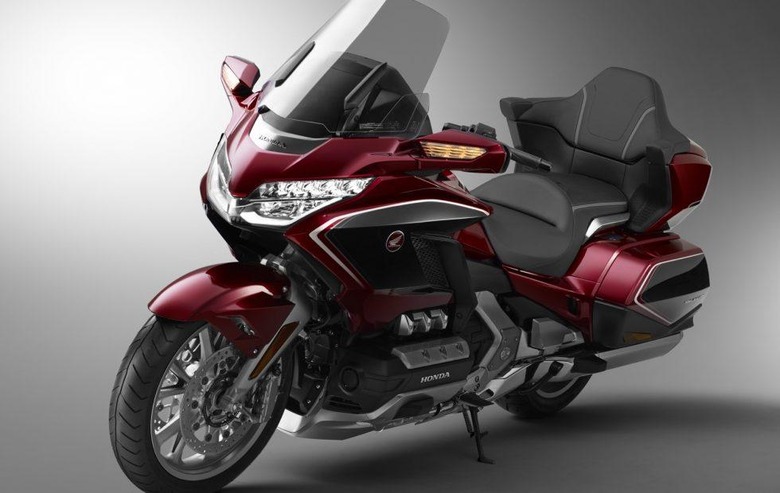 People who love big touring bikes love Honda's Gold Wing, and now the automaker believes it has the new model which will help break out of just existing fans. The 2018 Honda Gold Wing and Gold Wing Tour were revealed this week, completely redesigned for greater agility on the road, more comfortable long-distance riding, and lashings of new technology.
The latter sees Apple's CarPlay arrive, not only a first for the Gold Wing but a first across all motorcycles. Plug in your iPhone and CarPlay can take over the Gold Wing's 7-inch LCD display between the handlebars.
As for the engine, that's a liquid-cooled, horizontal opposed six-cylinder. Though the layout is carried over, Honda says, the new engine is smaller, lighter, and more fuel efficient. Paired with a six-speed manual transmission it drops almost 14 pounds, in fact, while the shorter length has meant Honda can push its positioning forward in the bike's chassis.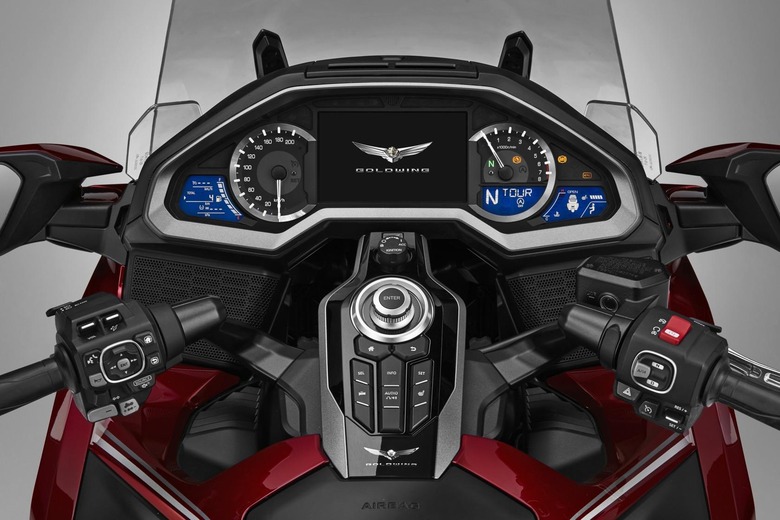 That improves on weight distribution, part of Honda's efforts to improve low-speed maneuverability along with stability while at higher speeds. The twin-spar aluminum frame is paired with a single-side swingers, the pivot area structure of which has been redesigned. That sheds a further 4.4 pounds.
The front gets double-wishbone suspension, while front and rear have Showa shock absorbers. The rear has a Pro-Link suspension with progressive reaction; Honda says most models are expected to get electrically-adjusted suspension damping and preload. Brakes have been upgraded to radially mounted front calipers and bigger, 320mm rotors, and there's electronically controlled combined ABS that relies on a smaller and lighter ABS modulator.
If you don't want the manual transmission, Honda is offering a seven-speed automatic dual-clutch transmission. That includes a forward/reverse Walking Mode for easier transportation of the Gold Wing. Manual or auto, there's throttle-by-wire and four new riding modes: Tour, Sport, Econ, and Rain. Honda Selectable Torque Control (HSTC) and Hill Start Assist are available too, together with cruise-control.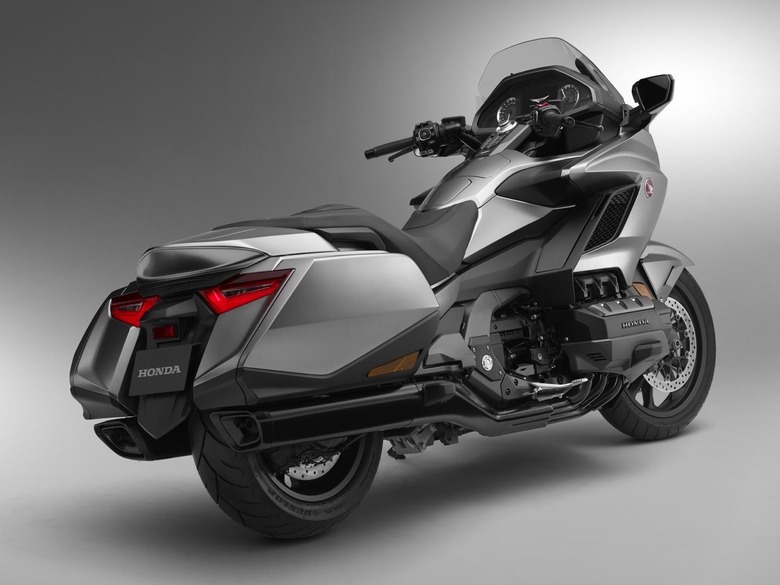 Honda's design for the 2018 Gold Wing pares back some of the older bikes' chunkiness in favor of a "more performance-minded shape" the company says. That helps improve aerodynamics, too, while the rider and passenger sit slightly further forward in a redesigned airflow for greater comfort. LED lights front and rear, along with LED turn signals with auto-cancelling, are standard.
The new luggage system has two saddlebags, each capable of holding 30 liters. A top case adds 50 liters more. They come standard on the 2018 Gold Wing Tour, which will be offered in Tour, Tour DCT, and Tour DCT Airbag forms. They also have an electrically-adjustable windshield, front and rear speakers, and electrically adjustable suspension.
As for the 2018 Gold Wing, that'll be offered in regular and Gold Wing DCT forms. Each will have the saddlebags but no top case, and will do without the rear speakers. The electric windshield is shorter than on the Tour, and the suspension preload adjustment is manual; they also do without HSTC, electric damping-adjust, the center stand, and heated grips.
All variants will go on sale in February 2018. The 2018 Gold Wing will start at $23,500, or from $24,700 for the Gold Wing DCT. The 2018 Gold Wing Tour will be priced at from $26,700 for the Tour, from $27,700 for the Tour DCT, and $31,500 for the Tour DCT Airbag.