The 2018 BMW i3s is seriously underrated in one key way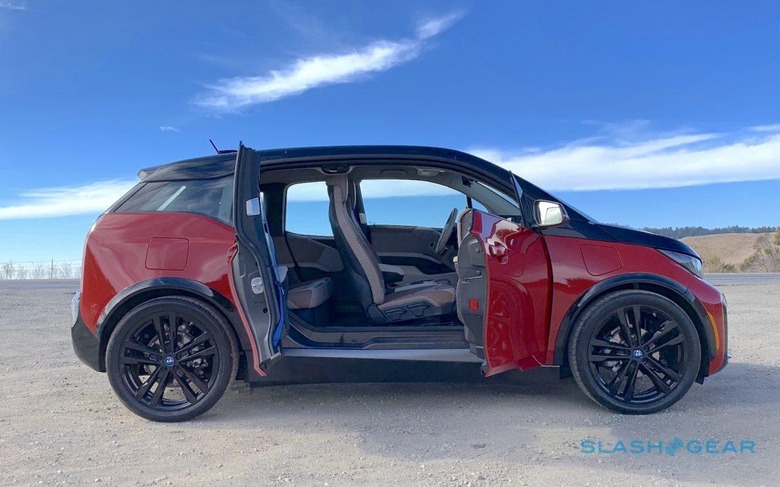 EDITORS' RATING: 6/10
In a growing line-up of electrified options, the 2018 BMW i3s still somehow stands out. Much has been made of the i3's divisive external design, and in many ways the new 2018 i3s only exaggerates that: bigger wheels, more aggressive bumpers, and gloss-black trim. As I found behind the wheel, though, the i3's key charm remains what's inside.
Even five years since the i3's launch, its cabin remains a stark departure from what you'll find in most BMWs. Personally, I think that's a bad thing – for the rest of the line-up. There's a lot to like inside this compact EV.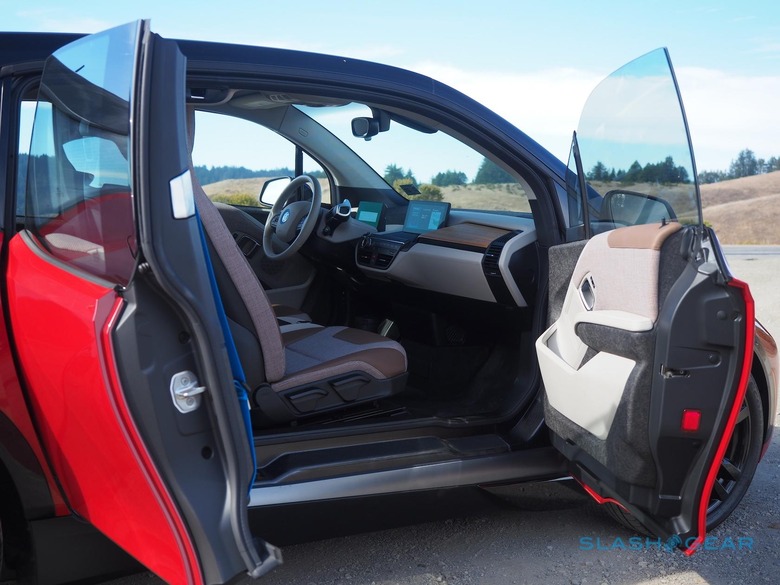 Just getting in is an improvement over other cars, the rear-hinged back doors and absence of a B-pillar leaving a huge opening that serves both the front and rear seats. Once inside, the new Giga World interior package adds striking leather and cloth seats and light eucalyptus wood trim on the dashboard.
It's a very pleasant step away from the usual black, brown, or cream leather you'd expect to find in a BMW, and the dour dashboard trims, and it gives the cabin an airy, lounge-like feel. The BMWi electric-blue seatbelts are a $300 extra, but they serve as a welcome splash of contrast color. Dashboard displays that seem to float above negative space are another clever design touch, even if they now look small compared to what you'd find in a Tesla Model 3.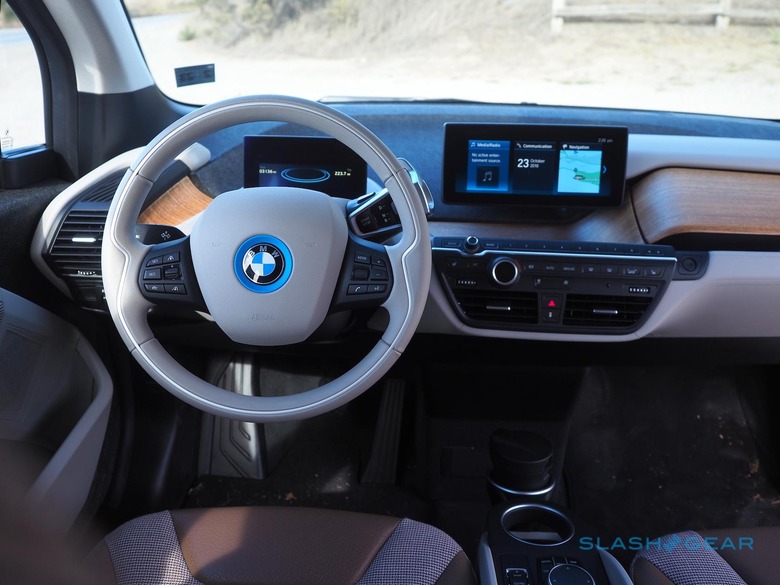 I do appreciate BMW's attempts to use atypical materials, though. Swathes of the door panel and dashboard use a mixture of hemp and plastic, along with kenaf, a species of mallow. The leather panels on the seats are tanned with olive leaves, too, making them greener to produce, while its fabric uses plastics from recycled bottles. They're things you notice every time, a visible reminder that BMW is thinking outside of the box.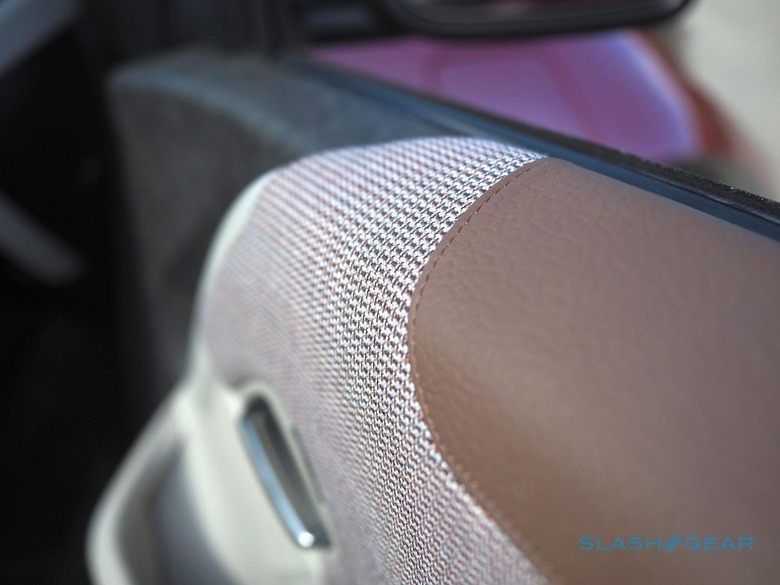 Sure, building a new car is never going to be an entirely green process, but where the i3s stands out is in BMW's willingness to experiment with how driving an alternative-fuel vehicle can feel. The fact that the dash feels like a freestanding console table, combined with the extra open space around the floor where typically you'd expect a transmission tunnel to intrude, adds to the pod-like sense.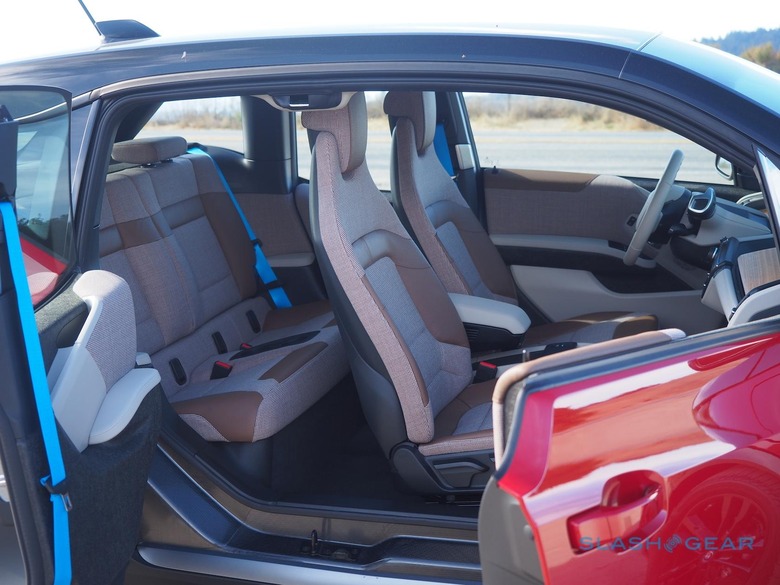 As for the i3s with Range Extender experience more broadly, BMW's little hybrid is both charming and frustrating in pretty much equal measure. On the road, it's perky and urgent like most electric cars, with the "s" version stepping up to 181 horsepower and 199 lb-ft of torque.
A 7.6 second 0-60 mph figure isn't going to threaten to rip the flesh from your face as you accelerate, but the 4.0 second 0-35 mph time is far more important given the i3s' intended habitat. In the city it's all about dashing away from the lights, slipping friskily between lanes, and slotting neatly into parking spots that larger cars have to ignore. Total electric range from the 33 kWh battery is a quoted 97 miles, with a Level 2 240V charger doing the business in 4.8 hours.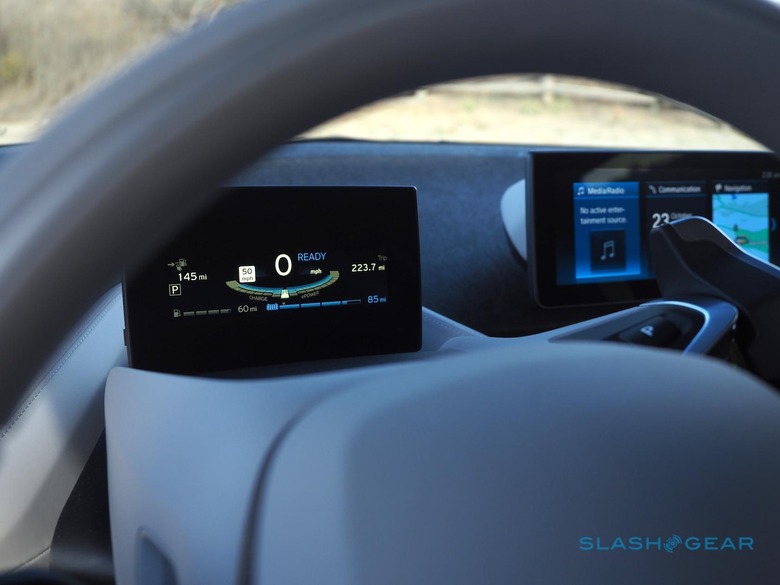 The Range Extender is both useful to have and something you learn to avoid using if at all possible. You can't miss it when it kicks in, with the two-cylinder droning away more like a backyard generator than something you'd expect to find in a modern car. Suffice to say, this isn't the purring engine you'd get in other BMWs.
It serves a good purpose, though, taking the i3s' total range to a quoted 180 miles. Get used to filling up almost as regularly as you charge, though, if you make frequent use of the Ranger Extender. With a 2.3 gallon tank, the i3s isn't exactly carrying a huge amount of fuel. One unexpected drawback I've not had to consider in other internal-combustion cars is making sure the tank is actually empty enough to meet the minimum dispensing requirement at the pump.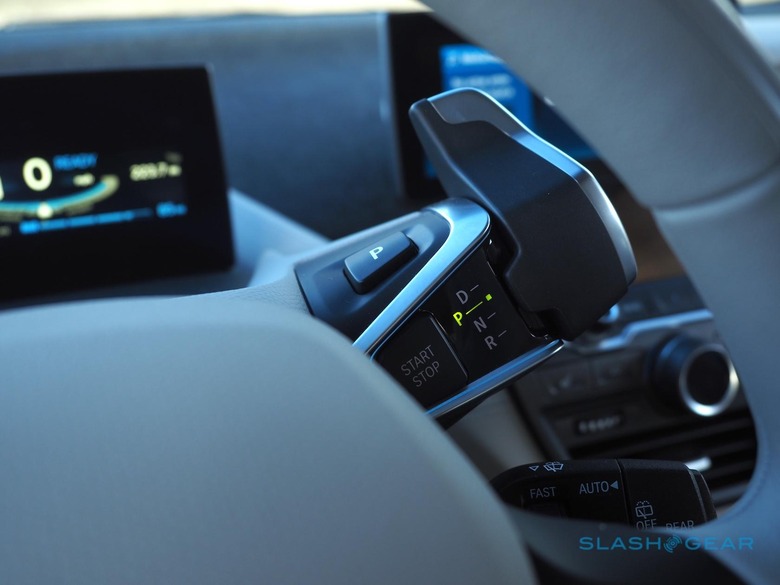 BMW's i-Series of cars still has the whiff of the experimental about them. While the rest of the automaker's line-up pushes on with hybridization – in mild and plug-in forms – under the hood, but more mainstream styling, models like the i3s remain a more playful vision of electrification.
Unfortunately, at this point that's an increasingly tough sell. The BMW i3s with Range Extender starts at $51,500 before any tax incentives or credits. With the Giga World interior, Apple CarPlay, and a few other extras, you're looking at a $58,695 car including $995 destination.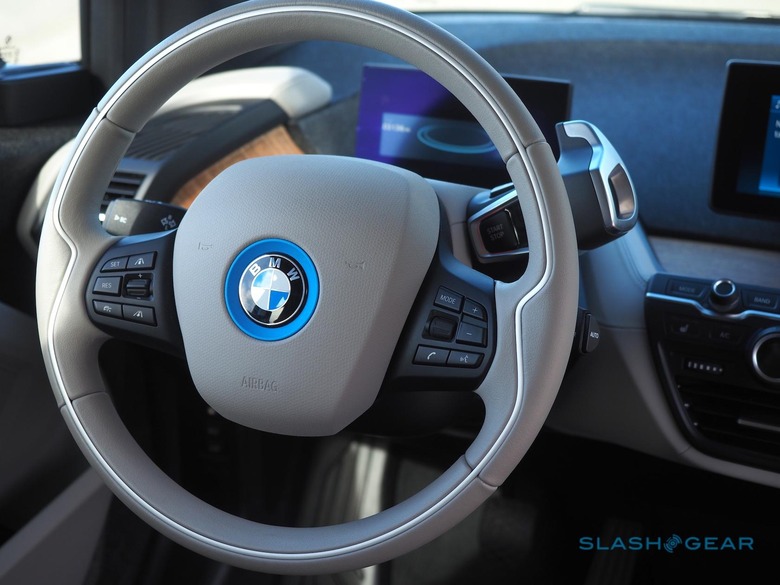 Side by side with a Tesla Model 3, starting at $46,000 with a third more total range and better performance, you have to question just how much you value the unusual cabin and flexibility of a gasoline top-up. A Chevrolet Bolt EV is even cheaper: its interior is far more pedestrian, but you can't argue with its miles-per-dollar value.
BMW can't be blind to that disparity. The 2019 BMW i3s will come with a 120 Ah battery and an expected 150+ mile range – still not up to the standards of its key rivals, but a lot more palatable. At the same time, it's borrowing interior and exterior styling and design ideas for upcoming models, like the BMW Vision iNEXT which itself previews a bold EV SUV for 2021. If you ask me, that can't come soon enough.