2018 Audi A5 / S5 Sportback First Drive: Luxury SUV alternative for a wagon-less world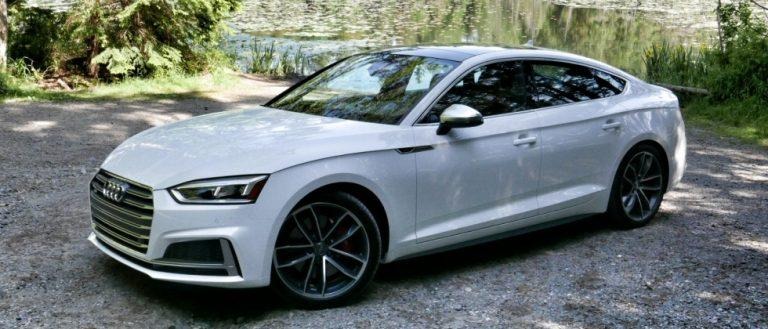 What a cruel joke the American automotive market continues to play on the once-proud station wagon. At a time when new car buyers seem determined to turn their backs on traditional sedans in favor of SUVs and crossovers of all shapes and sizes, manufacturers are equally resolute in their desire to leave the just-as-practical wagon in the lurch. Audi, a company which produces beautiful long-roofs that are sold everywhere but here, has been forced to play the game, too. In doing so, however, it's tapped into a level of style that has produced some of the most appealing luxury options for the cargo-friendly set: the Audi A7 / S7 twins, and their new, more affordable siblings, the 2018 Audi A5 and S5 Sportback.
It's a familiar strategy, of course: tap into the success of a strong-selling high end model by creating a smaller version at a more affordable price. If self-indulgent, four-door 'coupe' imitation were the sole inspiration behind the new A5 Sportback (and its 'sportier' S5 Sportback counterpart), then the end result wouldn't be nearly as interesting. Instead, Audi has pushed forward into a higher volume segment that it took arch-rival BMW two attempts to get right, matching the élan and sheer usefulness of the 4 Series Gran Coupe on its first try without tripping over the cringe-worthy ugliness of the 3 Series GT on the way there.
It helps that rather than attempt to truncate or embiggen the back-end of the popular, and similarly-sized Audi A4 sedan, designer Frank Lamberty instead chose the two-door A5 coupe as his starting point. While the front ends of the coupe and hatch are identical, 'from the A-pillar back, the Sportback-party starts,' according to Lamberty. It's a move that lends the Sportback not just its wider track and lower ride height as compared to the four-door, but also the elongated roofline (made possible via the introduction of the second set of doors) that allows for the graceful incorporation of the rear hatch opening rather than simply carving it out of an invisible box and tacking it onto the trunk as an afterthought. Indeed, especially when viewed in aggressive S5 trim, the Sportback exudes road presence that draws any and all attention away from what could have been an awkward swelling of its rear haunches.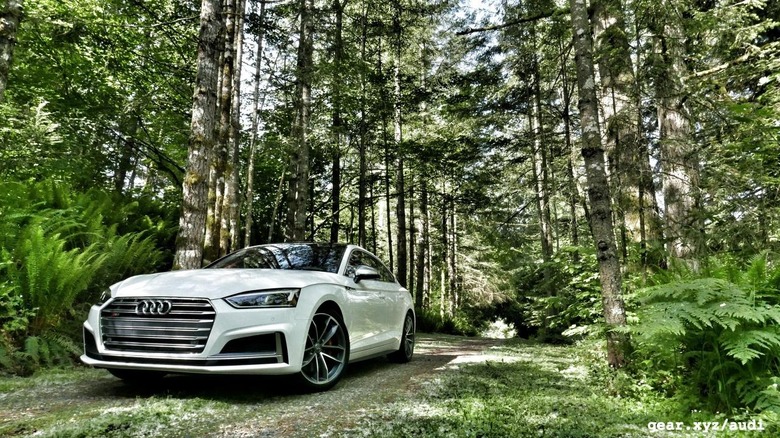 The A5 (MSRP $42,600) and S5 ($54,400) Sportbacks are no mere styling exercises, either. The goal was to offer a substantial increase in 'utility' to customers who would never consider adding 'sport' or a hyphen to that requirement, and the end result is remarkable. With the rear seats in place there's just under 22 cubic feet of cargo room available underneath the Sportback's generous (and powered) hatch, or roughly double what you'd find in the A5 / S5 coupes. Fold down that back bench and you're up to 35 cubes with a respectable ability to swallow long, over-sized items.
Could these numbers have been bettered with a traditional wagon? Almost certainly, but it's a moot point given that two decades of marketing efforts have convinced would-be customers not to buy anything with a long roof that's not riding on stilts. It's much better for Audi to build a vehicle people will actually buy than defend the honor of a body style that's been assassinated by the same industry that gave birth to it.
Regardless of your wagon politics, there's no arguing with the way even the entry-level Audi A5 Sportback drives. Featuring standard quattro all-wheel drive (with a mechanically 60-rear, 40-front nominal torque split), the hatch is motivated by a 2.0-liter, 252 horsepower turbocharged four-cylinder motor that also offers up a lowdown-and-lovely 273 lb-ft of twist. This is more than adequate when motivating the 3,700 lbs thrown its way by the Sportback's platform, with the seven-speed dual-clutch automated manual transmission performing admirably when called to pass by either right foot or the vehicle's steering wheel-mounted paddle shifters.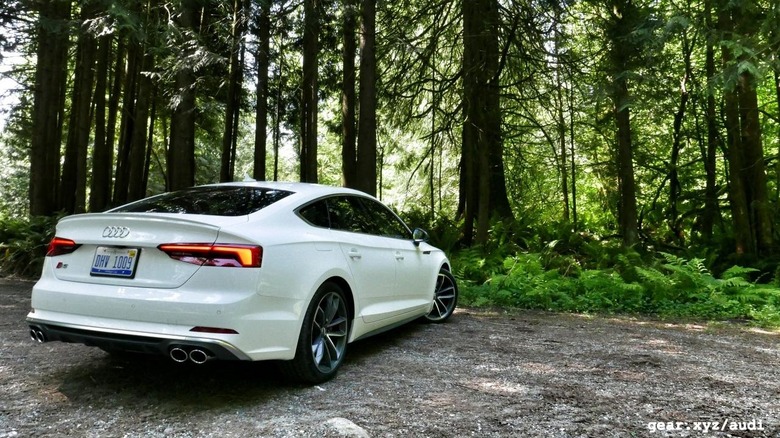 If you're looking to hitch a ride on a (much) faster rocket, then the S5 Sportback steps in with a 3.0-liter turbocharged V6 that's good for 354 horses and 369 lb-ft of twist, and although it's saddled with an extra 200 lbs to carry (much of it over the front nose), it's indisputably a more focused car when hustled. On climb/descend cycle of the two-lane roads that snake through Snoqualmie, Washington, the S5 Sportback (and its eight-speed automatic) displayed a flair for dominant, yet comfortable cruising, constantly threatening to eat up miles at a supra-legal pace without disturbing the quiet comfort of the cabin or composed behavior of its suspension. Handling can be further enhanced via a set of optional adaptive dampers and a torque vectoring differential, and 60-mph arrives from a standing start in 4.5 seconds – or 1.5 seconds quicker than in the A5 Sportback.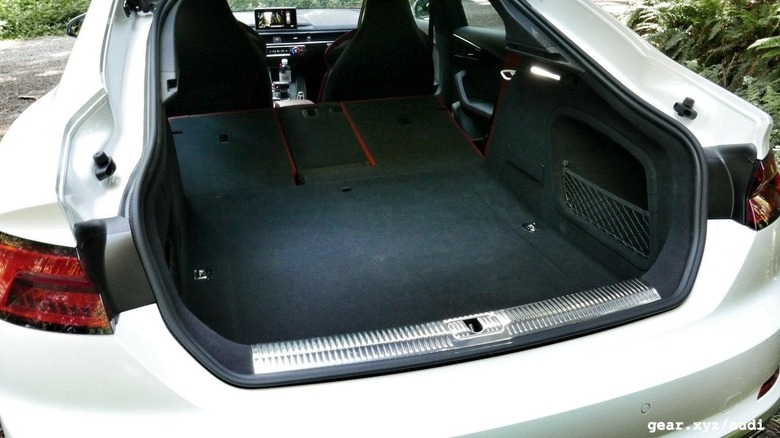 Is the Sportback interior's usability infringed on somewhat by its low roofline? For rear passengers, yes – despite the additional legroom that they gain as compared to the two-door A5/S5 pair. In that sense, the new Audi isn't as capable as, say, the Q5 crossover. Making up for the intrusion on your noggin, however, are sedan-like road manners paired with a well-appointed interior that can be loaded with as many infotainment and advanced safety features as you'd like. This is a far better choice as a road trip warrior than any guzzling, tall-riding crossover (the A5 Sportback returns 34-mpg on the highway, with even the S5 hitting 30-mpg in the same measure), and it also happens to look a lot better in the process. Cars like the 2018 Audi A5 Sportback and S5 Sportback won't win the SUV wars for the good guys, but they offer a welcome respite for those who want to haul without trading in their soul in the process.