2017 Volkswagen Golf Alltrack First Drive: Almost-SUV fills in VW's gaps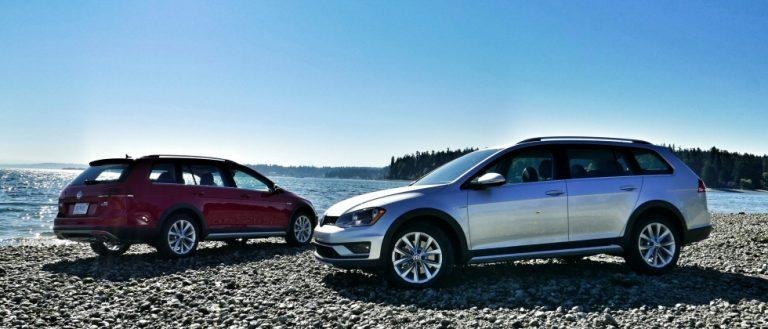 Volkswagen is an automaker in transition, and the 2017 Volkswagen Golf Alltrack is a harbinger of things to come. With Americans tilting inexorably towards crossovers and SUVs as their conveyance of choice, and faced with a line-up heavily weighted with turbodiesel sedans and hatchbacks that the EPA has placed on indefinite hiatus, VW's market makeover is only just beginning. The Golf Alltrack's wagon-based, crossover-friendly image heralds an SUV onslaught that will continue through the next 12 months as an all-new three-row people mover and long-awaited replacement for the slow-selling Tiguan compact sport-utility also make their way to showrooms.
On paper, it's a simple formula: take the practical and affordable Volkswagen Golf SportWagen, add a modicum of extra ground clearance and the extra grip of 4Motion all-wheel drive, and then top it off with a flourish of plastic body cladding on the front, the sides, and the rear. If this sounds familiar, that's because it's worked well for a host of other car companies in the past, including Subaru (the Outback), Volvo (the CrossCountry series), and Audi (the Allroad).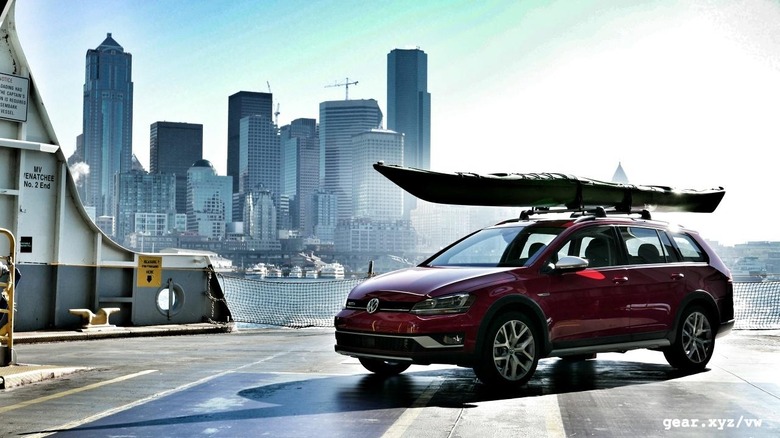 In fact, the larger Outback was the bogey used by Volkswagen's product planners in putting together the Alltrack family. Ten years ago, if you had asked me whether a giant like Volkswagen would be taking cues from Subaru's modest showroom, I would not have believed you – but this simply shows how dramatically the playing field has tilted towards SUVs.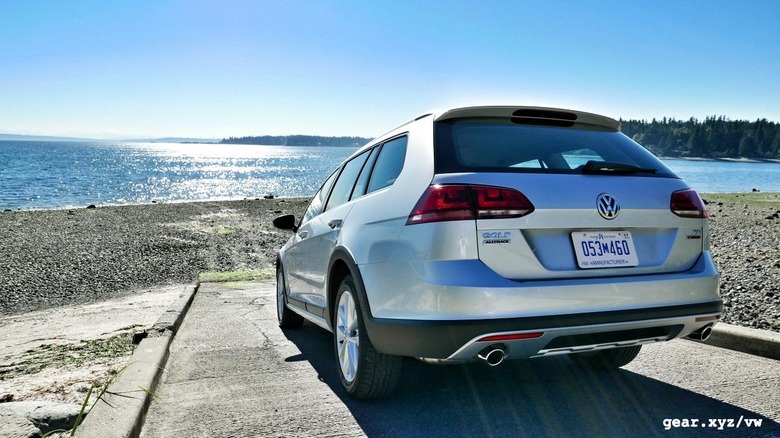 Mechanically, there are few differences to be found when comparing the Volkswagen Golf Alltrack to its SportWagen sibling. Both make use of the same 1.8-liter, four-cylinder engine, which has been turbocharged to produce 170 horsepower and 199 lb-ft of torque, and each can choose between either a six-speed manual (first-quarter of 2017 delivery) or six-speed dual-clutch automated manual gearbox. All-wheel drive is standard with the Alltrack, of course, but for 2017 it's also available as an option for the base model SportWagen, where it delivers an identical 22-mpg city and 30-mpg highway (figures that are roughly 18 percent worse than the front-wheel drive family Golf, although the fuel tank has grown by 1.3 gallons to make up for the difference).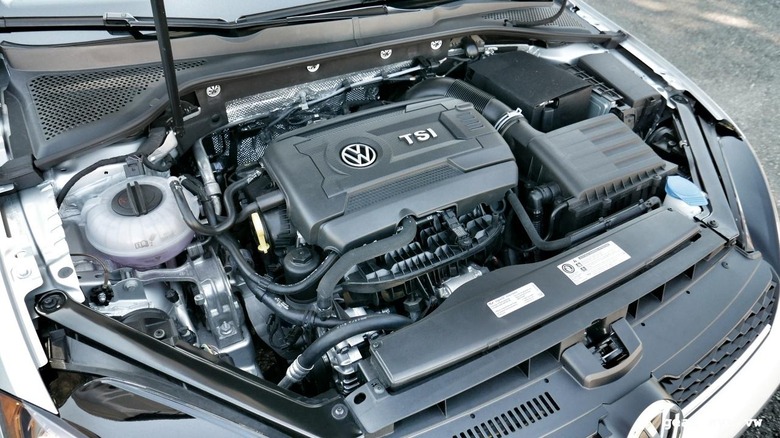 You won't spot any significant changes inside, either, with a very useful 66.5 cubic feet of total cargo space available in both vehicles, alongside a relatively adult-friendly rear seat. Moving up through the Alltrack's trim levels – S, SE, and range-topping SEL – sees equipment mirroring that of the SportWagen, with similar options packages (focused on improved lighting and additional safety equipment) also showing on both order sheets.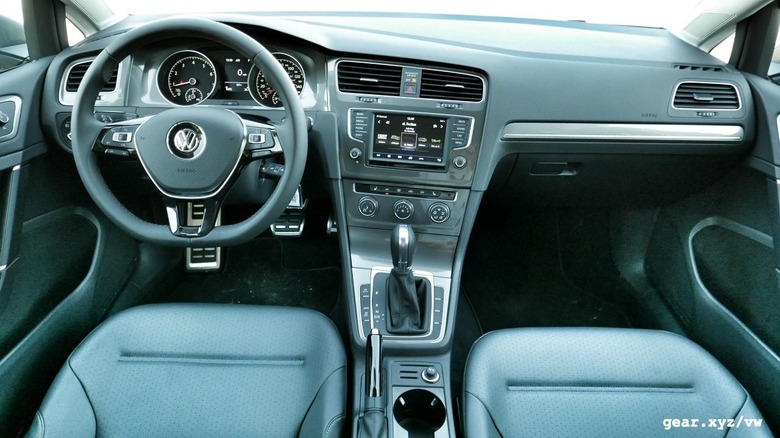 Where, then will the average buyer notice a difference between the new Alltrack and the familiar SportWagen when driving both Golf models back-to-back? The short answer is that they most likely won't – unless the dealership happens to be located at the end of a somewhat rugged off-road trail. The Volkswagen Golf Alltrack adds a new drive mode that is intended to better manage traction when heading off of the beaten path, and it features a hill descent control system that will automatically brake the vehicle's wheels individually in order to maintain a slow and steady pace with the nose pointed downwards.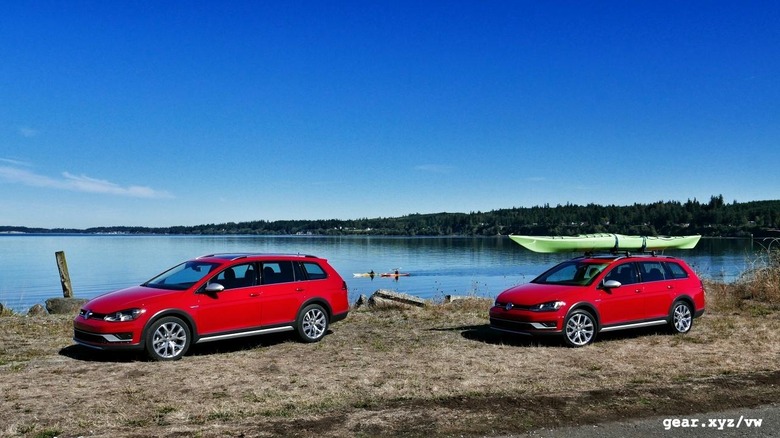 Taken together with the 0.6 additional inches in ground clearance (with wheel gap visually expanded by flared fenders and taller tires), it's fair to say that the Alltrack will handle muddy roads with ease. On the short up-and-down trail laid out for me to drive the Volkswagen through on Washington state's Bainbridge Island, the car performed admirably enough, but it's important to remember that there's still a Golf chassis sitting underneath the revised packaging, and that it would be a mistake to expect the Alltrack to take much of a real-world beating.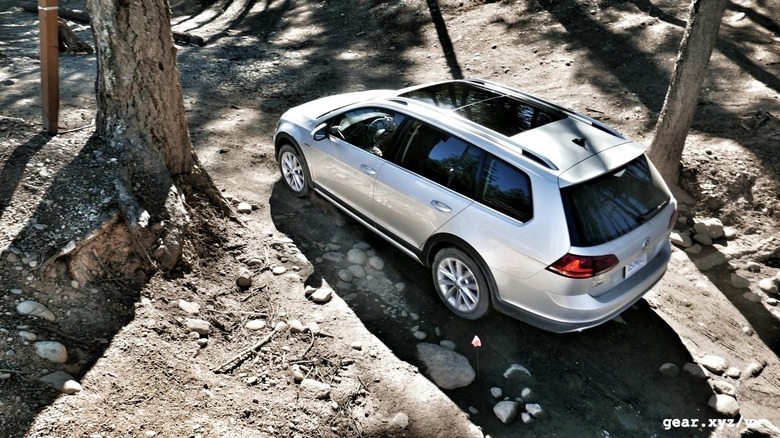 This is, of course, perfectly fine. Very few SUV owners – Subaru or otherwise – actually intend to tackle terrain any more robust than a gravel driveway, with the extra all-wheel drive traction prized more for its foul-weather performance than its exploration potential. In this role, the Volkswagen Golf Alltrack excels, as it delivers a driving experience that's a dead ringer for the SportWagen in every situation other than when the pavement disappears. With the 4Motion system channeling 90 percent of power to the front wheels unless called upon to dole out extra grip at the rear, the car's AWD is also entirely transparent in its operation.
Why the Alltrack, then? It's entirely a matter of personal taste. With a starting price of $25,850, the newest Golf is only marginally pricier than the no-frills AWD version of the SportWagen, and if you want that four-wheel feeling with all the bells and whistles the DSG-only SEL edition checks in at just under $32,890. It seems unlikely that existing Outback customers will forgo their famous brand loyalty and swap allegiance to VW, but current Golf owners may well be tempted by the Alltrack's outdoorsy styling, and, of course, the availability of a nicely-equipped all-wheel drive wagon at a relatively affordable ask. The Alltrack is the appetizer to the full-course SUV meal about to be served up by Volkswagen, but it's certainly enough to cleanse the palate in preparation for the next stage in the company's American evolution.