2017 Volkswagen Beetle Dune Convertible Review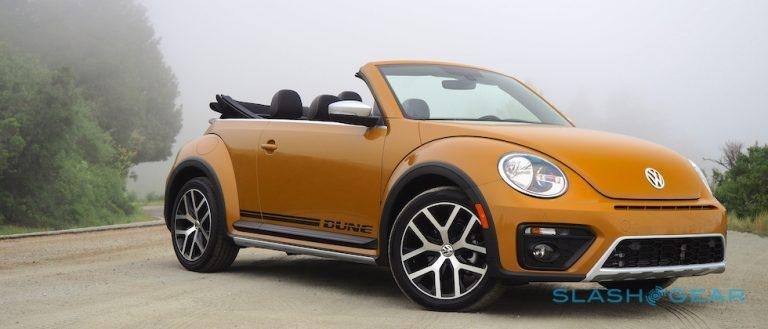 Is the Volkswagen Beetle a charming slab of four-wheel history brought back to life, or a cynical piece of modern-day memorabilia for baby boomers? On the one hand, the 2017 Beetle Dune Convertible puts a little distance between its droptop and the fairly cliched car it's based upon. Nonetheless, at around $30k are you paying more for image than anything else?
I've never really been a fan of the new Beetle. Its shape has always struck me as too contrived; too knowingly-retro to be anything other than a cloying ploy to drum up sales through rose-tinted reminiscence. The cutesy flower vase on the earlier versions (since abandoned) said it all: the new Beetle was a car for those who wanted a visual reminder of the halcyon days gone by, yet who weren't willing to give up a VW warranty to get it.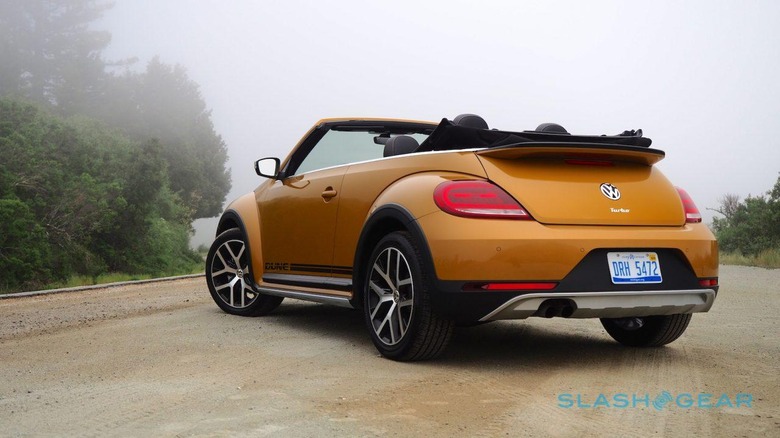 Within that grand scheme, the Beetle Dune Convertible is probably my favorite of the range. Its styling steps away from the classic Beetle and more in favor the dune buggies its name conjures. Sure, its black and silver plastic cladding and slightly wider track might really just be visual gimmicks, but it has a little more personality.
Make no mistake, though, this is about as sensible a convertible as you'll find in the segment. Underneath the Sandstorm yellow metallic paint, the contrast bodywork, and the mildly raised suspension you're looking at VW's tried and tested formula of a 1.8-liter turbocharged four-cylinder engine mated to a 6-speed automatic. It may look like it could scamper across California beaches and wade through the surf, but its front-wheel drive setup means that's frankly ill-advised.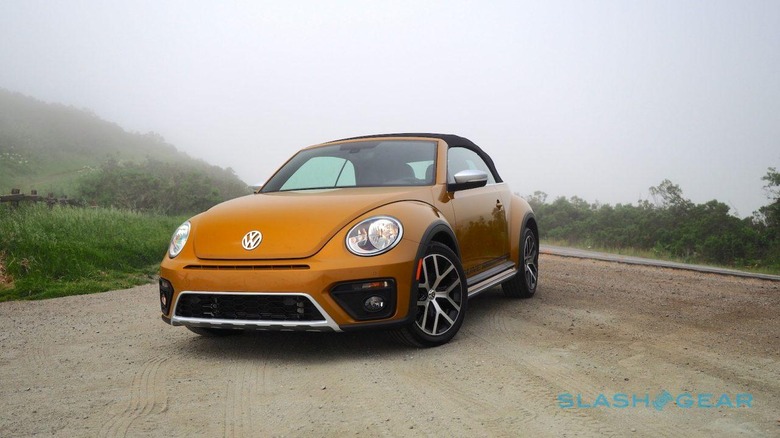 Focus instead on the positives. The 1.8T musters 170 horsepower and 184 lb-ft. of torque, and it's a nippy affair, the Dune dashing eagerly through urban traffic. Volkswagen has firmed up the suspension which can leave the convertible a little bumpy on ill-kept asphalt, but combined with the transmission's Sport mode it does at least introduce more pep than you might expect.
VW quotes 24 mpg in the city, 31 mpg on the highway, and 27 mpg combined. In my own, mixed driving I saw 26 mpg; that's on the low side for what, roof aside, is a fairly compact four-seater. Blame genuinely eager acceleration for that as much as the engine itself.
The cabin errs on the basic side, with Volkswagen's sober black plastic of choice lifted with body-matching metallic yellow plastic panels. The center console gets a 6.3-inch touchscreen with Apple CarPlay, Android Auto, a 8-speaker audio system, Bluetooth, and SiriusXM. Helpfully, the Dune will bleep eagerly as you navigate into a parking space as standard, too.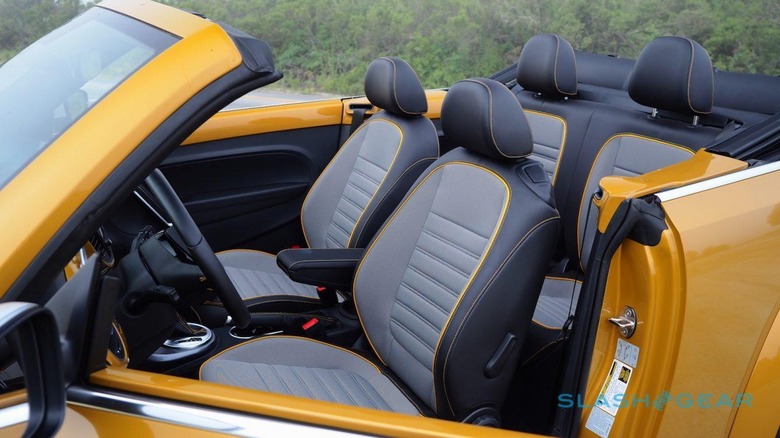 I say helpfully, because visibility isn't great. At the front, the sharply curved hood makes figuring out just where the bumper ends tricky. It's a doddle compared to the rear-view, however. Convertible roof up, and you're peering through a fairly small window, that's at least heated glass for winter mornings.
Drop the roof, though – which takes about 10-12 seconds, is fully motorized, and which comes with a large and unwieldy fabric cover should you want to hide some of its more ungainly angles – and you suddenly have a huge swathe of folded fabric to contend with. Luckily there's a rear-view camera too, which pops out from behind the VW badge, else it would be easier to avoid reversing altogether.
Otherwise, the Beetle Convertible's standard leatherette seats are replaced with special Dune fabric versions, handsome enough with their two-tone grey and yellow piping. They're fearsomely heated, too, as are the windshield washer nozzles. Unfortunately the wheel doesn't follow suit.
Rear space lacks legroom and, courtesy of the Beetle's distinctive arched roofline, headroom too. Those back there get to argue over who uses the single cupholder as well. Trunk capaciousness is limited not so much by the convertible top intruding as the small hatch it leaves space for. Navigate around that compromise, and you'll find 7.1 cubic feet to play with.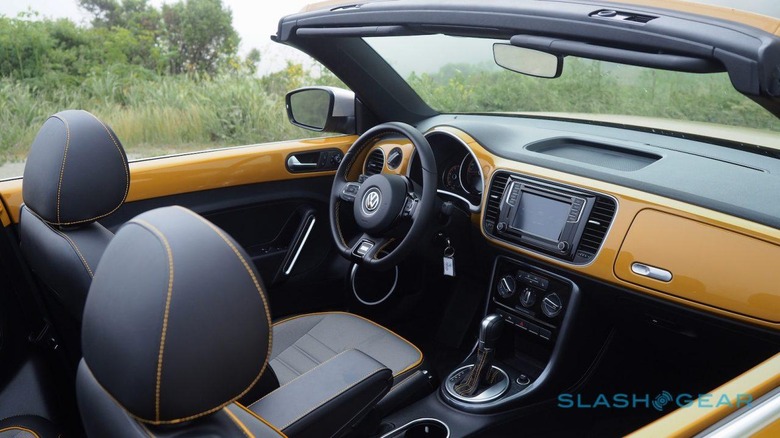 You will, I suspect, already know whether the Beetle Dune Convertible is for you or not. Like other deeply-retro cars, it demands you buy into its ethos. You have to appreciate the Beetle attitude if you're ever going to feel comfortable behind the wheel.
Despite the Dune branding, this is no go-anywhere droptop. It's a style exercise on Volkswagen's part, and the Beetle's underlying city perkiness is neither improved nor diluted by this particular variant's jacked-up track. At $30,465 as tested (including $820) its appeal depends entirely on how enthusiastically it presses your romantic, reminiscing buttons.