2017 Ram Power Wagon First Drive: Heavy-duty off-road apocalypse escape vehicle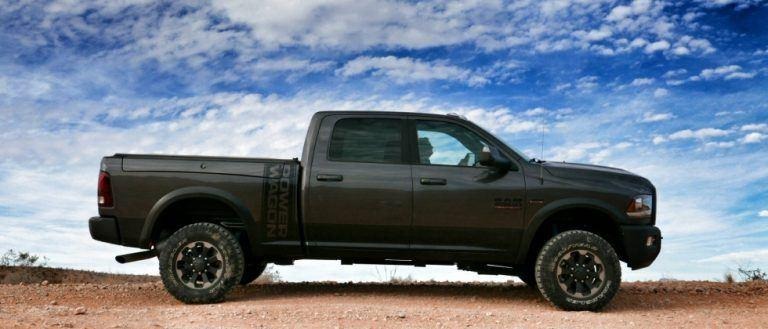 The 2017 Ram Power Wagon is a full-size pickup that dares to answer the question, 'what would you use to tow your house into the middle of the desert during a zombie apocalypse?' After spending a full day flogging the P-Wagon on the hot sands an hour outside of Las Vegas, I can comfortably report that it takes a special kind of product planning bravery to create a heavy-duty truck capable of bludgeoning any obstacle in its path – undead or otherwise – on its way to saving your delicious brain-bacon from flesh-eating creeps.
What's that you say? The Power Wagon was actually conceived way back in the mid-40s as a Hitler-stomping weapons hauler, in an era when reality was far more frightening than anything that might leap off a B-movie screen? Fair enough. I certainly didn't seen any extras from 'Thriller' haunting the trailhead at Logandale, Nevada, and while that didn't necessarily mean they weren't there it did give me the confidence to go full-steam-ahead in Ram's toughest truck without having to watch my back.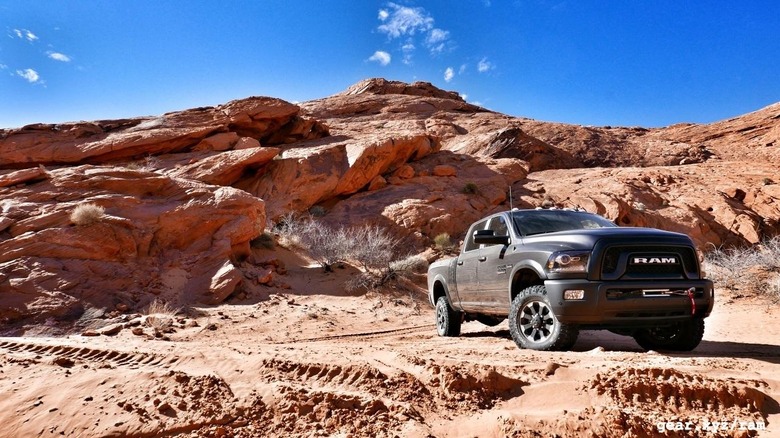 Not that I would have felt all that threatened inside the rolling fortress that is the 2017 Ram Power Wagon. Borrowing its rugged chassis from the Ram 2500 heavy-duty pickup, the Power Wagon adds Bilstein shocks, two extra inches of ground clearance, a front sway bay that can be remotely disconnected, 4.10 gear ratios in both solid axles, a Warn winch, and 33-inch DuraTrac all-terrain tires to go with military-grade underbody armor and POWER WAGON decals large enough to be seen from orbit.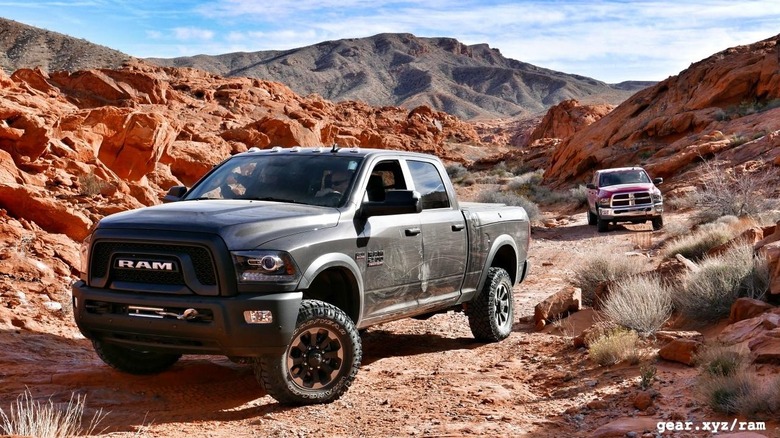 I almost needed a rope ladder to climb up into the Ram, what with the 14-inch gap between its axles and the earth below, leading me to believe that I might be able to ride out the threat from an unholy horde simply by scampering inside and rolling up the windows. Barring that, I could always point the Power Wagon towards the nearest lake or river and plunge in – with 30 inches of water fording capability, the pickup might be able to out-swim even the reanimated corpse of Michael Phelps.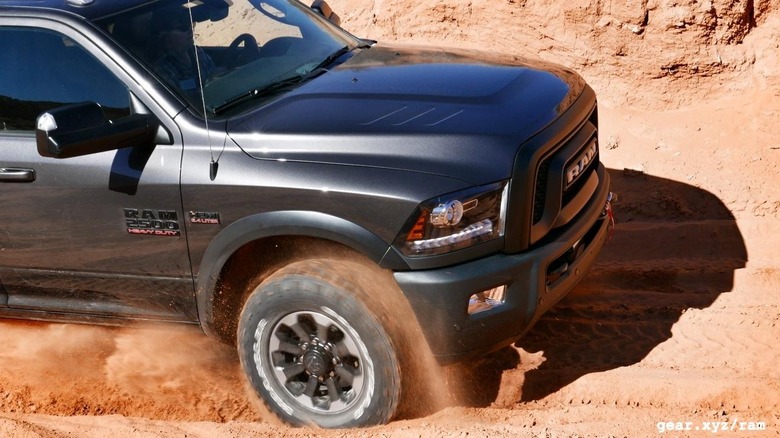 Of course, there was no water to be found amidst the red rocks of the Nevada desert, where both moisture and traction were at a premium. After a jaunt down I-15 took our group of monster trucks to Logandale, we paused to air the Ram's tires down from 60 psi to 30 psi in a bid to spread out its footprint for maximum purchase on the shifting landscape that lay ahead. With the four-wheel drive system set to 'High,' our pack rolled out onto the sand at a spirited pace, with all 7,000 lbs of the Power Wagon's curb weight happily beating each and every grain into submission beneath its 17-inch forged wheels.
Even wide open in the wide open, it's impossible not to remark upon the Ram's bulk. The truck is simply enormous in a way most other off-road rides aren't, and much of its size is directly linked to its 10,030 lbs of towing capacity and the ability to haul over 1,500 lbs of gear in the bed behind it. I wasn't kidding when I mentioned tugging along a house or two: the 429 lb-ft of torque produced by the Power Wagon's standard 6.4-liter Hemi V8 are more than up to the task of lugging whatever you might hitch to its hardcore frame.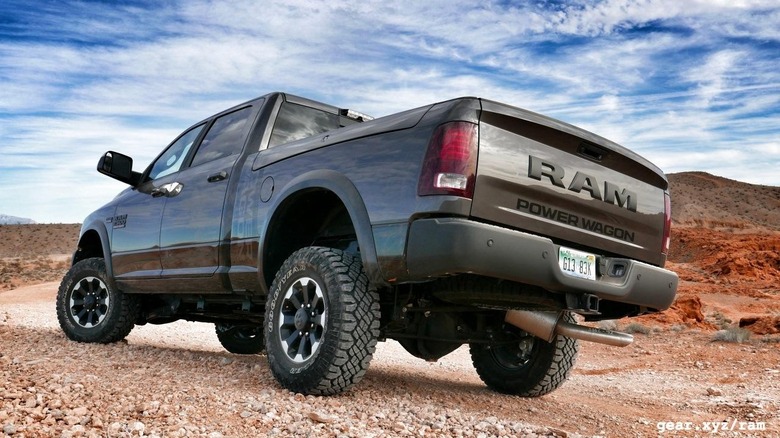 Does this mean that the Power Wagon is aimed specifically at contractors and power boat owners with an extreme desire to get away from it all? Yes and no. While Ram has maintained all of the 2500-series utility you'd find in its workhorse trucks, the Power Wagon leverages its overbuilt bravado to do more than simply haul the horses when you're done playing in the mud. Its sturdy construction allows it to take more punishment than most other pickups when bashing down a dry riverbed, and you certainly won't find the ability to lock both front and rear axles at the push of a button in any other full-size model on the market.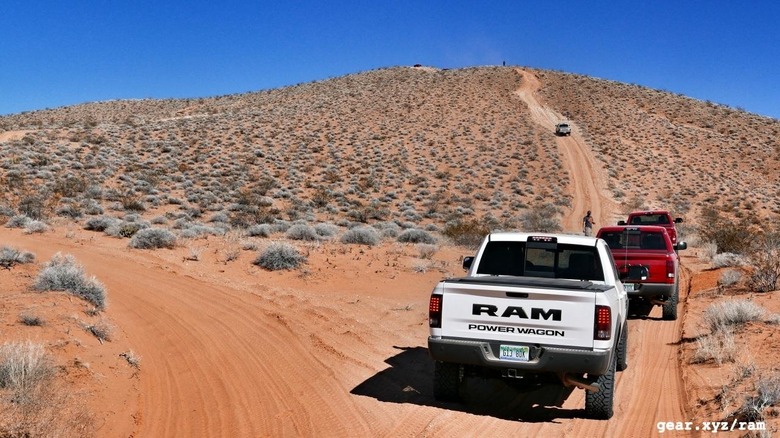 The Ram Power Wagon has a few other tricks up its sleeve, too, for when the going gets rough. Unsnapping the forward sway bar from inside the cabin lets you take advantage of the truck's unusual five-link coil spring rear suspension setup, offering exceptional articulation at both poles of the monster that helps keep all four wheels on the ground no matter how out of shape your approach angle might get. This proved quite handy when crawling the Power Wagon up sheer rock faces that would have sent lesser trucks searching for a way around with their tails tucked between their legs.
Crawl control also proved to be an asset when aiming the massive Ram down a sharp decline. Despite the prodigious amount of mass being sucked inexorably by gravity, it proved simple to use the truck's steering wheel buttons to lock in a slow and safe forward pace and let the automatic braking feature handle the rest.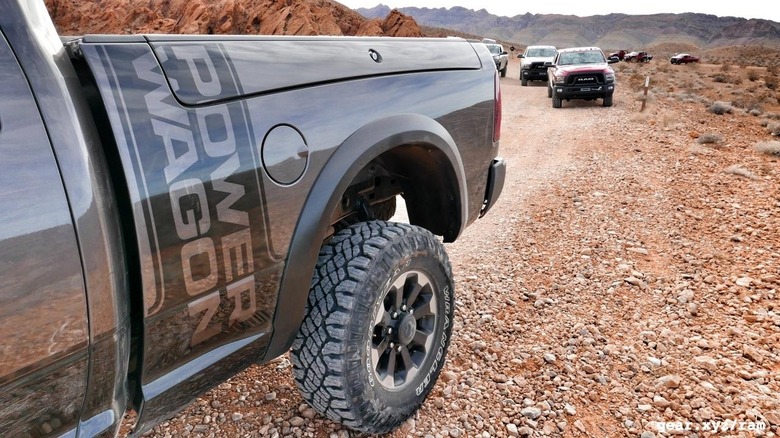 Even the Ram Power Wagon's winch got a workout during our time together in the desert – although thankfully not through any misadventure on the part of a colleague. For the first time at a media event I watched a trained professional intentionally roll her SUV down a hill, all so that we could witness how the Warn winch's 12,000 lbs of capacity never broke a sweat in carefully righting it again. There most likely exists no firmer anchor for off-road recovery than the Power Wagon's mobile tonnage.
The 2017 Ram Power Wagon remains a singular choice for off-roaders seeking something altogether different than what you would get from a Jeep Wrangler or a Ford Raptor. Fashion-conscious preppers will notice that the Power Wagon gains a new grille, powder-coated bumper, and a freshened interior, but aside from these relatively minor changes the Ram forges ahead with the same tried, tested, and true mechanical package it offered the year before. If you're anticipating the apocalypse, the time to snap up a Power Wagon is definitely right now, while its price tag sits at a reasonable $51,695. Once the zombies roll through town, chances are there won't be enough cans of beans, shotgun shells, or jugs of homemade moonshine left in the world to trade for one.