2017 Porsche 911 Turbo S makes 580hp and 553 lb-ft of torque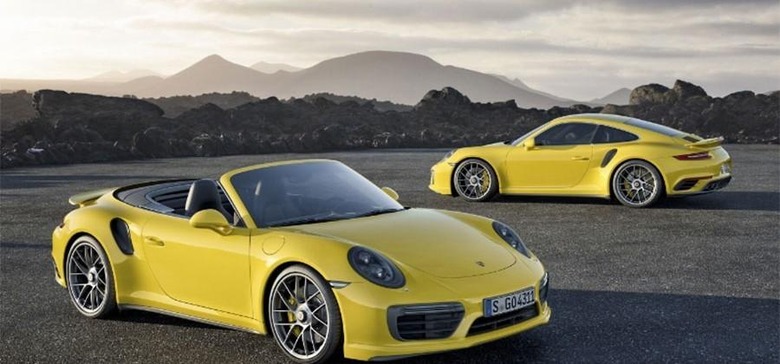 Porsche has unveiled the all-new 2017 911 Turbo and 911 Turbo S. Both of these cars will make their North American debut in Detroit in January. Both the Turbo and Turbo S will be offered in coupe and convertible styles and the new Porsche turbo engines make 20hp more than in previous versions.
The 3.8L twin-turbo six inside the 911 Turbo makes 540hp with the improved power courtesy of modified intake ports on the cylinder heads, new fuel injectors, and higher fuel pressure. The Turbo S makes 580hp via new turbos with larger impellers. Turbo S also makes up to 553 lb-ft of torque in overboost mode.
Both cars get a dynamic boost function that improves throttle response and maintains boost pressure load. The 911 Turbo S can reach 60mph from a standstill in 2.8 seconds and has a top speed of 205mph on the track. The 911 Turbo needs 2.9 seconds to reach 60mph and has a top speed of 198mph. Fuel economy ratings aren't available, but Porsche claims they are better than the previous model.
The Sport Chrono Package is standard on all 2017 Turbo models along with the Porsche Stability Management system with Sport mode. The new 911 Turbo and Turbo S models will land at dealerships in April. The 911 Turbo starts at $159,200, Turbo Cabriolet starts at $171,500, 911 Turbo S starts at $188,100, and the 911 Turbo S Cabriolet starts at $200,400.
SOURCE: Porsche