2017 Nissan Rogue SV Hybrid Review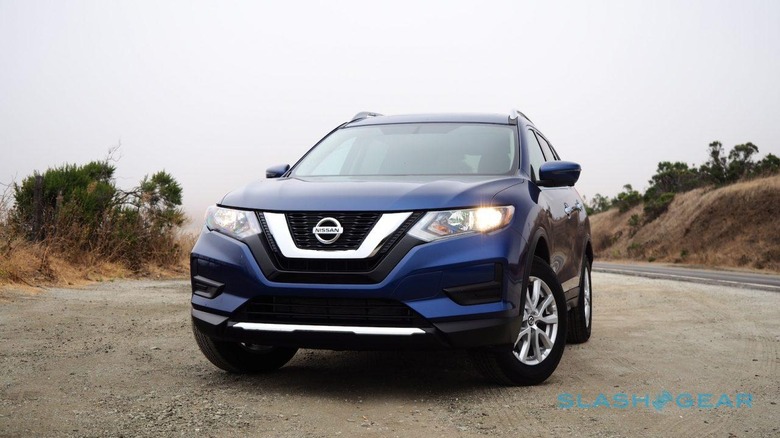 With the rise in popularity of small SUVs and crossovers, it'd be easy to assume that fuel economy has taken a back seat in many drivers' list of priorities. Nissan, though, isn't so sure, hence the 2017 Nissan Rogue SV Hybrid. Boasting the strongest economy figures in the segment, not to mention a competitive starting price, on paper it's a tough act to follow.
It's easy to get addicted to one of electric vehicles' most intriguing aspects: their instantaneous torque. All that power on tap from the get-go can make EVs and hybrids feel far perkier than their green credentials might suggest. Unfortunately, the Rogue SV Hybrid didn't get that memo.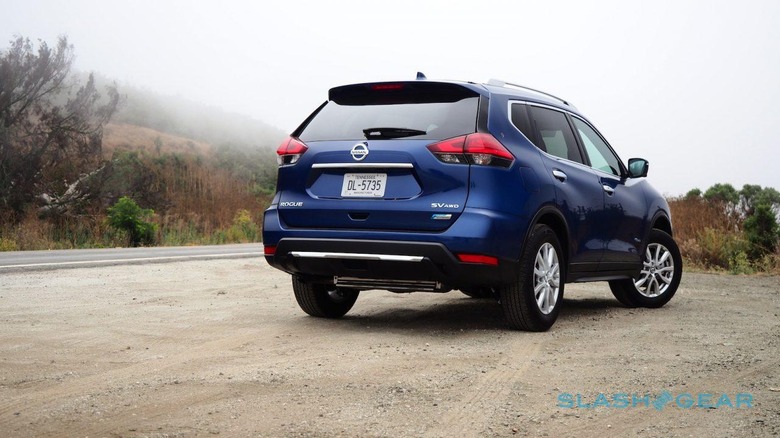 Pulling away from a standstill is sluggish, not helped by the rubber-banding of the CVT. Things get a little better in Sport mode, but there were a couple of times when the Rogue's lackadaisical attitude bordered on worrying. Slowing almost to a stop for a set of filter signals at a highway on-ramp, then hitting the throttle when the light turned green only to have... nothing, for a good few seconds while traffic behind me began to surge did not leave me with the usual EV grin.
On the move, too, the Rogue hides its hybrid status well. The battery is a scant 0.8 kWh in size: it means cargo space isn't noticeably impacted, which is handy for an SUV, but it also truncates all-electric range to less than a mile. Unsurprisingly, there's no EV-only mode.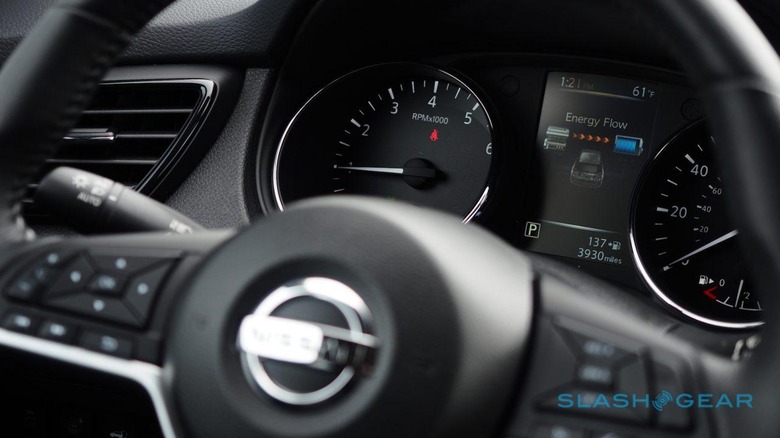 Still, it's quiet, with the 2.0-liter gas engine fairly hushed. Nissan's all-wheel drive system automatically transitions between FWD and AWD depending on what the SUV figures the road conditions and driving style demands. Even when I attempted some more twisting backroads, though, it showed a strong preference for powering just two of the wheels, presumably for efficiency purposes.
That can pay off, mind, if you drive sensibly. Nissan quotes 34 mpg on the highway, 31 mpg in the city, and 33 mpg combined. My 26.5 mpg average during typical driving fell well short.
As for the accommodations, the cabin proved fairly dark but comfortable. There's a 6-way power driver seat as standard, and though the SV trim gets cloth rather than leather, the front seats are heated. A healthy three 12-volt outlets and dual-zone auto HVAC are included too, plus LED DRLs, privacy glass, blind-spot warning sand rear cross traffic alerts. Unfortunately the third-row seating option that the regular Rogue supports isn't available on the Hybrid, and Nissan buries many of the controls down in the lower dashboard where it's tough to see them on the move.
What Nissan had thrown in was the $2,870 SV HEV Premium Package, which adds a 360-degree camera, motion-activated rear hatch, power panoramic moonroof, and a heated steering wheel. It also includes a Bose 9-speaker audio system and navigation on a 7-inch touchscreen. It's not the prettiest or the most intuitive infotainment system out there, and even with the upgrade you only get a single USB port in the whole cabin.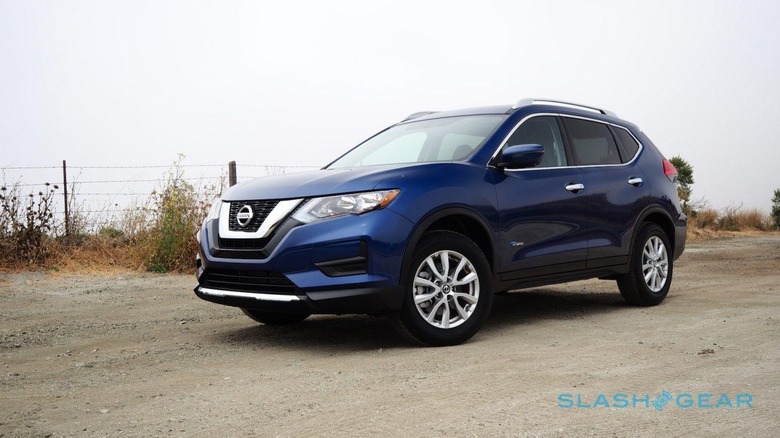 With a $27,590 (plus $940 destination) base price, and $31,625 as tested, the Rogue SV Hybrid's primary appeal is its frugality. It's cheaper than Toyota's RAV4 Hybrid, as well as being more efficient. For driving enthusiasm, the RAV4 pulls ahead, but if economy in an SUV body style is your guiding star, the Rogue SV Hybrid shows plenty of restraint.