2017 Land Rover Discovery First Drive: Unstoppable 7-seat SUV redux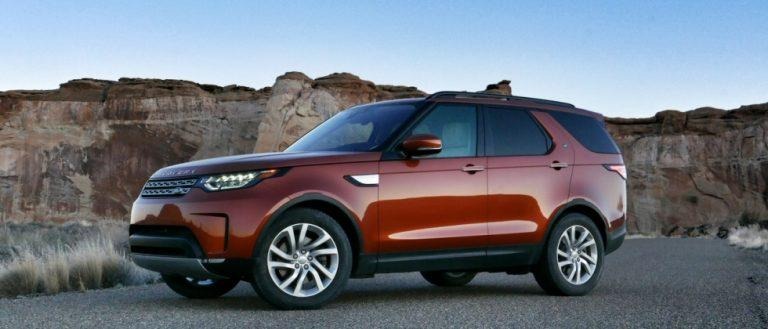 It was only a matter of time before Land Rover got around to dusting its most popular family SUV with the same magic that has dramatically overhauled the brand's Range Rover line-up of luxury people movers. The 2017 Land Rover Discovery breaks with the past by abandoning its truck-like platform for a more modern design, while simultaneously getting back in touch with its heritage by reviving the long-dormant – in North America, at least – Discovery name.
For those not intimately familiar with the vagaries of vehicle names, the Discovery was originally introduced at the end of the 1980s, but it formally abandoned that moniker in 2004 when it was rebranded the 'LR3.' The new Discovery replaces last year's LR4, a stout, and popular sport-utility option that had grown somewhat stale in the face of newer rivals from BMW, Audi, et al jousting for position in the seven-passenger game. It also trades in the rectilinear look of the older model with a new, jelly-bean design that offers more detail and fits in better with the rest of the Land Rover line-up.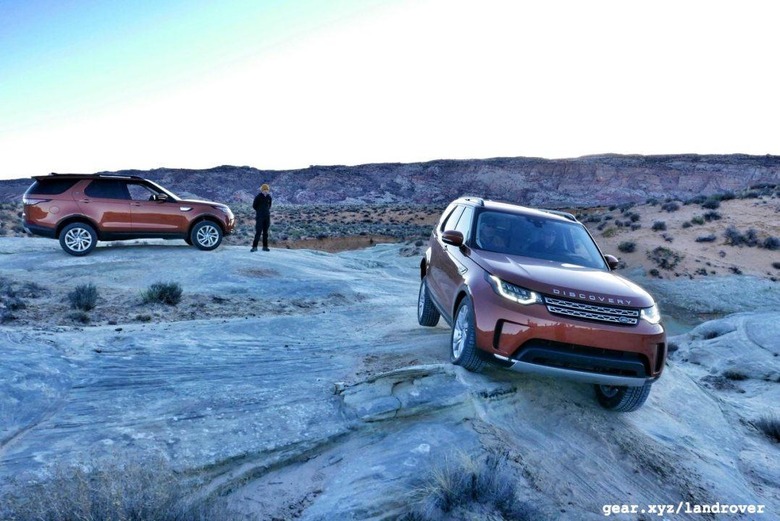 Of course, what the Land Rover Discovery has that very few – read, none – of its competitors can claim is legitimate off-road capability in keeping with the company's long-standing reputation for all-terrain prowess. Only a small percentage of buyers will ever put the Discovery's 4x4 chops to the test, but to prove that the redesign hadn't softened the SUV's claws Land Rover took me to the red sand desert that straddles the border between Utah and Arizona to fully flex its muscles. Our caravan of Discovery's stretched from St. George, Utah, all the way to Page, Arizona, and along the way we would dip into deep, sandy trails, crawl up sheer rock faces, and trundle down two-lane highways, taking in the regions startling natural beauty while never out of reach of the hot, persistent winter sun.
Ditching a ladder frame for unibody construction is old-hat at this point, with the Discovery following in the footsteps of the Range Rover and Range Rover Sport before it in making this trade. The immediate payoff is obvious: an aluminum-intensive design sees the SUV shed nearly 1,000 lbs from its platform, which translates not only into a smoother and more controlled ride, but also improved fuel efficiency and better acceleration. That's despite the decision to retain the previous-generation truck's supercharged 3.0-liter V6.
With its 340 horsepower and 332 lb-ft of torque unaltered, the six-cylinder nevertheless slices more than a half second from its predecessor's 0-60-mph sprint. That now checks in at 6.9 seconds. An eight-speed automatic transmission is also carried over, and buyers can choose between two permanent four-wheel drive systems, one of which features low-range gearing.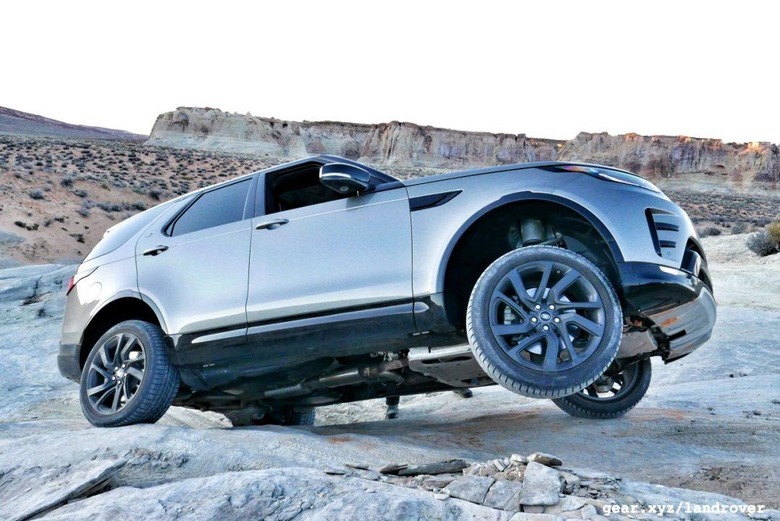 Each of the Land Rover Discovery models I had the chance to drive during our two-day sojourn featured the low-range option, even those vehicles sporting the 3.0-liter turbodiesel V6 under the hood. Giving up nearly 100 horses as compared to the gas unit, but boosting torque to 443 lb-ft, the diesel is ideal for everyday driving (if lacking the highway punch found with certain German SUVs). It's also significantly less thirsty: its 23-mpg combined rating is a full 5-mpg above the supercharged engine.
Quiet at speed, and remarkably composed for its size, the Discovery proved itself to be a competent hauler on the highway, albeit one that didn't take too well to twistier stretches of road. That's all well and good, because there's nothing particularly sporty about this 'sport' utility, with Land Rover instead choosing to highlight the vehicle's roomier cabin and plush personality. There's 1.5 inches of extra wheelbase to play with alongside 5.5 inches of additional length, which has contributed to a third row of seating that is legitimately adult-friendly. It's also user-friendly: you can configure the Discovery's various fold-flat configurations by way of buttons mounted at the rear of the cargo area, or via your smart phone prior to entering the vehicle.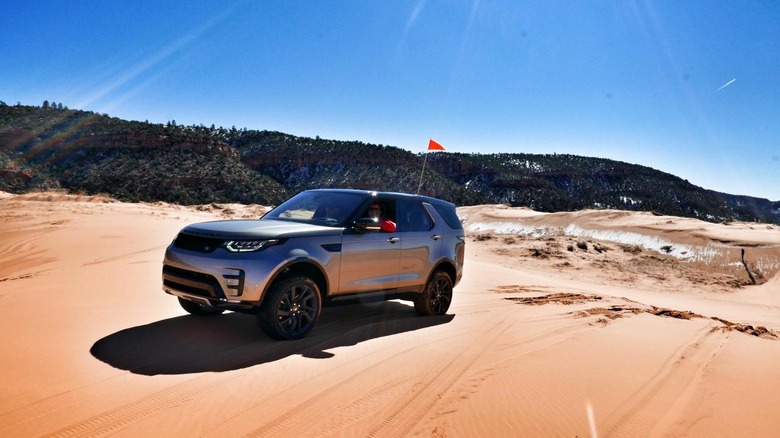 The Discovery also introduces a new interpretation of the model's two-part tailgate design, with a full clamshell hatch concealing a small drop-down shelf that engineers told us can withstand the full weight of a picnicking pair. It'll also prevent items from falling out the back when you open things up. Interior materials are top notch, and while the gauge cluster lacks the pop and sizzle of the full-TFT designs that are increasingly common in luxury vehicles, the center-mounted touchscreen infotainment system is an improvement over past Land Rover efforts.
The Discovery faced three significant off-road challenges on its way to and from the Amangiri resort where we spent the night under the desert's ever-shifting stars. The first was a rutted dry river bed where the Sand setting on truck's Terrain Response 2 system automatically adjusted throttle sensitivity, stability and traction control intervention, and transmission shift points to deal with the low-traction surface. Other Terrain Response 2 options include grass, gravel, and snow, mud and ruts, and rock crawl, with the latter adding extra ride height by way of the Discovery's adjustable air suspension, which can push the truck up nearly three inches to help overcome various obstacles. This was of particular use when tackling more obstinate sections of the rocky boulders that served as our entrance to, and exit from the resort, as well as when fording the constantly-shifting and treacherously deep dunes at Utah's Coral Pink Sand Dunes National Park.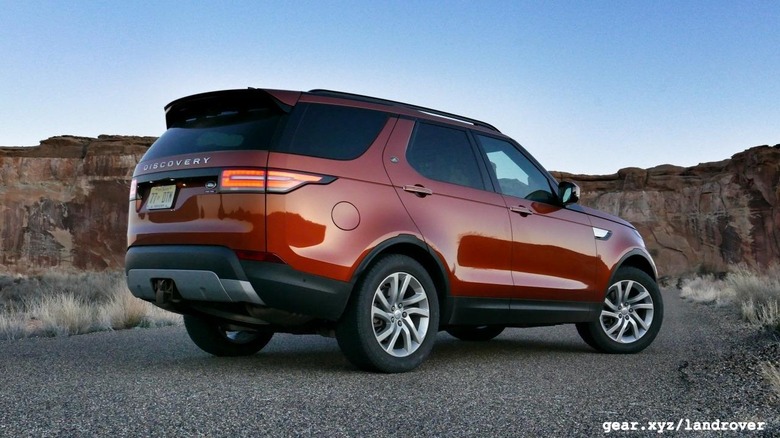 Whereas the LR4 had become somewhat of an anachronism, a throwback to the old school that stayed popular despite its shortcomings, the 2017 Land Rover Discovery has very little to apologize for – and a lack of modernity certainly isn't on any list of perceived faults. While its revised styling might leave purists cold, it will attract legions more families less interested in evoking the African savannah in their driveway and more concerned with its comfy, and spacious confines, and the substantial brand awareness that comes with the Land Rover badge. Better yet: you'll pay less than $50,000 to get your foot in the door, making the Discovery a distinctly affordable premium choice that gives up very little to its more expensive continental cronies.