2017 Hyundai Santa Fe Review: Affordable SUV more than matches its 7 passenger peers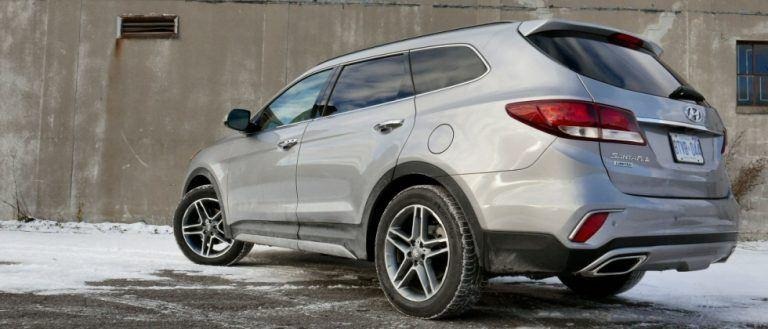 There's no way to avoid it: every mainstream car company needs a three-row SUV in its line-up to be taken seriously these days. We're long past the first-generation efforts of automakers unsure of how best to tackle the extended family demographic, which means if you're going to seat seven or more in 2017, then you're going to have to do better than merely go through the motions. More to the point, you're going to have to beat rivals like the Hyundai Santa Fe.
The 2017 Hyundai Santa Fe is the latest version of an SUV one-two punch that first debuted for the 2013 model year. Positioned as the more capacious sibling to the compact Santa Fe Sport, the vehicle has built a strong following thanks to its affordable bundling of features and practicality that often undercuts major players from Toyota (the Highlander), Honda (the Pilot), and Ford (the Explorer) in both areas.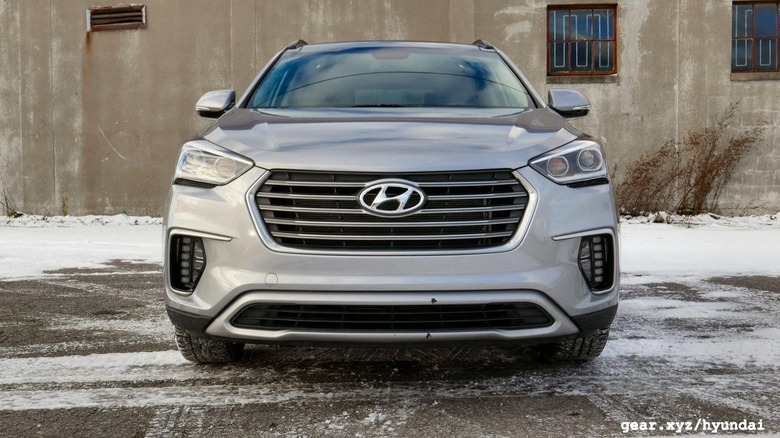 2017 brings a few changes to the Santa Fe formula, although nothing all that dramatic. LED daytime running lights are the most noticeable aspect of its exterior makeover, and its front and rear fascias have spent some time under the scalpel as well, emerging with a new fog light design as well as a slightly chunkier grille, and vertical rather than horizontal reflectors out back. It's a handsome sport-utility vehicle, one whose somewhat imposing presence suggests a higher sticker than its $30k starting price. Even the Limited model that served as my week-long tester (positioned just below the slightly more expensive Limited Ultimate) barely broke the $43,000 mark with its all-wheel drive and safety-loaded Tech Package, and with either of those elements out of the picture you're below $39,000.
Crack the door to the Hyundai's cabin and you come back down to Earth – at least, a little – in terms of the materials used throughout its interior. I personally found the passenger compartment design to be pleasing to the eye, but the Santa Fe Limited's focus on function was evident by the monochromatic presentation of the soft, textured plastics, broken up by chrome-colored surrounds on the dash and door panels and wood-look trim inserts.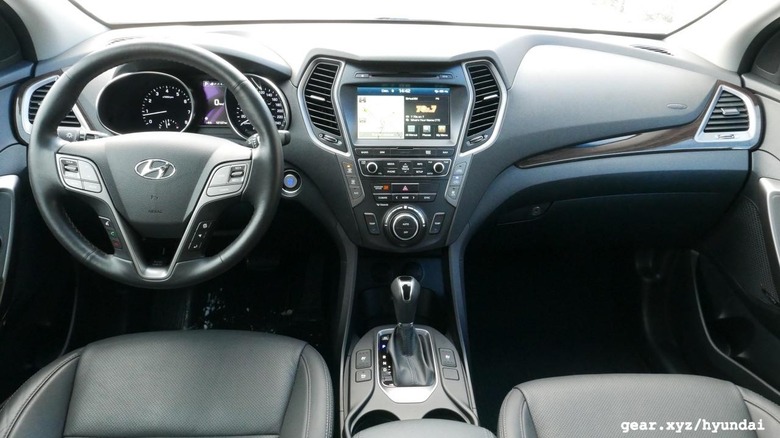 While not especially flashy, almost all of the Hyundai's controls fall readily to hand, and its (newly-standard) 7-inch touchscreen infotainment system is easy to figure out and use while driving. The SUV also gains a full complement of advanced safety gear for 2017, with Hyundai adding adaptive cruise control (which functions even at low speeds), automatic forward braking, a top-down camera system, and lane departure warning to the list of equipment. Depending on the model, these features join blind spot monitoring to more fully flesh out the Santa Fe's safety offerings.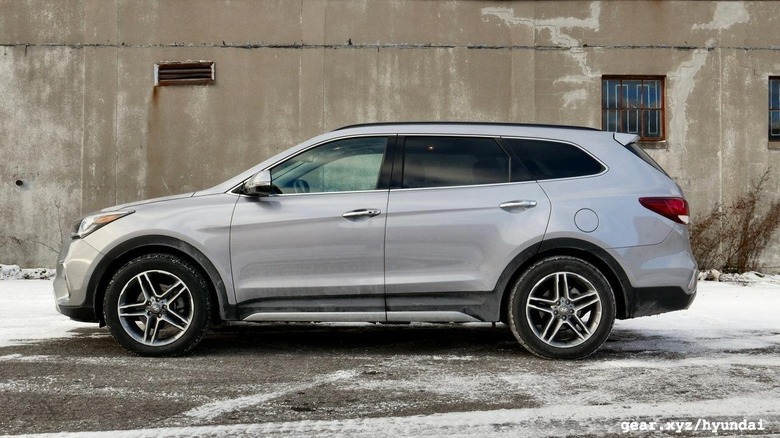 One aspect of the 2017 Hyundai Santa Fe that hasn't been altered in the slightest is its enormous amount of passenger and cargo space. Although available with a second row bench (base SE editions) that boosts total seating to seven, my Limited tester was outfitted with two captain's chairs, which offer a walk-through space between them as well as fold and flip forward action to make it easier to reach the rearmost accommodations. As with most mid-size SUVs, that final row is best left to children since adults will find their knees jackknifed up in front of them due to the low perch of each cushion. Better yet – fold them flat and enjoy the 41 cubic feet of total storage space on offer inside the Hyundai Santa Fe, a figure that almost doubles to 80 cubes with the second row out of the picture as well. Add in the ability to pop the hatch simply by standing in front of it with the key fob in pocket (something that will surprise first-time drivers more than once), and you've got a recipe for a very useful vehicle that is at the very least the peer of each of its similarly-sized SUV competitors.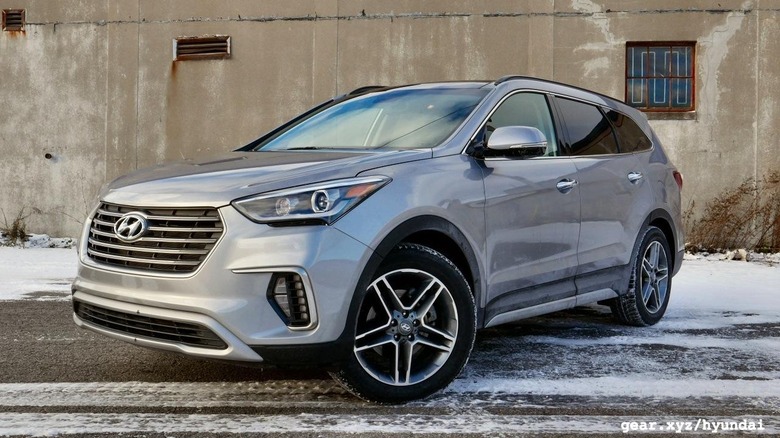 Out on the road the 2017 Hyundai Santa Fe doesn't betray its size through the steering wheel, which was unexpected. Having previously driven the Sport and been impressed by its confident handling and comfortable ride, I was expecting only the latter from the larger version of the SUV. In addition to being quite easy to herd through urban traffic, the 3.3-liter V6's 290 horsepower and 252 lb-ft of torque were more than enough to keep the Hyundai on its toes when darting forward on the highway to take advantage of a brief opening to pass on two-lane roads. Probably the only ones who will be disappointed with the Santa Fe's V6/6-speed automatic setup will be turbo watchers, as the 3.3-liter is the sole engine available with the Santa Fe despite the presence of a turbocharged four-cylinder motor with the smaller Sport (and its spiritual sibling, the Kia Sorento, which shares a similar platform).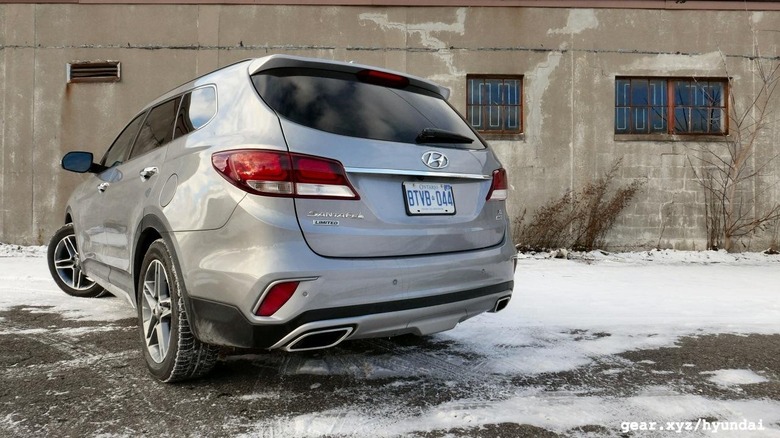 I hesitate to use words like 'alternative' when discussing the 2017 Hyundai Santa Fe within the context of other three-row mid-size SUVs. Hyundai is well past having to prove itself to potential buyers based on value alone, yet it continues to make over-delivering in terms of features a core part of its brand identity. Despite its more modest sales figures, the Santa Fe deserves your full attention if you've ever thought of adding a mainstream seven-passenger daily driver to your driveway. Throw in one of the most comprehensive new car drivetrain warranties in the business (10 years / 100,000 miles), and this Hyundai hauler could very well end up being the last vehicle you have to buy before the kids head off to college.