2017 Genesis G90 First Drive: Rattling the cage of established luxury players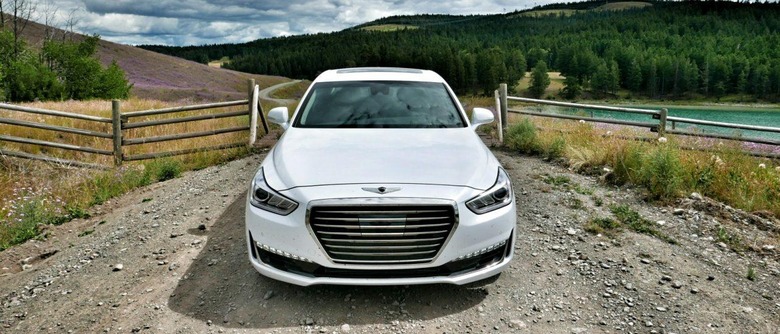 EDITORS' RATING: 8/10
Automakers ignore the aspirations of global giant Hyundai at their own peril. Cresting a 10-year renaissance that has seen the Korean automaker carve up its Japanese and American rivals in everything from the entry-level compact segment to the hot-selling SUV market, the enormous and unblinking eye of Hyundai's product planning team has now turned its full attention to the world of luxury. Successful, and lengthy flirtation with the viability of the Genesis nameplate under the auspices of its current hierarchy has lead to the Genesis G90 full-size sedan exploding onto the scene for 2017 as the herald of an all-new, and entirely separate premium brand.
Lest it seem like the ultimate in chutzpah to invent a luxury car company seemingly out of whole cloth, it's instructive to remember that this was precisely the origin story of high-end heavyweight Lexus at the end of the 1980s. There are certainly parallels to be drawn between Toyota's decision to tackle Mercedes-Benz and BMW head-on and Hyundai's confidence that Genesis will be able to do the same thing, especially when considering the extremely deep pockets backing both ventures. Just like Toyota once upon a time, the head office back in Seoul is perfectly willing to bankroll its nascent venture for as long as it takes – and certainly, almost regardless of the cost – to become a player.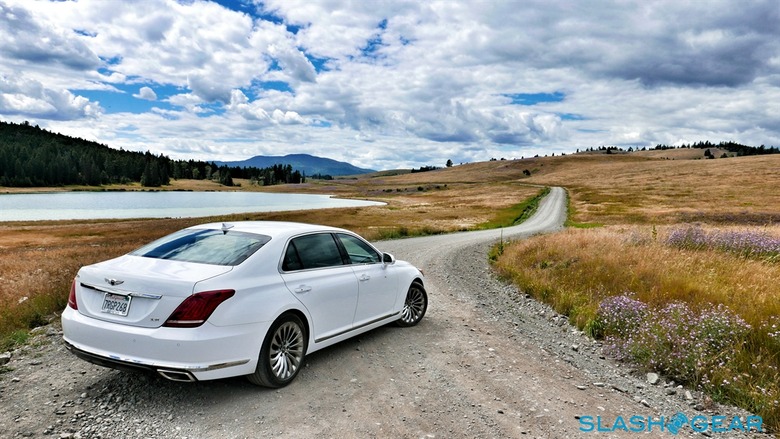 Of course, committing to dutifully feed an enormous cash bonfire does no good if the automobile behind the burn can't meet the high standards already set by its newfound peers. After a full day behind the wheel, I'm pleased to report that the 2017 Genesis G90 is no mere amalgam of previous pricy Hyundai efforts. This handsome and imposing car happens to be the equal of overseas bogeys it has in its sights in most of they key categories insisted upon by those willing to drop large sums of money on daily transportation.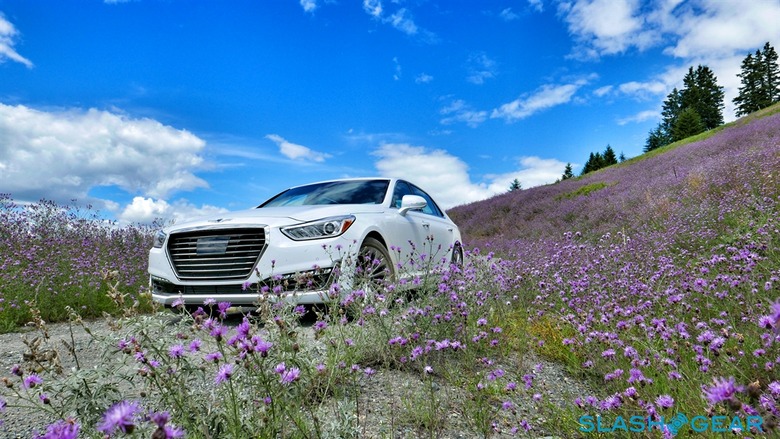 First impressions are always important in the auto biz, which makes the G90's styling such a critical aspect of its formula for success. Here is a car whose simple, yet bold lines will be instantly recognizable to anyone who has previously shopped for a luxury car, particularly when seen from the front where its large, but not dominating grille anchors a fascia framed by well-defined LED running lights and jeweled headlight enclosures. This philosophy is maintained along the sides and at the rear of the Genesis, creating a visual template that is far from derivative, yet close enough to current premium tastes that there is no risk of alienating potential buyers.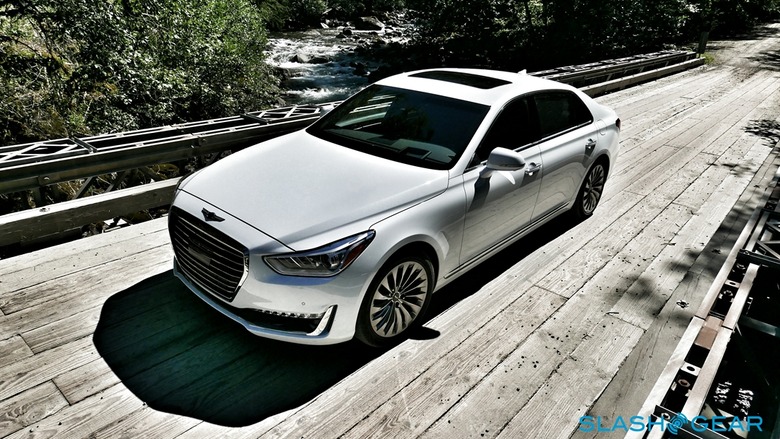 While the Genesis G90's sheet metal might incorporate discernible cues from the now-defunct Hyundai Genesis and Equus sedans, the vehicle's cabin rises to a level never seen before on past offerings from its parent company. Where the Equus was good, the G90 is outstanding; where once was plastic there now sits genuine wood, ample leather, and a redesigned interior that boasts features such as self-closing doors, an all-new dashboard and center console, and four extra inches of wheelbase to expand on rear legroom. Genesis has promised to share none of its platforms with Hyundai, and if there was any legacy switchgear hiding away inside the G90's habitat, I was unable to find it.
The newfound character of the 2017 Genesis G90's passenger compartment carries over to its driving experience, as well. The sedan's on-road demeanor over the highways and two-lane conservation roads connecting Vancouver, British Columbia to the Okanogan Valley was as quiet and composed as any Mercedes-Benz or Audi product I have driven in the past two years, a credit to details such as resonance chambers engineered into the wheels and doors that are triple-sealed. Compounding the G90's stillness was laudable poise at all speeds. With four drive modes available (Eco, Smart, Sport, and Individual), the Genesis' throttle, steering, and transmission response could be legitimately adapted to the desires of the person at the controls, and the car's flat cornering and well-damped chassis were a credit to its luxury image.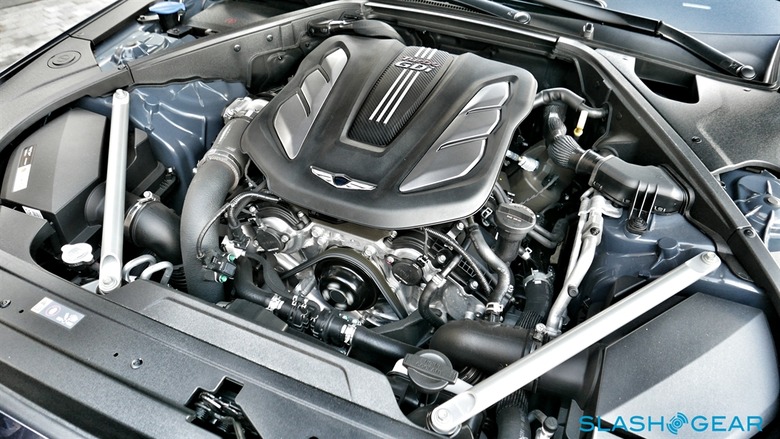 I was also quite impressed with the 3.3-liter, twin-turbo V6 engine making its debut in the G90. Exclusive to the brand, this unit delivers 365 horsepower and 376 lb-ft of torque at as low as 1,400 rpm with no hint of lag or indeed any real effort at all, even when faced with a steep mountain grade. Matched with an eight-speed automatic transmission and available in both rear-wheel and all-wheel drive configurations, I can see little reason to step up to the also-available, 5.0-liter V8 offered by the top-tier version of the G90. Yes, you get 420 horses and 383 lb-ft of twist with that particular mill (paired with the same drivetrain options), but it's hard to imagine a situation that the more-advanced 3.3-liter motor could not handle just as well.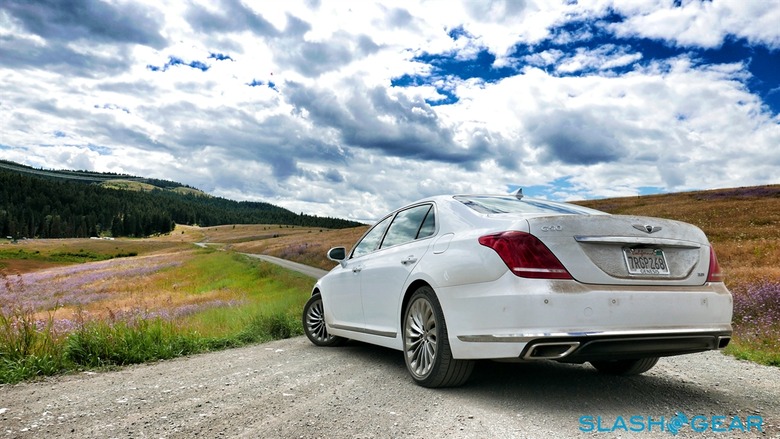 The 2017 Genesis G90 is truly a good car, and this would remain true regardless of what badge was emblazoned on the hood. Still, the company has recognized its status as a challenger of the status quo in the luxury world, and knows that it's going to need to give customers a reason to walk into a Hyundai dealership in the first place before they can get them acquainted with the G90's many charms (yes, that's right – we're still many years away from a network of stand-alone Genesis dealerships).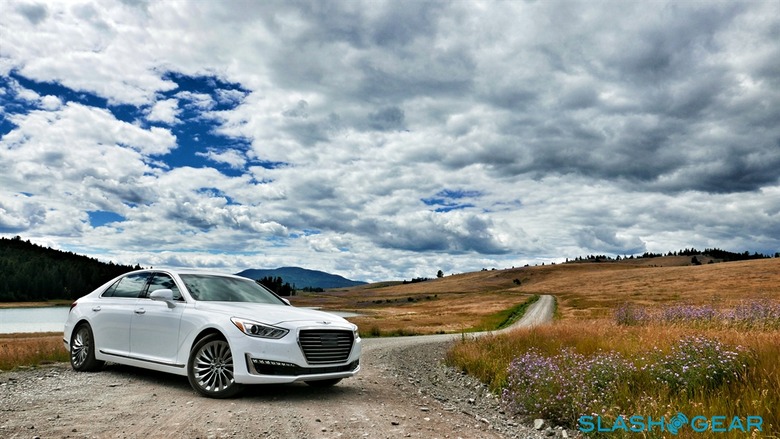 This is where Genesis once again profits from the resources and savvy of its corporate benefactor. Although pricing has yet to be released, I was told it's reasonable to expect only a modest change in address from the general neighborhood occupied by last year's Equus, a stance that undercuts rivals like the Lexus LS and the BMW 7 Series. Furthermore, Genesis will continue the philosophy of over-delivering when it comes to service (valet maintenance is included free of charge) and content: there are no real options to be had with the G90 other than engine choice and all-wheel drive, which means even the full list of advanced safety gear offered by the car comes standard. This stands in stark contrast to the expensive packages relied upon as profit centers by other premium marques when bundling safety features such as collision mitigation and lane-keeping assistance.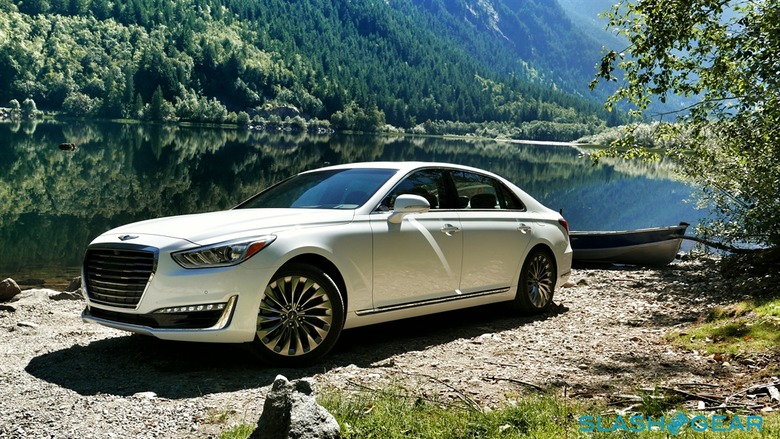 After several years of selling premium products under the Hyundai umbrella, Genesis knows who its G90 customer is. It's the woman or man who wants a comfortable, upscale automobile, and who really doesn't care what their friends and colleagues might think of the size of their lease payment or what the jingle of their keys sounds like. That the G90 is a formidable weapon to wield in the pursuit of luxury dollars is a certainty – and so is the long and difficult path towards building out past this initial core group of buyers. The will, and the investment, is there to stay the course, and with five vehicles scheduled to line up alongside the G90 by beginning of the next decade, the luxury universe has only just begun to feel the disruption brought on by the Genesis torpedo.