2017 Ford Fusion Sport Review: Blue Oval Q ship cancels mid-size family sedan boredom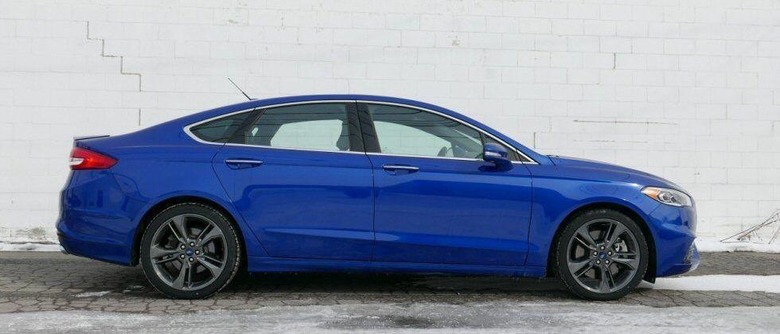 The Q-ship is a time-honored tradition in the world of family sedans, and the new Ford Fusion Sport is the latest effort from a mainstream automaker to present buyers with an enormous motor stuffed under the hood of an unassuming commuter. Only this being 2017, that motor isn't so much 'big' in size as it is in output, thanks to the Blue Oval's overwhelming desire to turbocharge absolutely every single drivetrain its engineers can get their hands on.
The term itself – Q-ship – dates back to World War 2, when convoys crossing the Atlantic would scattered armed escorts disguised as standard freighters amongst their number in a bid to fool the submarine wolf packs that hunted them from the depths. The firepower packed by the Ford Fusion Sport is equally stealthy, with the only overt indications of its 2.7-liter twin-turbo V6 being its black mesh grille and quad tailpipes.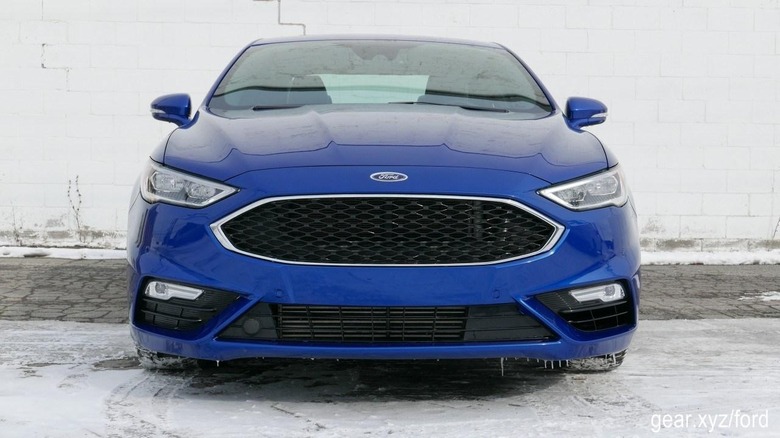 This makes it the only car in its class to claim 325 horsepower and a thudding 380 lb-ft of torque while simultaneously going completely unnoticed. That is not to say that the Fusion is an anonymous car – the four-door's pleasing lines place well alongside efforts like the Toyota Camry and the Honda Accord – but they don't suggest to the casual viewer (read: almost every mid-size sedan shopper) that its all-wheel drive setup can wallop the quarter mile in a mere 13.7 seconds.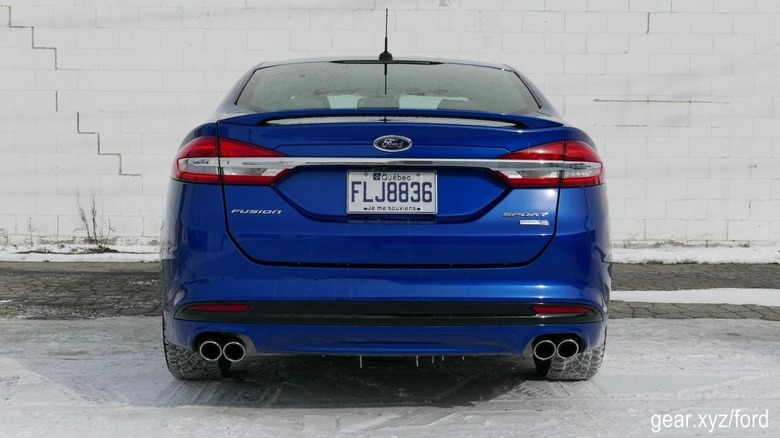 That's muscle car performance in a vehicle that remains fundamentally unchanged from more frugal-minded Fusions in most of the important areas. The vehicle's cabin, lightly updated, features a roomy rear seat and pleasingly stuffed cloth-wrapped front buckets (although not overly bolstered), while the SYNC3 infotainment interface reigns supreme on the center stack. A six-speed automatic transmission remains standard with the Ford, with its programming updated to offer quicker shifts while in S or Sport mode, and paddle shifters are present should one grow impatient with its algorithms.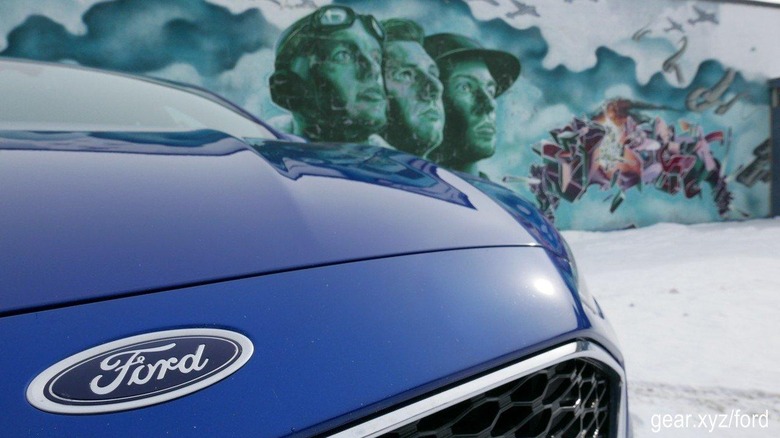 The biggest deviation from the standard Ford Fusion playbook outside of the engine compartment is the presence of 'continuously controlled damping,' an active suspension technology that has trickled down to Ford by way of Lincoln. The system keeps a dozen watchful electronic eyes on the tarmac and adjusts shock absorber response every two milliseconds in a bid to firm up the ride without sacrificing comfort in the process. It also incorporates something the brand's engineers have labeled 'pothole detection' that attempts to lock a strut in its stiffest setting and allow the wheel to 'glide' over a crater in the road with more grace than the expected up-and-down motion.
Montreal's shattered urban infrastructure contains more potholes per square inch than there are chocolate chips in a tollhouse cookie, and I half expected the Fusion Sport's trick suspension to throw in the towel and default into safe mode after I had traveled only a half-mile or so. It didn't – but nor did it seem to provide any real-world improvement over a standard adaptive suspension over chunks of missing asphalt. A more positive result was obtained in the comfort department, where the Ford's character remained smooth and quiet at a wide range of speeds, even in its most aggressive Sport setting.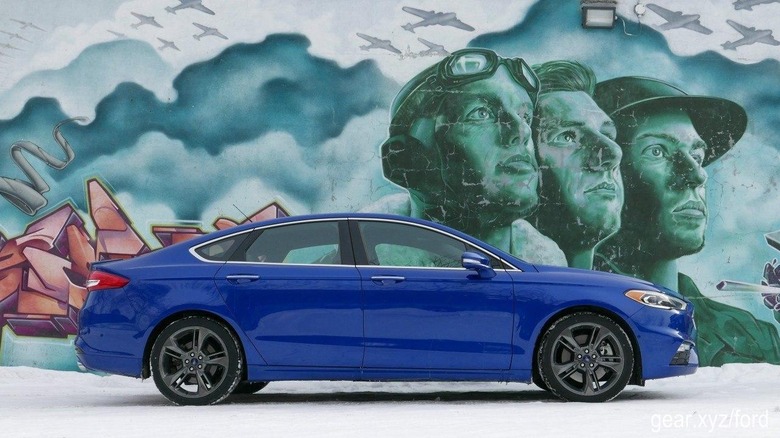 Much has been made of the Ford Fusion Sport's big power numbers as compared to imported four-door fare, and it's certainly true that at a starting price of just over $34,000, it outguns similarly-priced BMWs – or even much more expensive BMWs – as well as Audis and other Euro cronies. It's also no exaggeration to say that the Fusion Sport is extremely quick in a straight line, shooting past 60-mph in just a tick over five seconds and offering respectable throttle response and excellent highway passing capabilities thanks to its ample reserves of low-end torque.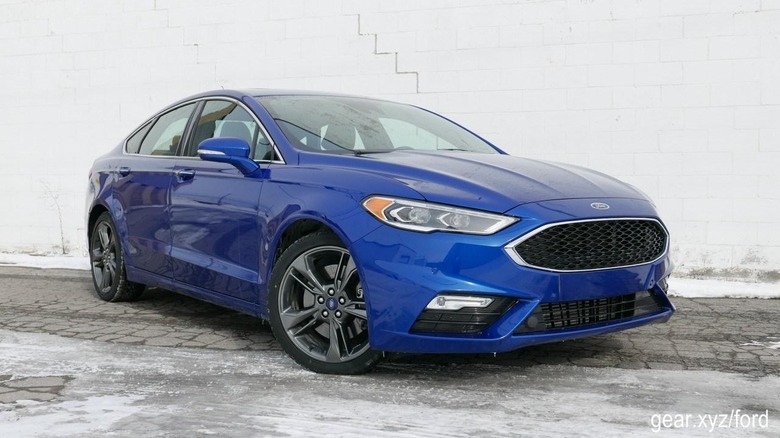 In any scenario other than a drag race, however, the analogy begins to stretch thin. The Fusion's front-wheel drive chassis, while strong in its family car class, makes use of its all-wheel drive system to mitigate the torque steer inherent in its twin-turbo design rather than to significantly boost handling past the limits of its more modest bones. The adaptive shocks help, but don't fundamentally dial-out the Ford's understeer at the limit or numb steering, and the fake-sound engine noise that's piped into the cabin when you hammer the gas is an all-too-common plague on the modern automotive scene that's almost as egregious as car lashes or fake HID headlights.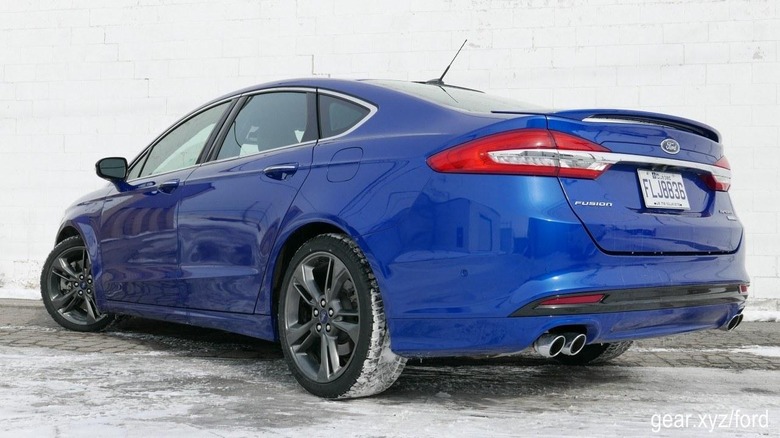 The 2017 Ford Fusion Sport is not a sport sedan, in the same way big, unassuming Galaxie 500s outfitted with elephantine 390 and 427 cubic inch V8s weren't sport sedans back when they hunted state turnpikes back in the 1960s. But they were fast, and so is the Fusion Sport. Ultimately, this is what Ford was aiming to achieve with the car in order to give loyal buyers weary of its four-cylinder-only options list something to get the blood boiling on straight stretches of highway. There's certainly no arguing with the price, either, which checks in at less than a fully-loaded Fusion Platinum, providing a welcome and affordable niche for undercover drag racers intent on heaping embarrassment on unsuspecting left-lane hogs and kraut-rockets alike.