2017 Fiat 124 Spider Review: Italy gives Miata an attitude adjustment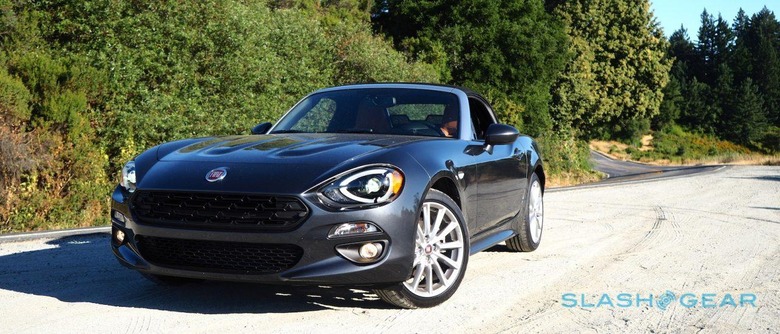 EDITORS' RATING: 7/10
Somebody screwed up. That, at least, was my first thought upon slipping into the compact cabin of the 2017 Fiat 124 Spider and finding, not a sweet little six-speed shifter, but an automatic. Somebody, when filling in the order form, foolishly and unforgivably ticked the $1,350 six-speed auto transmission option.
I'm no kneejerk auto gearbox hater, but the 124 Spider is – like the
it shares a chassis, suspension, and production line with, among other things – a car you're meant to row yourself.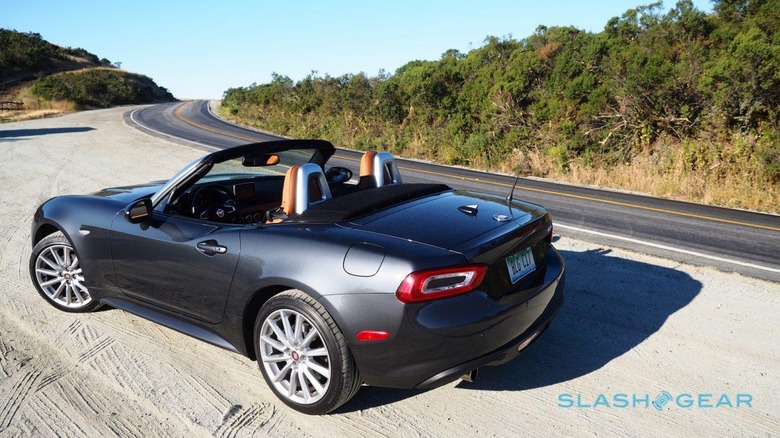 Back up a little. The 124 was never originally intended to be a Fiat, with parent company FCA initially intending its deal with Mazda to spawn a small, relatively affordable Alfa Romeo to slot in under the excellent but expensive 4C. Plans changed, though, and the Spider name was resurrected for this new droptop Fiat.
You'll struggle to find a bad word said about the Miata, particularly in its current fourth-generation "ND" form. Mazda's recipe of light curb weight, a peppy engine, eager gearbox, and mass market pricing has turned the two-seater into an icon, a crown it well deserves.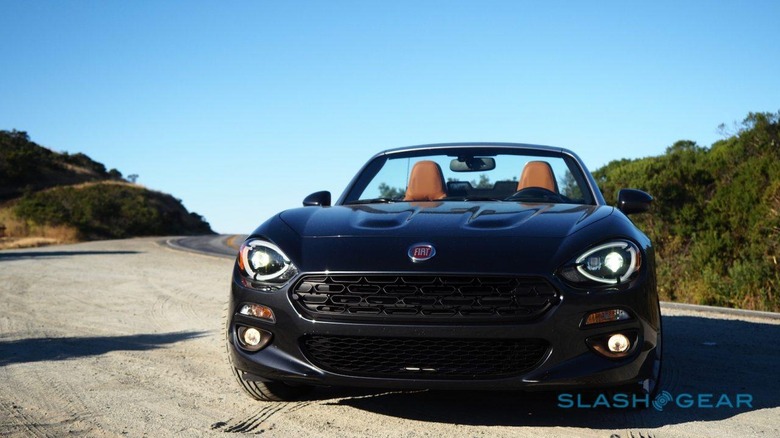 Messing with a winning formula requires finesse, and for the most part Fiat nails it. The 124 Spider is clearly related to the Miata but the longer nose and trunk help differentiate it visually. Gone is the MX-5's evilly squinting fascia, replaced with an aloof sneer that Sophia Loren herself would be proud of.
Though much of the mechanics are carried over, Fiat drops its own engines under that elongated hood. Out goes Mazda's naturally-aspirated 2.0-liter with its 155 HP and 148 lb-ft. of torque, replaced by a 1.4-liter turbocharged four-cylinder, with 160 HP and 184 lb-ft.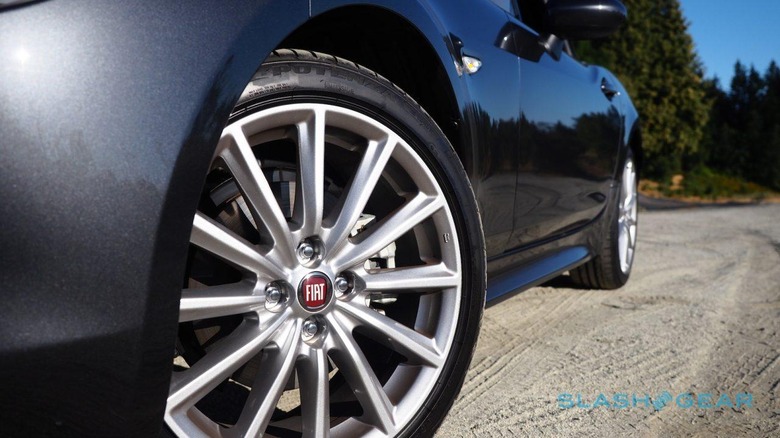 You get more power but a very different driving style. One of the Miata joys is the linearity of how it puts down its grunt; in contrast, the Fiat feels more suited to relaxed cruising, all too willing to drop out of the turbocharger's boost band.
With the manual gearbox – actually the transmission from the previous-gen Miata – you could at least downshift to help the process, but the automatic is just that little bit reluctant to oblige. You don't get paddle shifters, since Fiat reserves those for the more expensive Abarth version, though you can slap the stick to the side and try to coax changes yourself.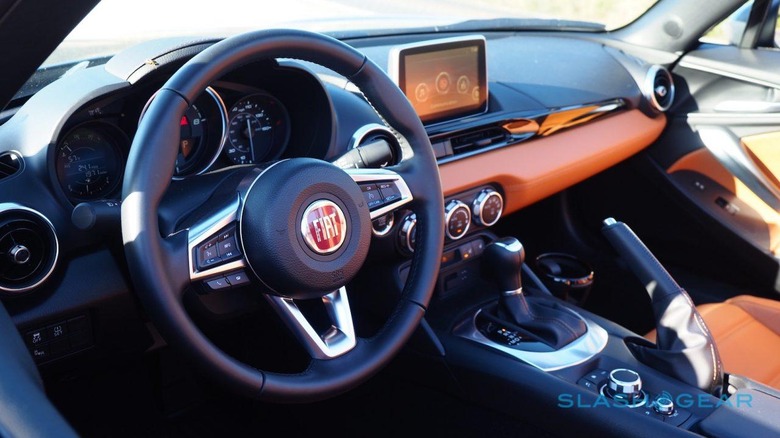 Even then it's a laggard, almost a full second slower 0-60 than the Mazda, and the only real fix is to leave your right foot planted as much as possible and try to keep the 1.4L on boost and in its most effective torque band. Kiss economy goodbye in the process: Fiat rates the little convertible at 25 mpg in the city, 36 mpg on the highway, and 29 mpg combined, but in my mixed driving I only managed 24.1 mpg overall.
It's worth the sacrifice, mind. Fiat's car may be a smudge over 100 pounds heavier than Mazda's, but it still gets its cousin's near-impeccable handling. Some have criticized the degree of lean you get in corners but it's predictable and helps with driver feedback; steering feel is similarly communicative, and switchback roads which gave far more expensive sports cars trouble were polished off in short order in the 124 Spider.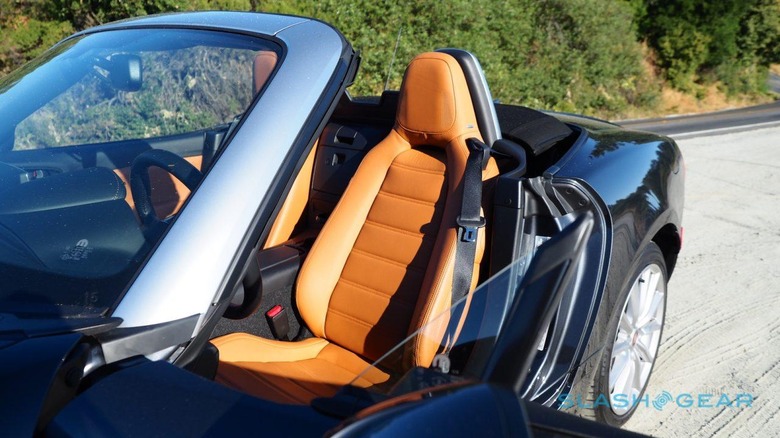 Some of the extra weight is spent on the convertible roof. It's still a manual affair, and still so straightforward to use that you can open and close it single-handed, but Fiat has squeezed more insulation into its layers. Combined with an acoustic windshield and a thicker rear window, the 124's cabin is a little more restrained than that of the Miata.
Otherwise, if you've been in the fourth-gen MX-5 you'll have few surprises from this interior. A 7-inch non-touch infotainment system with 4-speaker audio, automatic air-conditioning, heated front seats, and leather trimming for the steering wheel and seats are standard on the $27,495 Lusso mid-range model; the $24,995 Classica loses the leather seating and makes do with more basic air-con.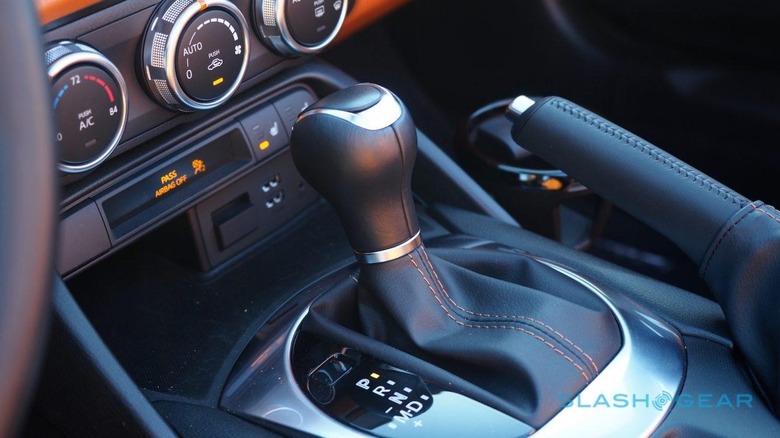 As well as the ill-advised automatic "upgrade", this review car had the $3,795 Premium Collection package added. That throws in a 9-speaker Bose audio system – complete with speakers integrated into the headrests – along with blind spot and cross path detection, park-assist, navigation, LED headlamps and DRLs, heated exterior mirrors, and an alarm, among other things.
Mazda's infotainment software is carried over, and remains straightforward to use, as are most of the large controls for HVAC and the like. As in the Miata you'll find cabin storage lacking, and some of the trim is cheap bordering on hilarious: the plastic for the wafer-thin sun visors, for instance, wouldn't feel out of place lining a box of chocolates.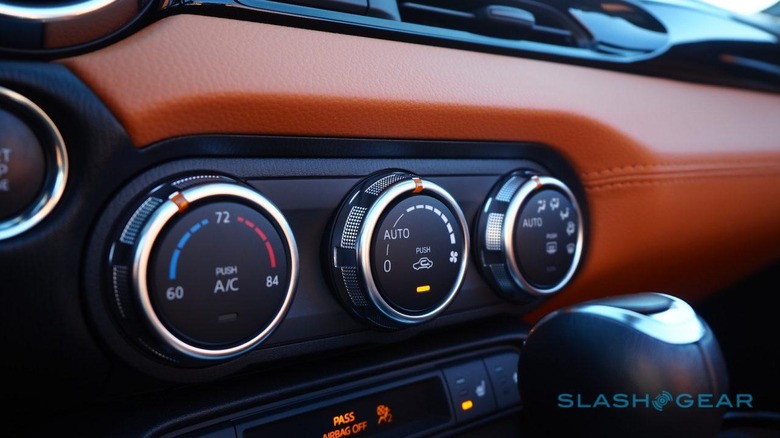 Fiat does replace some of the more obvious points of cost-cutting with soft touch alternatives, and there's a little more trunk space, but the final $33,635 sticker – including $995 destination – feels steep.
All the same, there's a charm – Italian, or Japanese, or some hybrid of the two – to the Fiat 124 Spider that can't be ignored.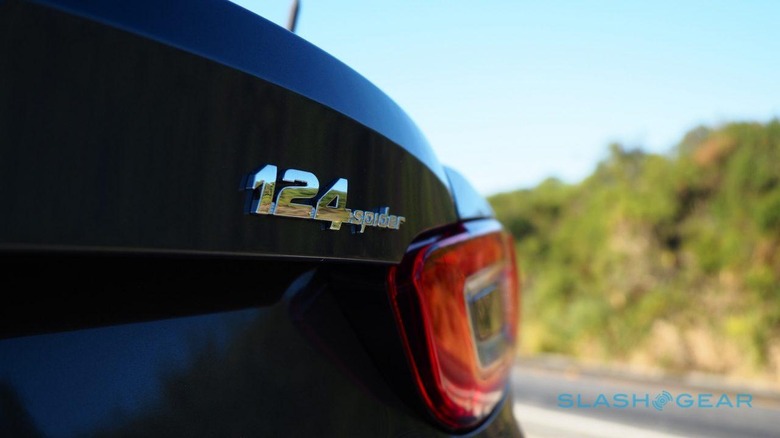 It's not, particularly in automatic form, the same frisky charm that the Miata has by the bucketful. The 124 feels like it would be more at home on the sinuous roads of the Italian Riviera, casually cruising though with the occasional shiver of vigor when things get twisty.
I suspect Fiat will sell far fewer of them than Mazda does the MX-5, adding exclusivity to the mix, and eager drivers will still find the Miata more to their tastes. Nonetheless, if life takes you on the highway more than it does around the back roads, the 124 Spider's slight bump in refinement pays dividends. Just please try not to screw up when you're filling out the order form.