2017 Camaro 1LE package aims to make V6 or SS Camaro a track beast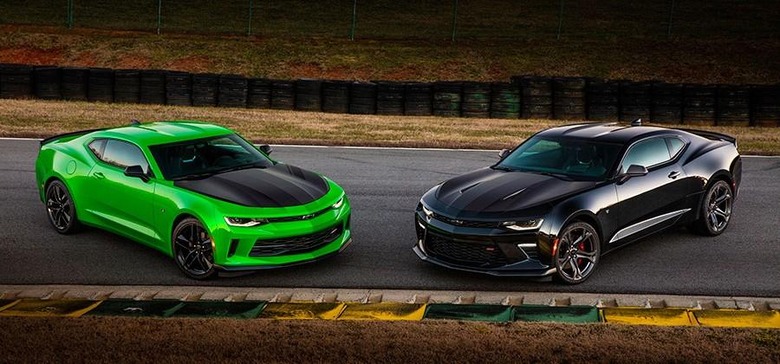 It's a great time to be a car guy or gal who also happens to like flogging their car at the road-racing course. Multiple cars come from the factory with options for track day enthusiasts that will make a day at the track more enjoyable and safe. Ford has been offering a Track Pack option on its Mustang for several model years and now Chevrolet is offering up a track package for both V6 and V8 Camaro buyers called the 1LE package.
The return of the 1LE package brings new tech to the V8 versions and lands for V6 buyers for the first time. No matter what you choose under the hood, the 1LE package brings with it a satin black hood, specific wheels, and other options. Buyers can add the 1LE package on Camaro 1LT or 2LT coupes when fitted with the 3.6L V6 engine.
The package brings more aggressive suspension tuning, standard Brembo brakes, and Goodyear Eagle F1 tires. Chevy says that the tires and tuning allow the LT 1LE buyers to achieve 0.97G in cornering grip. V6 buyers can also option their car with Recaro seats and the same Performance Data Recorder first seen in the new Corvette Stingray.
Camaro 1SS buyers who opt for the 1LE package will get magnetic ride control with FE4 suspension tuning, segment-exclusive electronic limited slip differential, and Goodyear Eagle F1 tires. Chevy says that with this package 1SS buyers will get lateral acceleration of over 1G. 1LE buyers can also add Recaro seats and the Performance Data Recorder to the package.
Other 1LE features on the V6 Camaro include a mechanical limited slip differential, track cooling package with oil, diff, and transmission coolers, short-throw shifter, dual mode exhaust, Camaro SS fuel system, and a high flow upper and lower grille along with other items.
Camaro SS 1LE buyers get new six piston Brembo brakes up front with two -piece rotors, short throw shifter, dual mode exhaust, and forged aluminum wheels with 285/30ZR20 front tires and 305/30ZR20 rear tires. A track-cooling package adds oil, diff, and transmission coolers. The satin black hood is complemented with satin black mirrors and a three-piece rear spoiler. A Satin graphite front splitter and rear diffuser are also included. Full pricing and performance data for the 1LE Camaro models will be announced later.
SOURCE: Chevrolet