2017 Buick Envision First Drive: Room for one more?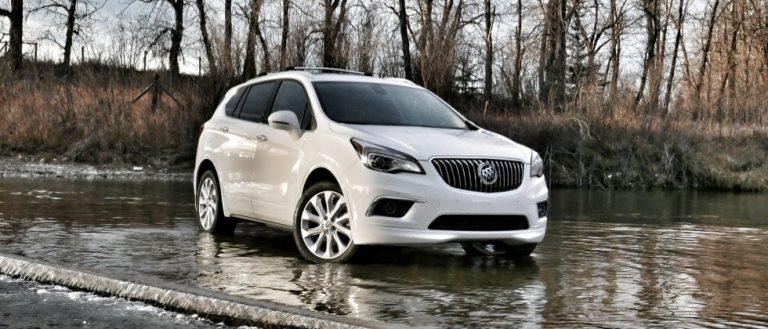 'Room for one more?' seems to be the battle cry of automakers eager to cash in on the unrelenting popularity of SUVs, and the 2017 Buck Envision bellows this inquiry at the top of its gilded lungs. Poised to participate in the nebulous 'premium compact' segment that at any given time encapsulates offerings from Lexus, Acura, Volvo, and Lincoln, the Envision hits the ground running thanks to strong support from smaller (Encore) and larger (Enclave) sport-utility siblings in the Buick showroom.
The 2017 Buick Envision also represents something new from corporate parent General Motors past its status as the newest member of the brand's SUV family. After a small run of 2016 models hit the streets early this year, the entire reason the full five-passenger line-up is being offered to American audiences is because it has already played well in its native China, where it is currently assembled, making it a somewhat unique example of the cross-cultural pollination that is currently helping steer the Buick ship.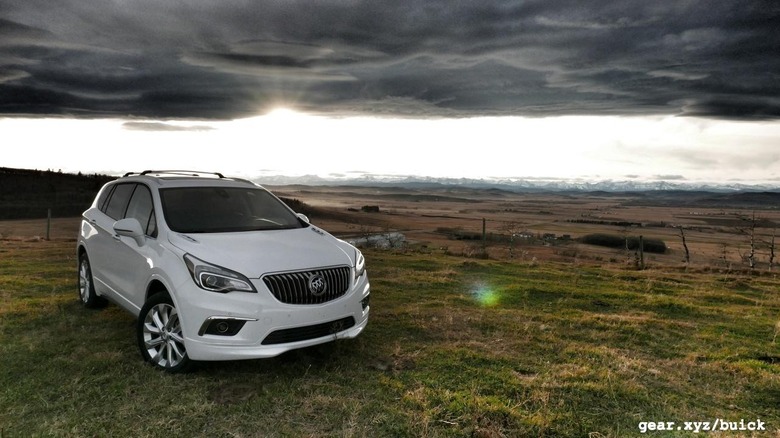 Slip on your x-ray glasses and take a glimpse at its bones, and it's clear that the Buick Envision has been given every opportunity to succeed. Although classified as a compact, the Envision's dimensions push close to the mid-size template, which means that its wheelbase is generous enough to reward buyers with adult-sized legroom in the reclining-and-sliding second row and a comfortable ride up front where there is plenty of space to stretch out. Cargo-wise, things are a little tighter, with just under 60 cubic feet of total room available for storing gear, but there remains a useful 26.9 cubes in the 'trunk' area between the rear seatback and the hatch.
Buick has also invested appreciable effort in ensuring that the Envision's cabin is appointed to a level that's competitive with rivals like the Lexus NX and the Acura RDX, adopting the wood-and-leather blend on higher trim levels that has become its trademark. While some aspects of the Envision's control surfaces feel like they've been harvested from the Chevrolet or GMC parts bin – in particular the HVAC controls – all versions of the SUV come standard with useful touchscreen infotainment system, active noise cancellation technology that works with enhanced levels of sound insulation to keep the vehicle quiet inside, and a 4G LTE Wi-Fi internet hotspot. Other tech gear available with the Buick includes a strong complement of active safety gear (including adaptive cruise control, frontal collision alert, lane keeping assistance, and automatic braking), as well as Apple CarPlay and Android Auto compatibility.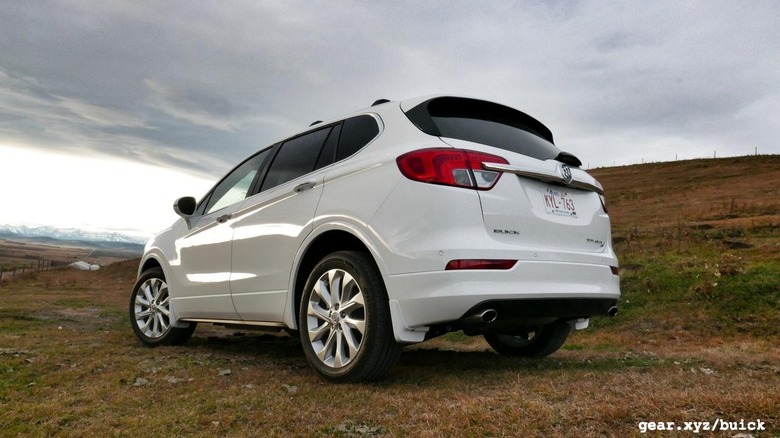 You get a choice between two four-cylinder engines when ordering the 2017 Buick Envision. The first two trim levels offer a 2.5-liter, naturally-aspirated unit that's good for 197 horses and 192 lb-ft of twist, while the remainder of the line-up – and the vehicle that I drove through the ranch land that lies at the foot of the Rocky Mountains in Alberta, Canada – are matched with a mightier 252 horsepower, 2.0-liter turbocharged motor. A six-speed automatic transmission is included with either option, and while 29-mpg is possible during highway cruising with the base model, turbocharged editions of the Envision drop that figure to 26-mpg.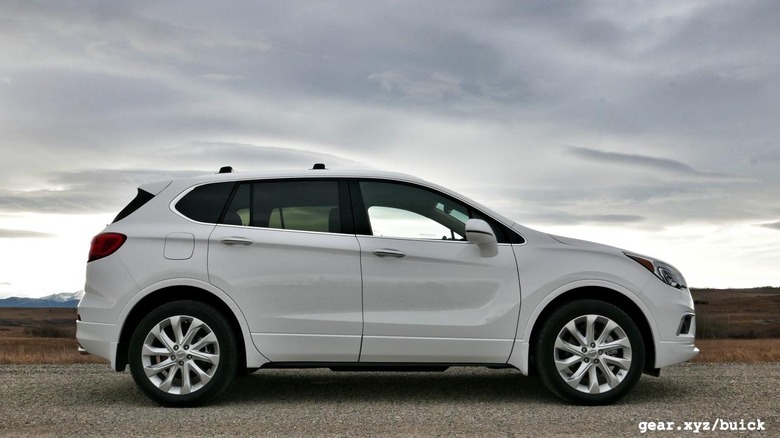 The 2.0-liter's 260 lb-ft of torque were welcome when scooting through the Albertan foothills south of Calgary, and while acceleration was generally quite good with the turbo I would lament having to drive the base Envision with less grunt available. It's a tribute to Buick's engineering team that that highway cruising is as smooth and quiet as it is, for there were many times I glanced down at the speedometer to find myself moving much faster than I thought I was actually traveling.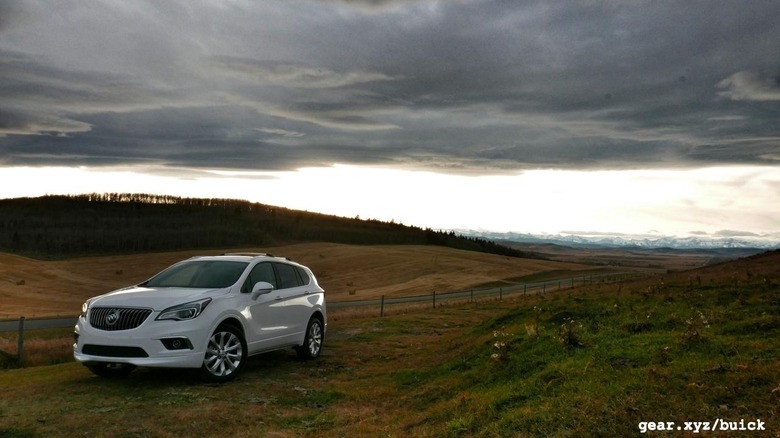 All-wheel drive is of course available with the 2017 Buick Envision, and turbo models are in fact AWD-only. Specifying the more robust mill also introduces a torque-vectoring feature that can shuttle engine output front-to-back, and side-to-side, in the search for not just better traction on slippery roads but also improved cornering capability. At one point in the afternoon I cut off the main road and tilted the Envision up a steep wagon trail that opened into a wide open ranch field, bouncing from one rut to the next and then over uneven bluffs, all the while noting the vehicle's poise and unflappable forward progress.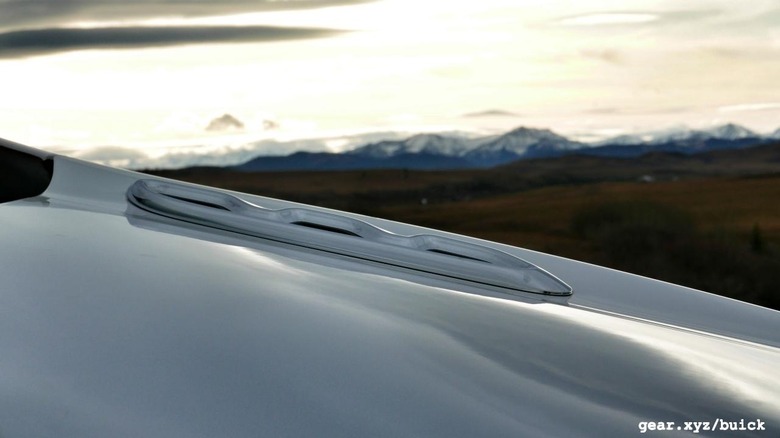 This more advanced AWD setup also works together with front HiPer suspension technology, long a feature on high end editions of the Regal and LaCrosse sedans but making its first appearance on a Buick SUV with the Envision. It's not a sporty ride, but nor is it numb to the point of insulating you completely from what the front wheels are actually up to, which is an acceptable balance in a luxury hauler.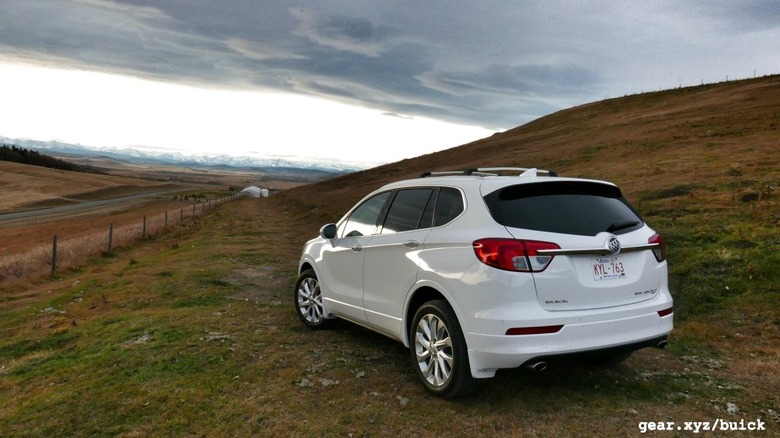 For an advertised entry-level MSRP of just a tick over $34,000, the 2017 Buick Envision might seem to be a bit of a bargain – but in reality, it's the penultimate Premium I trim that offers the best mix of features and pricing, with a sticker of $42,320. This is far from an outrageous sum for an SUV that prides itself on delivering a healthy quotient of luxury equipment, and it's a nice place to be for Buick as it attempts to wedge itself into this versatile slice of the automotive ecosystem. Comfortable, stylish, and in turbo form quite pleasant to drive, it seems like the company might want to continue looking to the East when planning out future products.