2017 BMW M760i xDrive Brings M Sportiness To Luxury 7 Series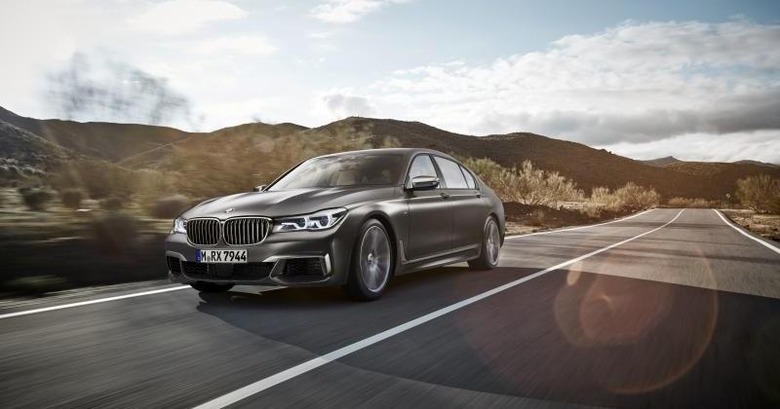 BMW has just revealed a new sedan that marries two of the car maker's most esteemed lines. While it dons the appearance and materials of a member of the luxurious sixth generation BMW 7 family, the new 2017 M760i xDrive boasts of the performance that only the BMW M roster can offer. That thanks to an M performance TwinPower Turbo 12-cylinder V12 gasoline engine teamed up with some of BMW's most sophisticated car technologies to date and construction materials that deliver both rigidity without sacrificing lightness.
The M760i xDrive is BMW's first 7 series M Performance car. That means that the V12 engine underneath the hood is no orginary 12-cylinder beast. It is, at heart, a racing monster with a 600 hp score at 5,500 rpm. Peak torque is measured at 590 lb-ft at 1,500 rpm. Top speeds are marked at 155 mph while acceleration goes from 0 to 62 mph in just 3.9 seconds. The TwinPower Turbo part of the name comes from the two turbochargers strategically positioned outside the two rows of cylinders for the most efficient injection of compressed air.
To put an engine that powerful inside a luxury sedan, BMW's engineers had to give due thought to the design and construction of the car's body as well as the placement of the engine. The goal was to provided maximum rigidity but still keep the lightweight nature of the BMW 7 series. For example, iron-coated pistons and a forged crankshaft are employed to minimize vibrations and noise. Carbon fiber elements add to both that rigid frame as well as reducing weight. 760M 20-inch M light alloy wheels, paired with Michelin Pilot Super Sport tires provide both a stronger driving dynamic as well as cruising comfort.
Both inside and out, the M760i xDrive's M legacy manifests itself clearly. An illuminated V12 logo on the door still plates, as well as the M logo on the center spoke of the exclusive M leather steering wheel, won't let you forget the performance characteristic of the sedan, even while stationary. The car's exhaust system, routed as straight and as large in diameter as possible, including rear silencers and flap activation, contribute to an acoustic that speaks, or purrs, M performance.
But like any 7 series, the car is well equipped with BMW's latest automotive technologies, ranging from driver safety to entertainment. The likes of Traffic Jam Assistant, Lane keeping assistant, Rear collision prevention, Crossing traffic warning functions, and Surround View system all work together to make driving a less stressful and safer activity. The Adaptive mode of Driving Dynamic Controls uses information gleaned from the navigation system, driving style analysis, and a stereo camera to automatically set the best driving mode for the situation. BMW's Heads-Up Display, now with a larger projection area, provides drivers with critical information without having to look away from the road.
BMW's ConnectedDrive platform offers drivers and passengers the ultimate infotainment experience on the road, be it through a smartphone or the built-in SIM card. Both can be controlled using the new iDrive 5.0 control system that now incorporates not only touch screen controls but even hand movement gestures.
The 2017 BMW M760i xDrive is scheduled to arrive early next year, with pricing to be revealed closer to that date.