2016 Porsche Cayman GT4 Clubsport is ready to race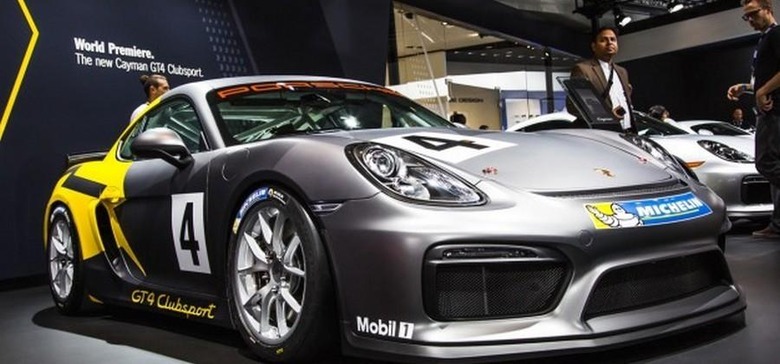 Porsche first announced the Cayman GT4 Clubsport about this time last month. The car is a pure racing version of the new Cayman GT4. At the time Porsche announced the Clubsport it showed the car off in an attractive, but rather plain looking color. Some shots of the car in the flesh and wearing a very cool racing livery have now turned up.
The GT4 Clubsport looks fantastic and uses a 3.8L dry sump flat six for power making 385hp and 310 lb-ft of torque. All that power goes to the rear wheels via a locking differential and a six speed Porsche PDK flappy paddle gear box.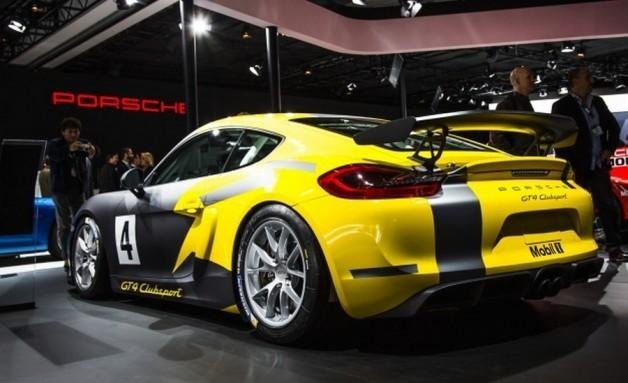 As we reported before, the rear suspension is the same the standard GT4 gets, but the front suspension of the GT4 Clubsport is ripped out of the 911 GT3. No big dubs on this racing car, it wears 18-inch forged alloy wheels and sticky Michelin racing slicks.
The car has an 18.5 gallon fuel tank, but buyers who want to go endurance racing can opt for a 26.5 gallon tank. The car weighs 2866 pounds with all the racing hardware installed. That is about 84 pounds lighter than the normal street GT4. Porsche says that the Clubsport can hit 183mph if the straight is long enough. Pricing for the turnkey racer is $165,000, nearly twice the asking price for a street Cayman GT4.
[via Car and Driver]