2016 Jaguar F-TYPE R gets AWD to go jet baiting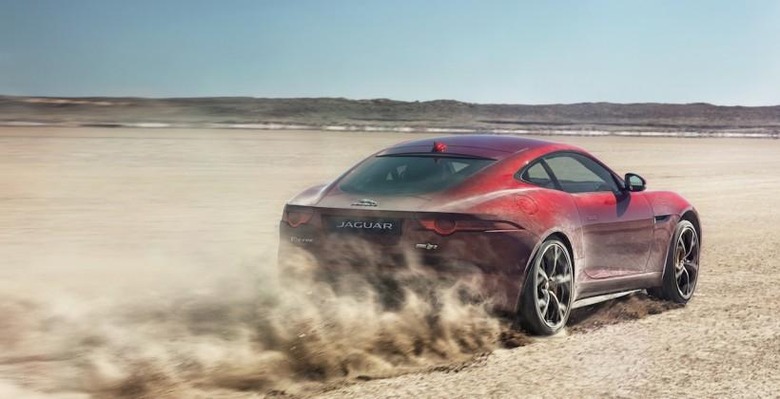 Jaguar is adding all-wheel drive to its 2016 F-TYPE R Coupé, part of a range-boosting move that will see variations on the popular model double to twelve. Set to debut officially – along with the rest of the new lineup – at the LA Auto Show later this month, the new F-TYPE R will be good for 0-60 mph in just 3.9 seconds, Jaguar says, and then romp on to a top speed electronically-limited to 186 mph. The big news, though, is the extra traction, which Jaguar tested by taking the new coupé to the Hakskeen Pan in South Africa and pointing it at a jet.
It wasn't just to make good photos – though the sight of a bright red Jaguar next to a jet flying 50 feet above the ground is pretty impressive – but to test out the radio system that Bloodhound SSC plans to use in its 1,000 mph+ car.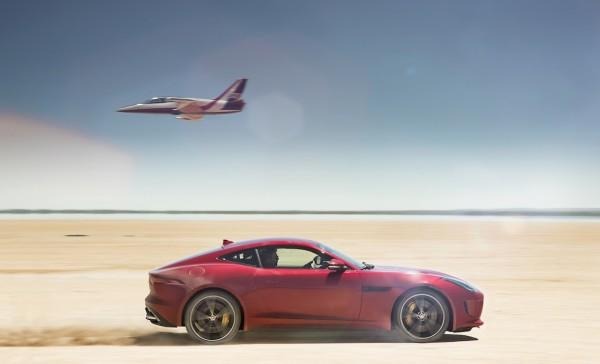 The car firm and the World Land Speed Record competitors will collaborate on communications tech to be used between driver Andy Green and the Bloodhound SSC pit crew. On the Pan, it was to see how – with a closing speed of 700 mph – the radios could keep up between jet and F-TYPE.
Now, most drivers won't need that, so the radio system is unlikely to be even an option on the 2016 F-TYPE's order sheet. Standard, though, will be Intelligent Driveline Dynamics stability control on the AWD model, though Jaguar says it has leaned toward RWD driving feel for most of the time.
In fact, power will only be shunted to the front wheels when the traction system thinks that's really, really necessary, leaving the distinctive two-door with something close to its current on-road feel.
Pricing and full specifications will have to wait until Los Angeles, but SlashGear will be there to bring you back all the details. Keep an eye on the SlashGear Car hub for all the news.