2016 Infiniti QX60 First Drive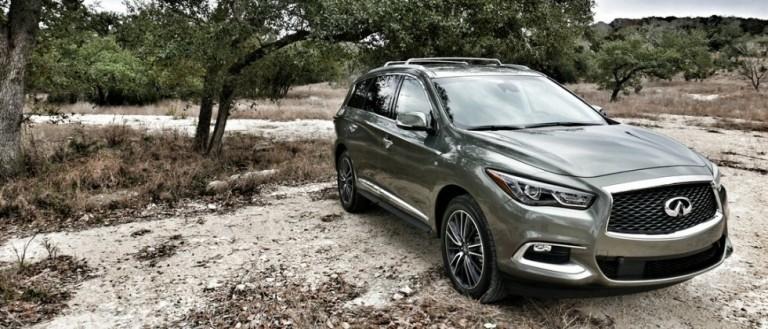 Much of Infiniti's recent success has come from its crossover line-up, where it presents three distinctly different choices for luxury-seeking families. Sandwiched between the entry-level QX50 and the high performance QX70 sits the 2016 Infiniti QX60, the logically-numbered full-size hauler that combines respectable room and a comprehensive level of advanced safety, all wrapped in a premium package. Although no major changes have been made for the current model year, the QX60 has been gently refreshed to keep it current with its line-up mates and continue its task of drawing fresh blood to showrooms.
On that last point, the Infiniti QX60 has to be commended, as almost every single one of its buyers to date has been new to the brand. It's an important role for the crossover and yet not a surprising one, given that the siblings book-ending it price-wise in the Infiniti catalogue have both proven to be fairly niche players. For most shoppers, the QX60 is undoubtedly the only crossover from the automaker whose mission is broad enough to encompass a wide swathe of lifestyles.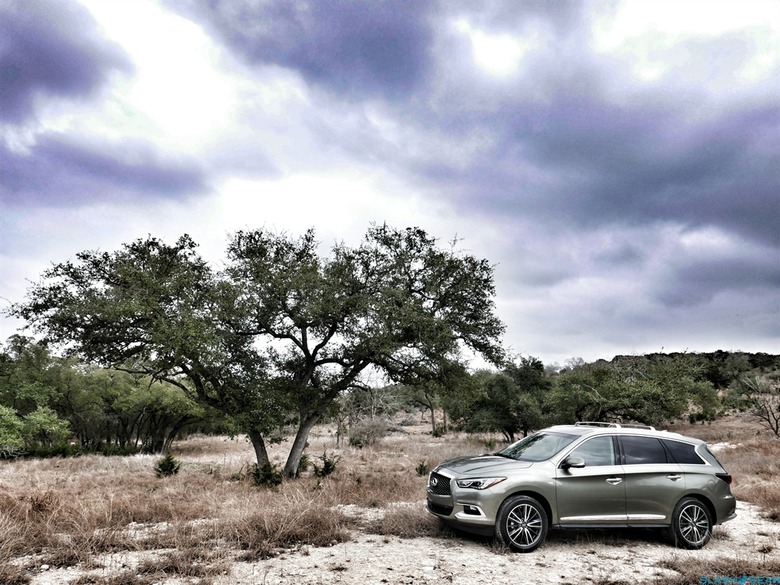 Enumerating the Infiniti's charms requires no special calculus. It's easy to understand the appeal of a comfortable, three-row ride that can transport as many as seven passengers for a starting window sticker of less than $43,000. This is especially true when you consider that it's one of the few vehicles on the market at any price that allows for easy access to the rearmost accommodations with a child seat installed in the middle, making it much simpler for parents to load and unload from either side. The bench can slide and tilt as needed with no requirement to dismount the already-buckled booster.
Consider, too, the relative frugality of the 2016 Infiniti QX60's 3.5-liter V6, which has been tuned to provide 265 horsepower and 248 lb-ft of torque. It's enough grunt to keep things moving, even with a full load of people or cargo, but thanks to the continuously-variable automatic transmission that is standard with the crossover, fuel mileage stands at a respectable 21-mpg city and 27-mpg highway. If you opt for all-wheel drive those numbers dip by two and one miles per gallon, respectively, but you gain a traction advantage that some northern customers count as a must-have in a commuter.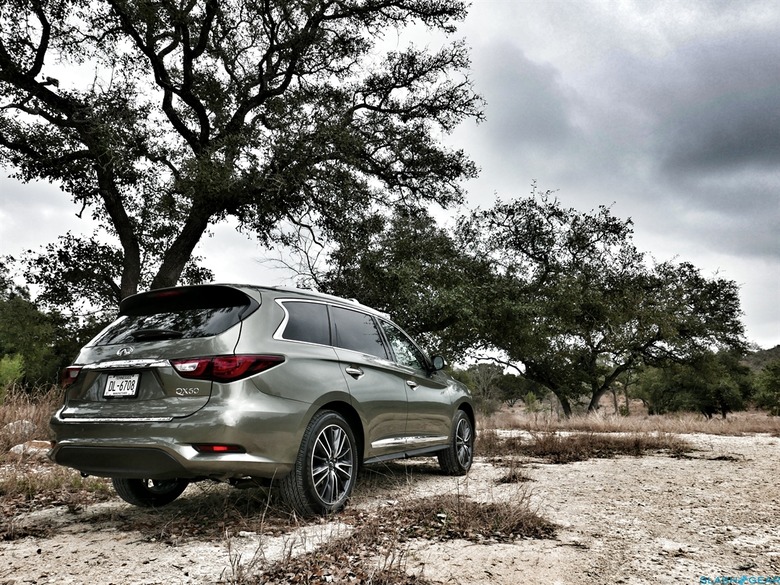 As an aside, yes, you can still purchase the Infiniti QX60 Hybrid, only you'll have to make a concerted effort to do so. After a decent start, Hybrid sales dwindled to a mere one percent of all models leaving the factory, despite it offering a five mile per gallon improvement over the base model in stop and go driving. Its unique battery-assisted supercharged, four-cylinder drivetrain is good for 250 horsepower, but if you want it it's special order only from now on.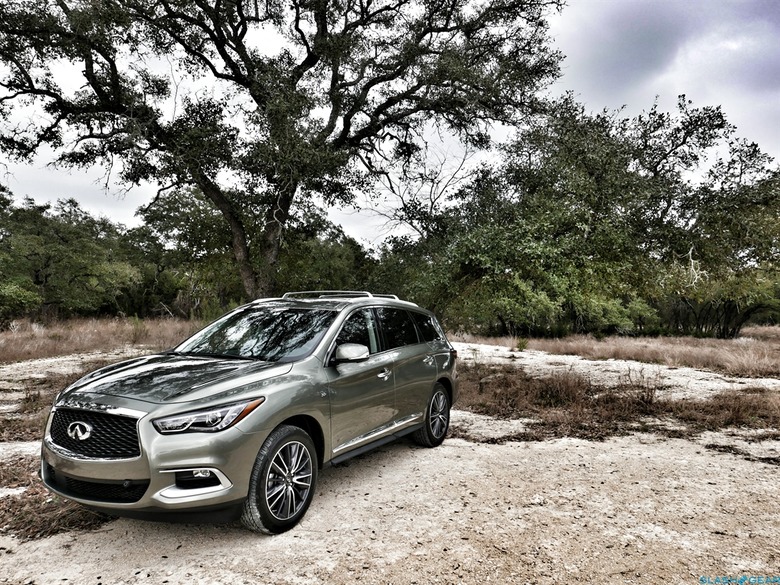 Aside from the cosmetics – a revised front fascia aligns the QX60 more strongly with the rest of its Infiniti brethren, a few new colors join the order sheet, and there's additional exterior LED lighting – the rest of the updates made to the crossover are much more subtle. Inside the design team has swapped in a new gear selector that's intended to standardize the look and feel of this component for all Infiniti models, and while it certainly looks good in the also-updated Q50 sedan, in the larger crossover it feels a little less substantial than what I would prefer.
Mechanically, there are also new shocks and springs at each corner, along with a re-tuned suspension that feels very similar to last year's chassis, if somewhat more planted. The ride is quieter thanks to additional laminated glass keeping the noise of the outside world at bay and greater vibration absorption from new engine mounts, and the electric power steering system has also been given the once-over to improve its responsiveness.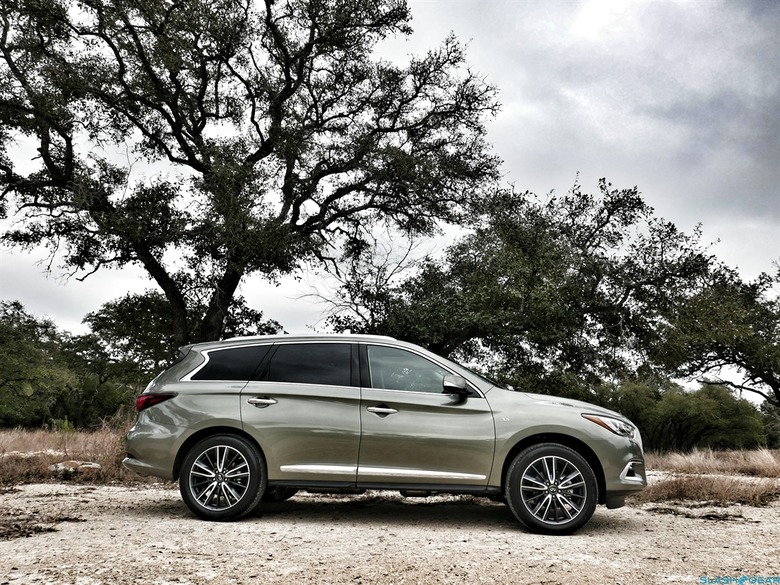 Out on the road the 2016 Infiniti QX60 serves as a luxury bubble in which you and your brood can peacefully travel from A to B. The gearbox is essentially transparent in operation with none of the wind-out sometimes experienced in CVT designs, making it a pleasant companion in daily driving, and the vehicle's plus-size dimensions really only make themselves apparent when attempting to squeeze into a tight parking spot. The QX60 is less overwhelming to access and operate when compared to several of its immediate competitors, in particular the more expensive GMC Yukon Denali, and it still delivers adult-friendly third-row space if required.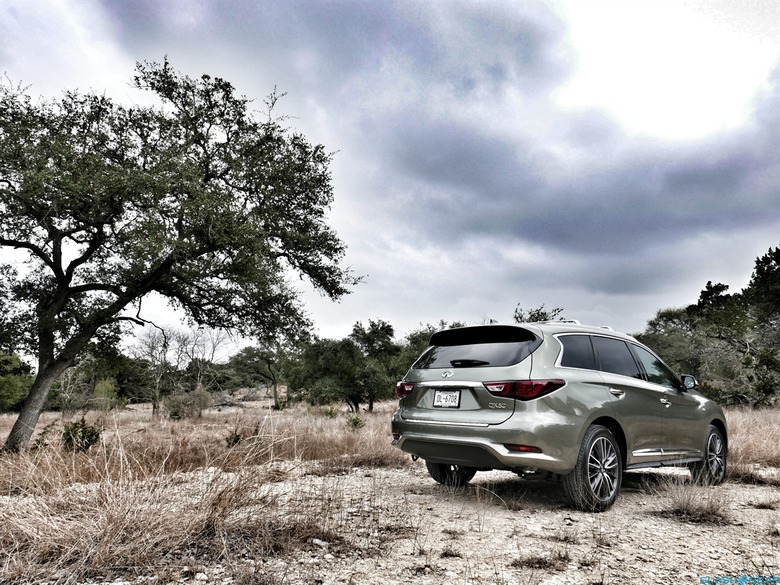 Safety, too, is a strong point for the Infiniti, which features a laundry list of advanced technologies intended to keep occupants out of harm's way. Automated braking works to prevent collisions both fore and aft, with a warning system to go with each, and lane departure warning (and mitigation), a top-down camera system, and a blind spot warning and intervention feature are also along for the ride.
The 2016 Infiniti QX60 is the most conventional crossover you can buy from the premium brand, and those seeking a dependable and useful three-row family vehicle are better for it. There are no surprises regardless of where you happen to be sitting inside the hauler – it simply delivers the comfort, safety, and practicality one would expect from its size. Although at times overshadowed by the class-leading Acura MDX, the QX60 is worth more than a passing glance when in the market for a premium MPV.