2016 Honda CR-V Review: Current King of the compact SUVs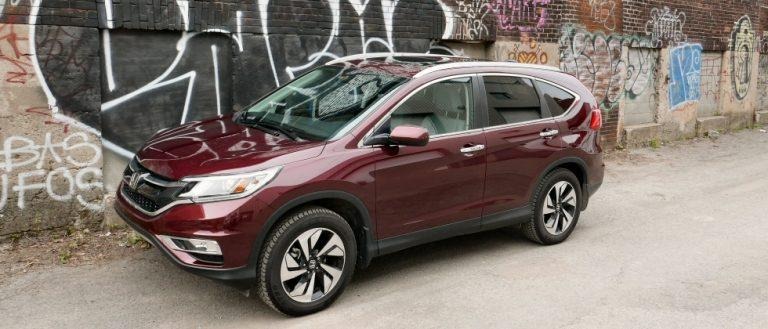 Sizzle might sell sports cars, but a much more conservative design philosophy guides the hottest segment of the automotive market: small SUVs. In fact, the top three best-selling sport-utility vehicles in the country also happen to be the among the least flashy options you'll find in any given showroom – and leading them all is the 2016 Honda CR-V.
If so many people are buying such a simple and purpose-built vehicle over sexier sedans or more sportier haulers, then that certainly must say a lot about what the Honda CR-V brings to the table. When it comes down to it, we hope with our hearts but buy with our brains 90 percent of the time, and if you've got a family – or more going on in your life than you can stuff into a traditional four-door – it's tough find a more logical way to spend your money than on the CR-V.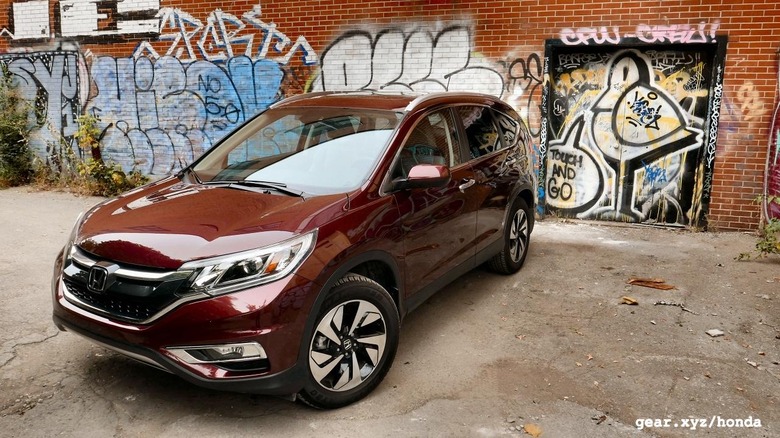 As with most compact SUVs, the Honda CR-V's most compelling attributes lie within. Specifically, the vehicle's ability to swallow gear is phenomenal: you're looking at 70.1 cubic feet of total storage space inside the CR-V with the rear seat folded forward. To get a fully flat load floor you've got to flip up the bottom seat cushions first, and extra step you won't encounter in larger sport-utilities, but the bonus is reams of room wrapped in what is still a very modest exterior footprint.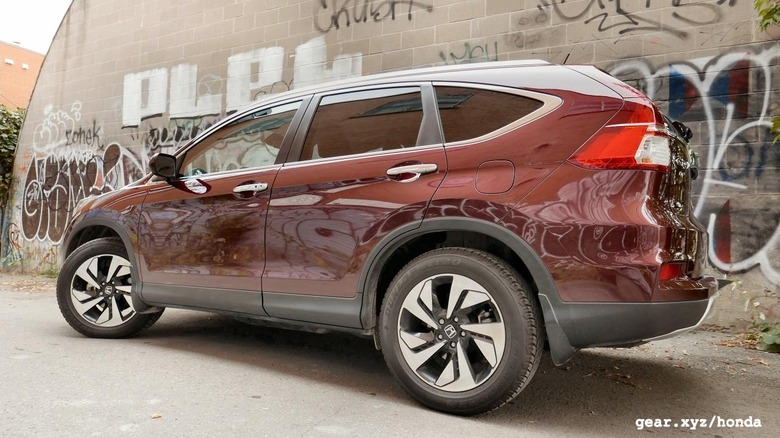 In fact, given the easy-to-park size of the Honda, it's equally impressive just how generous the cabin feels when loaded up with a full complement of five passengers. Yes, the bench is mounted a tad bit low in the second row, but it's still a remarkably comfortable place to inhabit on an extended road trip (with the front thrones also being suitably supportive). The interior of the CR-V is also quiet even over rough roads, of which there are plenty to explore when navigating Montreal's crumbling infrastructure.
While the 2016 Honda CR-V might score major points with its practical interior design, there's no denying that the passenger environment itself is fairly plain. Even the most expensive Touring trim level I spent a week driving, with its leather-wrapped seats, top tier touchscreen infotainment system, and upgraded wood paneling felt like it was a step or two behind the flourish being demonstrated by rival SUVs like the Ford Escape or the Kia Sportage. Functional yes, but flattering...not really.
This speaks to the utilitarian design philosophy that Honda has used to guide the CR-V's development, as this has never been a luxury-laden choice in the small people mover set. Until very recently that hasn't really been a problem, but when brands like traditionally staid Toyota start to take vehicles such as the RAV4 in a spiffier direction when it comes to features, it's harder to ignore the yesteryear feel of some of the CR-V's feature set (and its lack of 'premium' luster). This is particularly obvious when trying to puzzle out the LCD screen on the center stack, which combines tiny hard buttons in its frame with a non-intuitive touch interface that can be frustrating to use.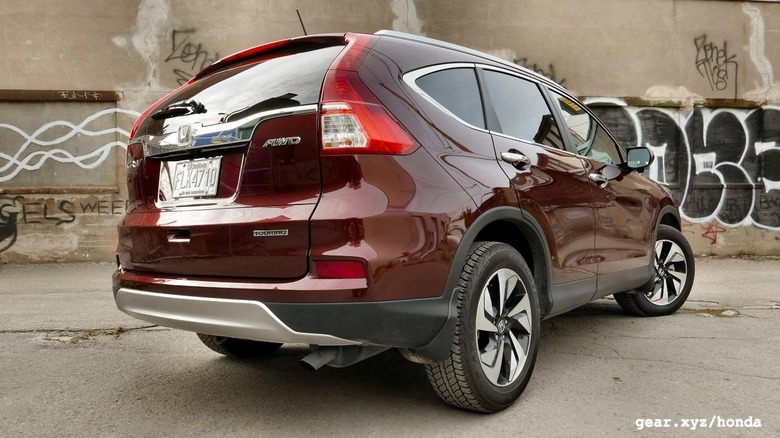 Also irritating: the Honda LaneWatch system, which is the brand's in-house take on how a blind spot monitoring system should work. Instead of sounding a chime or flashing an indicator light when a vehicle is detected beside the CR-V, LaneWatch instead activates a camera mounted on the passenger side mirror and displays a video image of the area immediately to the right of the car. I want to reiterate that it only works on the right side – there's no corresponding left-lane LaneWatch capability – and it keeps that image stuck there for the duration of the turn signal being on.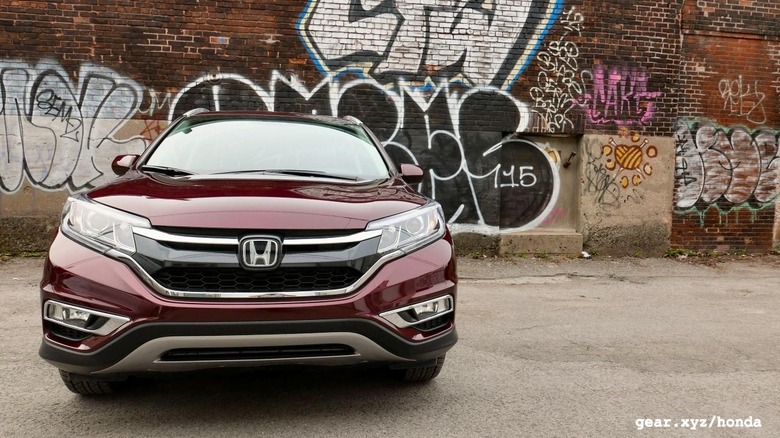 This is problematic for a number of reasons, the first being that the video is quite distracting and actually forces you to take your eyes off of the road and verify what's happening on the screen rather than quickly process a light or sound that may indicate danger. Next is the fact that with LaneWatch active, you can't do anything else with the infotainment system, as it locks you out of radio or navigation functionality until you dismiss the image. Finally, as I mentioned above it offers protection solely on the right side of the SUV, which means every other blind spot monitoring system on the market is twice as effective at keeping you safe.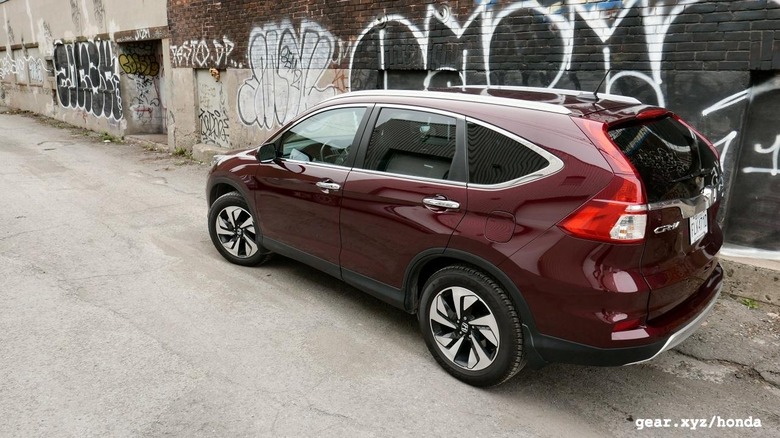 LaneWatch aside, it's hard to get too hung up on the simpler styling of the 2016 Honda CR-V's interior design when so much else about the sport-utility vehicle is just right. Although there's only a single engine option to be had with the CR-V, it's a 185 horsepower unit that feels well-matched to its continuously-variable automatic transmission. All-wheel drive is available across the board with the Honda, and fuel economy is listed at an impressive 29-mpg combined for front-wheel drive versions. As a daily driver, the SUV really lacks for nothing, and while there are mightier turbocharged 'utes out there, adding another 100 horses won't do much for you when you're stuck in traffic on the way home from work.
The 2016 Honda CR-V is an all-around performer that certainly deserves its status as the top-seller in its class. Small haulers with broad appeal like this move so much metal because what they have to offer is relevant to the lives of such a broad swathe of the car-buying population. Ignore the Touring trim, snag a nicely-priced EX model, and you'll benefit from the sweet spot of one of the best compact SUVs available.