2016 Galaxy A ads highlight design, camera, Samsung Pay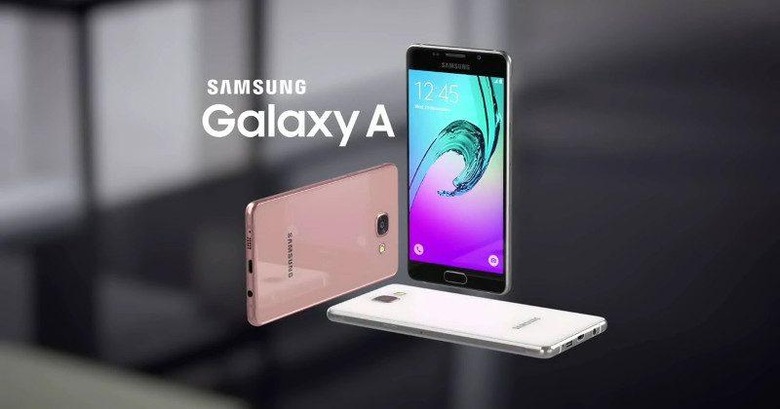 The Galaxy A series was born from a time when Samsung was derided for its plastic fetish. Showing that it could do metal just as well on the mid-range like it did in its flagship, it launched the first Galaxy Alpha, which was later on superseded by the Galaxy A3, A5, and A7. This year, Samsung once again borrowed cues from its flagship for the 2016 Galaxy A series, lending the same attention to design, cameras, and mobile payment as the Galaxy S6 and now S7, as seen in these new ads.
From just metal, Samsung has moved to metal and glass, which has the effect of offering both premium looks as well as the durability of something like Gorilla Glass. Normally reserved for high-end flagships, Samsung has decided to trickle down the design to the Galaxy A series. In its stead, the rumored Galaxy C series will be the one to tout the all-metal design of the previous generation.
Samsung has been focusing a great deal on smartphone cameras lately, and that effort has born fruit in the Galaxy S7. Of course, mid-range devices like the Galaxy A line can only dream of that, but it isn't that far behind. All three, from the lowest A3 all the way up to the A7 have 13 megapixel rear cameras gifted with the same large f/1.9 aperture. The Galaxy A5 and A7 add optical image stabilization on top of that to deliver more than decent shots and videos.
And, of course, Samung is making a big deal out of Samsung Pay, which it claims to be a big hit in South Korea and now has 75% of the credit and debit card market in the US. Primarily reserved for the flagship models, the 2016 Galaxy A5 and Galaxy A7 have the hardware, both NFC and MST as well as a fingerprint scanner, to fully support Samsung Pay. Sadly, the Galaxy A3 has to sit this one out.
The 2016 Galaxy A series has so far been available only in select markets in Asia and Europe, even fourth months after it's launch. There are, however, rumors that it could soon be expanding, Samsung might need to bring at least the Galaxy A5 and Galaxy A7 in the US if it wants to help in making Samsung Pay more accessible to more customers.