2016 Ford Shelby GT350 Mustang First Drive - Golden Pony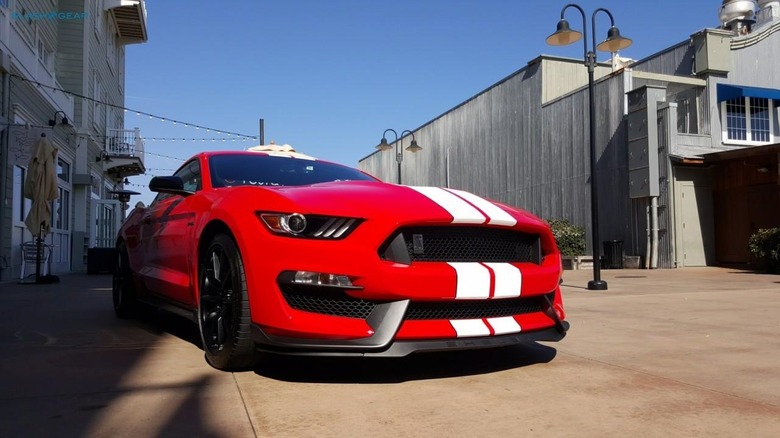 There's always the lingering fear, when faced with a famous nameplate like Shelby, that the car it's attached to will be more about branding than performance. I needn't have worried about the 2016 Shelby GT350 Mustang. Since it first broke cover at the start of the year, I've been itching to get behind the wheel of the uber-pony. Happily, neither the GT350 nor its monster GT350R sibling disappoints.
"The mission of the car was to develop and deliver balance, lane performance and exhilaration in perfect harmony. I know that sounds a little fluffy but when you drive the car, you'll really get those three sensations all happening at the same time," Jamal Haneedi, Ford Performance.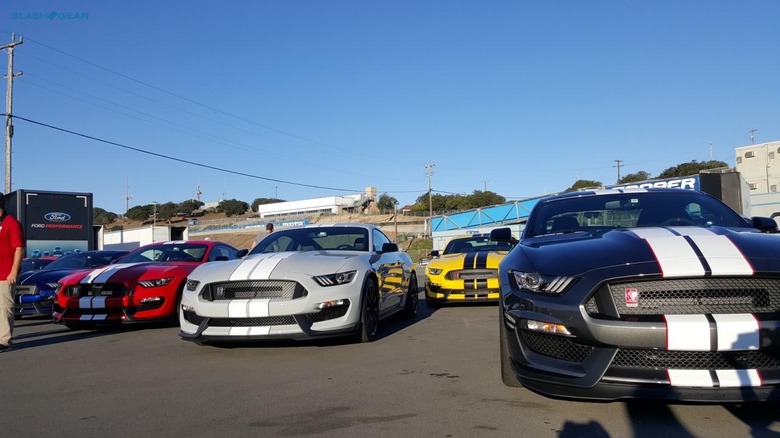 So did the Ford deliver? In short, oh yes – and some. I'll confess, I've not historically been a big Mustang guy, but I'm the first to acknowledge that it's a badge with a whole lot of history, even more so when you consider the Shelby Mustang. A handful of laps, though, and Ford has made a believer out of me: a few short hours on and off the track are enough to convince me that the GT350 and GT350R are nothing short of incredible.
Road and Track - it's go time!
I'm a sucker for a big, red starter button, and the Shelby Mustang doesn't disappoint with an engine roar that does everything to communicate the potential this car has. Under the hood is the most powerful naturally aspirated production engine ever developed by Ford, delivering 526 horsepower at 7,500 rpm and 429 glorious pound-feet of torque at 4,750 rpm.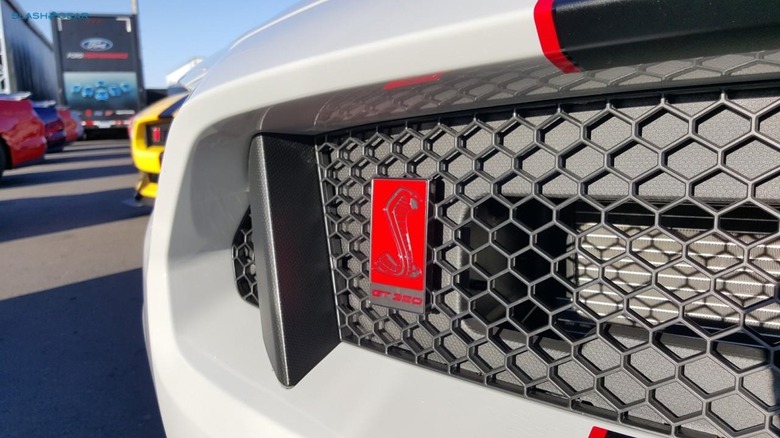 That means the V8 delivers more than 100hp per liter, and as you might imaging redlining it proved difficult. During my testing on the road, I tried – and failed – so many times to hit that redline: even though every fiber in my body is telling me it's time to shift, there's still 4-5 seconds – or roughly 2,500 rpm – left before hitting peak power at 7,500 or, indeed, maxing out at 8,250 rpm.
The broad power band pays dividends in the real world, and carving through twists and turns along the California coastline, I felt like I was at one with the GT350R. Massive amounts of torque were always on tap and ready to deliver at a moments notice, and never once did I feel like it fell short.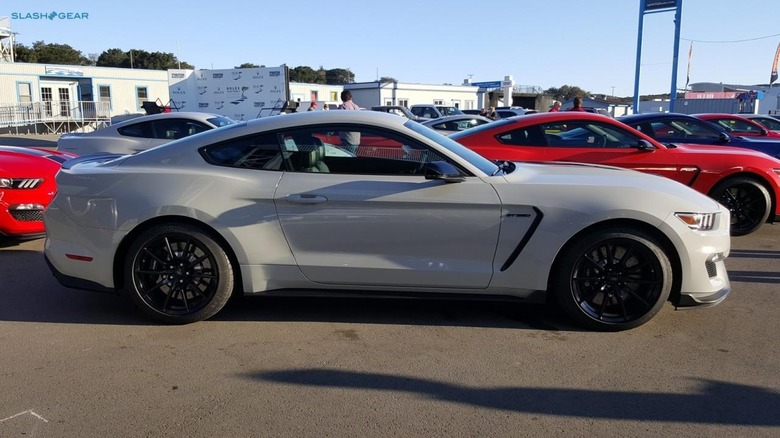 In fact, there was more power going from 2nd gear to 3rd than any normal driver would need. Redline from 3rd to 4th is an impossible task unless you've got a stretch of race track in front of you, and even so, I had a difficult time managing it even at at Leguna Seca. By that point you'd be traveling at well over 120mph, not something really intended for public roads.
Speaking of shifting, the high-revving engine is paired with Tremec's TR-3160 six-speed manual transmission. In order to handle the 5.2-liter's high engine speed while still delivering fast shifting on or off the track, Ford heavily modified it for the GT350, and it feels oh-so-good! It shifts incredibly quickly, and is as smooth and precise as you'd expect from a car that's first and foremost a road racer.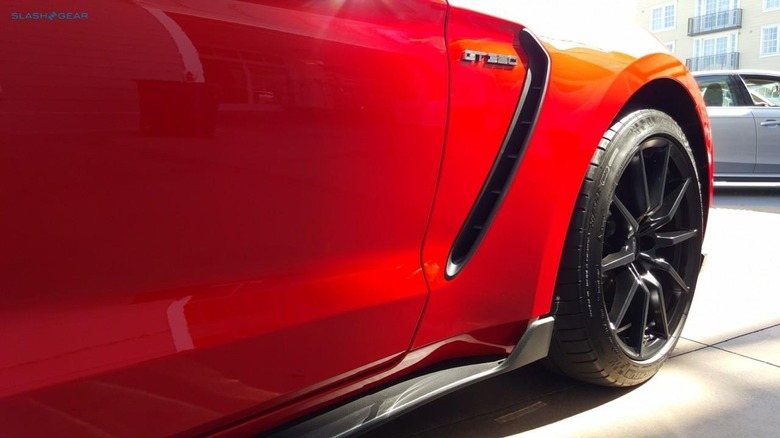 Racing is competitive and staying cool is key. The GT350 Track Pack and GT350R each have a unique oil-to-air transmission cooler that is fed by a gerotor pump integrated into the housing of the transmission. This setup makes sure the transmission stays cool and lubricated under stressful track conditions. Another benefit is keeping the transmission heat out of the coolant circuit, leaving an engine radiator dedicated to just engine cooling but which can be both smaller and lighter.
When Ford tells you the Porsche GT3 is used at the benchmark, that's no idle threat, and the new Shelby has a lot to deliver. According got Ford's Haneedi, more engineers have worked on this car than on any other performance Mustang in the company's history.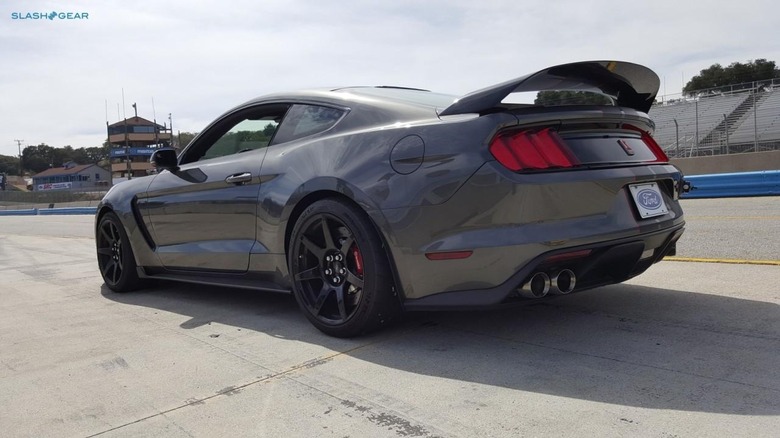 "Good isn't good enough," Haneedi told me, pointing out that every single part on the new Shelby is new, bar one.
I've not spent enough time with the GT3 in earnest to conclusively say how the two cars compare, but my main regret is that I didn't push the GT350 and GT350R as hard on the track as I should've. It was my first time driving Mazda Laguna Seca Raceway and, of course, the new Shelby is a beast, so erring on the side of safety took priority.
That being said, most folks buying this car may take it to the track a few times a year – if even that – so, where my raceway time may have fallen short, I made up plenty on the road. California's Pacific Coast Highway is an epic stretch, both challenging and beautiful to drive.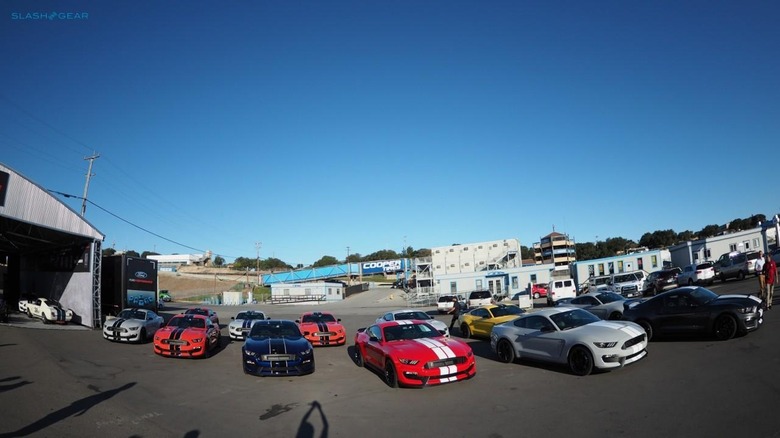 Ride and Handling
Ford's diet for the Shelby Mustang starts at the bottom and works upward. Shaving off 15 pounds per carbon fiber wheel – versus 33 pounds for the equivalent in aluminum – is a massive deal. It's hard not to notice the handling and acceleration, and Ford gets a ton of street cred for being the first to offer carbon fiber wheels on a mass production vehicle.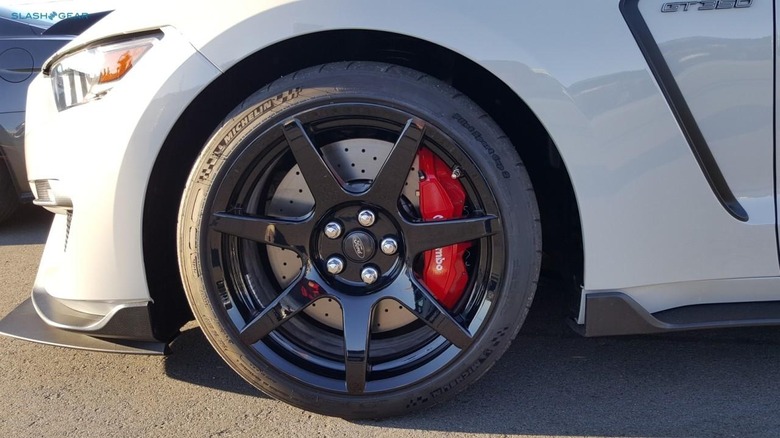 It's a cliché, but the Shelby Mustang feels like it's glued to the road; that's thanks to the new adaptive suspension, dubbed MagneRide. As on other cars with similar suspension that we've tested, such as Cadillac's ATS-V, it uses fluid-filled dampers that can change their resistance in a moment depending on the road conditions.
Part of why that's impressive is track feel, but on the flip side it makes for a Mustang that's eminently usable every day. For a car that excels in racing, I'd still have no qualms taking my kids for ice cream or dropping them off at school in the Shelby, given how undemanding it is when driven cilvily.
That attention to detail continues through the cabin. Ford wasn't happy with the existing Recaro sport seats, for instance, because they felt they didn't live up to the Shelby standard. As such, hundreds of hours went into a redesign to create a balance between daily-driver comfort while still being sufficiently supportive on the track. For that, I could only thank Ford because I felt the difference.
Being 6'2" it can be difficult to get comfortable: finding the right combination of settings and adjustments for your legs, the best placement for your toe/heal rest, the ratio of your arms to the steering wheel, and of course the positioning of the shifter. For the Shelby Mustang, the devil's in the details: Ford slightly edges the two cup holders towards the passenger, for instance, so that the driver's forearm doesn't have to fight for space with beverages.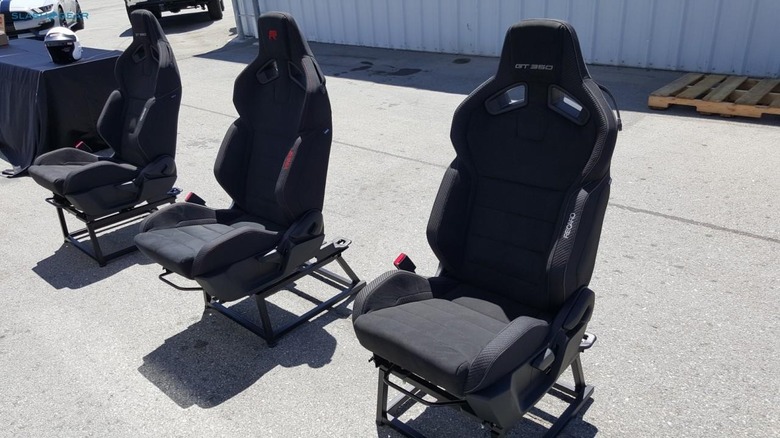 I quickly came to appreciate it. Shifting is quick, damn quick, with little travel between gears and minimal time. It takes a little getting used to, in fact: where other cars cosset their driver with forgiving changes, you need to be fully focused if you're going to a slot through the ratios without crunching.
Ford offers five driver-selectable ride modes, each with its own combination of settings covering ABS, stability control, traction control, steering effort, throttle mapping, MagneRide tuning, and the exhaust. For the sort of spirited street driving which took up the majority of our day, I left it in Sport mode, though switched to Normal for more sedate street driving. Out on the raceway it was the turn of Track mode; I didn't test out the Weather or Drag modes.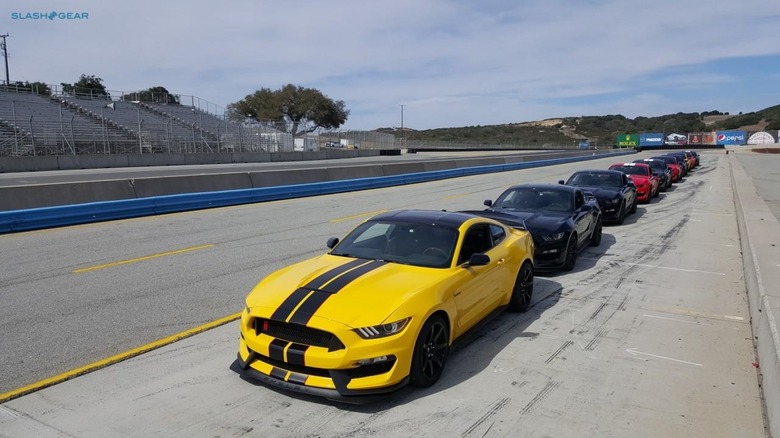 In Sport Mode, throttle input feels super sharp, traction and stability control remain on, and the handling is improved with stiffer dampers. It's a good balance of aggressive reassurance: you feel like the car is responding to you as driver, rather than computer algorithms leading the way. Meanwhile, you get a great soundtrack: the exhaust is set by default to loud, but – in case you want to remain neighborly – there's a button to switch it to normal while otherwise staying in Sport mode. Lastly, launch control is also available.
So what's different in Track Mode? The GT350R simply sings in this mode, the best for performance and zero compromise. Traction and stability assistance are dialed back to provide next to zero infringement on your own abilities, while throttle reaction is as sharp as in Sport mode.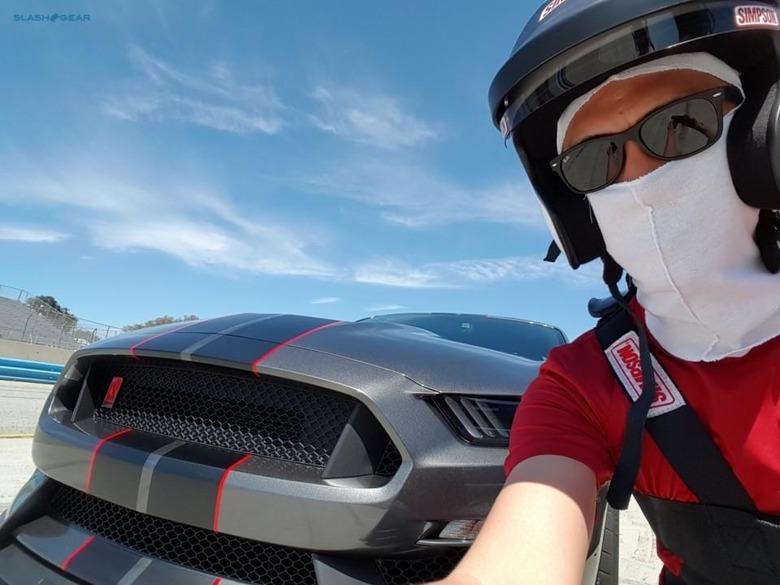 The dampers are cranked up to their stiffest setting, and sport steering mode is on. Just as in Sport mode, launch control is also available and the exhaust is at its loudest setting. You'd think, with all that shouting, that the Shelby Mustang would be a handful, but in fact the tweaks and adjustments all seem to amount to the coupé simply gluing itself to the track.
Grip is, in a word, prodigious: I pushed, and pushed, and pushed some more, and the bellowing Ford simply chewed through corners as though they were flat-out straights.
The R in GT350 stand for racing (in case you hadn't figured that out)
Similar to Chevy's Z/28, Ford stripped out everything that hindered it from achieving its primary mission: fast and, preferably, faster. So, the backseats are removed from the GT350R (though they're standard on the GT350).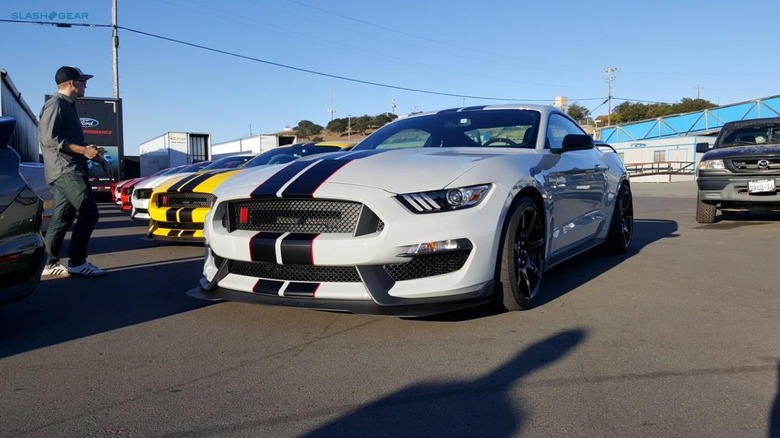 Out too go the normal rear and side windows, replaced with lighter Plexiglass. Other items Ford deems unnecessary include the carpet, air conditioning, most of the Mustang's insulating material, a heater, a radio/nav system, trim panels, and the headliner. That being said, the tech package offers a larger display and bundles in the navigation system and radio, for those who care as much about the destination as they do about the means of getting there.
Further distinguishing the GT350 from the GT350R are the aforementioned carbon fiber wheels, a larger splitter and rear wings, red-painted brake calipers, red pinstriping at the edges of the optional over-the-top racing stripes, and of course the Shelby GT350R badging. The interior offers high contrast red stitching, even more badges, and finally a D-shaped steering wheel with a red center mark at the top.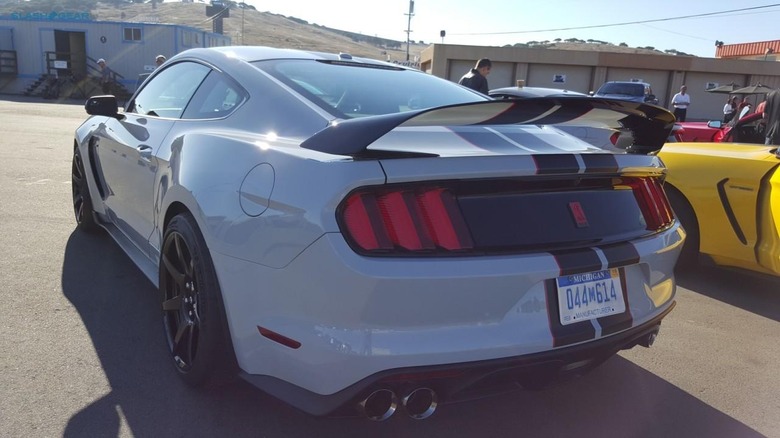 Even though the base price starts at $49,995 it can jump pretty quickly. The GT350 I spent most time in came in at $57,970, the biggest chunk of that increase being $7,500 for the Technology Package. That adds heated/cooled seats, dual-zone electric A/C, a single CD/w SiriusXM radio, voice-activated navigation, and the distinctive white stripe with black accents.
Also included in the Technology Package is an 8-inch SYNC 3 infotainment system, with MyFord Touch display and Shaker Audio. Less welcome is the mandatory $1,300 gas-guzzler tax.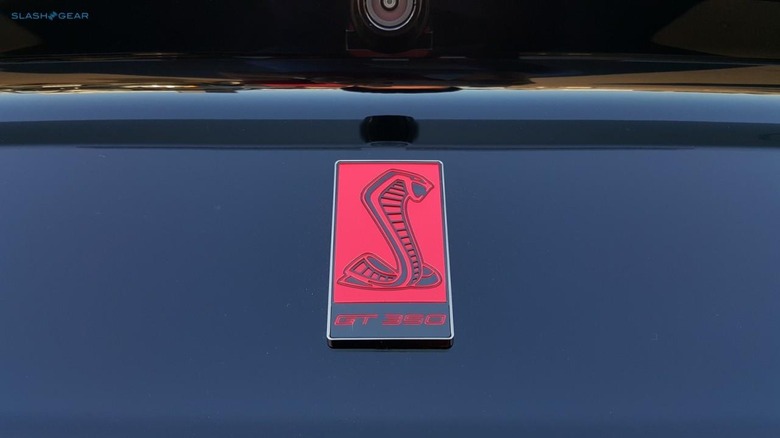 Should you simply have to tack on the R badge, make sure to have an additional $13,500 ready. If you're the sort of road racer who demands AC and rear seats, Ford will charge you an additional $3,000.
If it were me buying this spanking great deal on a street monster, I'd opt for the base model, add the $6,500 track package (and grudgingly cough up the $1,300 gas-guzzler tax) to bring it un at under $60k, still short of the GT350R's $66k starting price.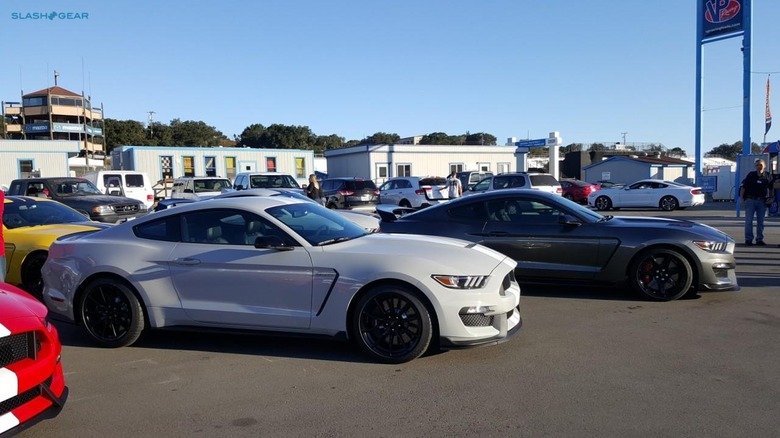 All in all, you still get the same 15.5-inch cross-drilled front brakes with six-piston Brembo calipers, and 15-inch two piece cross-drilled rear brakes with four-piston calipers. The 520 hp, 5.2-liter V8, Tremec six-speed manual, almost identical Michelin Pilot Sport tires, and the redesigned Recaro seats remain the same as in the GT350R. In fact, what makes the R are its carbon-fiber wheels and of course the aerodynamics package, which I'm okay living without.
The new Shelby Mustang arrives at a special time for Ford, fifty years on from the original GT350. As golden anniversary gifts go, it's shaping up to be quite the treat for lucky drivers, no matter whether they opt for the regular GT350 or its astonishing R sibling.
[gallerybanner p=402321]