2016 F-150 gets available CNG or Propane powered 5.0L V8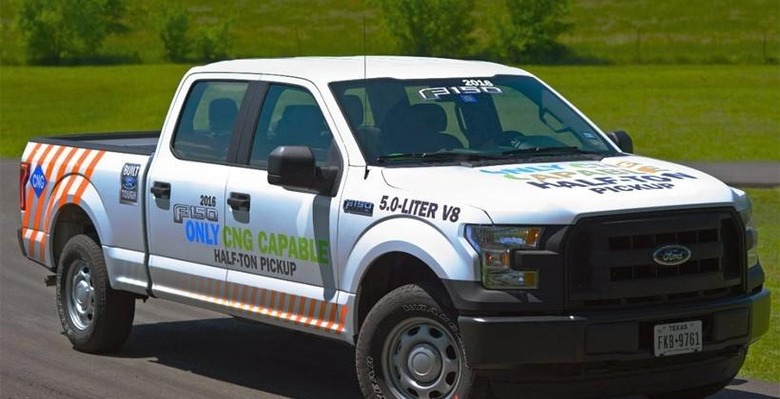 Ford has stirred up the truck industry with the all-new F-150 truck that replaces the steel body panels with lightweight aluminum to shed weight. Less weight means more performance and better fuel efficiency. Ford has announced this week that the 2016 F-150 will also be the only light-duty truck in the industry with an available CNG/propane powered V8 engine under the hood.
Ford has sold over 57,000 vehicles that can run on CNG or propane since 2009 when it began offering the option. That is seven times more vehicles that can run on CNG or propane sold than all other US automakers combined according to Ford.
The 2016 F-150 will roll off the Ford assembly line with an available gaseous-fuel prep package that allows the 5.0L V8 engine to run on the alternative fuels that includes upgraded intake and exhaust valves and valve seats. Those upgraded parts ensure that the engine can run for a long life.
The vehicles will then go to a Ford Qualified Vehicle modifier where the remainder of the CNG components will be installed. Ford says that the CNG or propane version of the 2016 F-150 will be able to tow the same weight that the gasoline version of the truck can tow. The CNG/propane prep package costs $315 from the factory. The buyer will then pay a modifier $7500-$9000 for the remainder of the fitment package.
SOURCE: Ford