2016 Cobra Jet Mustang Aims runs 1/4 mile in about 8-seconds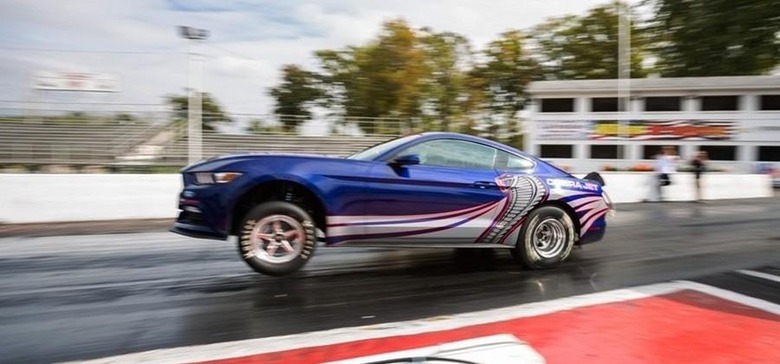 Ford has pulled the wraps off the all-new 2016 Cobra Jet Mustang. This car is a factory built turn-key drag racer that is aimed directly at NHRA Stock and Super Stock competition. The engine in the car is hopped up to handle the pressure of racing, but uses 75% of the same parts that the Mustang GT uses.
The car is capable of running the quarter mile in around 8-seconds and doing that week in and week out. Ford will make only 50 Cobra Jet Mustangs for 2016 and they are purchased via Ford dealerships, but the cars are sold as parts not as cars and have no VIN.
While the normal 2016 Mustang gets independent rear suspension, that's not ideal for drag racing so the Cobra Jet is the only 2016 Mustang with a live rear axle. Ford fits the car with drag racing suspensions, racing brakes, 8.5 certified roll cage, Aeromotive fuel system with a trunk fuel cell, and racing seats.
The transmission is a racing prepped automatic. The car will cost $99,990 to purchase and only has two options. One option are the graphics package seen in the picture here for $1995 and the other is a wheelie bar selling for $1995.
SOURCE: Ford