2016 Chevrolet Malibu First-Drive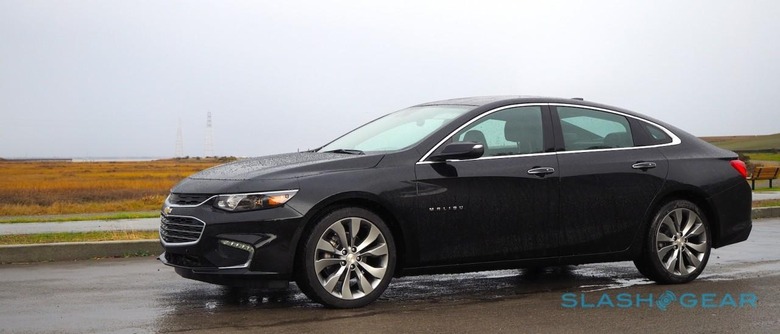 You could argue that midsize sedans like the 2016 Chevrolet Malibu are victims of their own success. What's possibly the most mundane car segment around is also one of the most popular in terms of US sales; that makes price a key factor, as well as finding a package – design, specification, performance, and the rest – that's palatable to as broad a range of people as possible.
Get it wrong and, well, you end up with the old Malibu.
Put that disappointment out of your mind, though, because the new Malibu is a whole new story. Redesigned from the ground up, lighter, stiffer, and with a more striking design, the TL;DR is that Chevrolet finally has a midsize sedan you might actually want to buy.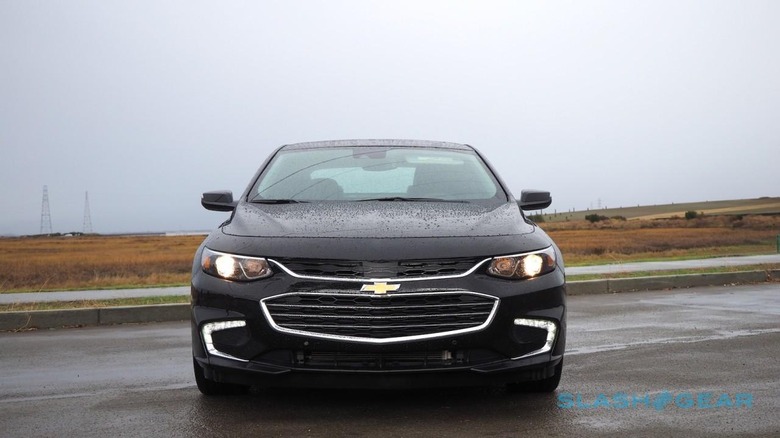 Looks are subjective, but I like the hints of Camaro in the Malibu's lines, and the front grille now has a hint of retro-futuristic race car rather than the slack-jawed gawp of the outgoing model. There's plenty of Impala in there, too, and while I'm not so convinced by the kicked-up rear which, from the side, looks a little pinched, in general it's a far more cohesive and memorable design.
It's more practical, too. The old Malibu was deservingly roasted for its lackluster rear space, and so the 2016 model throws an extra 1.3-inches of legroom in at the back. That might not sound like much but it's enough to make the well-bolstered seats a far more pleasant place to spend a road trip.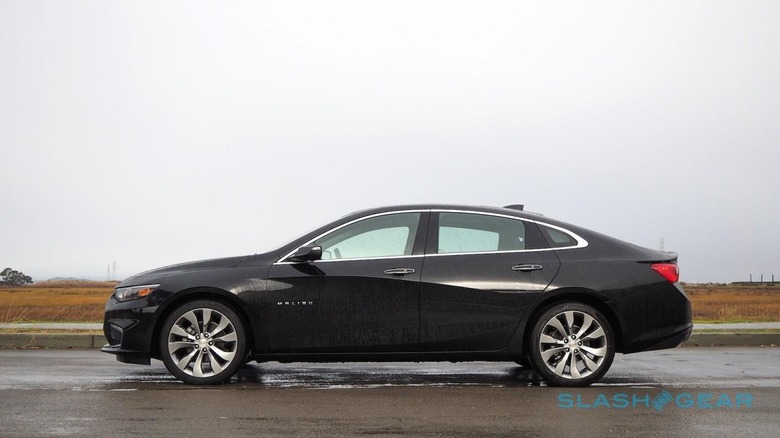 Out goes the unlovely 2.5 liter engine of the old car, with Chevrolet's base engine now a 1.5 liter turbocharged four-cylinder. Making its US debut in the Malibu, it's good for 160 HP and 184 lb-ft. of torque, and is matched with a 6-speed automatic.
Lacking a liter means the turbo engine is actually down 36 HP and 2 lb-ft. of torque over the old model, but Chevy has sensibly opted for a strategy of subtraction rather than addition. The 2016 car may be 2.3 inches longer than the model it replaces, but it's also around 300 pounds lighter.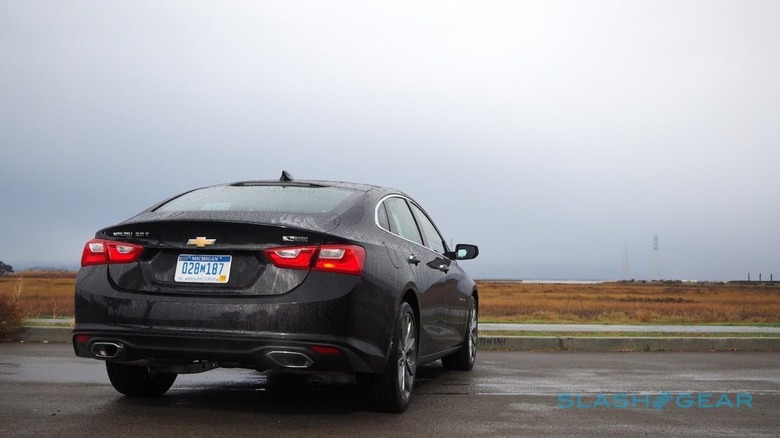 Putting the body structure alone on a diet accounts for approximately a third of that loss, with Chevrolet turning to the same sort of computational optimization – effectively allowing the computer to figure out where strengthening is needed, rather than humans making their most educated guess – as has already paid dividends for cutting flex and shake from the Cadillac ATS and CTS, and Chevy's own Camaro.
On the road, it's a hair's-breadth away from succeeding entirely. For the most part it's quiet and comfortable, whispering in and out with the stop/start system (which can't be deactivated) with none of the jerk and judder other cars suffer, and it's only when trying to pull away from the lights with some urgency, or when dealing with hills that I started wondering if just a smudge more power was required.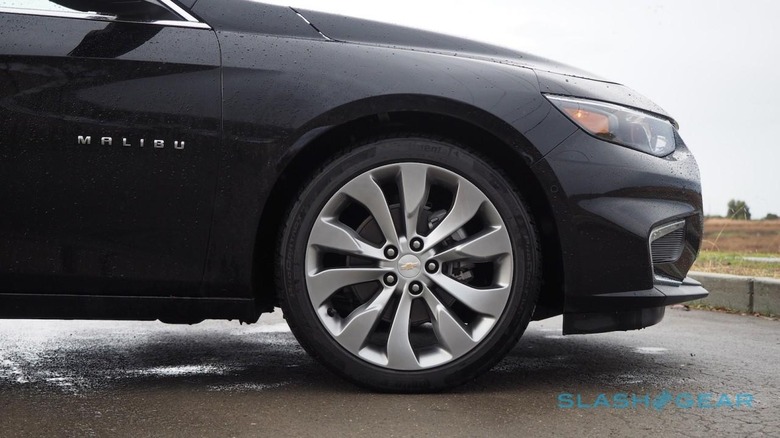 Chevrolet expects the vast majority of buyers to go for the 1.5 – perhaps has many as 90-percent, Malibu project lead Jesse Ortega told me – which seems a shame, because the optional 2.0-liter has the extra grunt its smaller sibling lacks.
It, too, is turbocharged, here good for 250 HP and 258 lb-ft. of torque. There are more ratios to choose from, too, with GM's first implementation of an 8-speed automatic on a front-wheel drive car. Unlike the 1.5, there's no automatic stop/start feature.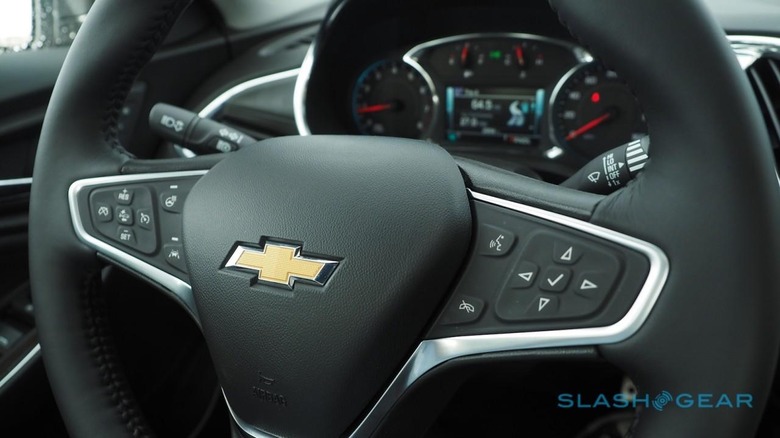 Power may also be down on last year's 2.0 turbo, but combined with the weight loss it pays dividends in practice. Silky gear-shifting, enough power that pep is no longer even vaguely an issue, and all with a chassis that's admirably low on wallow or twist.
Yes, on paper there are other midsize sedans that are more powerful, but the 2016 Malibu makes a good argument that there's more to a great drive than just numbers.
The gem of the range, though, you'll have to wait for. Chevy's third engine option pairs gas and electric, borrowing heavily from the Volt's parts-bin for the 2016 Malibu Hybrid. Due in the Spring of 2016, it matches a 1.8-liter four-cylinder engine with two electric motors, one that works for propulsion and the other used as a generator.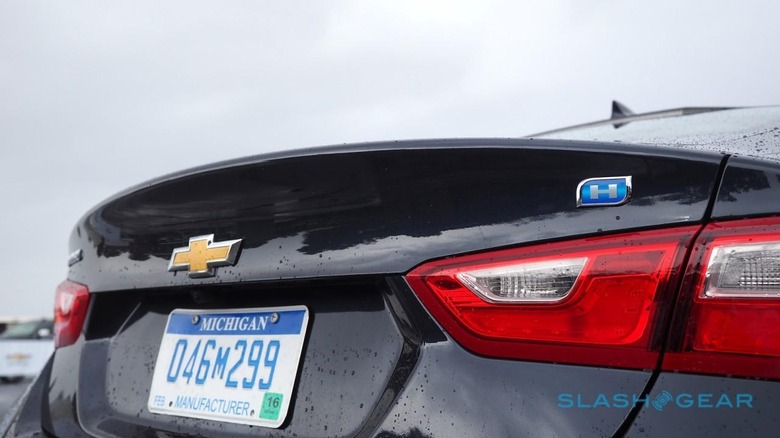 The basic architecture is like that of the Volt, but there are changes both in hardware – Chevy tells me the Malibu's motors are more premium, while the 1.5 kWh Li-Ion battery uses more efficient prismatic cell packaging – but software, such as the power management having been programmed differently. So, the focus is on pushing power in and out of the battery more efficiently, rather than on storing it up for later.
"It's about torque," Ortega explained to me, "it's not about high-end top speed in this segment." The average midsize sedan driver also apparently doesn't want to be bothered with the sort of energy options Volt drivers delight in: you get a tab in Chevrolet's touchscreen infotainment system showing where the power is flowing from and to, along with some slightly confusing bar graphs in the driver's display, but there's no way to manually save battery power for instance, for use when you're in an urban environment.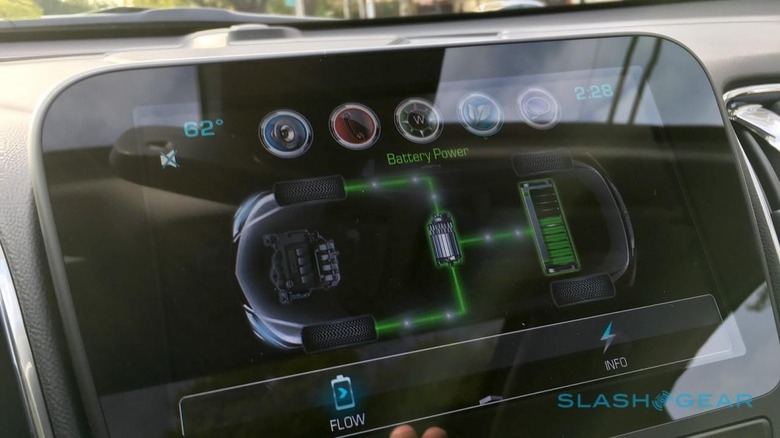 In theory, the Malibu Hybrid should be able to do up to 50 mph on electric power only. No matter how gently I coaxed the accelerator, mind, I only got into the low thirties before the gas engine smoothly kicked in.
Like its gas-only siblings, it has over-assisted electric power steering which gives an anesthetized report from the road. Also like them, it's surprisingly quiet and composed, with the suspension smoothing out bumps and imperfect concrete with a finesse I'd expect from a more expensive car.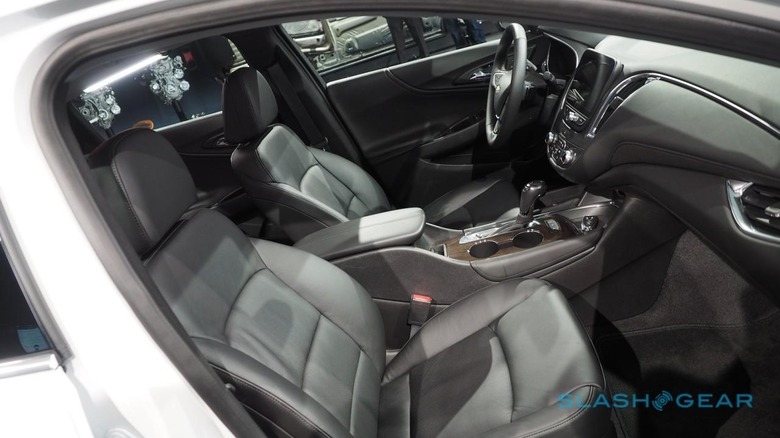 The EPA hasn't had its say yet, but Chevrolet is estimating 27 mpg city, 37 mpg highway, and 31 mpg combined from the 1.5 liter turbo. The 2.0 liter turbo dips to 22 mpg city, 33 mpg highway, and 26 mpg combined, while the hybrid is expected to deliver a healthy 48 mpg in the city, 45 mpg on the highway, and 47 mpg combined.
It's well-equipped car, too. The LS for instance kicks off at $23,995 and has Bluetooth, 4G LTE, power windows, a reversing camera, and daytime running lights as standard; the LT throws in SiriusXM, an 8-way power adjusting driver's seat, ambient lighting, and an LED upgrade for the DRLs. Both get a 7-inch MyLink infotainment system with both CarPlay and Android Auto.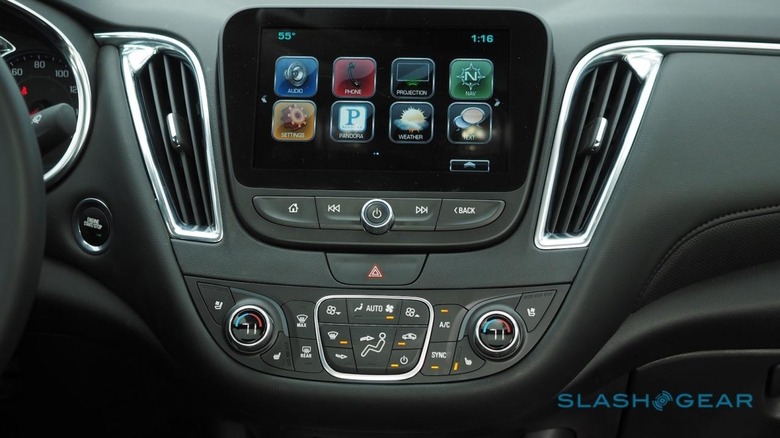 Throw the Convenience & Tech package into the LT mix, and you upgrade to the 8-inch MyLink system, add remote start, a wireless Qi pad for your phone, 4.2-inch color driver display, and a leather wrapped wheel and shifter knob. Finally, there's the option for leather seats with heating, a Bose 9-speaker audio system, and power adjustment for the front passenger seat.
Then there's the safety tech, the Malibu being offered with lane-keep assist, adaptive cruise control, pedestrian detection and forward-collision warning with automatic braking, and rear-cross traffic alert, among other things.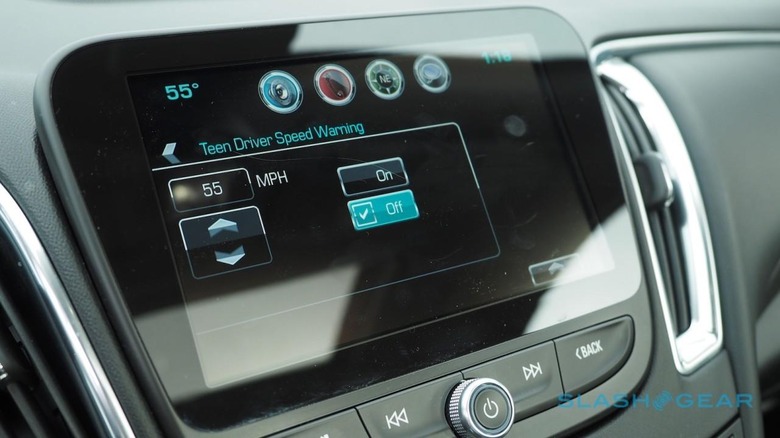 Likely to be most controversial – at least among families with young drivers, that is – is Teen Driver, which comes standard with the 8-inch MyLink system. Punch in a PIN code and you can set up speed warnings, limit how loud the music can be played, and even mute the audio altogether if those in the front seats aren't wearing their belts.
The Malibu plays tattle-tale, too, with a driving summary showing things like maximum speed, whether any of the safety features were triggered, and distance traveled. Either you'll think it's Big Brother at its worst or simply the car looking out for less experienced drivers, but Chevrolet tells me the feedback has already been wildly popular from would-be owners.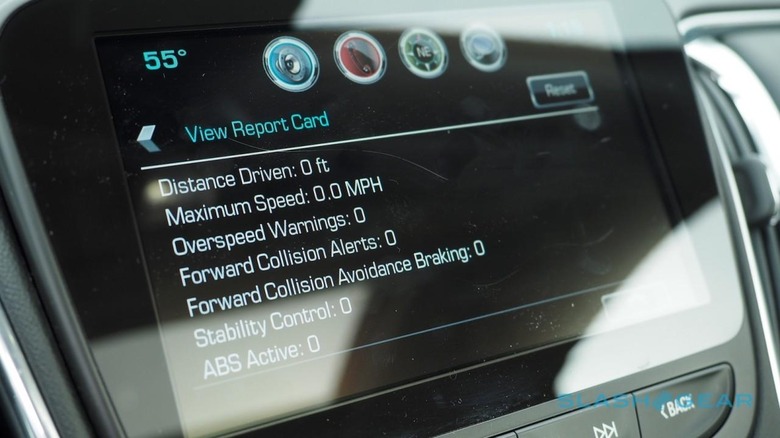 As for the interior itself, that's another significant step up from the outgoing car. Yes, you can find hard plastics simply by reaching out, but the primary touch-points are soft and the general design is light and airy. No, perhaps I wouldn't pick the butterscotch color scheme myself, but the switchgear has decent feel and MyLink is straightforward to use.
It's also faster than before, courtesy of a new processor behind the scenes, while Chevy expects the 4G LTE hotspot – which can serve up to seven WiFi clients with a range of around fifty feet – to be popular with families, even if they have to add it to their service plan in order to get data.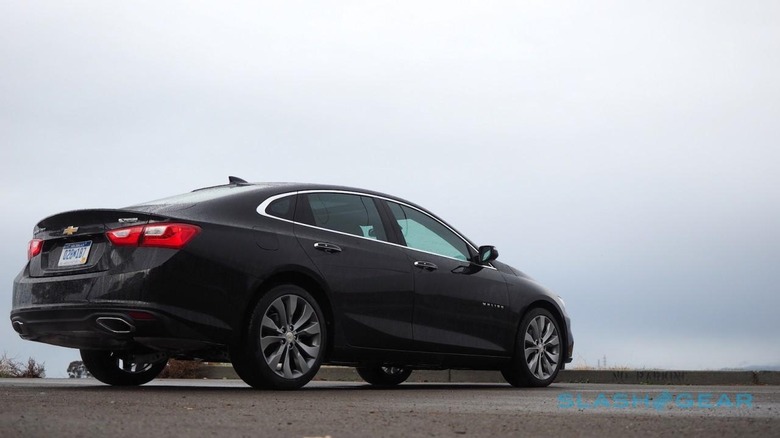 Pricing starts out ambitious, though things get a little questionable at times. Cheapest is the Malibu L from $22,500, seemingly destined for rental car fleet duty with its 16-inch steel wheels, and AM/FM radio but no MyLink. Better, then, to step up at least to the LS.
Problem is, if you want the 2.0 liter engine then you need the 2LT or Premium, which means a sticker of at least $29,495. That seems just too rich for my blood, especially when the Malibu Hybrid will start out at $28,645.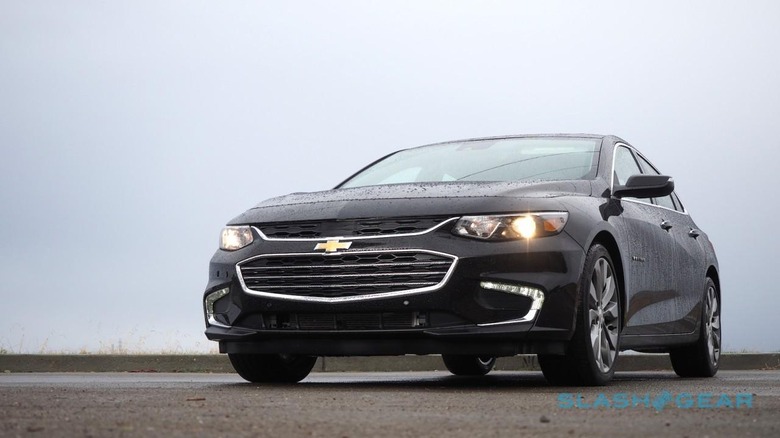 $30k is, frankly, too much to pay for a Malibu, even with the bigger engine option. I'd argue the sweet spot is probably the $25,895 1LT if you're determined to go gas-only, but having driven all three powertrains I'd push anybody toward the slick hybrid. Yes, it's around $2k more than Toyota's Camry Hybrid LE, but it's more economical and I prefer Chevy's styling inside and out.
Chevrolet's biggest challenge is still to come. Unlike the Corvette and the Camaro, which can count on their reputation to get people in through the showroom door, Malibu is lacking in badge-appeal right now. The GM engineers have come up with a solid car, but it'll only succeed if enough drivers give it a chance.
[gallerybanner p="418180"]