2016 BMW X1 xDrive28i Review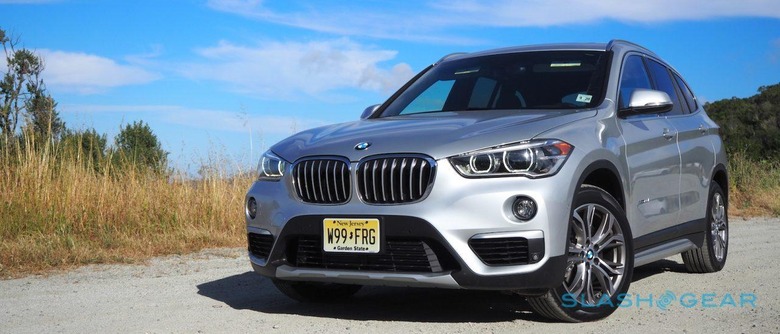 Decry me as a wagon-loving European rabble-rouser if you must, but BMW's decision to give the X1 a crossover-style makeover felt like a misstep. The original X1 always felt like a clandestine feint by the German automaker: yes, it bore the badge of an X Series, but its 3 Series underpinnings were more wagon than America's tastes generally lean toward.
Unfortunately, US drivers refuse to take their medicine – even if as I suspect, for many, an unfashionable wagon would make more sense for them than a generally less economical crossover does – and so in its second generation the X1 gets bigger, taller, and altogether more SUV-lite.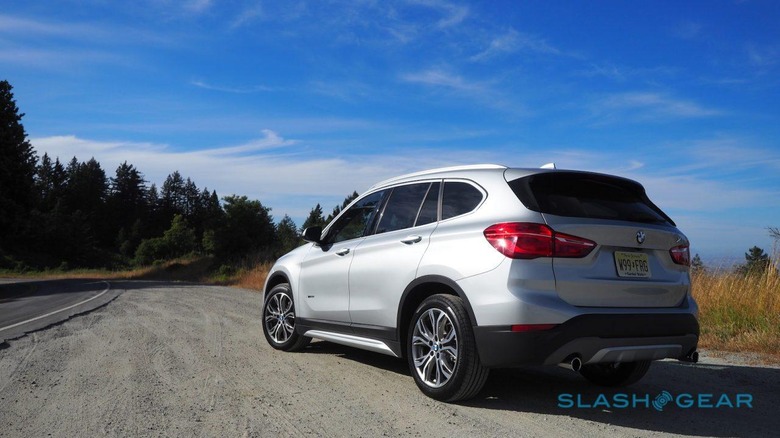 The styling is certainly mini-X5, the upright proportions emphasized by a shorter wheelbase than the outgoing car. It's butch and handsome, angry with its LED lights and chromed nostrils where the Audi Q3 looks haughty like a disapproving robo-butler.
All the extra glass helps brighten the interior, too, especially when you have the optional panoramic sunroof. I'm a fan of the cabin, with its seats that look more like they should come from a modernist design store than a car dealership, and a clean, tidy dashboard.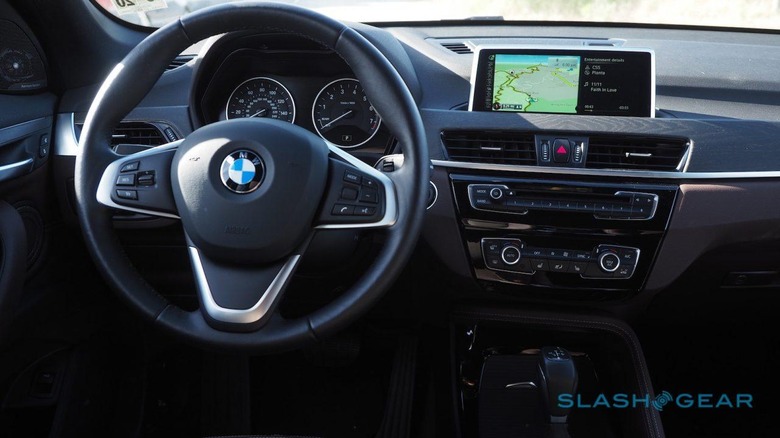 BMW still likes buttons, so there are plenty of dedicate switches for the radio and HVAC, and while there's a fair amount of plastic it feels suitably premium. The open-pore wood is an elevating touch, as is the LED mood lighting that's another option.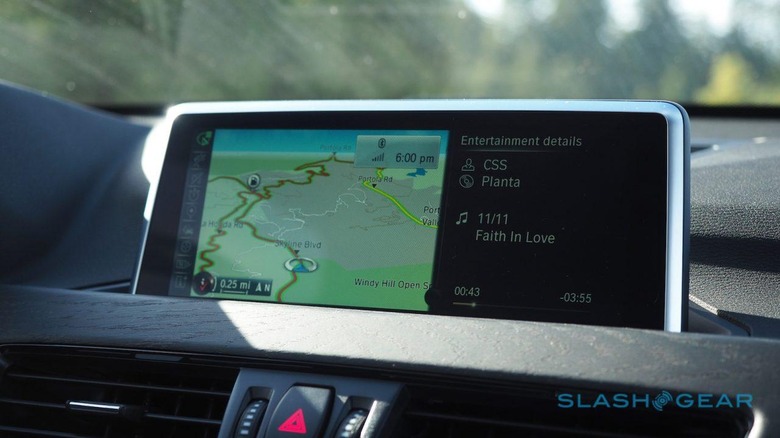 A non-touch display perches on top of the dashboard and at turns pleases and frustrates. In some places, BMW has it spot on: its map UI, with its well-signposted street names, is spot on, for instance. However the menu structure can be deeply confusing, you don't get Apple CarPlay or Android Auto, and there were many times I wished I could just reach out and tap the screen rather than figuring out the scrolling, sliding steps required just to punch in an address.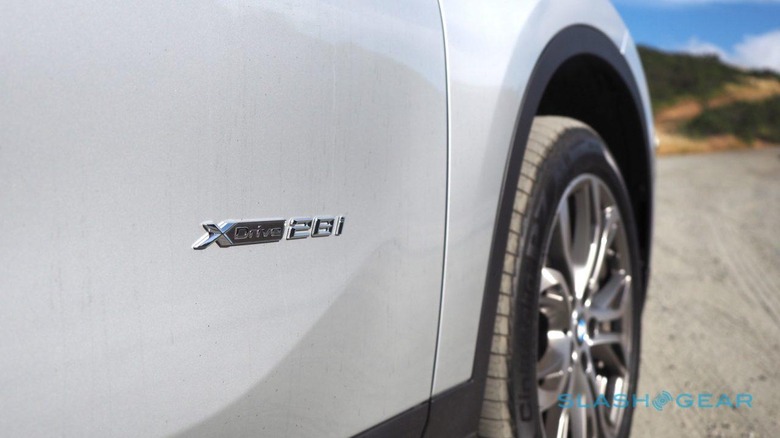 If the tech can be confusing, BMW's engine line-up for the X1 isn't. Gone is the six-cylinder option of the old car, and indeed so has the four-cylinder; the 2.0-liter four-cylinder TwinPower turbo is in fact all-new, and the only option in the range.
It's good for 228 horsepower and 258 lb-ft. of torque, the latter arriving at an easily-achieved 1,250 rpm. The xDrive comes with AWD as standard, though BMW offers an sDrive 2WD for $2k less.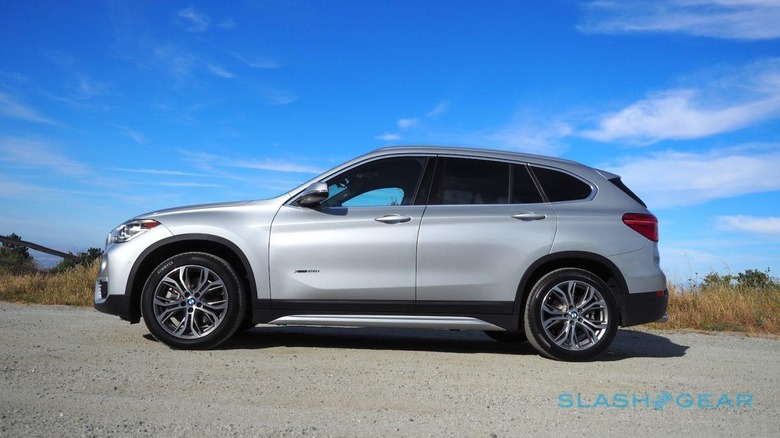 Either way, there's an eight-speed automatic transmission and Driving Dynamics Control system with three different modes: Eco Pro, Comfort, and Sport. On the road, once you turn off the annoyingly jerky auto-stop/start system, the X1 is clean and perky.
The faintly anesthetized electric power steering isn't entirely in keeping with BMW's "Ultimate Driving Machine" slogan, and nor is the slight lag when you stab the throttle from a standing start, but once you're underway the gearbox is swift and it holds the corners well. I'd expected ride quality to be seriously undermined by the standard run-flat tires, but the X1 is impressively composed, though you quickly develop a careful foot on the brake pedal as they're very sensitive.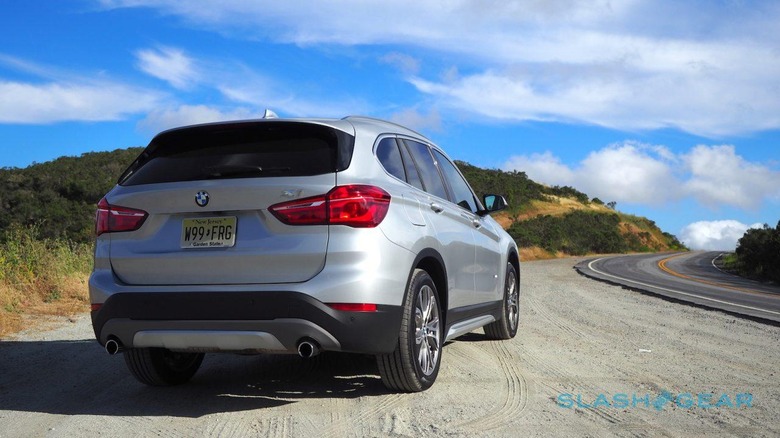 Prepare, too, for a significant hit on your wallet. The X1 may be the first model on BMW's X Series ladder, but it carries a hefty price tag all the same.
Base price is $34,800 plus $995 destination, but BMW's options list is legendary and for good reason. Heated front seats aren't, oddly, standard, and neither is a reversing camera; add $550 and $1,150 respectively to add them, along with parking sensors. The rear seats don't slide or recline until you give BMW another $300.
$3,250 introduces the Premium Package, with power mirrors, keyless entry, a panoramic moonroof, ambient lighting, LED headlamps, and satellite radio. The $2,550 Technology Package gets the infotainment online and adds app, along with the slick trackpad-topped control dial. $875 adds the harman/kardon audio system.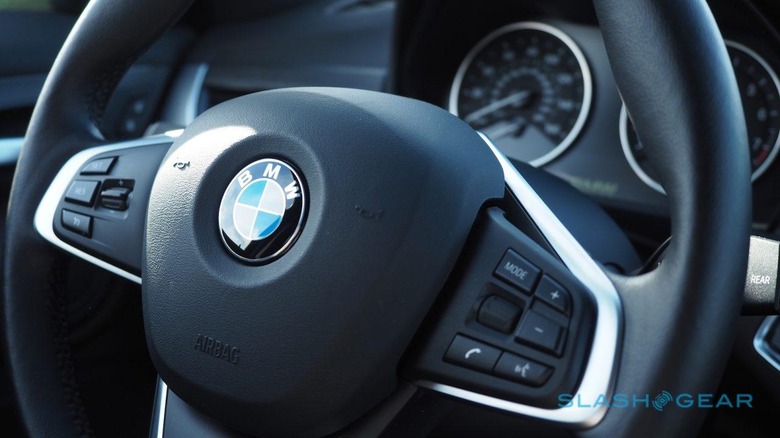 Altogether this review car comes in at $46,570. That's still without adaptive cruise control, lane-departure warnings, pedestrian detection, or auto-high-beams.
That's a fair amount more than the comparable Audi Q3, though the X1's two liter delivers stronger economy despite more power and more torque. The EPA figures come in at 22 mpg in the city and 32 mpg on the highway, for 26 mpg combined (in contrast, the Audi is rated for 20/29/23 mpg respectively).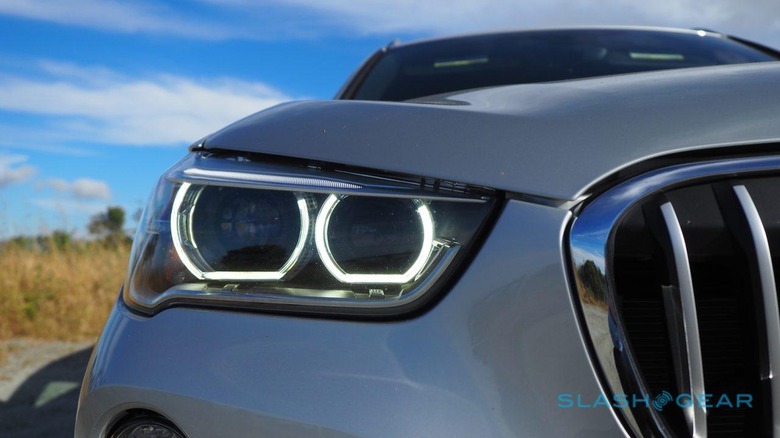 You'll fit more in the BMW's trunk, too – between 27.1 and 58.7 cubic feet, depending on whether the rear seats are up or down (the Audi does 16.7 or 48.2 cu.ft) – and passenger space is more plentiful, particularly when it comes to rear legroom.
In fact, pricing aside, the X1 makes a lot more sense as a small, luxury crossover than the Q3 does. Moreover, grudgingly, I must confess that the 2016 BMW X1 delivers far more than its wagon-esque predecessor ever did.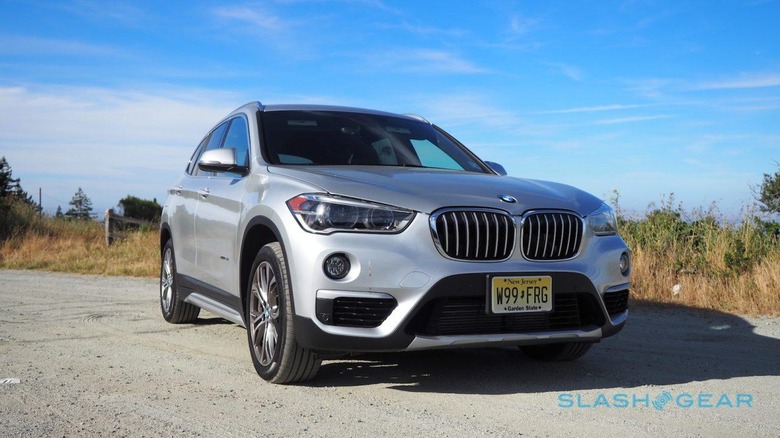 More luxury, more quality, more refinement, and more driving interest. I may be a wagon fan but I'm no fool with it: the 2016 X1 is both bigger and better, and that adds up to the compact crossover to beat in the high-end segment.