2016 Audi S6 and A6 first-drive - Autobahn blitz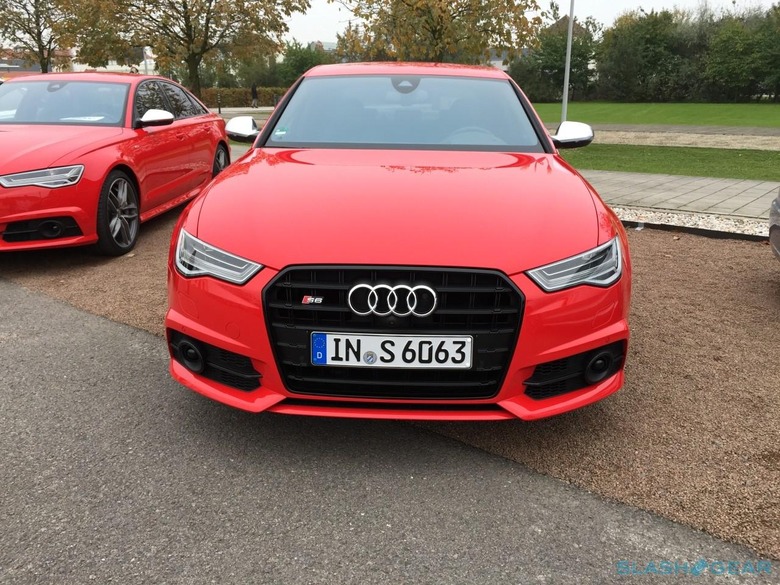 There are some interesting options when you're in the market for a big sedan from the mid-$40s upwards, but the 2016 Audi A6 and S6 are hoping to make their case that they're all the car you need. Overshadowed in recent years by the stunning A7/S7, Audi's handsome sedan is making a renewed play for 2015 with updates across the styling, engines, transmissions, and the accommodations inside. I headed to the autobahns of Dresden, Germany, to see how the A6 and S6 hold up.

Audi's styling across its range is one of the more consistent of any of the big car brands, and so the changes to the design have been restrained. While the body as a whole is the same as before, there's a new bumper with more aggressive venting, reshaped lights with more LEDs, and a more angular grille that borrows some of the new TT's style.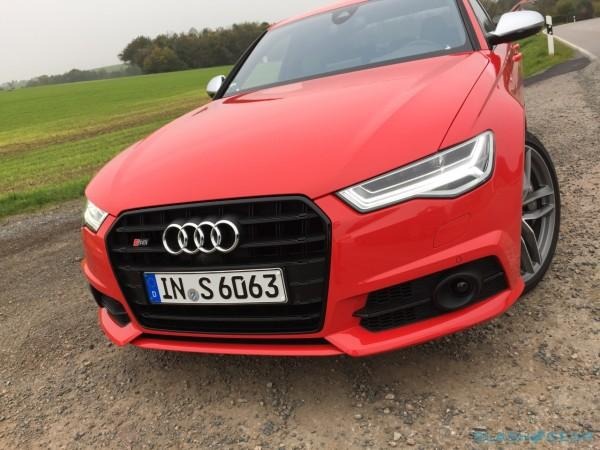 At the back, the rear lamps are more distinctive, and the tailpipes get crisply-hewn trapezoidal tips which counter the curves of the rear valance nicely. There may be a couple of tweaks between here and the US launch in 2015, but the changes to what's to my eyes a very successful refresh should be minimal.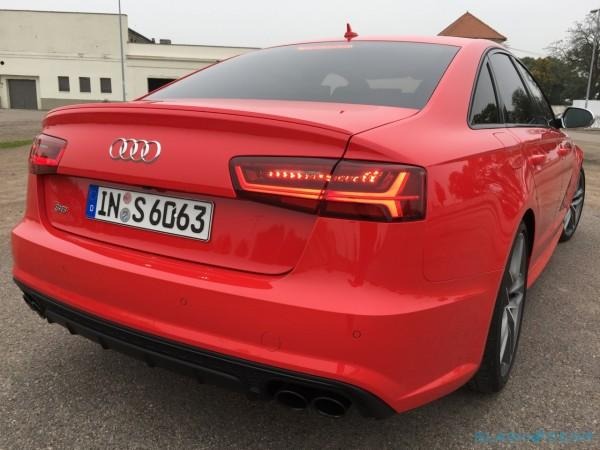 I started out in the A6 with its 2.0-liter TSFI engine. Its 252 HP and 273 lb-ft – both increased for MY2016 – are evidence of just what Audi can do with some turbocharging, routed thankfully not through the lazy CVT of the old car but a seven-speed, dual-clutch transmission. EPA figures aren't settled yet, but Audi tells me economy should be up despite the bump in power.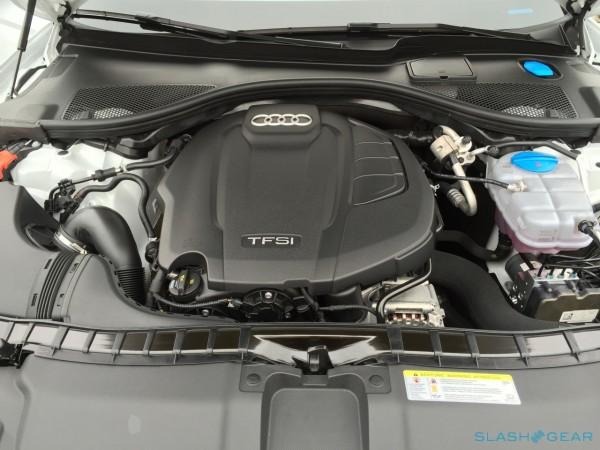 A four-cylinder in a large sedan like the A6 might give some drivers pause for thought, but the TSFI has no such reticence, especially out on the autobahn. It's not a light car, at around 3,700 pounds, but it hides that heft well, picking up speed rapidly and cornering well; there's a little oversteer to be discovered when you push the FWD car hard, but you'll only really see it at the sort of pace where any passengers will be giving you dirty looks.
Audi's four-cylinder is smooth, but the fun really starts when you switch keys for the 2016 S6. That uses a 4.0-liter TFSI V8, turbocharged for 450 HP and 406 lb-ft of torque, and hooked up to a seven-speed, dual-clutch transmission and quattro all-wheel-drive.
Audi says the S6 V8 is good for a 4.3 second 0-60 mph time, and the Euro-spec car showed little reluctance to gallop along the autobahn at speeds which would quickly lose you your license were you to try them in the US. Stomp your foot to the right and there's a surge of torque which sees the speedo needle hurtle up, seemingly no matter whereabouts in the rev range you do it.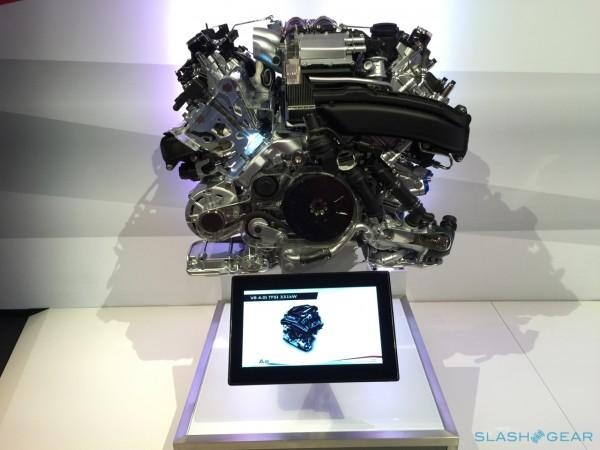 It's incredibly sure-footed, too. Audi's quattro AWD has a reputation for grip, and the S6 doesn't let it down. Driver-selectable suspension modes actually make a noticeable difference to the driving style: in Comfort, the S6 does a fair job of impersonating a luxury cruiser, while in Dynamic it becomes sticky as glue.
No, you're not going to whip the rear end out – I'm not sure most people would want that, frankly, in a car of this size and type – but you do have the confidence to know that you'll pretty much always end up around the corner you're fast approaching. The pleasing balance of quiet and V8 engine noise is the icing on the cake.
Whichever the model, you get Audi's excellent cabin and dashboard. Build quality is top-tier, and there are new dash trims, leather options, and finishes to pick between. Some of the marquetry is of a level you'd more commonly expect to find in a high-end luxury model; Audi's pairing of careful slivers of veneer and aluminum are particularly eye-catching, though exactly what will make it to the US is unclear at this stage.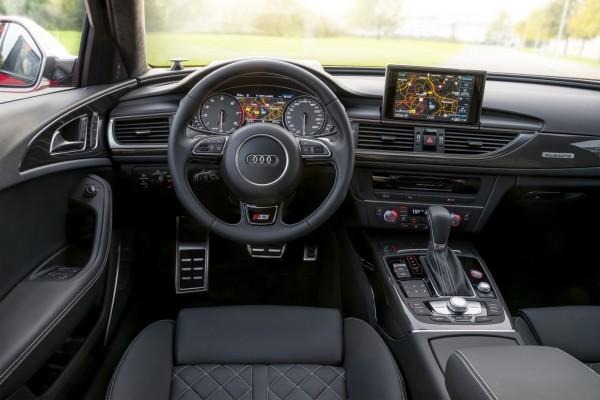 I've seen what Audi can do with a few high-resolution displays and NVIDIA's Tegra processor in the new TT, and the updated MMI system in the 2016 A6/S6 are similarly competent. An 8-inch screen rises smoothly from the center stack, similar to in the A3 only a little larger, and it's paired with a large driver information display sandwiched between the analog dials.
It's fast, and smooth, and well-connected thanks to onboard 4G LTE piping things like Google Earth 3D navigation to the dash. A head-up display can show the core details, too, like speed and your upcoming turn. Rather than a touchscreen you get a rotary controller flanked with shortcut keys and a trackpad, the combination of which takes a little getting used to initially. Still, Audi's crisp graphics and sensible UI layout are proved enough to win me over.
The A6 isn't a sports sedan in the traditional sense, but neither does it need to be. Instead, it's a capable and refined cruiser, a handsome way to transport five people in a beautiful cabin. Audi's updates strike a great balance between dynamics and comfort, with the new transmission a particular improvement over the outgoing car.
As for the S6, it still manages to be discrete to the eye while packing enough power and stability to surprise the unwary, whether you're running from a standstill at the lights or already at speed on the highway. Audi's quattro AWD takes a powerful sedan and gives it all the traction you want, safely betting on the idea that the target audience will prefer predictable (and superlative) dynamism to tail-happy abandon. Even if you can't make it to the autobahn, it's a huge improvement and a highly capable car.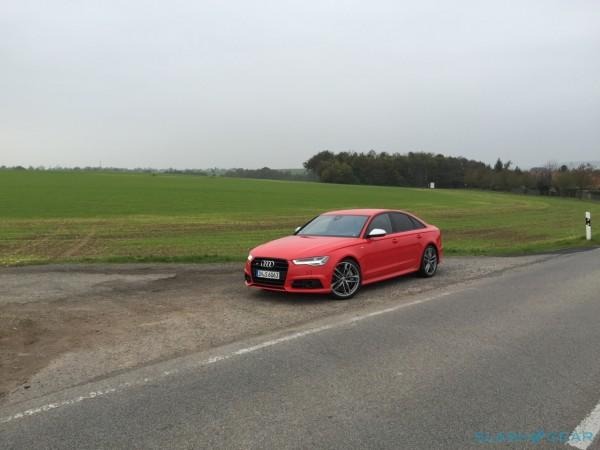 Audi Night Vision Assistant Demo