There's an odd dance to be followed when, as Acura is with the 2016 ILX, you're launching a revamped version of an existing car. On the one hand, you want to highlight just how improved it is over its predecessor; on the other, you can't be too critical, because then drivers start asking why you were so enthusiastic – and are now so cruelly honest – about the older car. For the 2016 ILX, Acura is more blunt than many: the old model was designed before the host of "entry premium sedans" hit forecourts, with Mercedes-Benz, Audi, Lexus, and others changing the game in the process. For the MY2016, then, the focus is more rewarding driving, more luxury, and a generous injection of tech borrowed from Acura's TLX.
The outgoing ILX was of its time, and its time was ritzy Focus, Civic, and Mazda 3 models with well-ticked options lists in the midst of an economic crisis. Since then, cars like the CLA and A3 have distilled high-end brand names into ever-more affordable price brackets, and being a cleanly designed but hardly inspiring sedan was no longer enough.
Cue the 2016 Acura ILX, officially a mid-model refresh but really a fair amount more than that. It's the new gateway to the Acura brand, part of an attempt to not only sell people a car but to make them so loyal that they come straight back to the dealership when it's time for a trade-in.
On the outside, the changes are in the detailing. At the front, most noticeable are the new "Jewel Eye" LED headlights, which split the side, main, and daylight running lamps into individual ice-cubes and strakes. Between them is a grille markedly similar to that on the nose of the new Acura NSX; the plastic snout may still be a point of contention for many, but it gets some serious contouring for the 2016 car, and looks better for it.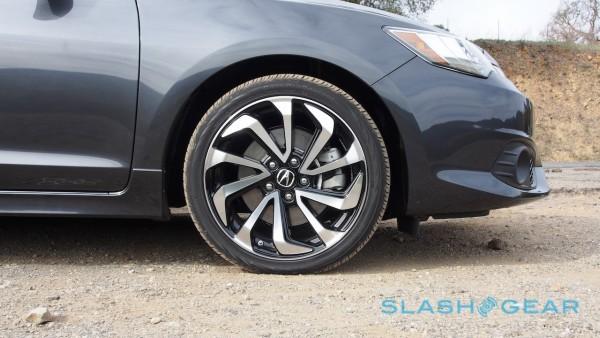 Underneath there are more defined air-intakes with – on the new A-SPEC grade – big fog lamps that, though looking somewhat out of place, are certainly striking. The A-SPEC gets meatier side sills, too, and a chrome-edged trunk spoiler; all new ILX get a redesigned rump and fancier LED lamps.
The ILX was never an ugly car, it just never really stood out. Sandwiched between Lexus' love-it-or-hate-it IS, and Infiniti's curvaceously elegant Q40, the new ILX is still the most conservative of the three. There's a restraint there which makes up in balance what it lacks in controversy.
If Acura's changes had been entirely aesthetic, it would have been left with a pretty sedan that didn't quite deserve its "sports" billing. Happily, there's more to the 2016 ILX than glitzy headlamps.
Previously, Acura offered two engine options, kicking off with a 2.0-liter four-cylinder good for 150HP and paired with a five-speed automatic transmission. It's not, to be blunt, the most inspiring powerplant out there, but while Acura also had a more entertaining 2.4-liter with a six-speed automatic, 95-percent of buyers still opted for the entry-level engine.
Both are gone for the 2016 car, and in their stead is a 2.4-liter, 16-valve DOHC i-VTEC from the new TLX, along with that car's 8-speed DCT transmission with torque convertor. The result is 201 HP and 180 lb-ft of torque – up 51 HP and 40 lb-ft over the old 2.0-liter, respectively – while perversely delivering slightly better economy, too.
The EPA has weighed in with the final numbers, suggesting drivers will see 25 mpg in the city, 36 mpg on the highway, and 29 mpg combined, a point higher on each than the outgoing car. In my testing, admittedly spending more time in Sport+ mode which suits the ILX better, I saw between 22 mpg and 28 mpg, erring on a course of mountain roads and country lanes.
Engine and transmission aren't the only changes under the hood, either. The IIHS Small Overlap tests have arrived since the last ILX, and so Acura boosted body rigidity with lashings of hot-stamped steel for a 12-percent increase in torsional rigidity. The glass is now 5mm thick, not 4mm, for improved noise insulation, while a proprietary wheel design that has an integrated resonator also helps dampen road noise.
When you drive old and new car back-to-back, the differences are clear. The new ILX pulls away smoother and more aggressively from a standstill, with the extra power and torque each noticeable. The 8-speed gearbox needs to be tugged into "S" mode for anything more than satisfactory highway cruising, but once there it snaps between ratios with a clean eagerness.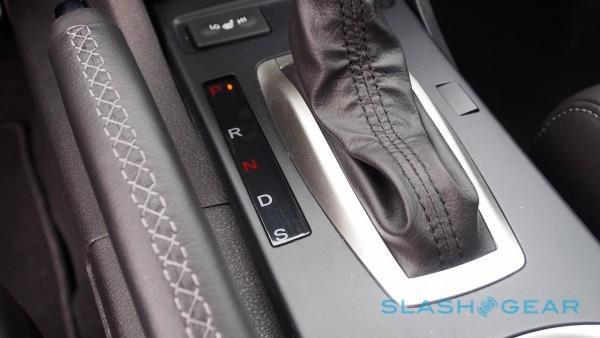 Acura makes a big deal about including a torque converter to smooth out some of the DCT jerkiness, but it does seem to help, though the throttle blip on downshifts – while welcome – means there's no shortage of reminders that a change has taken place. In fact, "S" mode on the ILX is for me more convincing than the counterpart Sport+ mode on the TLX: in the bigger car, it felt frenetic rather than eager, but the mood suits the punchy four-cylinder ILX.
Is it "sporty"? That depends on your comparisons. A BMW will likely best the ILX for pure driving involvement, but that's not to dismiss what Acura has done here. On some cruelly twisting mountain roads with sudden changes of elevation and more than their fair share of hairpin bends, it carried itself surprisingly well. True, after a few tentative stabs at the paddle-shifters it seemed easier to let the transmission do its own thinking, but handling and pace were both strong.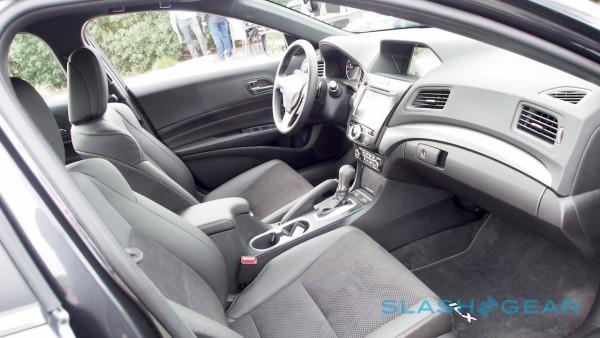 That doesn't mean it lacks refinement, however. For a start it's quieter inside, with extra soundproofing and that thicker glass adding up to less road and wind noise making it through. Unfortunately, that means you're left with the noise of the engine, which is hardly the most sonorous when pushed hard.
The cabin blends the old ILX with some of the cues from the TLX, not to mention a fair amount of extra kit. One of the loudest complaints about the old car was that it lacked some of the niceties that rivals fitted as standard, a shortcoming Acura has been sure to address this time around.
So, you now get two-position driver seat memory, and 4-way electric adjustment for the front passenger seat. A rear-view camera is standard, as is a power moonroof, and Bluetooth streaming. Step up to the Premium trim and you get leather seats, blind-spot and cross traffic alerts, and Sirius XM radio. Adaptive cruise control and lane assist which not only warns you if you're drifting but which gently helps you back into place are also optional.
They work surprisingly well together; in fact, if it wasn't for the periodic reminder to put your hands back on the wheel, you could almost leave the ILX to drive itself on the freeway (I tried, and was promptly scolded by the car's computer). Still, you'll want to have your hands near the wheel just to handle the surfeit of buttons Acura has squeezed in: seventeen, in fact, if you don't count the paddles.
There are some interesting options available for the center stack, too. The base model – which I didn't get to drive – makes do with a single 5-inch display, CD player, six speakers, and Bluetooth/USB/aux-in, but the fun starts with the Premium and Tech Plus tiers. There, as in the TLX, you get a larger 8-inch screen up top, for things like GPS maps, while a smaller, 7-inch touchscreen is lower down for control, though there's also a multi-function dial/joystick for those who prefer to reach out and grab a knob.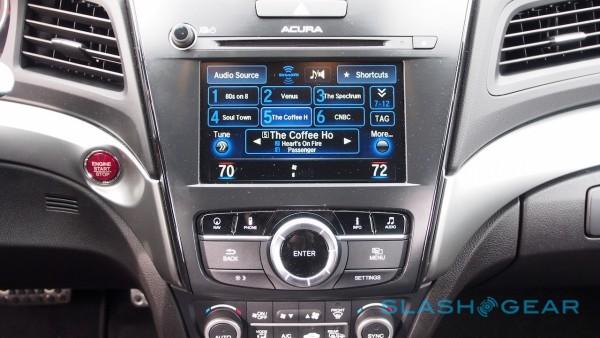 It's faster in use than the system in the TLX, too, thanks to efficiencies in more recent software builds: I found that particularly noticeable when entering text with the on-screen QWERTY keyboard, which now no longer requires a tedious pause between each virtual button-press. Unfortunately, Acura tells me it has no current plans to roll out the newer infotainment software to the TLX.
Premium ILX models get seven speakers, but Tech Plus cars have a full 10 speakers good for 415W. Interestingly, while Tech Plus has navigation built-in, Premium offers an HDMI input instead: equip your iPhone with an AV digital adapter, USB, and HDMI cables, and Acura's $60 Navi app, and you can effectively retrofit the full navigation experience for under $200.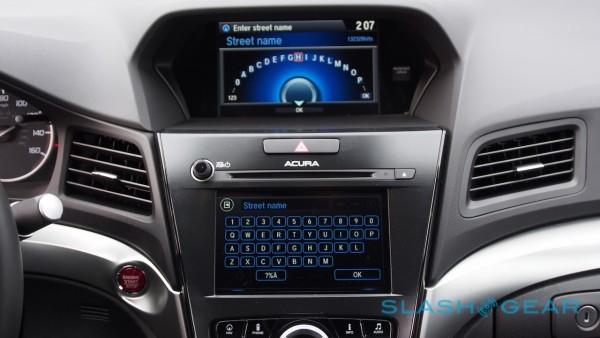 Why would you use it over, say, Google Maps or Apple Maps? There are a number of reasons, most visibly because you get all of the integration with the touchscreen, jog wheel, and steering wheel controls like voice activation. It promises to be more accurate, too: plugged in, the Acura app gets access to the car's more powerful GPS receiver, as well as real-time data on speed and heading so that – even if you're in a tunnel, where a smartphone navigation app might get confused – the ILX still knows where it is on the map.
It's not all good news, mind, and my quest to find the "perfect" infotainment system continues uncompleted. Neither CarPlay nor Android Auto are included, and while Acura parent Honda was one of the first to commit to Apple's iPhone-based system, I'm told it simply wasn't ready in time to make it onto the ILX. I can't help but recall that's the same excuse I was given about the TLX, too. You do get Siri hands-free mode, at least, though Acura's native voice recognition proved either stubbornly obstinate or simply something of a dullard: either way, I seldom got the command I wanted carried out.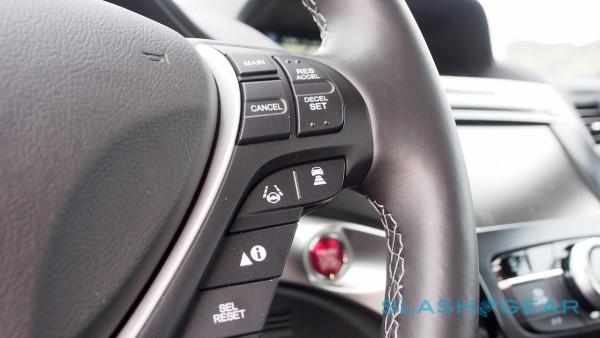 The dashboard feels better put together than before, and there are more soft-touch materials in the places your fingers are likely to linger, but the ILX cabin still doesn't feel quite up to the grade of some rivals. Audi's A3 may have more switch blanks than functional buttons in its lower configurations, but at least it has a "hewn" feel that the plastics of the ILX simply don't match. Sure, it's functional, but the only button with any real charm is the red aluminum starter, with the glossy black keys that fill the center stack more likely to pick up greasy fingerprint smudges than design compliments.
Perhaps I'm expecting too much for the price, because the ILX certainly remains competitive. The base model is $27,900, or $29,200 if you want to throw in the AcuraWatch Plus safety package, but my inclination would be to skip that – eschewing the single-screen audio system in the process – and start at the $29,900 Premium model. $32,900 gets you the Tech Plus and still undercuts a Lexus IS, though by that point you're overlapping the bottom end of the TLX line-up.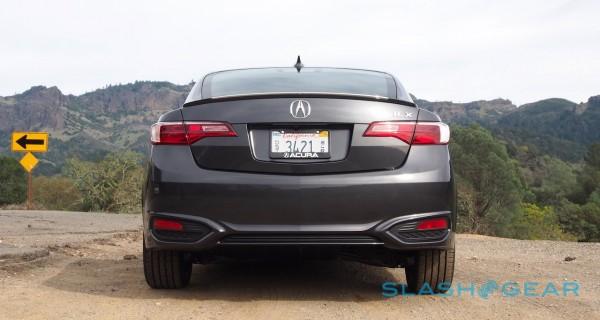 A-SPEC, with its 18-inch sport wheels, takes the Premium ILX to $31,890 or the Tech Plus ILX to $34,390, but my gut reaction is that only those particularly taken with faux-suede should apply. The 18-inch wheels made the ride a little noisier for no noticeable improvement in handling, while the bulging fog lamps seem at odds with the otherwise restrained trapezoidal front spoiler.
"Affordable luxury" is arguably an oxymoron, and never more so than in the entry-level premium segment the ILX plays in. On the one hand, buyers are ever more demanding when it comes to style, gadgets, and performance; on the other, margins are tight for manufacturers, and the fear of either out-pricing your car or overlapping too significantly onto your midrange – and usually best-selling – model place hard limits on what, exactly, can be achieved.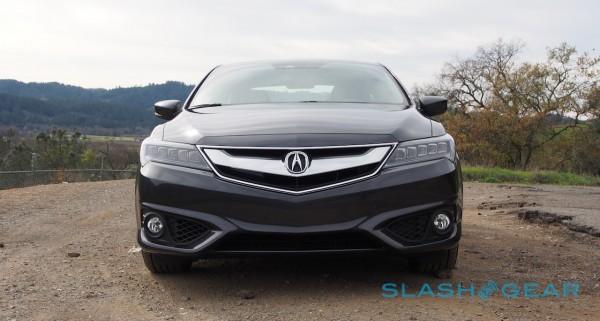 What you get from the 2016 ILX for your less-than-$30k is, then, pretty astonishing. The list of kit in the Premium package is enough to put German rivals several steps up the pay ladder to shame, and AcuraWatch's various collision warnings and such not only work well together, but legitimately improve the everyday experience behind the wheel.
It's from there that Acura's biggest improvements make themselves clear, however. To be sure, like the TLX before it, the new ILX isn't a frothing beast of a car, but it now does at least have some of the perky dynamism to match the "compact luxury sports sedan" billing. Whether it'll find the company that "Acura for life" customers it's hoping for remains to be seen, but it's a strong option for the price-conscious driver who wants to balance safety and speed.