2015 Subaru WRX STI drives test-track made of drone helicopters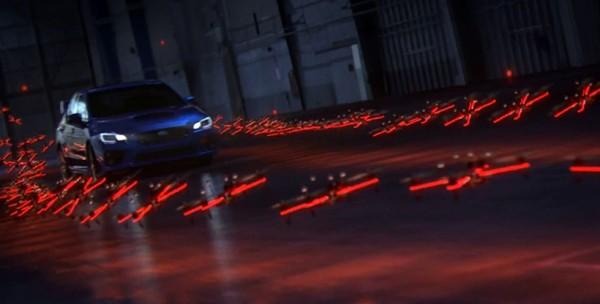 If there's an award for most unique concept track for a vehicle this year, it may be time to send that award out already. The folks at Subaru have created a video spot for the 2015 Subaru WRX STI which incorporates a massive amount of drone helicopters with bright red lights, the lot of which create an ever-changing, ever-moving track for the vehicle to drive through.
Of course this vehicle is still the star of the commercial spot, showing off its abilities as a powerful, precise, and agile vehicle in this moving autocross track. This vehicle was originally revealed at the 2014 North American Auto Show, rolling with Active Torque Vectoring along with stiffer, more agile chassis for what the company describes as "exceptional" handling.
This vehicle works with tried-and-true technologies like multi-mode Driver Controlled Centre Differential. That's otherwise known as DCCD, and you'll also be rolling with all-wheel drive, multi-mode Vehicle Dynamics Control, and no less than a Brambo performance brake system with super sport ABS.
Inside you'll also have optional harman/kardon premium audio right off the line for all your in-car music needs. You'll have a driver-focused interior with a D-shaped steering wheel paired with whiplash-reducing front seats topped with height- and tilt-adjustable head restraints. In other words: this car is made to go fast.