2015 Hyundai Genesis packs Google Glass app and AWD option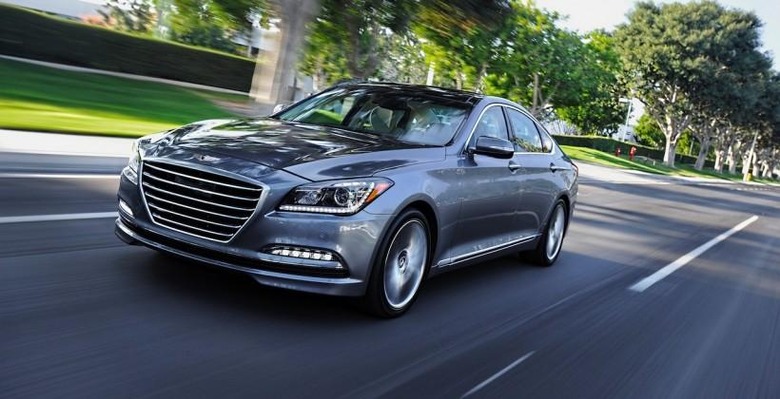 Hyundai has revealed the new 2015 Genesis, adding AWD and a head-up display, as well as a stiffer platform than a BMW 5-series, and integration with both Apple's Siri and Google Glass. The new car, which will hit US showrooms this spring, can use the Glass Blue Link app to allow drivers to remotely unlock and start the sedan, locate it in a parking lot, send points-of-interest to the dashboard navigation system, and track down the nearest gas station. Meanwhile, there's also support for the iPhone's "Eyes Free" mode using Siri to control things like Apple Maps, calls, messaging, and more.
Hyundai itself offers the Blue Link app for iOS and Android devices, which pulls out things like car telemetry, servicing information, and overall vehicle health. There's also support for notifying the driver when they should leave, using real-time traffic information.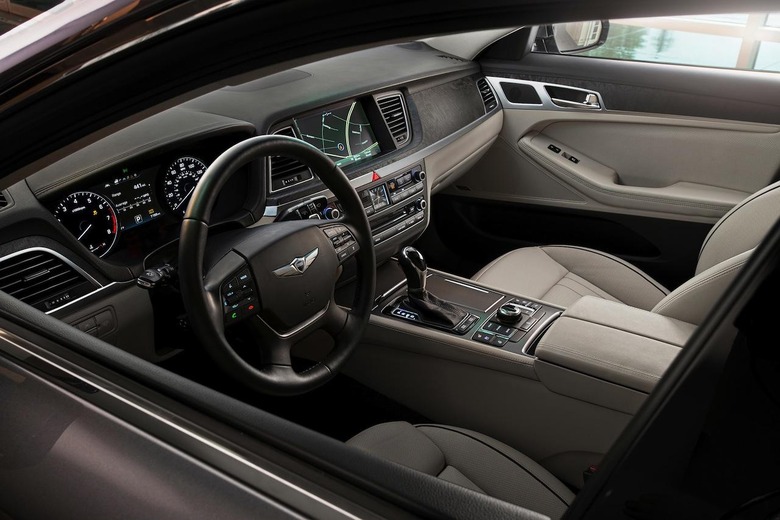 As for the Genesis itself, it gets a new design – we're probably not alone in seeing hints of Mercedes-Benz, Jaguar, Audi, and others to it – with an oversized hexagonal grill and shorter overhangs than the outgoing model. Under the hood there's the choice of a 5.0L V8 putting out 420HP and 383 lb.ft of torque, pushed through an eight-speed auto transmission with steering wheel paddles for driver-overrides, or a 3.8L with 311HP and 293 lb.ft of torque, which also gets the same transmission.
Both can be paired with either rear- or all-wheel drive, with the latter getting a new electronic variable-torque-split clutch to divide power between the front and rear. There are also four drive modes, ranging from Sport through to Economy, with Snow and Normal in-between.
As for safety, that includes nine airbags, lane-departure warnings, tire pressure monitoring, brake-assist, and Automatic Emergency Braking which can apply the brakes fully if a likely collision is detected at speeds between 5- and 50mph, or partially at speeds between 50- and 112mph. Radar-controlled cruise control adjusts speed according to surrounding traffic, while blind-spot detection uses surround radar to warn on hidden cars, rear crossing traffic, and more.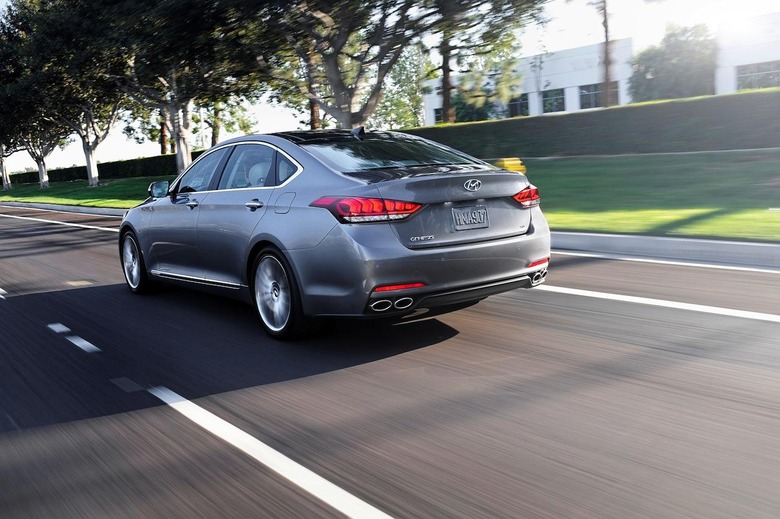 There's even a CO2 sensor in the cabin, which automatically brings in fresh air when the carbon dioxide levels get to the point where those inside could get drowsy. Other features include a HUD to show navigation instructions, speed, and other information on the windshield, and a rear trunk that can automatically open if the driver pauses behind the rear bumper for a few seconds with the key transponder in their pocket.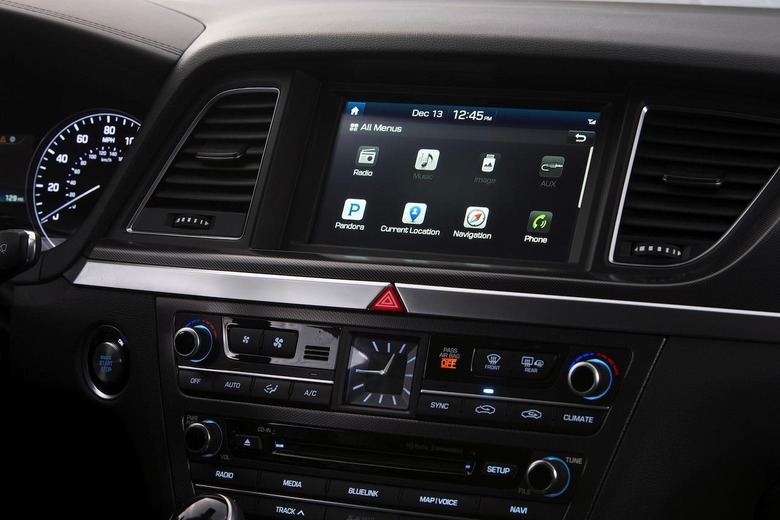 Infotainment options include a 17-speaker, 900W surround sound system with SiriusXM, USB, iPad connectivity, a 9.2-inch display, 64GB SSD for multimedia, and voice recognition. Other tiers offer 7- through 8-inch touchscreens, while the driver binnacle has its own 4.3-inch LCD.
Final pricing for the 2015 Genesis isn't confirmed, but Hyundai has said at the North American International Auto Show today that it intends to keep the starting price under $40,000, ambitious given the spec levels.