2015 Chrysler 300S Review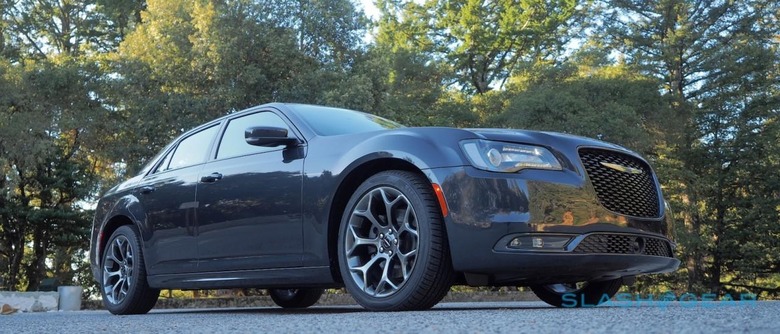 The first Chrysler 300 was a near-perfect expression of stereotypical Americana. Big, blunt-nosed, and aggressive, its high shoulder-line and crisp edges were 60s muscle on a modern forecourt; think Felix Leiter and his CIA issue suit in the classic Bond films of the sixties.
It was also outdated, technologically, before it even hit dealerships. Based on what was already a previous-generation Mercedes E-Class platform, while the looks might have been bold and aggressive, the driving dynamics fell far short of the promise.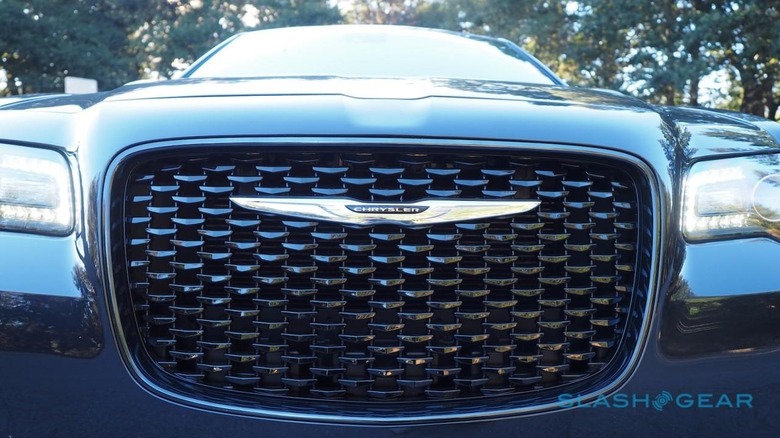 Eventually, Chrysler had to revamp things, but in the process of refining the 300 it misplaced its attitude. The second-generation car was smoother and drove better, but it looked softer and tamer: the original's somewhat disappointing younger sibling.
This newest model has brought with it a return to form, though the standard third-generation 300 is still arguably a little smooth around the edges. Happily, there's the 300S to sharpen things up even further.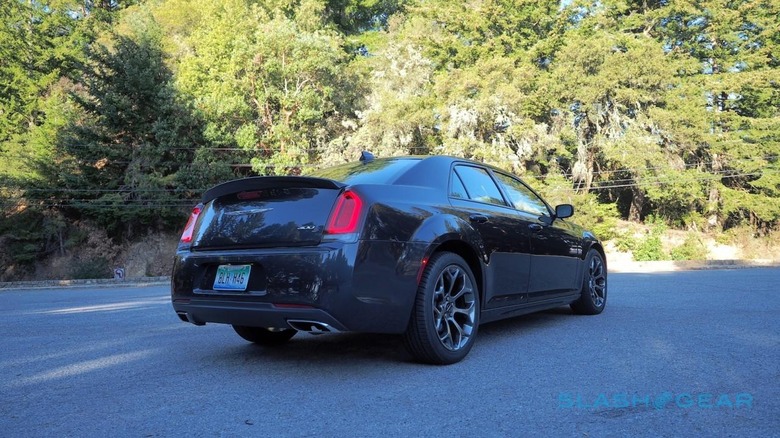 The blacked-out lamps and spoiler look great with the Maximum Steel Metallic paint, finished off nicely with the matching 20-inch wheels with their 245/45R20 all-season tires. It looks angry, and moody, and though they might be embarrassed to be seen doing it, other drivers give you a second – often approving – glance as you pass.
A muscle sedan needs a monster under the hood, and Chrysler has opted for a 5.7-liter V8 HEMI. That manages a healthy 363 horsepower and 392 lb-ft of torque, and is hooked up to a surprisingly smooth 8-speed automatic. There are paddle shifters if you're so inclined – unusually, and usefully, they need to be manually put back into auto mode, and won't revert unexpectedly and of their own accord – but the transmission does a solid job of keeping the engine in its torque band; stabbing the Sport button holds the lower gears, though has no effect on the suspension settings.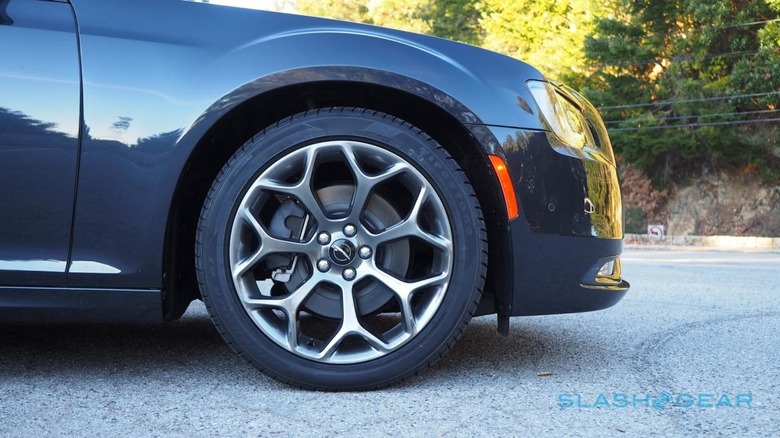 That's something you'll notice if the road gets twisty. The 300S does well on the straights, where the V8 has lashings of power and a sweet growl. I found myself slowing unnecessarily at times, just so I could stomp on the accelerator. Think angry bear meets demanding cornet.
All that HEMI weight at the front forces you to rein things in come the corners, however. Understeer is all too easy to prompt in the 300S; if you want to maintain grip, you need to stomp on the – happily effective – brakes, slow a little more than you'd expect, and then rely on the V8 to pull you out the exit.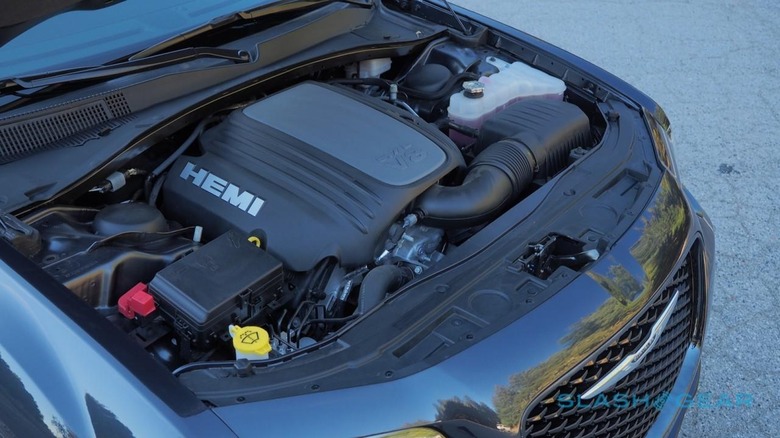 Chrysler and the EPA rate the 300S as good for 16 mpg in the city and 25 mpg on the highway, for a total of 19 mpg combined. A heavy foot will get you there with no problems, though with a little more restraint – primarily saving that V8 bellow for the sort of roads it was most fun, and letting the engine deactivate half its cylinders for more frugal highway cruising – I saw 21 mpg of mixed driving.
Along the way you run the modern gamut of driver-assistance aids. Lane departure warnings – which give little torque nudges on the wheel if you drift – and adaptive cruise control are part of the $1,695 SafetyTec 2 package, as is the forward collision warning system.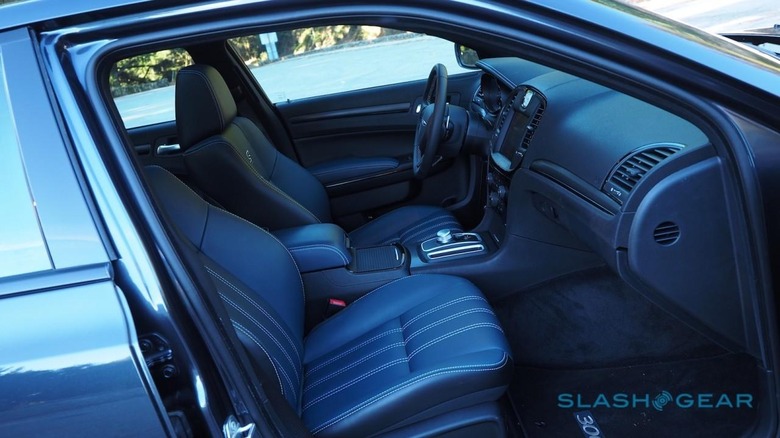 Inside, the "Ambassador Blue" leather seats gave me flashback's to Lincoln's Continental Concept of the New York Auto Show back in April. Whether you think the hue is outlandish or not probably says a lot about your opinion overall of the 300S. They're supportive and firm, and the 8-way power adjustment in the front can cinch in tightly to give the side bolstering I was hoping for.
Disappointingly, there's also a lot of elephant-butt finish plastic, which is at least soft-touch even if it isn't all that aesthetically pleasing. The 300S' analog clock atop the dashboard, with its mother-of-pearl styling, doesn't exactly suit the car's sporting personality either. Things get better in the dashboard binnacle, which has a distinctly Buck Rogers feel to its over-stylized gages. In the middle, there's a sizable high-resolution LCD.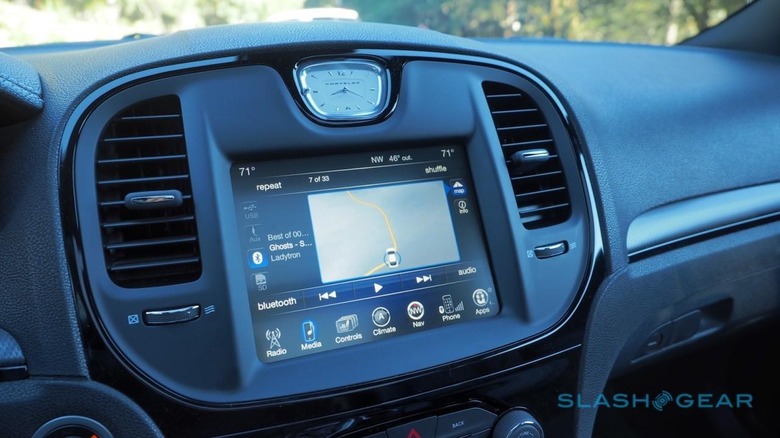 A second display, this time an 8.4-inch touchscreen, dominates the center console. That's where Chrysler's infotainment system, UConnect, lives.
In many ways, UConnect gets a lot right. There's all the functionality you'd hope for, certainly, like Bluetooth streaming, smartphone apps for remote access, SiriusXM, and a WiFi hotspot, while navigation and HD Radio come as part of the $3,295 300S Premium Group package that also throws in things like parking sensors, blind-spot and cross-traffic sensors, and a huge sunroof.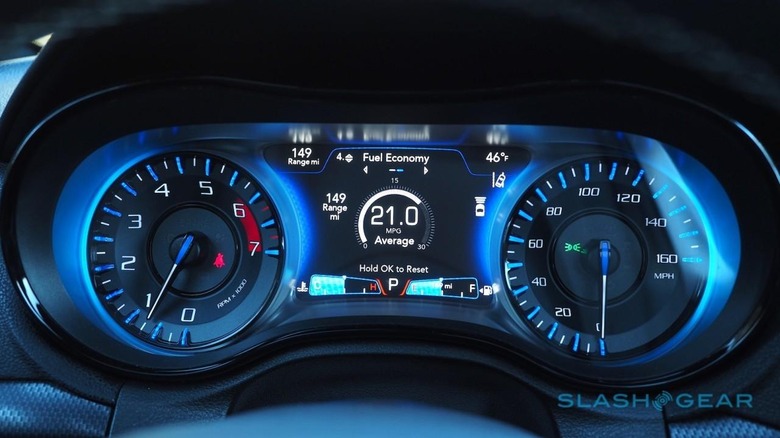 Day-to-day use is made a little more frustrating than it needs to be by a woefully unresponsive on-screen keyboard, mind. We're talking literally 2-3 seconds after hitting a letter before you can tap the next, as UConnect narrows down its auto-prediction list in the background. Forget about speedily punching in a destination while you're waiting at a red light.
The 300S gets a Beats Audio system, with ten speakers – including a subwoofer lodged in the trunk like a stowaway egg full of bass – and a 552W amp. It's as loud as you'd expect and has just the sort of kick and thump you'd want for R&B and pop, but I was surprised how well it also handled orchestral tracks.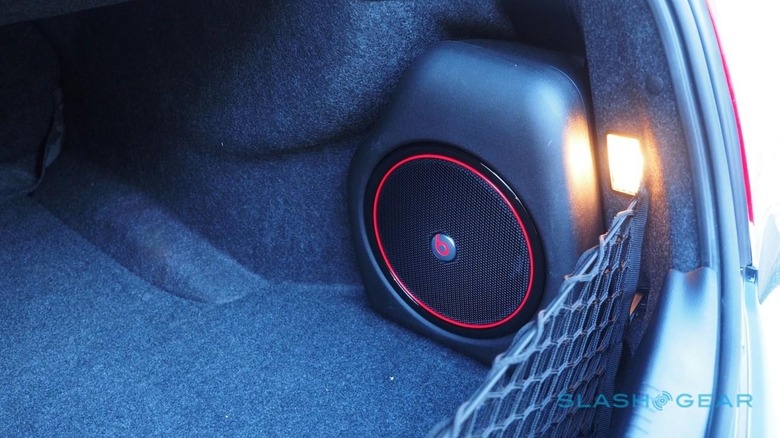 In fact, "surprised" is a good word to use for the Chrysler 300S. Having spent time in the regular 300, and having seen the power figures, I'd figured on a blunt instrument: all roar and no refinement.
In reality, though it may not have the finesse of a poised coupe or the grip of a hot-hatch, there's an undoubtable charm to the 300S. Not the smallest part of that charm is its affordability: sure, with the various extras and fancy paint, the car I drove came in at $44,055, but if all you want is the V8 and you don't care about the color or packages, you can have it for $36,065.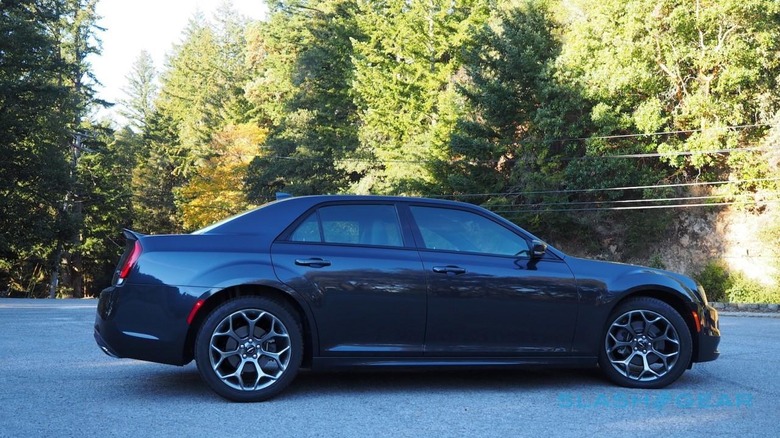 That's, frankly, astonishing for the smile-per-mile performance you're getting. No, the 300S may not be the American alternative to an AMG Mercedes-Benz or an M-badged BMW, but you won't hemorrhage your wallet to get it on your drive, and it has enough personality to make it a compelling first choice rather than just the budget alternative.
[gallerybanner p="413852"]