2015 Chrysler 300 first-drive - HEMI Hero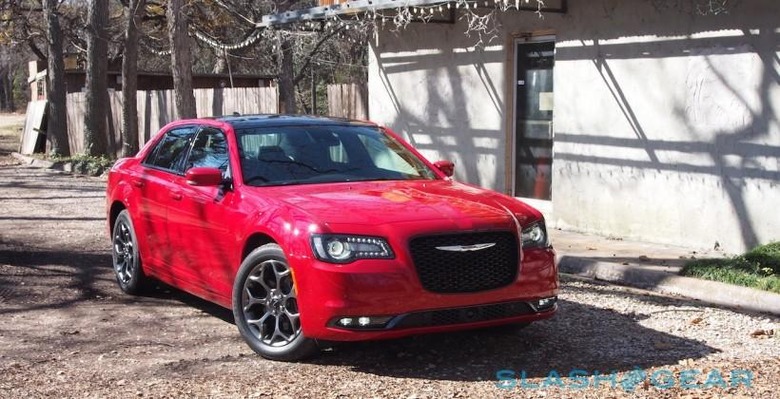 Brash, bold, and anything but banal: when it comes to "American Luxury", the Chrysler 300 epitomizes it perhaps better than anything else. Finding favor over the past decade among rappers and suburbanites alike, its combination of Baby-Bentley styling, meaty engine options, and relatively affordable luxe mean the 300 has set out a clear stall of Chrysler's approach to the full-size sedan space. With drivers more mature, however, and expectations tougher than ever, the 2015 300 has a careful line to follow: the bruising attitude drivers lust after, paired with the cosseting they secretly covet. I cranked up the Beats Audio to find out if the new 300 is Kingpin or Klonopin.
2005's 300 was a game-changer for Chrysler; it put the company back on track, with its brutish interpretation of American style and luxury. No more half-heartedly mimicking the Germans – even if, underneath everything, it was actually a Mercedes E-Class platform, and not even the most current one of the time at that – but an unapologetic car that won fans by virtue of its blunt charm alone.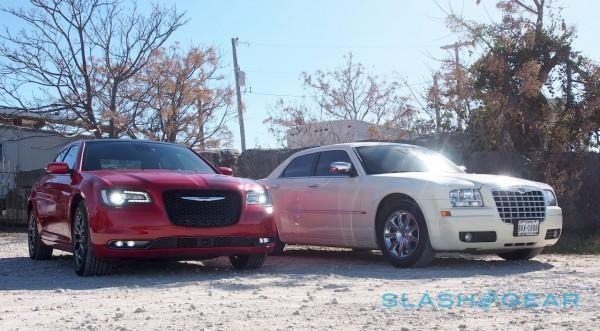 The second-generation did, in the grand scheme of car revamps, everything Chrysler should've done. More refined, more luxurious, more efficient, it ticked all the boxes – except one.
Gone was some of that muscular, take-no-prisoners spirit that had been the original 300's wild-card.
Now, ten years on from the original car, the 2015 Chrysler 300 is hoping to re-inject some of that mobster attitude its predecessor was missing. It comes at no easy time, mind, with several interpretations of modern automobile luxury on the table from a variety of sources.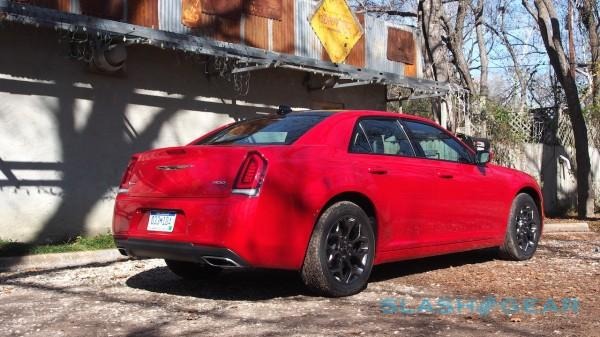 On the one hand, there are the European stalwarts – Mercedes-Benz, Audi, and BMW – with their instant, Teutonic brand appeal. Then there are rivals like Lexus, Acura, and Infiniti; each offshoots from a bigger, more mass-market marque and each proffering their own interpretation of affordable luxury and styling.
The American approach – Cadillac, Lincoln, and Chrysler itself – hasn't been in an especially strong position, in contrast, though you could well argue that there's an appetite out there among US drivers for something compelling from the home team.
Chrysler hasn't spread itself too thin with the new 300, wisely, though there are a few different models and options to choose between (and which change the attitude of the car considerably in their own way). Most affordable is the 300 Limited, at $31,395, stepping up to $34,895 for the 300S and $37,895 for the 300C. Top-whack is the 300C Platinum, at $42,395. Factor in $995 destination on top of each.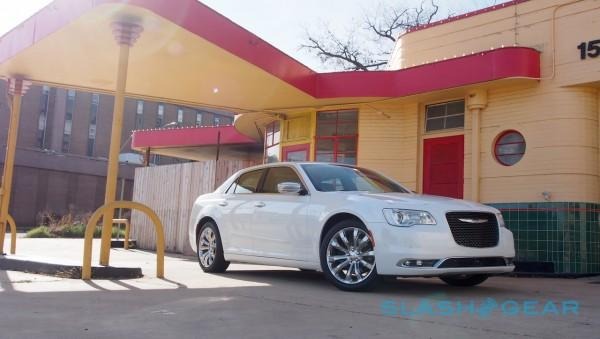 All have a variation of the same, brash styling. It's not as single-minded as the original 300: the grille, for instance, is a little more fared-in like that of the 200, though it's still around 35-percent bigger than that of the outgoing model, and there's more finessing around the rear and the surfacing of the strong shoulder-line.
Brightwork across the board has been cut, to the 300's benefit: you get most on the Platinum top-spec model, while the Sport version swaps polished chrome for smoke-finish, and looks all the better for it, particularly in the new Velvet Red paint. Sport models also get body-colored trim, like mirrors and door handles, as well as tinted lamp clusters and matching 20-inch alloys.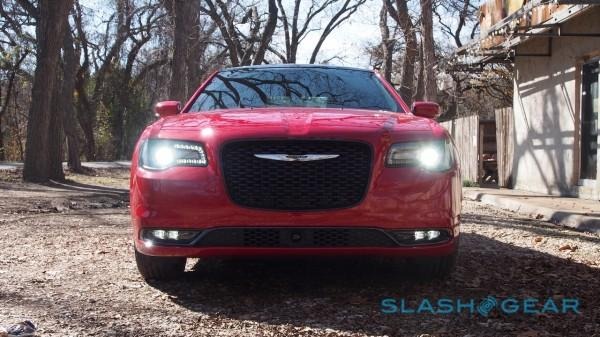 Even on the glitzier non-Sport cars, though, there are some commonalities. Big wheels are a must: anything smaller than 19-inches and the 300 looks comically under-shoed. Daytime running lights are standard, matching the LED foglamps, while at the rear the red-rimmed tail lamps and curve of the trunk line have more than a little of the Bentley about them. No bad thing, though throw in the spoiler the V8 Sport exclusively wears and things look cluttered to my eyes.
Inside, the results are mixed. The seats are great – leather as standard, and heated, with the Platinum cars getting eye-catching diamond quilting but every model supportive and nicely bolstered – and the standard-fit 7-inch Driver Information Display, flanked by two almost Dan Dare-style analog gages for speed and engine speed, puts setups from rival manufacturers to shame.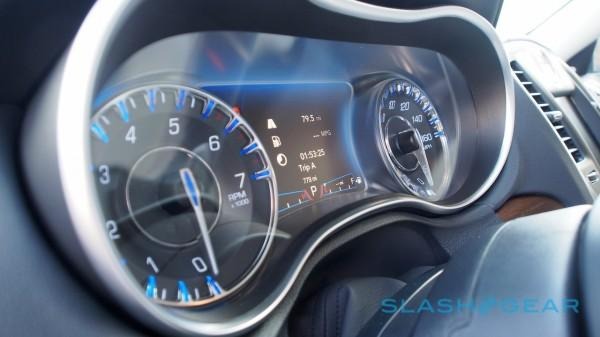 It's not a clean sweep, though. Chrysler switched to a rotary electronic gear selector, which works well, but then failed to really capitalize on the space that freed up: you get no more center console storage than you would if there was a traditional shifter poking out. The wheel is overly large, and the 8.4-inch square touch panel atop the center stack tries to fit too much onscreen at any one time, at least by default.
Dig into Uconnect, Chrysler's infotainment system, and you can at least address that somewhat. Exactly what is and isn't shown at any one time can be adjusted – apps like Pandora set as favorites, for instance, or conversely hidden from the normal view – and while steering wheel controls for volume and such are oddly absent, there are at least dedicated and tactile buttons and knobs for them in the lower stack.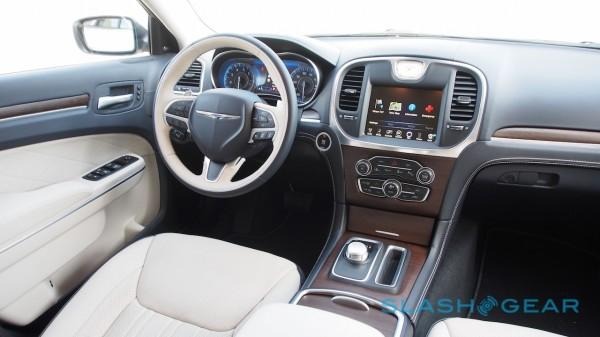 The functions you'd hope to see are all there, too, for the most part, and navigation is the only real option you might have to pay for. CD, AM/FM/SiriusXM, Bluetooth, and USB/aux/SD inputs are present, and I can't quibble with Chrysler's power and USB generosity, either, with several outlets and dedicated USB ports for rear-seat passengers, too.
There's WiFi hotspot support (but only 3G, not LTE), and the 300 uses server-side voice command processing that proved more accurate than many local systems I've tried in recent months. You can bark out a full address and stand a decent chance of the navigation recognizing it, rather than having to supply the details piecemeal.
Absent entirely are both Apple CarPlay and Google Android in the Car; Chrysler isn't alone in being tardy to include them, but I'm growing less and less forgiving when faced with their omission.
Overall cabin finish is heavily dependent on which version of the 300 you're driving. Most successful is the Platinum, with its stitched leather-effect dash material fairly convincing to the eye, even if the effect is lost when you reach out and touch.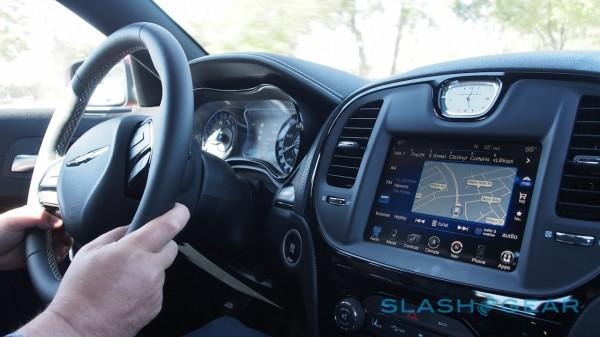 It's leagues ahead of the acreage of elephant-butt plastic inside the Sport model, however, which the few strips of faux-fiber trim struggle to lift. Again, most of the core touch-points are solid, but your eyes may not be so forgiving.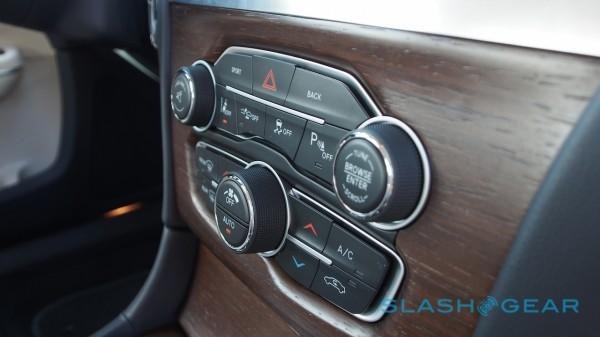 Your ears get a treat, mind. Interestingly, two different audio systems are options with two different brands: a Beats Audio setup with 552 watts and nine speakers (that's standard on the Sport), and a Harman Kardon system at the top end, with 900 watts and nineteen speakers. Either has the power to turn the 300 into a boulevard nuisance (whether Apple will continue the brand licensing moving forward is something I'm very curious to see).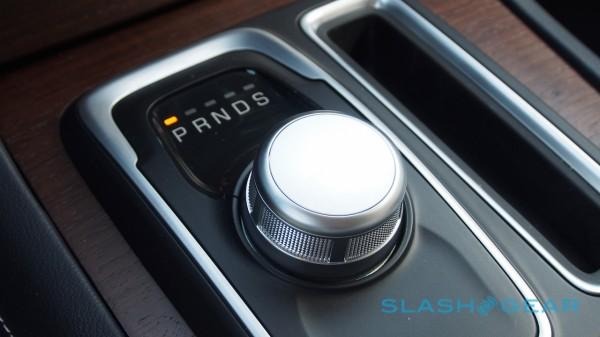 Chrysler has two engines on offer, a 3.6-liter V6 with either RWD or AWD, good for 292 HP and 260 lb-ft of torque (bolstered to 300 HP and 264 lb-ft in the 300S), and a 5.7-liter V8 HEMI as a $3,000 upgrade on any trim level, that can only be had with RWD and which pushes out 363 HP and 394 lb-ft of torque. Each comes mated to an 8-speed TorqueFlite automatic transmission with paddle-shifters.
The 300 is neither a fleet-footed BMW nor a perpetually-grounded Audi Quattro. I drove the Sport spec V6 AWD first, and you feel the car's weight, particularly when trying to take more challenging, twisty roads at lower speeds. The electric power steering – which can be switched between three levels of assistance, or left to automatically adjust depending on road conditions – has a reasonable degree of feel to it, and grip is excellent, but the 300 prefers the straights and long, sweeping corners to hairpins and switchbacks.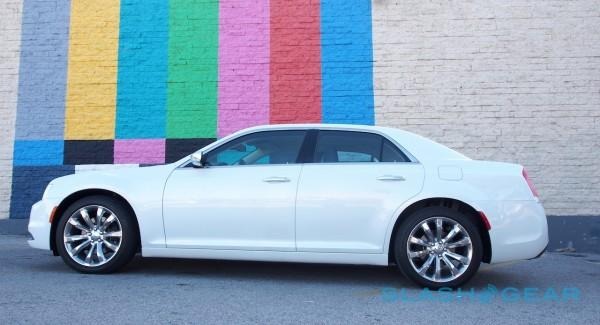 Plant your right foot, and it's a predictable surge rather than a frantic hurtling toward the horizon. Even in Sports mode, the V6 lacks a sense of unrestrained speed. A tendency at times to go hunting for gears from the auto-transmission doesn't help, and there's a momentary pause to the kickdown which might have you reaching for the compact paddles instead.
Things got a little more aggressive in the Platinum V8 I switched to, RWD of course but bringing the HEMI action Chrysler is known for. Ironically, it's an experience only the minority of 300 drivers actually know: only around 15-percent of cars sold have the V8 upgrade, something the company tells me it expects to continue with the 2015 model.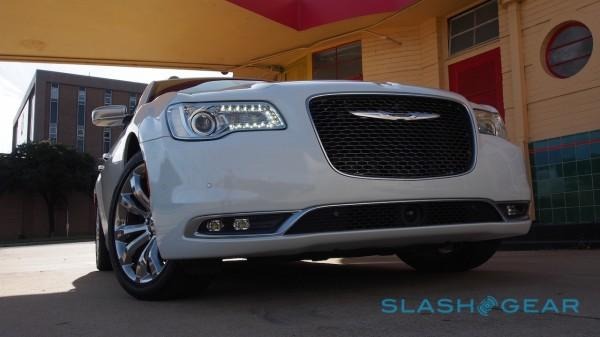 It's the combination of that extra grunt and the distinctive engine growl that convinces you that 15-percent are onto something. There's no outright magic involved – the 300's heft isn't suddenly trimmed, and the car doesn't turn into a canyon-carver with the application of those two extra cylinders – but the overall mood is more accurately telegraphed. Big, beefy, and refusing to slip quietly into the background.
If there's a flaw it's in the slightly lacking brake feel, the anchors doing their job but uncommunicative while they're at it. They certainly work, though: with the excellent Adaptive Cruise Control turned on – which can not only track the vehicles ahead, but slow to a standstill and then (as long as it's within two seconds) pick up again automatically – and the inter-car distance set to its minimum, the 300 eagerly sharks its way through changeable highway traffic, with little lag either in slowing or accelerating.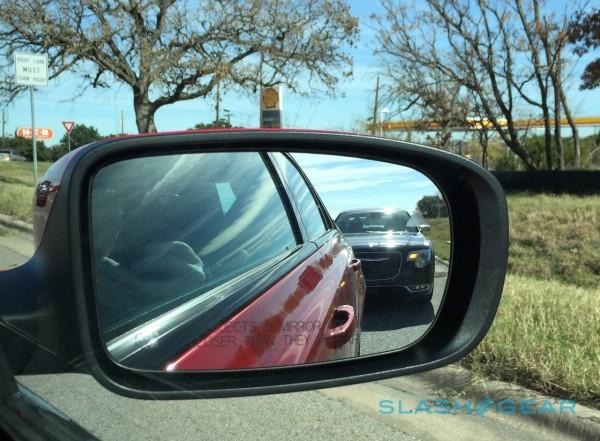 Chrysler quotes a 31mpg average for the V6, impressive for the segment, though perhaps at odds with how the 300 encourages you to drive. In the real-world, albeit with no small amount of pushing at times, I saw 22.5 mpg; the HEMI clocked in at 21 mpg on the gage.
Could you coax out something closer to the official numbers? Certainly, but I'm not sure you'd want to: the Chrysler 300 isn't the car for every driver. For many, the more measured luxe of the Germans will hold greater appeal (I won't argue that a BMW would be more fun when the roads get bendy, too) while the 300's brashness will be personality in all the wrong directions.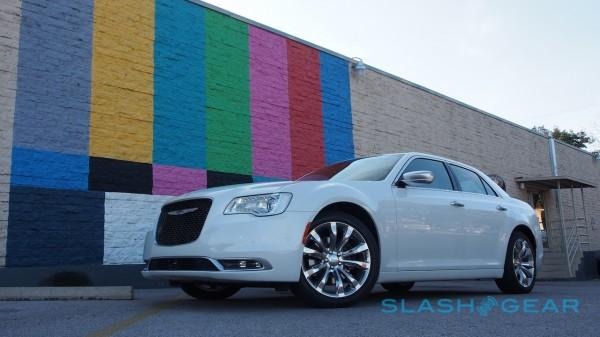 There's a resoluteness of identity I can't help but admire in the 300, however. It's something its recent stablemates have managed, too: the marginally-insane Hellcat variants of the Challenger and Charger, for instance, wearing Dodge's nameplate but, like the 300, possessing a self-confidence I think Chrysler and Lincoln could both learn from.
While there may be no official definition of what "American luxury" looks like, the 300's combination of unapologetic styling and cruiser performance are exactly what you'd hope for and expect from such a car. Chrysler's willingness to court that outlier audience is why the 300 ultimately succeeds.