2015 Alfa Romeo 4C Review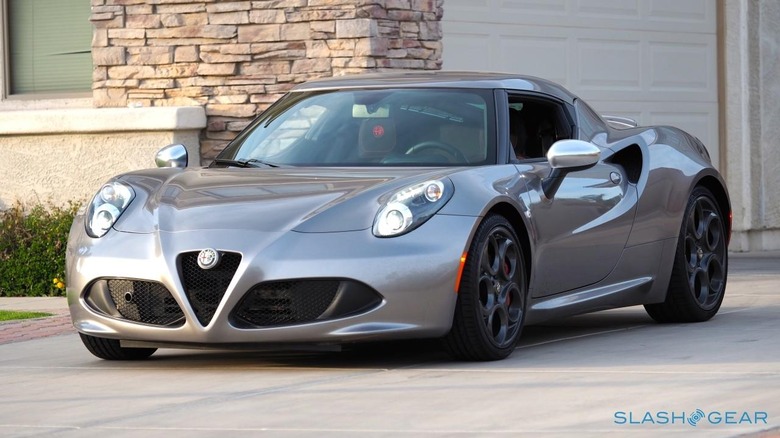 The Alfa Romeo 4C is spectacular, an exotic "baby Ferrari" that has taken me from point A to point B with more than the normal diversions in-between, and with a permanent grin from ear to ear. First astonishing US drivers in rarefied (and, at nearly $70k, more expensive) Launch Edition form, but finally available with a base price starting at $53,900, it's Alfa's triumphant – and niche – return stateside. Achingly pretty but as demanding as a thoroughbred, only 1,200 Alfa 4C's will be imported from Maserati's Modena plant. Should one be on your driveway?
It's tough to argue with the design. The 4C's scoops, slices, and swathes are instantly eye-catching; while Alfa has been making good use of its "Rosso Competizione Tri-Coat finish" – metallic red, in other words – the Basalt Gray metallic of this particular example is equally seductive to my eyes, arguably doing a better job of highlighting the play of shadows and contours.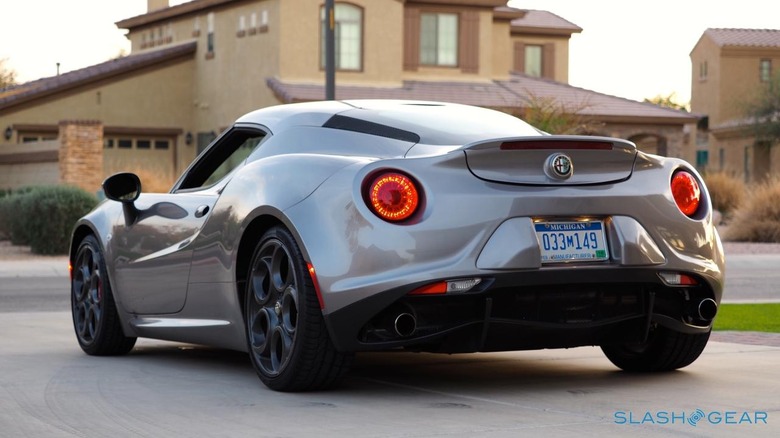 The first 4C models on these shores were the so-called Launch Edition, throwing in things like a race exhaust system, performance suspension, bigger wheels, and various luxury trim pieces for a premium price. Our test vehicle comes in at $60,000 with options – the bi-Xenon headlamps and forged wheels of the Launch Edition, at $1k and $2.5k respectively, among other improvements – though even then that's a roughly $6k mark-up over the base model.
So why is the 4C so breathtaking? Well for starters, it's effectively everything one can ask for in a track-centric car for the price. It's the world's most affordable mass production vehicle featuring a carbon-fiber single shell tub. (To put that into context, the CORCEL N°1 is literally a carbon fiber bathtub, and it costs more than then Alfa at $69,000.)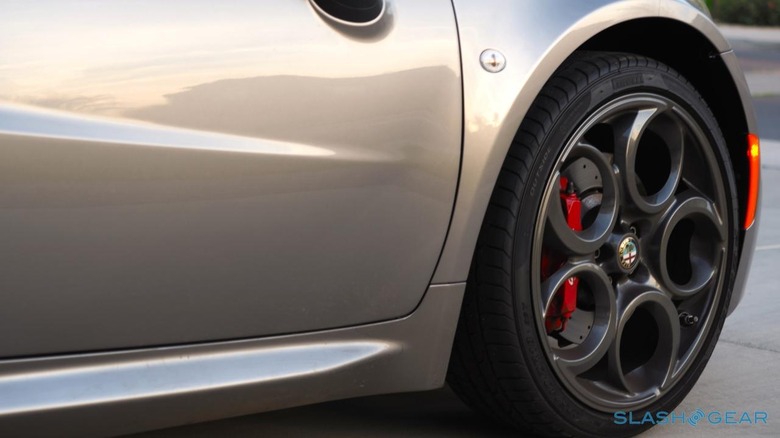 Then there's the engine, a perfect example of European priorities. No ridiculous V6 or V8; instead, the 4C sports the world's most ferocious-sounding 4-cylinder, mid-mounted, and making rival engines sound half-hearted.
It's just 1.75-liters in size, but thanks to a turbocharging – that sucks in 21.75 PSI of boost (and yes, you can hear it happening), produces 237 HP and 258 lb-ft of torque. Certainly, you'll find rivals with more power, but with a curb weight of around 2,500-lb, Alfa Romeo suggests it'll take in the region of 4.4 seconds to hit sixty from a standing start.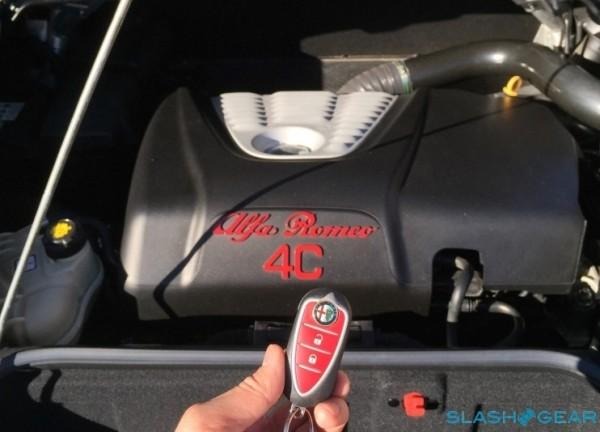 I didn't have access to a race track to test that out officially, but that didn't stop me stomping on the gas pedal whenever possible – not even close. I'd estimate my 0-60 mph run took roughly 5 seconds; now that's a boatload of zippiness for you and your single passenger, and certainly more than sufficient for overtaking or highway on-ramps. Notably, peak torque arrives as an astonishingly low 2,200 rpm, and the turbo flails away more often than not, adding to both the power and the soundtrack.
You know you're driving it, too. The 4C lacks power-assisted steering but, frankly, who cares; not only are your arms getting a work out, it leaves the steering impeccably precise. It's incongruously weighty given the relatively compact size of the chunky-rimmed wheel and years of both hydraulic and electrically assisted racks, and while that means low-speed maneuvers make their struggles known, it translates to incredible feedback on the road.
Others have griped to me that Alfa doesn't offer a manual transmission on the 4C; in all fairness, there's no room in the cabin for an armrest, let alone a shifter. More seriously, if you want a manual transmission, then Porsche's Cayman is probably the way to go.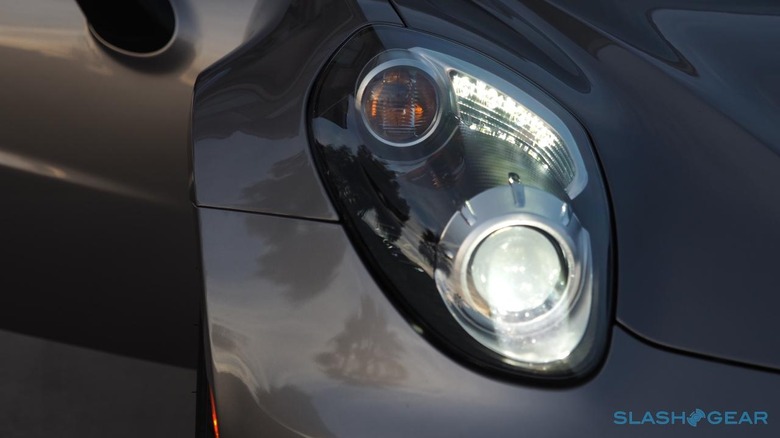 What Alfa does give you is the same basic dual-clutch automatic gearbox you'd find in a Dodge Dart, though happily the Italians don't stop there. Thanks to a new first-gear and final-drive ratios, as well as heavy tuning, it's transformed into a Formula 1-lightning fast sequential shifter. The gear change takes roughly 130-milliseconds; sure, you'll find faster in an Aventador, but you'll also never afford the Lambo.
A quad-setting "D.N.A." drive mode selector on the dash switches between All-Weather, Natural, Dynamic, and Race modes, progressively benching the safety features until you're left with systems that only come into play when you're almost in the ditch at the side of the road. Drive it like the EPA would prefer you to, and you should see around 24 mpg in the city, 34 mpg on the highway, and 28 mpg combined.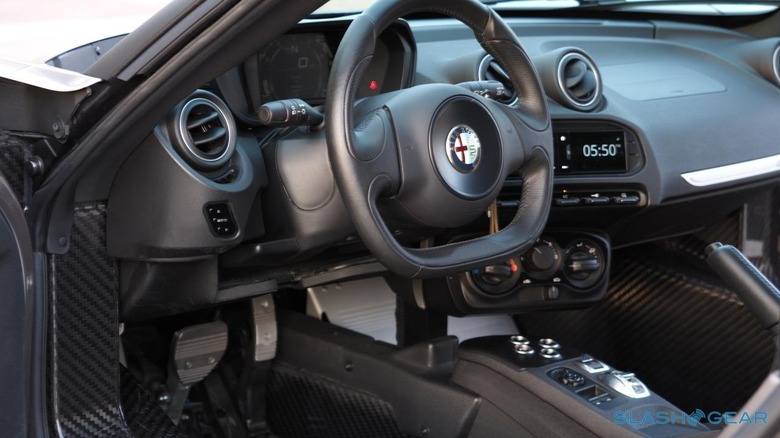 Is all that enough to make the Alfa a workable daily-driver? That depends on your level of commitment, and I'm leaning toward the "it's magnificent to find yourself behind the wheel" side of the argument.
To see just how practical it is, I gave the 4C no easy-out during its stay with me. My wife and I went to buy groceries, I ran errands I've been putting off for months, picked up fast food going through the drive-through, and gave rides to a select group of friends. My four-year-old daughter was sad she couldn't ride in it simply because her booster seat wouldn't fit in the minimally-padded – but very supportive – buckets (plus it's not advisable to have kids in the front given the airbags), while it took prying my two-year-old's hands off the wheel to stop her from pretending she was driving it.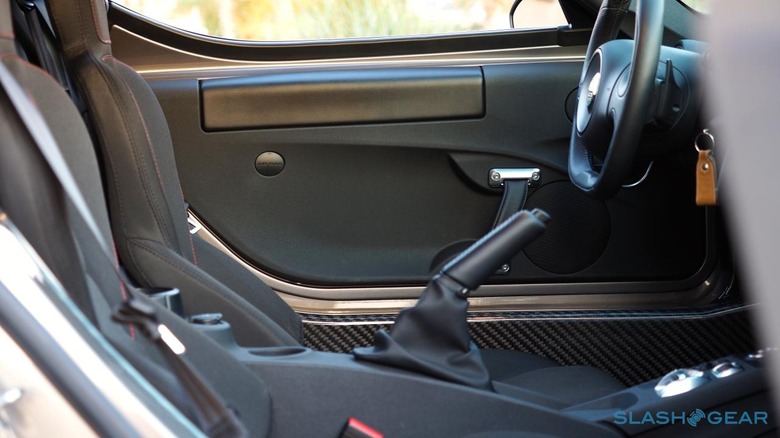 In the end, everyone had a blast. There's very little in the way of creature comforts and luggage space is next to zilch; then again, those things are low on the 4C's list of priorities. If you want comfort, go buy a loaded $55,000 minivan or a Stingray. They'll give you a little more dignity getting in and out, too, though even at 6'2 I wasn't short on head or legroom. My top tip for avoiding the weirdly loud electronic screeching sound when you fire up the ignition is to put your seatbelt on first, incidentally.
My wife thought it was exhausting driving this car around town, but not me. Instead, I found it heightened my senses: constantly having to mentally note where cars are behind and to the rear, not least because the blind spots are huge because it's ridiculously wide and low.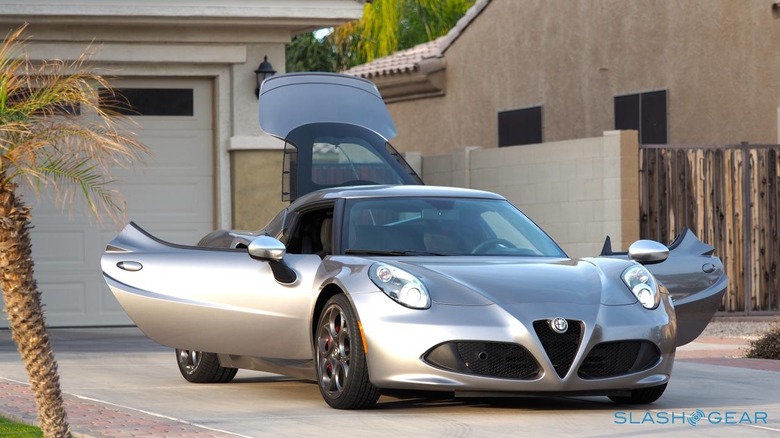 Visibility isn't the only tricky point. The Parrot-supplied radio is basic, but it doesn't really matter because most of the time all you can hear is the roaring and popping engine and the addictive exhaust note. Hard plastics and low-rent switchgear sits alongside the exposed carbon fiber of the tub: you get air conditioning, power windows, and power mirrors, but the controls for them feel cheap.
I don't care, though, and you shouldn't either. Ignore the radio: the engine combined with your own howls and laughter are soundtrack enough. Marvel not at the plasticky buttons, but the fact that you get so much – negligible turbo lag, a direct wire from hands to wheels through the steering, and handling that's both communicative and flattering – for so comparatively little. Welcome back, Alfa Romeo, we've missed you.